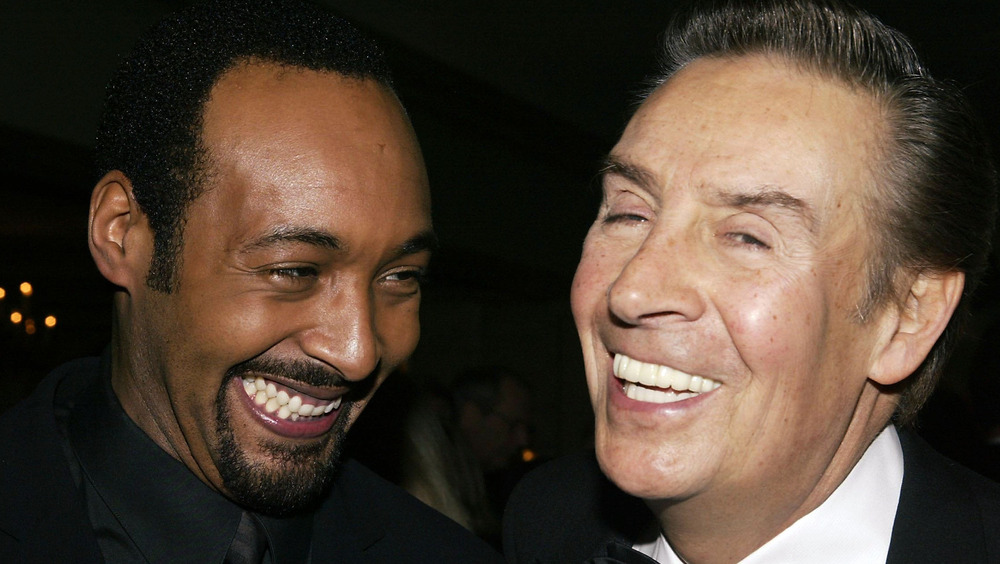 From 1990 to 2010 — a near-record in TV longevity — Law & Order delivered compelling, reliable, and satisfying television for millions of fans, week after week. Conceived by producer Dick Wolf, Law & Order was two shows in one: a police procedural series, and also a legal drama. Each episode usually began with a point of discovery (usually a murder victim), and the first half would detail two NYPD detectives investigating the case and booking a suspect. Then the "order" crew would take over — the prosecutors and District Attorney's office would try the case in court.
Law & Order was on TV for so long that it boasted a huge cast, and generally only a season or two would go by without a detective, police captain, prosecutor, or assistant district attorney departing to make way for their replacement. A lot of actors came to Law & Order and then left the series, and for a variety of reasons. Here are all the major Law & Order actor departures, and the motivations behind them.
Chris Noth couldn't get paid what he was worth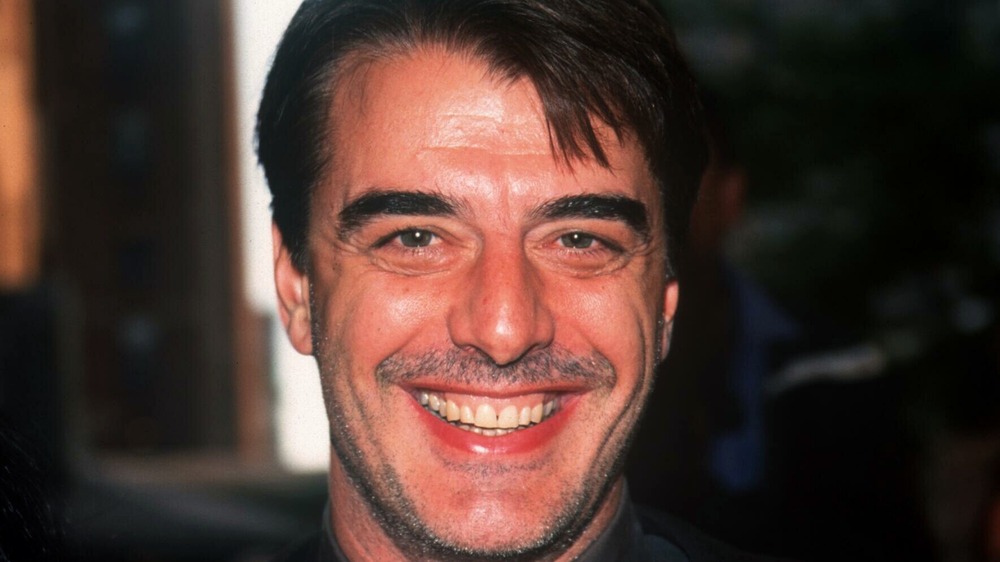 Chris Noth was one of the first breakout stars of the Law & Order franchise, because he was one of the show's original cast members. He debuted in the show's pilot episode as cocky junior detective Mike Logan, and remained on the show for five years until his character was written out in 1995. Det. Logan, always a bit of a hothead, suffered a forced transfer to a police unit in Staten Island as punishment for punching a local politician on trial for murder. Noth would do well for himself in TV, co-starring on Sex and the City as main love interest "Mr. Big," disgraced attorney Peter Florick on The Good Wife, and reprising the Det. Logan character in the latter seasons of Law & Order: Criminal Intent.
There were certainly no hard feelings when Noth left the original Law & Order. Producers let him go after five seasons because they couldn't afford him. Producer Dick Wolf told the AP that Noth was set to renegotiate his contract, and if he'd stayed on, he'd be entitled to a "huge" pay raise that would've been "impossible to grant." Dolores Robinson, head of Noth's management team, told the outlet that the actor was "sorry that they couldn't get it together, but he's had five great years."
Benjamin Bratt wanted more family time and movie time
Audiences would think that of all the TV shows that would produce film stars it would be Law & Order, a cinematic series full of telegenic actors playing sympathetic good guys that ran for years and years. But Law & Order really only ever produced one viable big-screen force: Benjamin Bratt. From 1995 to 1999, Bratt portrayed Detective Rey Curtis, a guy who tries his best to be an upstanding family man cursed with a nasty temper that he takes out on murder suspects. Bratt received an Emmy nomination for his work, one of just five Law & Order regulars bestowed with the honor. Still, after nearly 100 episodes, Bratt was ready to move on. "After four years I've felt like it was time to get back home to my family," Bratt said in a statement (via the New York Post).
Bratt, who got married in 2002 and welcomed his first kid in 2003, was not done with acting, however. The evidence might suggest that Bratt departed Law & Order to work in movies. And he was pretty successful at that new venture, starring in hits like Miss Congeniality, Traffic, Coco, Ride Along 2, and Doctor Strange.
Fred Thompson had his eye on the White House
Fred Thompson brought an air of authority and a palpable world-weary sensibility to his Law & Order role of powerful district attorney Arthur Branch. He pulled from real world experience — in the 1970s, he served as U.S. Senate counsel during Congress's investigation into President Richard Nixon's role in the Watergate break-in scandal. In 1977, after Tennessee Parole Board chair Marie Ragghianti challenged deep-seated corruption and then sued for wrongful termination when she was fired, Thompson represented her, and then played himself in Marie, the 1990 movie about Ragghianti's case.
Thompson proved such a magnetic screen presence that he quickly won roles as important men in movies like Die Hard 2 and Days of Thunder, but then went back into the political sphere, winning a special election to the U.S. Senate representing Tennessee in 1994, then re-elected to a full term in 1996. Opting not to run again in 2002, Thompson came aboard Law & Order, then left to give politics another try, this time with his eye on the 2008 Republican nomination for president. He didn't do well in early primaries and quickly ended his presidential run, then took on a few more acting roles before his death in 2015.
Michael Moriarty left TV to fight censorship
From the pilot episode through to the end of the fourth season of Law & Order, Golden Globe-winning character actor Michael Moriarty brought dramatic skill and seriousness to his role as Ben Stone, Executive Assistant District Attorney for New York County. After a witness in a racketeering case Stone pressures into testifying winds up murdered by an organized crime syndicate, he resigns his post and leaves the New York legal system.
Stone had to leave because Moriarty had to leave, and the circumstances of his departure were even more dramatic than that of his character. As the Los Angeles Times recounted, in 1993, U.S. Attorney General Janet Reno advocated legislation that would restrict violence on television, which many cultural watchdogs blamed for a slew of real-life crimes. Reno convened a meeting with NBC executives, as well as Law & Order producer Dick Wolf, who brought Moriarty. The outlet went on to note that he was so incensed by what he felt was the Attorney General's disdain for both television and freedom of speech that he publicly denounced her ideas, both in "a news conference" and "ads in the trade papers."
Seeking to get a large TV industry contingent who agreed that Reno's ideas were an insidious form of censorship, Moriarty couldn't get much of a movement going and got so fed up by the American television industry that he quit his Law & Order gig, according to CinemaRetro. He relocated to Canada and has only occasionally acted since.
Jesse L. Martin went back to Broadway
Thousands of actors live in and around New York City, populating the many productions that play in theaters on Broadway, off-Broadway, well off the Great White Way. Since they're already in New York, many theater actors moonlighted on Law & Order, one of the few major dramatic TV productions that filmed in New York in the 1990s and 2000s. Among them: Jesse L. Martin. After a couple of roles in Broadway shows, Martin landed the part that would change his career: HIV-positive college professor Tom Collins in the original production of Rent, a major commercial hit and culturally important rock musical that won a Pulitzer Prize and four Tony Awards. Launched to fame by the beloved show, Martin joined the regular cast of Law & Order in 1999 as Junior Detective Ed Green, partner to Jerry Orbach's seasoned Lennie Briscoe.
Martin turned out one of the longest tenures in Law & Order history, portraying Det. Green for nine years and nearly 200 episodes. The reason he left: Broadway was calling him home. "I need to get back on stage before I get too scared to do it again," he told Entertainment Weekly. "And with that schedule, it would be really difficult for me to ever really get to do anything like that." In 2010, Martin starred in a production of The Merchant of Venice.
George Dzundza didn't like the show or the commute
Law & Order closely followed a formula, both in that half a show featured lawyers and the other police detectives, and that those investigators were a duo consisting of an old veteran and young guy early in his career. One of the shortest-lived detective pairings was also the very earliest: Prolific character actor George Dzundza portrayed Senior Detective Max Greevey opposite Chris Noth as Junior Detective Mike Logan. The duo solved crimes for just one season, because Dzundza left Law & Order after the show's first season.
Dzundza decided to walk away because the show evolved away from the premise it had when he was cast. "As the season went on, I saw that the stories were becoming more Dragnet-like," he told Pop Entertainment. "I said no, this is not for me. This is not what I signed on to do." Adding to his creative differences with Law & Order writers, Dzundza didn't like doing the show on a personal level. He lived in Los Angeles and had to commute to the show's New York shoots, a grind of which he quickly tired.
Jerry Orbach jumped to a new Law & Order show
Although Law & Order had more than two dozen cast members over its 20 seasons on the air, the one performer more closely associated with the show than anyone else was Jerry Orbach. For nearly 300 episodes, from 1991 to 2004, he played senior Detective Lennie Briscoe, a grizzled veteran of the NYPD who'd make brilliant crime-solving deductions as often as he had a sarcastic quip about a murder victim or suspect. Orbach was a well-known character actor by the time he joined the Law & Order franchise, often cast as New Yorkers in films like Dirty Dancing, Crimes and Misdemeanors, and Last Exit to Brooklyn. He was also a Broadway legend, starring in major productions in the '60s and '70s, including Guys and Dolls, Chicago, and Promises, Promises, which won him a Tony Award.
Orbach was such a towering figure, as an actor in general and in the Law & Order world in particular, that his character got a spinoff. Lennie Briscoe was a main character on Law & Order: Trial by Jury, which debuted on NBC in 2005. After filming two episodes, Orbach died of prostate cancer at the age of 69.
Dann Florek and Richard Brooks cleared out for female characters
In its early years, Law & Order boasted a stellar roster of recognizable and more-than-capable character actors which made compelling crime and legal television. Among the stars of the show in its first three seasons were Richard Brooks, who portrayed Assistant District Attorney Paul Robinette, and Dann Florek, as Captain Donald Kragen of the NYPD. There was only one major issue with this seven-member cast: Every single actor in it was a guy, which didn't reflect the reality of the demographic makeup of the New York police department or legal system the show purported to accurately depict. According to the Orlando Sentinel, producers got rid of Brooks and Florek in order to bring in Law & Order's first female cast members: Jill Hennessy as A.D.A. Claire Kincaid, and S. Epatha Merkerson as Lt. Anita Van Buren.
Law & Order didn't completely eliminate Paul Robinette and Donald Kragen, however. Brooks reprised his role a few times over the show's run, while Florek brought Captain Kragen to the franchise's first spinoff, Law & Order: Special Victims Unit.
Jill Hennessy didn't have enough to do, acting-wise
Law & Order so strictly adhered to a formula — each episode told the progression of a single case, from investigation through courtroom proceedings. The actors who played detectives and prosecutors played people doing their jobs with seriousness and professionalism, which, all things considered, meant there wasn't much room or call for character development. For an actor, whose passion and job is inhabiting different individuals and telling their story, working on Law & Order can get uninteresting after a while. That's seemingly what happened to Jill Hennessy, who portrayed Assistant District Attorney Claire Kincaid on the series from 1993 to 1996.
"On the original Law & Order, it's sort of imperative that you remain emotionless and keep your feelings about the subject matter hidden," Hennessy told The Morning Call. "As an attorney on that show, you can't really vocalize those." The actor got so worried that she'd be too closely associated with cold and taciturn lawyer-types, that she left the series. "It's so easy to become typecast. If they see you in one light, people presume that's all you can do," Hennessy said. "I was getting that from day one, with casting directors basically thinking, 'She can't do comedy. She can't do emotional work.'"
Elizabeth Rohm got to plan her exit
In 2001, Elizabeth Rohm became the fifth actor to portray an assistant district attorney on Law & Order. Her character, Serena Southerlyn, was a tough attorney and often butted heads with colleague Jack McCoy (Sam Waterston) over procedural techniques, frequently blaming criminals' actions on society's ills. After three seasons in the role, Rohm was ready to move on. In June 2004, Law & Order producer Dick Wolf said that she would leave the series after a handful of episodes in the show's upcoming fifteenth season. "We knew she had other career interests and opportunities, and she graciously agreed to stay through the transition," Wolf told Variety.
In the episode "Ain't No Love," District Attorney Arthur Branch (Fred Thompson) fires Serena Southerlyn, officially because he finds her to be dangerously biased toward defendants and too emotionally-driven to make good legal decisions. Not buying it, Southerlyn asks, "Is this because I'm a lesbian?" This marked the first time the character's sexuality was ever declared or even mentioned, and this abrupt and revelatory ending was something Rohm helped conceive. "When I was leaving, Dick Wolf said, 'Do you want a splashy ending or a typical Law & Order ending?'" Rohm told HuffPost.
Paul Sorvino wanted to be a singer
Paul Sorvino joined Law & Order in its second season, replacing first-year-only star George Dzundza. Sorvino's character, Phil Cerreta, headed up the investigation over the murder of Dzundza's Det. Max Greevey, only to get partnered up with the deceased's colleague, Det. Mike Logan (Chris Noth). Sorvino, a hard-working character actor, often played tough guys, dad types, and men of authority, a streak he continued with Det. Cerreta, a guy with a military background and father of five children.
Sorvino didn't last much longer than his predecessor, walking away from Law & Order after about 30 episodes, and in the middle of the show's third season. Writers dismissed Sgt. Cerreta by having him shot in the line of duty, then reassigned to a desk job. According to the Orlando Sentinel, Sorvino asked to be let go, so that he could have more time to devote to a career as a singer. He ultimately released just one album, Paul Sorvino Sings, a collection of Italian standards, old ragtime songs, and show tunes.
Angie Harmon looked to the big screen
During the 1998-99 season of Law & Order, Angie Harmon — not widely known at the time because her most prominent roles were in flop shows C-16: FBI and Baywatch Nights — joined the cast. Replacing Carey Lowell's character, Assistant District Attorney Jamie Ross, Harmon played politically and socially conservative assistant district attorney Abbie Carmichael.
In April 2001, Harmon announced her intention to leave Law & Order after three years, agreeing to film a few extra episodes to see the show through a potential Screen Actors Guild strike and to give producer Dick Wolf enough time to find a new actor to play a new assistant D.A. She also had some time left on her deal. "She asked to be released early from her contractual commitment to the show," Wolf told Variety. "If an actor wants to leave the series for personal reasons, and gives ample notice so that it doesn't affect production, I have never stood in anyone's way.
Insiders told Variety that Harmon was eager to spend more time on a movie career. She landed supporting roles in moderate hits like Agent Cody Banks and Fun with Dick and Jane before returning to TV in the duds Inconceivable and Women's Murder Club and the hit crime procedural Rizzoli and Isles.