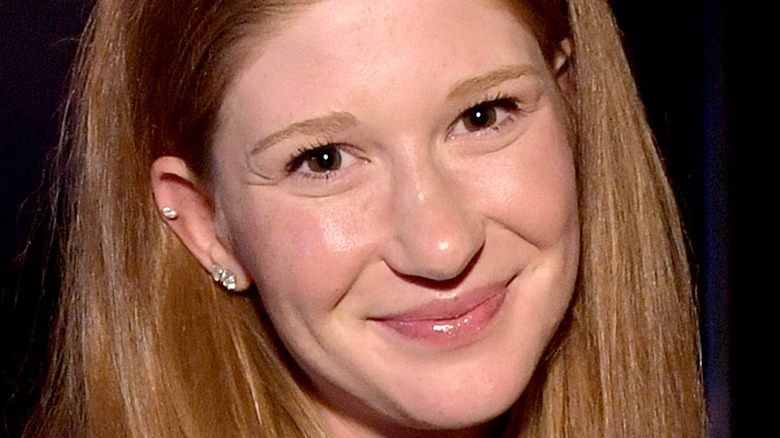 Jennifer Gates, the eldest of Bill Gates and Melinda French Gates' three children, is about to become a married woman. The 25-year-old professional showjumper and medical student will exchange vows with her fiance Nayel Nassar this upcoming weekend. Nassar, a fellow equestrian who represented Egypt at the Tokyo Olympics, proposed in January of 2020 (via Town and Country).
Gates gushed about her man in a heartfelt announcement post on Instagram at the time. "You are one of a kind," she wrote of him. "I can't wait to spend the rest of our lives learning, growing, laughing and loving together. Yes a million times over." Nassar shared a similar sentiment and provided a closer look at the gorgeous engagement ring in a sweet Instagram post of his own.
"I still can't wait for forever after with you," he wrote on the one-year anniversary of their engagement (via Instagram). Less than a month later, he shared an adorable Valentine's Day message and noted that they'd celebrated the holiday together five years in a row (via Instagram).
The couple appears to share a storybook romance, and their upcoming nuptials are shaping up to be an event worthy of their love story. Here's everything we know about the occasion.
Jennifer Gates will tie the knot on her farm in North Salem, New York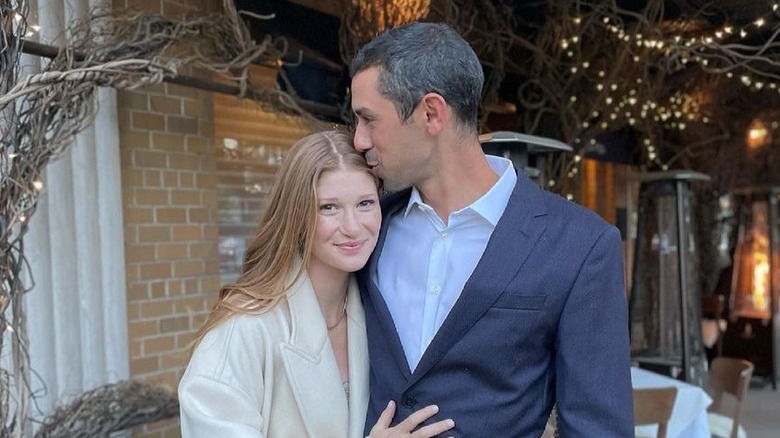 One of the most important questions to ask when planning a wedding is where it will take place. A venue, more than almost any other component of the big day, will help guide the aesthetic. Considering her father Bill Gates' massive net worth, it's a safe bet that Jennifer Gates and Nayel Nassar could've gotten married anywhere they wanted.
However, what better option than somewhere that carries personal meaning for the bride and groom? Gates and Nassar will say "I do" on the 124-acre horse farm her parents purchased after she graduated from college in 2018. The property — located in North Salem, New York — was worth a pretty penny. According to the New York Post, the sprawling estate carried a nearly $16 million price tag when her since-divorced parents picked it up.
The wedding the duo will throw on the grounds should be every bit as extravagant. The publication noted that several temporary structures have been built on the site over the last two weeks, including glassed-in pavilions and a large stage. The Daily Mail also captured photos of several white tents going up. "One day to the next another giant structure is popping up," a neighbor said.
The couple hopes to have an outdoor wedding
Although workers have erected several temporary structures on the property, it is believed that Jennifer Gates and Nayel Nassar hope to get married outside. "Jenn's hoping the actual ceremony can be outdoors," a neighbor told the Daily Mail. "But in case the weather is bad, they've put up huge tents in one of the fields and they're also rushing to build several state-of-the-art, temporary steel-and-glass pavilions."
We don't know much about the property itself. However, the Daily Mail noted it was made up of three parcels of land that were combined into one when purchased. Architectural Digest reported that it has now been owned by at least two historic families. It was previously owned by Duncan Dayton, heir to the Dayton-Hudson Corporation. If the name isn't familiar, that's because it was switched over to the Target Corporation in later years.
The gorgeous estate will host even more famous faces for the wedding. One of Gates' neighbors told the Daily Mail that "a lot of dignitaries" will be in attendance. Although they didn't name any names, it's worth pointing out that Bill Gates and Melinda French Gates have hung out with former President Barack Obama before. Maybe he'll be in attendance?
The wedding has an estimated price tag of at least $2 million
Although she's the daughter of a billionaire, Jennifer Gates reportedly led a fairly modest life growing up. For example, she and her siblings Phoebe and Rory did the dishes with their parents. Plus, although their dad made his fortune in technology, they didn't get their first cell phone until the age of 14. Even then, Bill Gates allegedly limited their screen time, and phones weren't allowed at the table (via Luxury Launches).
Although Gates and her siblings apparently experienced a more modest childhood than their fortune would imply, it appears that she plans to spend a pretty penny on her wedding. Per Insider, the average cost of a wedding in 2021 is $22,500. The venue is typically the largest expense for the day. Even though Gates and Nassar are getting married at home, it appears that they'll blow by that price point.
A source told the Daily Mail that their wedding will cost "at least" $2 million. While the number is literally stress-inducing, it does make sense in a way. The construction costs alone had to add up, and it will seemingly pay off. It's been alleged that even the port-a-potties on-site will be "beautifully designed."
The neighbors initially weren't thrilled about the at-home wedding
How would you feel if your serene property in the middle of quaint farmland was suddenly situated next to the site of a reportedly multi-million dollar wedding? While it's likely exciting and interesting to think about living in the middle of that construction zone, it seems that Jennifer Gates and Nayel Nassar's upcoming nuptials initially upset the neighbors, according to the New York Post.
One of their neighbors went as far as to say that "there was a real lack of consideration" for how the wedding would impact the locals. Although they apparently ruffled a couple of feathers, Gates and Nassar were quick to make nice when it was pointed out to them. They reportedly dispatched gifts and included a letter apologizing for the ruckus.
Although it appears that most of the neighbors did not get an invite to the event, they're hoping for a scoop on how it all goes down. One even admitted that they were hoping to have an auxiliary party of their own. "We're going to put a tent out and I am ready to have a party," they admitted to the New York Post. Others contemplated gate crashing, leaving us wondering how tight security will be.
Jennifer Gates already had her bridal shower and bachelorette party
With her wedding right around the corner, Jennifer Gates has likely already celebrated some of her last big outings as a single woman. That includes her bridal shower and bachelorette party. Melinda French Gates hosted the former at the family's lakefront home in Washington last month (via Town and Country). Gates gushed about the event, which she deemed an "incredibly special celebration" on Instagram.
"So deeply grateful for all the amazing women in my life who advise, support, and uplift me," Gates added. Based on photos, it appears they celebrated outdoors with a chic party. The decor featured pops of soft pink, the same color that played a role in her bachelorette party, which Gates also posted about on Instagram.
Town and Country noted that the event went down in Santa Barbara, California, where Gates and some of her closest friends stayed at Rosewood Miramar Beach Hotel. One activity during their get-away was a beachside yoga class, which they took wearing matching pink athletic wear (via Town and Country). We don't know anything about her wedding dress yet, but we're certain it will be every bit as stylish!