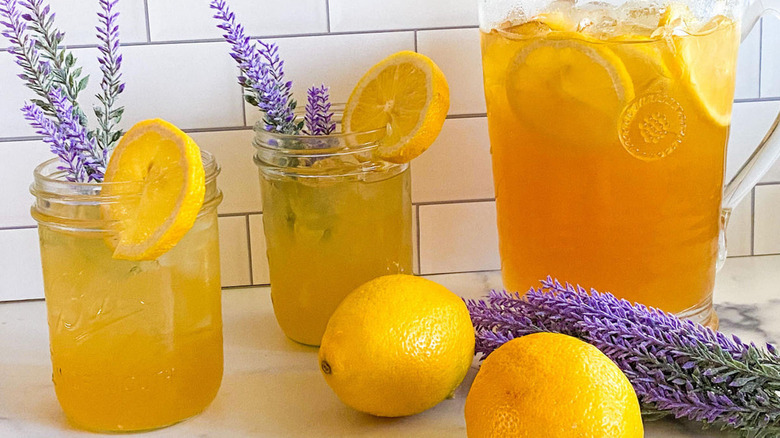 You may have heard about the calming qualities of lavender essential oil. The plant is linked with better sleep and is seen by many experts as a stress reliever, according to Everyday Health. But what about ingesting lavender leaves? It turns out that they have similar benefits when you make a drink from them. Livestrong reported that lavender contains vitamin A, which can help improve your vision. It also has calcium and iron. Lemons are also chock-full of nutritional benefits. With vitamin C and iron, lemons can help boost your immune system and help prevent anemia. So, why not combine them for a tasty treat?
With so many benefits and a refreshing taste, there is no reason not to try this lavender lemonade recipe. Not to mention, you can have a batch of this ready to drink in about a half hour. Recipe developer Miriam Hahn says that you would not believe how "delicious and fresh" this recipe is. "It tastes like homemade lemonade but adding the lavender gives it such a nice herbal twist. Super refreshing," she notes.
Gather the ingredients to prepare this lavender lemonade recipe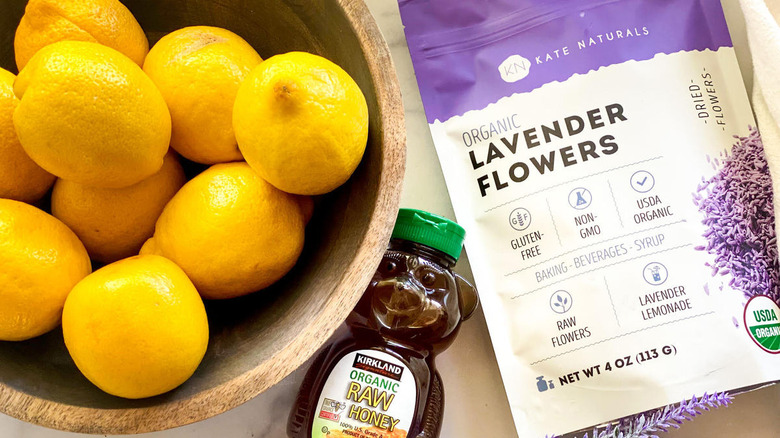 You will need five to seven lemons, which, once squeezed, will make about 1 cup of lemon juice. The sweetener for this delicious drink is honey, which Hahn says she prefers over regular table sugar, not only because it tastes better, but because it's a healthier choice. Raw honey is an antioxidant. It's also antifungal and antibacterial, according to Healthline. "As an alternative, you can use agave nectar," Hahn notes.
To round out your shopping list, you will need food-grade dried lavender, water, and ice. You may also want to add a few fresh sprigs of lavender to the drinks for an aesthetically pleasing presentation.
Squeeze the lemons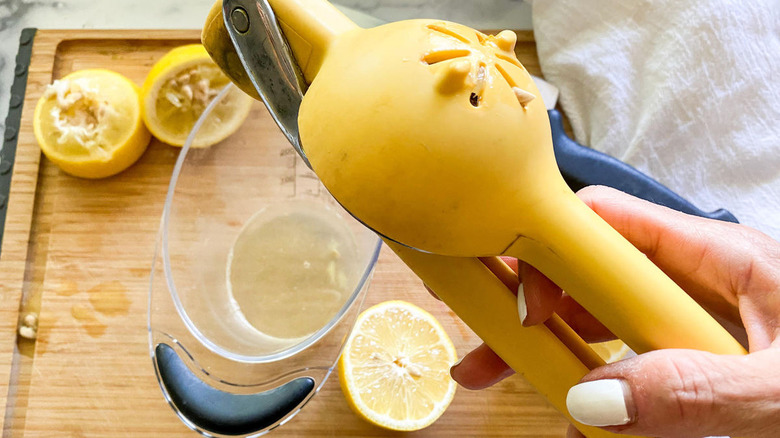 The first step to get this recipe going is to squeeze the lemons. Before you do so, however, set aside a few lemon slices to use as a garnish for the pitcher and glasses.
There are several ways to do this, but Hahn recommends using a lemon press, because it prevents any seeds from getting in your juice. However, if you don't have a special tool, no worries! You can always use a manual citrus juicer, or simply squeeze the juice out by hand. If you do use a juicer, be sure to strain the juice to remove any seeds. Set the juice aside.
Heat the water, honey, and lavender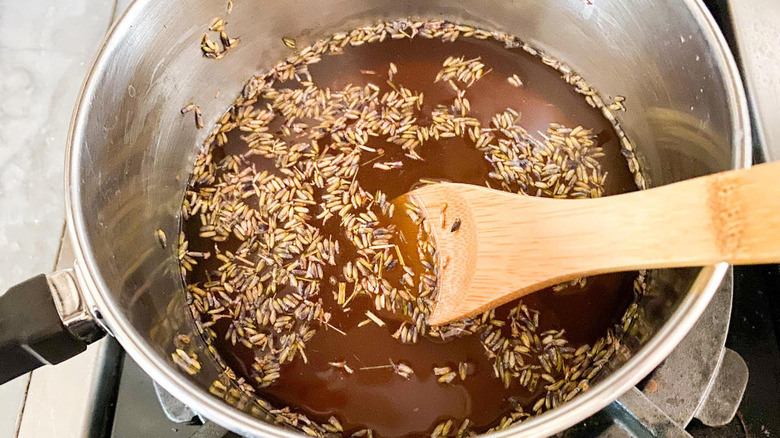 Add 2 cups of water in addition to the honey and the lavender to a medium saucepan over medium heat. Cook for about two minutes, stirring constantly. One of the reasons you'll cook the mixture is to melt the honey. Once you see that it's completely dissolved in the water, you can remove the pan from the heat. Another reason for heating the water is so that the mixture absorbs the lavender. For this to happen, you will need to let it sit for about 20 minutes after removing from the heat.
Mix the ingredients, and enjoy
Pour the lemon juice into a pitcher. Then, place a strainer over the pitcher, and add the water mixture. Discard the lavender leaves. Add the remaining 2 cups of water and the ice to the pitcher, and stir thoroughly. Dress up your pitcher and mason jars with lemon slices for garnish, if desired, and you are ready to enjoy this delightful refreshment! "This is absolutely perfect to serve at a shower, a brunch, or an afternoon tea. When I need to make a larger amount, I put it in a large glass water dispenser with a spout and have fresh lemons on the side to add," Hahn says.
If you are making this recipe to serve in the future, Hahn notes that this recipe should stay fresh for about five days. She also adds that you shouldn't add ice to the lemonade until you are ready to serve it.