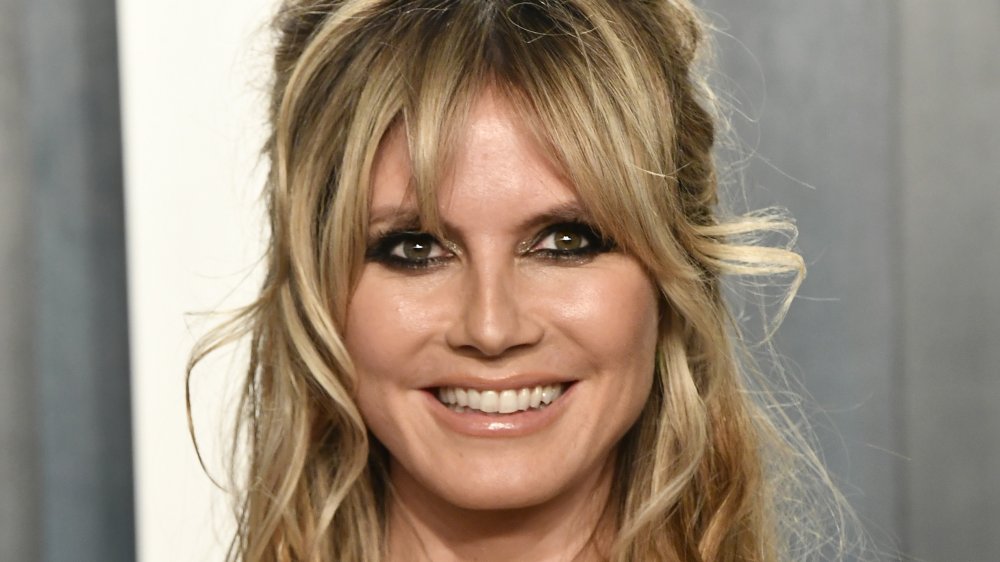 As of this writing, Heidi Klum's career has spanned almost 30 years, and the model has showcased so many different beauty looks throughout that time. In 2020, Klum launched her new Amazon show, Making the Cut, made a return to America's Got Talent, and continues to prove that she's a style chameleon who's unafraid to take risks with her hair, makeup, or clothing.
In an interview with You, Klum described her personal style as "eclectic" and revealed, "I can be many different people. This is why fashion is so powerful and what I love about it. If I have a meeting, I am all business. I want people to respect me. But there are days where all I want is to be in comfy, baggy boyfriend jeans and trainers, and that will be my vibe for that day." Join us as we explore the changing looks of Heidi Klum, starting way back in 1999.
A fresh-faced Heidi Klum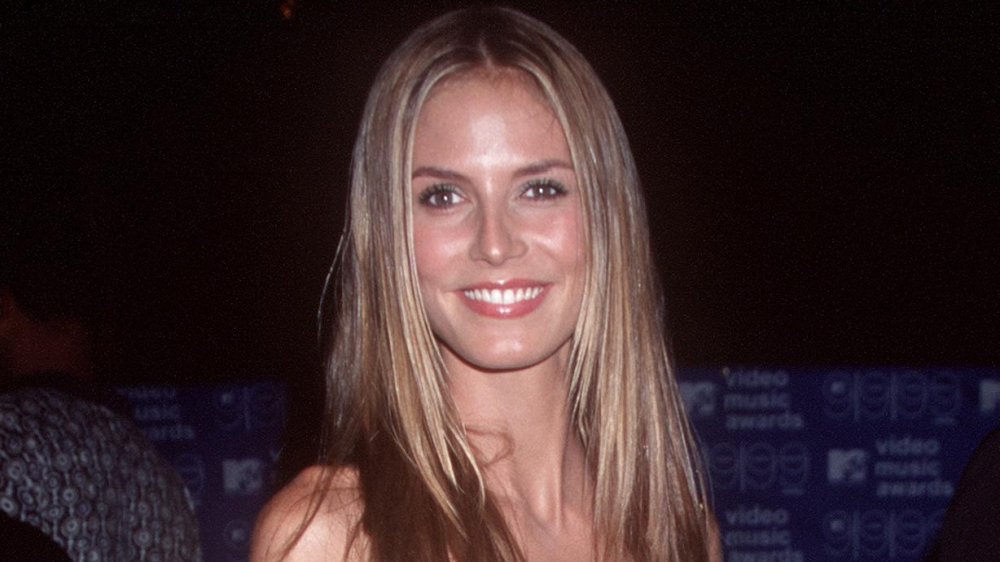 It might be hard to believe, but Heidi Klum's modeling career started way back in the nineties. According to Britannica, Klum moved to New York in 1993 after winning the top prize in a German modeling competition. She relocated to the United States from Germany after she was signed to Metropolitan Models, and it wasn't long before Klum's stardom skyrocketed. In 1999, she hit the red carpet for the MTV Video Music Awards in New York City (pictured above). With her minimal makeup, and straight, honey-blonde tresses, Klum proved that less is more. Her fresh-faced complexion hinted at her love of natural hair and makeup, but the model also isn't afraid to mix things up when she needs to.
Heidi Klum's rock and roll edge
As Klum's modeling career continued to grow, she began to prove that she wasn't afraid of using unusual, eye-catching makeup, or changing up her hair. On October 20, 2000, Klum headed to the VH1/Vogue Fashion Awards (above), where she debuted subtly highlighted curls, and vibrant green eyeliner that matched her glitzy dress. While it's rare to see Klum wearing such bright eye makeup, it seems that the Victoria's Secret model has always been willing to try out the latest trends, even if only for a night.
Retro styling proved Heidi Klum can pull off the minimal thing
At the New York launch party for Gotham Magazine (above) on March 1, 2001, Klum made a return to a much more natural makeup look, and experimented with her hair instead. With sweeping bangs and a definite side parting, the model gave off retro vibes with her new, unusual style. With a light pink lip, and minimal pink blush, Klum also signaled that she's stunning with or without makeup, which is bound to make a lot of people feel pretty envious.
Heidi Klum's London style
Arriving in London for the BRIT Awards (above) on February 20, 2002, Heidi Klum decided to leave her trademark honey-blonde locks behind in favor of a glossy brunette shade. With her darker hairstyle and fuller bangs, Klum was almost unrecognizable at the annual music industry event. ELLE reported that 2002 marked Klum's first appearance at the prestigious show, at which she wore a slinky, lace slip dress with a pair of white heeled boots.
A platinum blonde bob for Heidi Klum's edgy style transformation
In 2003, Heidi Klum ditched her brunette hairstyle in favor of a show-stopping platinum blonde look. Her shorter, choppier haircut also suggested that Klum was entering an edgier style period, in which she wasn't afraid to try out having a long bob, or "lob." Dressed to impress, Klum attended the New York Post's 2nd Annual Liberty Medals awards ceremony (above), which honors New York City's everyday heroes, on October 2, 2003 in New York City.
The birth of Heidi Klum's smokey eye
2004 was the year that Heidi Klum started dating Seal, so it makes sense that the model traveled to Las Vegas, Nev. for the 2004 World Music Awards (above) in September of that year. For the occasion, Klum wore her hair in a loose updo, and debuted a smokey eye, with sleek black eyeliner.
Klum met Seal in early 2004. When asked where they first met, she told Redbook, "In New York, at the Mercer Hotel. I was in the lobby and he walked in. My friend introduced us, and I told Seal to sit down." According to E! News, when Klum started dating Seal, she was pregnant with her first child, daughter Leni, with former boyfriend Flavio Briatore. Klum gave birth in May 2004, and tied the knot with Seal a year later in May 2005.
Heidi Klum's old Hollywood inspiration
2005 was a big year for Heidi Klum. On May 10, the model got married to singer Seal in an intimate Mexico beach wedding, per E! News. Weeks later, on May 21, 2005, Klum took to the stage at the Life Ball 2005 at Vienna City Hall in Austria (above). The Life Ball supported people living with HIV and AIDS, and took place annually until 2019. For the charity occasion, Klum channeled old Hollywood with a bright red lip, and coiffed curls reminiscent of Marilyn Monroe.
It's always summer for Heidi Klum
Victoria's Secret helped make Heidi Klum a household name, so it's unsurprising that the model had such a close working relationship with the brand. On July 31, 2006, she attended the launch of Victoria's Secret's Very Sexy Makeup (above) in Los Angeles, Calif., where she did a glamorous take on boho chic. With her hair styled in loose, effortless waves, and a healthy glow to her skin, the model showed that she's always ready to embrace summer style.
Heidi Klum returns to Germany
Another year, another ball to attend. On September 27, 2007, Heidi Klum flew to Berlin, Germany for the Dreamball, hosted at the German Historical Museum. The annual fundraiser supports women living with breast cancer, and regularly attracts a star-studded crowd. Having been born and raised in Germany, Klum's attendance at the Dreamball was likely all the more personal for the model. For the event, Klum left her light blonde days behind and instead debuted a honey-blonde updo featuring intricate knotting.
A dramatic change returned Heidi Klum to a natural look
Heidi Klum gave herself a style overhaul in 2008 by transitioning to a brighter, blonder lob. With long bangs, and lightly feathered hair, the model looked happy and youthful during an appearance on January 23, 2008 in Munich, Germany to promote Bella Fontanis (above). The same year, Klum told Redbook, "I love when I go out and I have my hair and makeup done, but I also like it when I'm just with the family because that's real. Seal says it's when I'm pregnant. I always did feel beautiful when I was pregnant, but I do feel more me when I'm my normal size."
Heidi Klum experiments with her lob
Heidi Klum is a co-host and judge on the German version of America's Next Top Model, which is called Germany's Next Topmodel. Pictured in Las Vegas, Nev. on January 24, 2009, the model revealed another fresh new look, with a shorter lob, grown out bands, and a toned down hair color.
In an interview about her style with Harper's BAZAAR UK, Klum revealed, "I am not defined by my hair but I definitely think people recognise me and associate me with blonde. I've played with the shade over the years — almost platinum at one point and then darker, but always blonde. Years ago, Mattel actually made a Barbie doll of me for their 'Blonde Ambition' series. It was so exciting to be included amongst blonde icons like Marilyn Monroe and Goldie Hawn!"
Heidi Klum embraces ombre
Having dabbled with some shorter hairstyles, Heidi Klum returned to the red carpet with a much longer look on January 17, 2010. Attending the 67th Annual Golden Globe Awards held at The Beverly Hilton Hotel in Calif. (above), Klum looked every inch the Hollywood star. Rocking much darker roots, the model tried out ombre for the first time, easing into her favored honey-blonde hues while rocking beachy waves. Dramatic eyelashes aside, Klum kept her makeup simple, and let her natural beauty do the talking.
The rockstar look works on Heidi Klum
The Project Runway star hit the red carpet for the American Music Awards in Los Angeles, California, on November 20, 2011 (above). Wearing heavy black eyeliner, and pink lip gloss, Klum channeled her inner rock star.
The same year, Klum told Good Housekeeping, "Keeping it all together as a modern woman means multitasking, especially when you work." She continued, "I think you always need to try your best, but at the same time you can only do what you can do, and you don't need to beat yourself up about it. I'm not white-picket-fence perfect."
Is simple glam a thing? If you're Heidi Klum it is
Attending the 40th American Music Awards held in Los Angeles on November 18, 2012 (above), Klum kept her glam simple, with a tight bun, and subtle golden highlights weaved throughout her natural brown hair. With a soft pink lip, and subtle eye makeup, Klum showed off her natural beauty.
At the start of 2012, it was revealed that Klum had separated from husband Seal. In the April 2012 issue of ELLE, Klum revealed, "I feel like I'm in the eye of the tornado. It's emotions inside of your body that are a tornado. And then the outside world doing all this craziness — with you wanting it or not wanting it — is another tornado. But as hard as it is, so is life." Maybe the toned-down look was a reflection of trying to keep something calm in her life?
Thankfully, Heidi Klum's Halloween nightmare was temporary
Heidi Klum is renowned for her crazy Halloween costumes, and 2013 was no exception. The model shocked people everywhere when she transformed into a much older version of herself (above) to attend the Shutterfly Presents Heidi Klum's 14th Annual Halloween Party sponsored by SVEDKA Vodka and smartwater at Marquee in New York on October 31, 2013.
As for the model's very real obsession with Halloween, and why she holds an annual party, Klum told The Hollywood Reporter, "When I moved to America, I immediately fell in love with Halloween and the spookiness of it. All that was missing was a fantastic party. It felt like a real opportunity for me."
Heidi Klum starts plaiting
Heidi Klum attended the 2nd Annual Up2Us Gala on May 14, 2014 in New York City (above). According to the organization's website, the mission of Up2Us is to "engage, train and support sports coaches to transform youth, programs and communities." On the red carpet, Klum showed off an asymmetrical hairstyle, featuring two plaited sections. She accessorized her outfit with a huge pair of hoops, and went all in on her smoky eye makeup and highlighter. It was certainly a big transformation from her most recent Halloween costume!
Count on Heidi Klum to keep it classy during awards season
Throughout her dextrous career, Heidi Klum has showcased so many different hairstyles and makeup looks. But one thing's for sure: the model knows how to stun like an old school Hollywood starlet. On January 11, 2015, Klum attended the 72nd Annual Golden Globe Awards at The Beverly Hilton Hotel in California (above). With her blonde wavy hair swept to one side, and red lipstick matching her gown, the model looked as though she'd stepped out of a classic movie.
Heidi Klum hits New York Fashion Week
As a model, Heidi Klum regularly finds herself at New York Fashion Week, especially as Project Runway, the show she hosted for many years, regularly filmed its finale at the iconic event. Pictured above on September 11, 2015 in New York City, Klum showed off her glowy tan, golden locks, shimmery eyeshadow, and familiar pink lip. As per usual, Klum looked as though she was ready to take the runway herself, rather than simply attend the show.
One Heidi Klum fashion constant: the nude lip
Heidi Klum is no stranger to awards season, and on January 8, 2017, she took to the red carpet for the 74th annual Golden Globe Awards at the Beverly Hilton Hotel in California (above). With her hair pulled back to reveal darker ombre roots and scattered highlights, the model looked seriously chic. Klum also kept her cosmetics simple, opting for a nude lip and long black lashes.
As the years have rolled on, the model has etched out a style all of her own. Klum reflected on her early style during an interview with ELLE, and said, "It was horrible. I wore too much makeup. I'd put on foundation, way too much blush. I had the worst clothes. I didn't have heels. Where I come from, where would I need to wear heels?"
Heidi Klum's modern bouffant
Heidi Klum was photographed above at the Creative Arts Emmys on September 9, 2018 in Los Angeles, Calif. As per usual, the Making the Cut star looked pristine, as she debuted her modern take on the bouffant hairstyle. With natural look makeup, and a return to her preferred golden honey-blonde tresses, Klum was a perfect fit for the Californian setting.
Speaking about her seemingly always perfect-looking hair, Klum told Huffpost, "Everybody has bad hair days. If it's really bad, I usually throw my hair into a bun or I wear a hat. But sometimes, I just don't care because the days of having your hair perfect are over. Sometimes when I wake up in the morning, I don't even brush my hair. My trick is to wash my hair at night and fall asleep with my hair wet. Then I roll around in the pillow and I wake up and my hair looks perfectly messy." It's that easy, huh?
A boho chic look for the blushing new bride
Heidi Klum appeared on the red carpet for The Trevor Project's TrevorLIVE LA event at The Beverly Hilton Hotel in California on November 17, 2019. She wore a luminous red lip for the event (above), and styled her blonder tresses in a messy, boho-chic style, while her bangs made a welcome return.
In July 2019, Page Six revealed that Klum had secretly tied the knot with musician Tom Kaulitz in late February. In August 2019, the couple threw a second wedding celebration on a yacht in Capri, Italy, this time in front of family and friends. Of her third husband, Klum told USA Today, "He's an amazing person. I couldn't be happier."
Heidi Klum's got talent
Heidi Klum kicked off 2020 with the launch of America's Got Talent Season 15 in California. For her return to the series, Klum got a whole lot blonder. Klum reflected on style faux pas during an interview with USA Today in February 2020, saying, "I've been on the worst-dressed list many times … It's important to be true to who you are. I always loved fashion, I never went the conservative route." She continued, "If you look at all my years of being on a red carpet, I always was me. … And now that's on trend, and that's accepted."