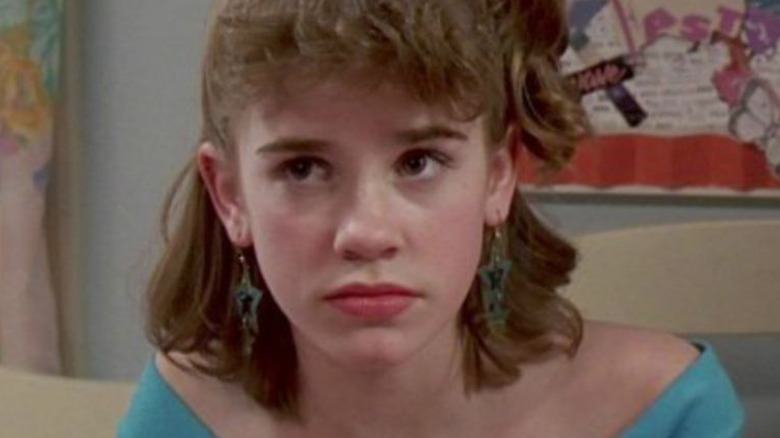 The movie 13 Going on 30 gifted us many wonderful things, among them Mark Ruffalo doing the "Thriller" dance, Judy Greer giving insanely powerful side-eye (in virtually every scene), and a gloriously unhinged central performance from Jennifer Garner. The one-time Mrs. Ben Affleck fearlessly portrayed Jenna Rink, a 13-year-old girl who becomes a big-time magazine editor overnight. The flick was imbued with a sense of well-earned nostalgia, and it was moving rather than trite, sweet rather than saccharine.
When it came to casting the younger version of Garner, the filmmakers truly nailed it with Christa B. Allen. In her first leading role, the young Allen impressed not just thanks to her striking resemblance to Garner, but also because of her considerable acting chops. Following her time acting in 13 Going on 30, Allen has worked consistently, has branched out into music, and has turned into her co-star Garner's twin in front of our very eyes.
Finding her place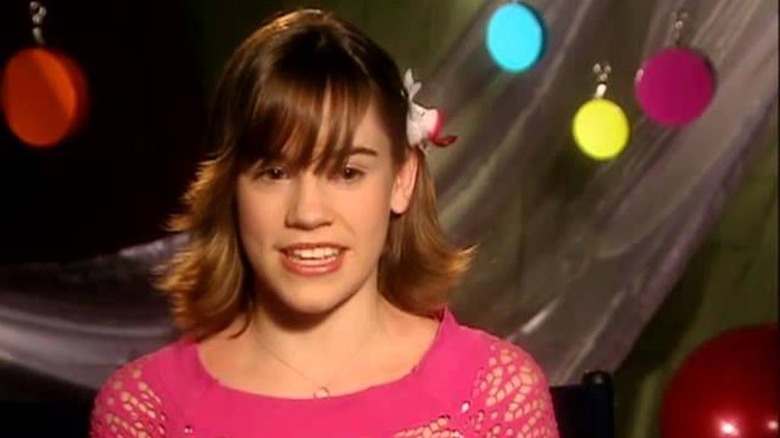 Obviously, 13 Going on 30 was Christa B. Allen's big break, but it was also her very first role in Hollywood. As noted in a 2011 interview with College Magazine, the actress grew up as the youngest in her family with a whopping eight older brothers. Allen admitted she's closer to some than others, but confirmed that her family is "very close" regardless. Although she's worked her whole life, the starlet is open to going back to college at some point. "I don't know what I want to study, because I love everything. Eventually, yes I want a degree," she opined.
Likewise, to those who wish to pursue acting full-time, Allen advised, "Be an actor only if you have a passion for it, where you never work a day in your life." Although she shows no signs of stopping yet, Allen is clearly open to other creative endeavors as she told Wonderwall in 2012 that, one particular summer, she quite literally ran off to join the circus, explaining, "I'm a lover of life. … So that opportunity presented itself and I found myself on some trapeze and trying to juggle."
Having her Cake and making it too
Allen's first big role following 13 Going on 30 was in the sweet kids' show Cake. Appearing as the titular character, a Martha Stewart-style teenager hosting a cable access show with her two best friends, the young actress' natural charisma was once again center-stage. In the series, three young ladies worked to show viewers at home how to D.I.Y. like a pro. Their motto: "You can't buy individuality, but you can make it!" Looking back, the series could arguably be seen as a precursor to Nickelodeon juggernaut iCarly, which features two female best friends doing wacky comedy bits on their own web show.
Cake ran for just one season, locking in at a total of 13 episodes. Speaking to Refinery 29 in December 2013, Allen admitted she's a bit similar to legendary businesswoman Martha Stewart. "I love to D.I.Y. — I'm a little like Martha Stewart," gushed the actress. "I like finding old furniture that has good bones, you know? Then, you go to Mood Fabrics and pick out something, and if you have a staple gun you can pretty much reupholster anything."
Taking over TV
Although her breakout role was in a movie, Allen found her sweet spot post-13 Going on 30 in television. Aside from leading the charge in Cake, the actress appeared in shows like Medium, Grey's Anatomy, The Suite Life on Deck, ER, CSI: Crime Scene Investigation, Wizards of Waverly Place, Cold Case, and Cory in the House. Quite an impressive resume — and there'd only be more shows in her future.
Speaking to Refinery 29, Allen shared that she loved working so consistently on TV. "Oh, Lord. Being an employed actor in Hollywood is nice," she said. She credits her breakout movie role for teaching her about the business in general. "I didn't know what was going on around me, I was just there to have fun. At 12 years old, you just want to have fun, and so I did. It taught me a lot and gave me a good setup for the rest of my career," she admitted to College Magazine.
Returning to Jenna Rink
In keeping with her gratitude for the role of a lifetime, Allen would later return to the character of Jenna Rink five years after the film premiered … in a manner of speaking, that is. In 2009, she starred as a young Jennifer Garner once again in the kooky comedy Ghosts of Girlfriends Past. On the red carpet for the movie, Allen gushed to Showbiz Junkies that it was "amazing" to get the chance to play a young Garner again. The actress said she was thrilled people still associated the two of them with each other. Allen even admitted that strangers would often come up to tell her just how much she looks like Garner. And though she doesn't quite agree with everyone, she is always very flattered.
In the sweet behind-the-scenes documentary feature 13 Going on 30: Making of a Teen Dream, director Gary Winick explained that Allen was originally cast because of her awkwardness, as well as her startling resemblance to Garner. Garner noted that Allen looked "exactly" like her when she was a teenager when it came to her sometimes gangly height. Allen herself humbly noted that she "kind of" looks like Garner, but the black-and-white photos of Garner as a kid made it hard for her to judge.
Getting her Revenge
The year 2011 signaled another big moment for Christa B. Allen when she joined the cast of the soapy program Revenge. On the series, she played the misunderstood Charlotte Grayson, who would go on to become a fan favorite. It was a meaty role for the actress, who took to her new position on the ABC hit with aplomb. Speaking to College Magazine about the show's overarching appeal, she noted, "We're all people on this earth going through similar experiences. It's worth opening up to and realizing we're all in the same boat together. We're not alone. I think that's why people are drawn to Revenge. There's a character and an experience that everyone can relate to."
In an interview with Refinery 29, Allen gushed about the cast, crew, and positive atmosphere on set. "It's nice to be part of a show where I feel like we have a really collaborative environment," she said. Of bringing Charlotte to life, she added, "I can always have input on the show and the character. So, you always feel like you're working — it's not like something is just thrown in front of you and you have to act this, you know? You can have input."
Itching to explore
Aside from showing off just how much she's growing up to look even more like Jennifer Garner, Allen's active and — let's be frank here — gorgeous Instagram account showcases her infectious zest for life. Whether she's doing hardcore aerial workouts or the #10YearChallenge (via 13 Going On 30, naturally) to promise her younger self things would get better, Allen's brand is on point. And one of her biggest passions in life — aside from performing, of course — is travel.
Stunning shots on her Instagram showcase the actress chilling on a cliff in Arizona, on a beautiful beach in Mexico, and amid the stunning scenery in Hawaii. She also hilariously quipped, "I'm off to dive with sharks," before following up to prove she'd done exactly that — with no cage, natch. When Wonderwall asked her in 2012 where she'd still like to visit, the actress explained, "I'm dying to go to India … because the culture seems so vastly different from what I'm used to in the States. I would love to do some yoga there. And be amongst people who are so different than myself. There's so much you can learn from people who grew up in a different environment."
Taking on a new role
In November 2014, Deadline announced that Christa B. Allen would be joining another hot television show in the form of the hit sitcom Baby Daddy. The publication confirmed Allen would join the fourth season of the ABC Family series as Robyn, a colleague of Chelsea Kane's character Riley in the law firm. Allen's Robyn hits it off with the dreamy Danny (Derek Theler) after getting set up on a date, much to her work buddy's chagrin. Thus, another complicated love triangle was born.
In March 2015, after playing the supporting character on the show, Allen gushed to TVLine (via Yahoo! Entertainment) about how "nice" it was to "go to work and just laugh" after the inherent darkness of Revenge. In particular, she noted the big food fight between her and Kane's characters, which took place during the cliffhanger spring finale, as a highlight of her time on the show.
Finding her voice
Christa B. Allen met boyfriend Johnny What — a producer, director, songwriter, and musician — while working on a music video for his band, BRÅVES (a musical trio comprised of What and collaborators JHERICO and Thorald of the Wood). The song was 2016's "Me the Thief," and Allen was the star of the video. As noted in a Billboard interview with the happy couple, it took them another year after their meeting to start dating. And once they did, they birthed a new creative project.
What told Billboard that he got the idea to collaborate after hearing Allen singing in the shower. The multi-hyphenate decided then and there that they needed to work together. "I was like, 'Oh man, she has a really powerful voice,'" he recalled. "I saw immediately an opportunity to create a really cool project."
Allen noted, "We were both waiting for the right moment to pop the question. We both wanted to do it, and then one of us finally one night [asked], 'Should we do it? Should we write a song together?'"
Making music Pour Vous
As a result of their simultaneous realization that they should collaborate on music, Christa B. Allen and her boyfriend, Johnny What, formed the "pop/trip-hop" musical duo Pour Vous. Due to the fact that the project is so personal to the two of them, Allen admitted to Billboard, "We've ended up with songs about sex and love and also the arguments you have and the struggles and tensions you have with it as a couple." For example, the song "The Flood" is about a breakup and was written after the couple fought for the first time.
To AXS, What shared that the process for writing their first single was unlike anything else he'd ever experienced. "It was one of the more memorable songwriting experiences I've had because I was writing a song about the possibility of breaking up with the person I love the most. It was a bit confusing and intense but Christa put me at ease. I'm thankful for the experience because it helped me to grow. Not only as a songwriter but also as a person," he explained.
Baring it all
Allen shocked everybody with Pour Vous' music video for "Scorpio," which marked the band's first visuals. And which required Allen to completely strip down. Gossip sites like Hollywood Life were floored over just how grown up the 13 Going on 30 star had become and how she was showing a totally different side to herself. The video for "Scorpio" is no longer available online, but, in a 2018 conversation with Galore, Allen described the inspiration behind it as "strong women throughout history." She shared, "We wanted to celebrate them and their fearlessness. Also, indignation at the way sexually liberated women are portrayed in film and tv. … We were excited to put a woman on the cross and worship her."
Allen also told AXS that nothing held her back from going nude, noting, "I had no reservations because I strongly believe in the concept and was excited about executing it in the best possible way. … I also come from a very conservative family that doesn't believe in females wanting sex for pleasure. For them, sex should be for procreation only and having babies." However, she added, "Women shouldn't be ashamed of their sexuality, and I couldn't be more excited about putting that message into the world."
Feeling sinful
When she wasn't making music, Allen went darker than Revenge with the TV movie The Queen of Sin, which was also called Dangerous Seduction, according to IMDb. Speaking to AXS in April 2018, Allen opened up about what the project meant to her. "It's another controversial piece and an incredible film experience I had in Montreal toward the end of last year. I've never shot a movie that was this edgy. The young woman I play in the film is very timid and insecure, but she develops a very strong and sexy alter ego identity with an interest in BDSM," she said.
On the changing tide about sexual expression in the entertainment industry, particularly when it comes to the infamous Fifty Shades of Grey series, Allen noted, "It's cool to see people are embracing these things more and its becoming less taboo. You see people clutching their pearls when they watch our music video, but how many millions of those same people are devoted fans to Fifty Shades of Grey? It's not all that different, and I'm excited that people are starting to embrace it more."
Breaking her vows
Another one of Allen's projects, the Lifetime TV movie When Vows Break, is also a big departure from Allen's past role in 13 Going on 30. Soaps shared the news about When Vows Break's then-impending release in January 2019 and called the thriller "disturbing." The movie features Allen as Ella, a woman in an abusive relationship who plots to marry her longtime partner and then ditch him for good while they're away on a honeymoon. Naturally, the plan doesn't go off without a, er, hitch, and she soon finds herself running for her life.
Allen excitedly shared the trailer for the thriller, in which she stars alongside The Bold and the Beautiful actor Jacob Young, on Instagram, according to Soaps. Describing the movie, she wrote in the caption, "When she puts her plan in motion, Ella has no idea that she is placing everyone she knows in unanticipated danger as Tolan will stop at nothing to find Ella wherever she is and destroy anyone who stands in his way."
As she explained to Galore, acting for Allen is all about having faith in the strength of the project. "You are chosen to play a character, you hope that character is consistently written well, you show up, do your best, and then hope your performance is edited favorably," she noted. And while she may have been discussing work on a TV series in that interview, we're sure her words apply to her take on TV movies as well.
She'll always be Jenna
13 Going on 30 may have premiered years ago but, for Christa B. Allen, nothing will ever compare to her first acting job. In a January 2019 interview with Today, the actress noted that the film is still popular because it had incredible mass appeal. Allen revealed that people often reference the movie's phrase "thirty, flirty, and thriving" with her. She also shared her enthusiasm for pop star Ariana Grande's "Thank U, Next" music video, which references 13 Going on 30 alongside several other romcom classics.
The most difficult part of filming the movie for Allen was learning the "Thriller" dance because of her lack of coordination. But acting opposite Garner was a dream, as Allen noted, "She was the same then as she is now. I think she has this persona of being very sweet and kind and welcoming, and she was that then, and she is that now."
Garner advised her to always have a life outside of her career, otherwise she'd find it hard to play other characters. Given how full Allen's life appears to be with acting gigs, music, travel, and everything else, the older Jenna Rink would definitely be proud of how her younger counterpart has turned out.