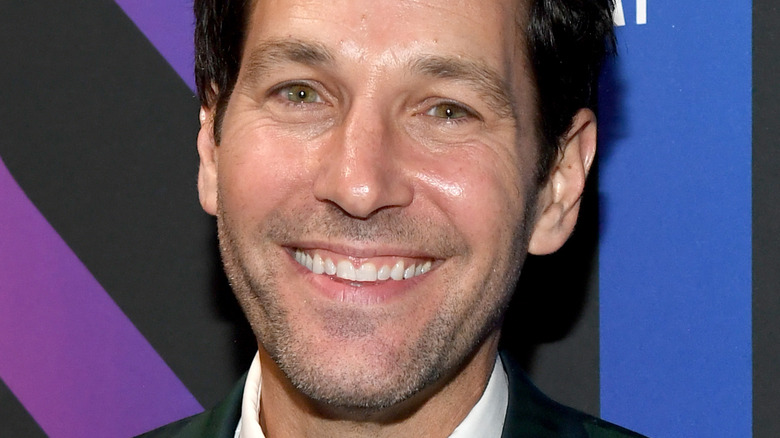 Paul Rudd is truly America's sweetheart. From leading man rom-coms like "Clueless" and "I Could Never Be Your Woman," to side roles in raunchy farces like "I Love You, Man" and "Role Models," to parts in indie darlings like "Perks of Being a Wallflower" and "Our Idiot Brother" — and even popular television roles — Rudd is a favorite among all audiences.
Rudd was born in Passaic, New Jersey, on April 6, 1969, to English parents. His mother was a sales manager, while his father worked for TransWorld Airlines, which means they moved around when Rudd was young. He told Vanity Fair, "[U]p until the age of 10 I had lived in three different states, I had gone to many different schools, and so I was always trying to acclimate into new scenarios and settings." As difficult as this was, it helped Rudd develop an affinity for comedy, as he used humor to win people over and make friends. "I think that was probably the way that I kind of tried not to get my ass kicked, or at least make friends, you know," he explained. "That was probably my defense mechanism. Still is."
Rudd's family ultimately settled in Kansas when he was 10. His parents were both children of Polish and Russian Jewish immigrants. His paternal grandfather anglicized his surname Rudnitzky to Rudd. As he continues his stint as Marvel's "Ant-Man," Nicki Swift is here to take a look at Rudd's transformation over the years — even though he won't look much different because The Man. Does. Not. Age.
Paul Rudd developed his improv skills as a DJ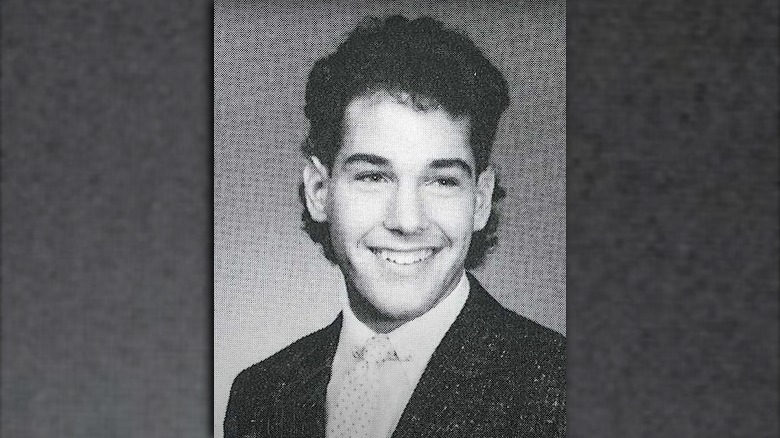 In Kansas, Paul Rudd graduated from Shawnee Mission West High School in 1987, the same high school as Jason Sudeikis, according to Before They Were Famous. Rudd was a cheerleader in high school, and served as student body president, perhaps providing fodder for his later role as Bobby Newport on "Parks & Recreation." Rudd was also fascinated with alt-rocker Adam Ant (per Fascinate).
After high school, Rudd attended college at the University of Kansas, where he majored in theatre and belonged to Sigma Nu fraternity. He gained some improvisational experience, honing his loving comedic personality while working as a weekend DJ for bar and bat mitzvahs. After college, he continued his theatrical studies, attending the American Academy of Dramatic Arts in Pasadena, California, and doing a semester at the British American Drama Academy in Oxford, England. He returned to America in the early 1990s, where he started working in television.
A commercial for Super Nintendo in 1991 kicked off his acting career, where he worked under his full name, Paul Stephen Rudd, so that he would not be confused with the existing SAG actor, Paul Rudd of "Knots Landing." He soon won the role of Kirby Philby in the television drama "Sisters," airing from 1992 to 1995, opposite Swoosie Kurtz and Sela Ward. He also played Brian Grant in the short-lived 1994 comedy series "Wild Oats." But it was not until 1995 that Rudd got his big break in a little rom-com with a huge following.
Working with Amy Heckerling gave Paul Rudd his big break
In 1995, Paul Rudd played the role of Josh, older step-brother and love interest to Alicia Silverstone's Cher in a smart new teen romantic comedy based on the classic story "Emma," by Jane Austen. Directed by Amy Heckerling, "Clueless" was a huge success and has been an iconic part of pop culture ever since. Rudd said, "When we were shooting it, we all hoped that ["Clueless"] would fall into that kind of pantheon of movies like John Hughes made, or that really struck a chord with us when we were teenagers," via IMDb. "It had actually achieved that status for a lot of people. What a cool thing it is to be involved in something that attains that level of importance in a lot of kids' lives."
After making "Clueless," Rudd moved to New York in 1995. The day he arrived, according to Nylon Guys (via Good Housekeeping), he went to meet his new publicist with luggage in hand and simultaneously met his future wife, Julie Yaeger, who was working as an assistant. She agreed to watch his bags while he went on an audition, and he later invited her to lunch. Thus began their romantic relationship. The two dated for eight years, until they married in 2003. They have been married ever since, and live happily in Rhinebeck, New York, with their two children: son Jack, who arrived in 2006, and daughter Darby, who was born in 2010.
Working on 'Clueless' opened many doors for Paul Rudd
With the success of "Clueless" and his performance as adorable love interest Josh, Paul Rudd's star was on the rise. He appeared in many films after "Clueless," in parts big and small: He played Paris in Baz Luhrmann's Red Curtain Trilogy film "Romeo + Juliet," starred with his friend Jennifer Aniston in 1998's "The Object of My Affection," appeared with curly hair and sexy sideburns in the New Year's Eve teen ensemble comedy "200 Cigarettes," and even showed up in an episode of the short-lived sitcom based on "Clueless."
While becoming a hot commodity, Rudd did miss out on a role he was hoping to play — as was his father. Rudd had auditioned for the role of Jack Dawson in James Cameron's massive blockbuster "Titanic," and Rudd's father was an avid Titanic historian! Alas, Rudd did not get the role, but he heartily encouraged his "Romeo + Juliet" co-star Leonardo DiCaprio to accept the role when he learned DiCaprio had received an offer.
Striking a careful balance between romantic lead and raunchy comedic supporting character, Rudd appeared in "Wet Hot American Summer" in 2001. He also took a recurring role on the hugely popular sitcom "Friends," as Phoebe's love interest, Mike Hannigan, staying with the series for its last two seasons. However, when Rudd played the role of 1970s ladies' man newscaster Brian Fantana in 2004's "Anchorman: The Legend of Ron Burgundy," Rudd set off on a new collaboration in raunchy comedy.
Paul Rudd became one of Judd Apatow's star players
Working on "Anchorman" with co-stars like Steve Carell and Seth Rogen set Paul Rudd on the path of side characters in silly, raunchy, sometimes-romantic-in-a-gross-way comedies. In 2005, he worked with writer-director Judd Apatow in Apatow's first feature (co-written with Carell), "The 40-Year-Old Virgin." Now part of Apatow's regulars, Rudd also appeared in "Knocked Up," "Walk Hard: The Dewey Cox Story" (though uncredited), and "This is 40," all written and directed by Apatow.
Rudd's wife Julie Yaeger transitioned into a screenwriting career and assisted with a couple Apatow projects. Rudd is also a master improviser, adlibbing lines that are too funny to cut, even if he doesn't say them himself. According to IMDb, Rudd came up with calling out "Kelly Clarkson" while Carell's "40-Year-Old Virgin" is getting waxed. Rudd and Rogen also improvised the entire sequence in that film about "how I know you're gay." During this time, Rudd flexed his writing muscle by creating the 2009-10 cult-favorite TV series "Party Down."
The raunchy comedy isn't Apatow's domain alone, and Rudd also played sweet, awkward, sometimes anti-heroic roles in "Role Models," which Rudd co-wrote, "I Love You, Man," "Forgetting Sarah Marshall," and "I Could Never Be Your Woman," often alongside other Apatow acting alums. He appeared in another long-running TV sitcom, as hapless political candidate Bobby Newport running against Amy Poehler's Leslie Knope on "Parks and Recreation." He then starred with Poehler in their rom-com spoof, "They Came Together." But his biggest role was right around the corner.
Paul Rudd landed a major role in the Marvel Cinematic Universe
Hitting the motherload that lots of leading men aspire to, Paul Rudd finally reached a new plateau in 2015: he was cast in the Marvel Cinematic Universe as Scott Lang, or "Ant-Man." He now leads his own comic book superhero franchise with one sequel — which Rudd co-wrote — to date, and another in production. He also participated in two MCU ensemble movies, "Captain America: Civil War," and "Avengers: Endgame," not to mention the forthcoming series "What If…?" Even if he never works on anything again, he's set for life.
Rudd likely had a huge fanboy moment when he became Ant-Man, and not just because of the huge role he was undertaking. Rudd is also a huge, self-described fan of the television series "Lost," according to IMDb, so he probably geeked out when he learned he would be starring opposite "Kate" herself, Evangeline Lilly.
In addition to his busy Hollywood life, with a role in the forthcoming "Ghostbusters: Afterlife," Rudd and his wife also co-own a candy store with actor Jeffrey Dean Morgan in Rhinebeck, New York, where they all live. The actors took over the shop, called Samuel's Sweet Shop, after the previous owner, a friend of theirs, died suddenly. Apparently Rudd also owns an Irish pub called Sullivan's, according to Q105.7, but you have to be invited: It's in Rudd's basement. What we wouldn't give to receive such an invitation!