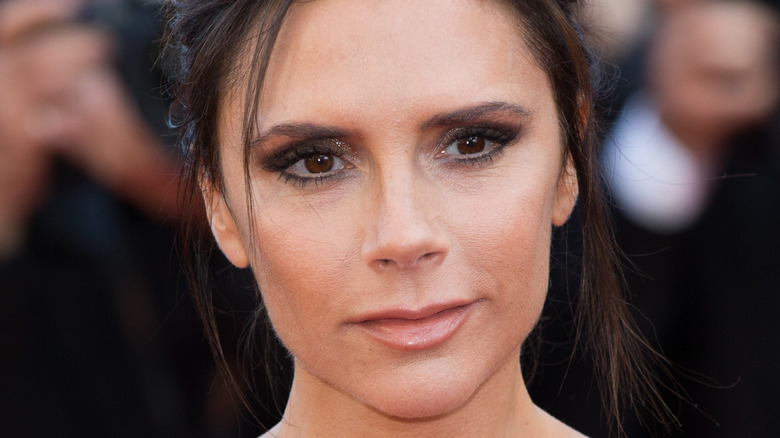 It seems like it was only yesterday that Victoria Beckham was Posh Spic e and hubby David Beckham still had the Golden Balls of the soccer field. But despite their seemingly ageless appearances, Posh 'n' Becks are now proud parents of four kids, who are steadily growing up into little fashionistas and sports stars themselves.
In the late '90s, there was no celeb couple more highly scrutinized than the Beckhams. So, when they became parents for the first time, the media swarmed over the happy family. During an infamous interview with prankster Sacha Baron Cohen's alter ego Ali G (via The Guardian), the host poked fun at the new parents, asking Posh whether "your little boy [is] starting to put whole sentences together? … And what about Brooklyn?"
Well, with all the money Posh and Becks and their youngsters have in the bank, who's laughing now? That said, the assumptions we make about rich people's children aren't always accurate. Sometimes the spawn of superstar celebs surprise us, either by following a completely different career path from their parents or outright rebelling. In the case of the Beckham kids, they appear to be a harmonious group of siblings with high-brow tastes and often surprising hobbies.
Does Brooklyn rule the Empire State of Beckham? Does dashing Romeo live up to his name? Is Cruz a good boy or is he cruisin' for a boozin'? And exactly how much is Harper's fashion bazaar worth? Here's the truth about David and Victoria Beckham's children.
Things weren't always rosy for the Beckham kids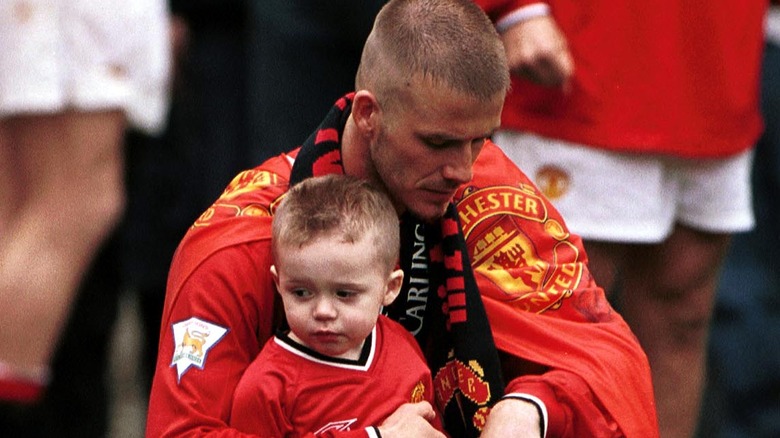 The Beckhams welcomed their first child, Brooklyn, in 1999, when David was 23 and Victoria was 24. "Obviously, Victoria and I had Brooklyn at a very young age," Becks told The Father Hood. "But I always wanted that, because I wanted my kids to live through my career with me — through the highs and obviously a couple of lows along the way. I always wanted that. And I think you mature quicker with kids."
Their second son, Romeo, was born three years later when Posh 'n' Becks were still years away from 30. Despite the idyllic life that the celeb couple have made for their kids, Brooklyn and Romeo's early years were blighted by horror.
In 2002, when Brooklyn was just 3 and Romeo was a mere infant, a plot to kidnap the boys was foiled by police. At the time, The Guardian reported that a journalist for the now disgraced and defunct News of the World took part in a sting operation on a "nine-man team" who plotted to kidnap Posh, as well as her two young boys, for a £5 million (around $6.8 million) ransom. "The first role of a father and husband is to keep his family safe," a distraught David Beckham told the Guardian at the time.
Thankfully, the kidnappers were stopped in their tracks and the Beckhams were able to return to their paradisal nest, with two more sprogs soon to be welcomed into their family.
The Beckham brood's fancy education
There will be no pleb education for the Posh 'n' Becks' offspring. David and Victoria Beckham may have been educated at state schools, with Becks in particular hailing from a working class background, but it's nothing but the best fancy education for their own kids.
In 2012, Metro reported that the family were forking out £15,000 (around $20,4000) per year for Brooklyn, Romeo, and Cruz Beckham's swanky schooling. "For David and Victoria, the children come first," a source told the paper. "They have spent months researching schools and after visiting a few earlier this month, have found one they agree on. It's an independent school and will not be fazed by having celebrity children on its books." Victoria Beckham has previously joked about spending vast amounts of cash on her children's "private education," as per Elle.
However, Becks has admitted that he finds his kids' assignments pretty difficult. As he told the Daily Mail in 2006, "Their homework is so hard these days. I sat down with Brooklyn the other day — and I was like, 'Victoria, maybe you should do the homework tonight.' I think it was maths, actually. It's totally done differently to what I was teached when I was at school… I was like, 'Oh my God, I can't do this.' Brooklyn was like, 'Please do it with me,' and I'm like, 'I'll read your book with you.'" Take a look, it's in a book, it's Reading Rain-Becks.
Romeo Beckham's epilepsy led to a battle with the paps
David and Victoria Beckham's second child, Romeo, was born in 2002. But the youngster's early years were fraught with hardship. In 2006, the Beckhams were snapped by the paparazzi when out with Romeo, causing mom Victoria to yell, "He's got epilepsy… all that flashing will start an epileptic fit… you can't do that," as per People. Flash photography is known to cause seizures in individuals with epilepsy. Photographers then agreed that they would no longer take photos of Romeo.
At the time, a family friend told the now defunct The News of the World (via News 24) that Romeo had been hospitalized on several occasions due to the condition. "They are devastated — worried sick about Romeo," the insider revealed. "He is on medication to control the seizures but obviously things like flashing lights can trigger one at any time."
Regarding the paparazzi's pursuit of her children, Victoria Beckham poignantly explained to The Guardian that she would tell her kids that the paps were taking photos of them for their grandparents, who missed them. "It was a way of explaining it to them when they were too young to understand," she reflected. "They are used to it now. They've all grown up with it. They understand that they have to act in a responsible way because of it. But they will make mistakes — we all do. And theirs will be in the public eye."
Romeo Beckham is a footie star in the making
Can he bend it like Beckham? Romeo Beckham has taken his dad's path by pursuing a soccer career. Despite previously being tipped as a tennis pro, and receiving lessons from Caroline Wozniacki, David Beckham demolished his son's £30,000 (around $40,800) tennis court in 2020 when it was revealed that he had fallen in love with the soccer pitch, according to The Sun.
However, there was no pressure from Becks for his kids to inherit his soccer prowess. As the elder Beckham told the BBC in 2010, "If they follow in my footsteps then great — they know how much I love football and they love football as well. If they do, they do; if they don't then I'll support them in whatever it is they do and go into."
In 2021, Romeo signed with Fort Lauderdale FC, which is owned by David Beckham's club Inter Miami FC. In Romeo's first soccer match with the club, the team drew 2-2 and fans weren't entirely impressed with his professional debut, as per the Daily Mail. But Beckham Sr. told coach Phil Neville that he should give his son no special privileges. "I think the first thing that David said to me was, 'You have got to be harder on him than anyone else,'" Neville said in The Sun. "He has got to work harder than anyone else to get into that team because there will be questions, there will be expectations on his shoulders."
Cruz Beckham is a singing sensation
Romeo Beckham may be following his father's lead, but Cruz Beckham is looking to Spice up his life. The Beckhams' youngest son, who was born in 2005, has his sights on a music career, just like his mom. As per the Daily Mail, Cruz was asked about his biggest dream in life during an Instagram Live, to which he replied, "To make music everybody loves and for music to last forever!" Viva forever, right?
In 2016, a then 11-year-old Cruz released a Christmas charity single, "If Everyday Was Christmas," in which the tween sings, "If everyday was Christmas and there'll be gifts all year/ And everything I wish for will be here." Some could very well argue that, being the child of two multimillionaires, every day is already Christmas for young Cruz.
In an interview with Capital FM to promote the single, the adolescent enthused, "It's amazing, it's two of my favourite things: singing and Christmas. And it's amazing to put those together and the money is going to charity."
Two years later, David Beckham praised his son's singing abilities to Metro. "I'm very proud, he's only really been doing it the last nine months," he gushed. "He was sat in the back of the car and we were driving along and he was singing to something and I turned to Victoria and was like, 'He's got a voice!'" For the youngest Beckham son, singing is mere Cruz control.
The Beckhams always wanted a daughter
Up until 2011, the Beckhams had a house full of boys. That year, a source told The Sun (via HuffPost) that Victoria Beckham was feeling a little jealous after her sister gave birth, claiming that Posh Spice was eager to have another baby. "She and David have always wanted a girl," the insider said. "He'd love more kids so it's great news."
During a 2011 interview with Jimmy Fallon, the host asked a pregnant Victoria if she was finally having a baby girl. "I'm excited. Either, you know, it will be a boy, to add to the three boys we have and we'll have half of a five aside football team with David. We got so much testosterone in our house it's crazy," she told Fallon, adding that she would be thrilled to have a girl.
The couple was blessed that July with their first daughter, Harper Seven. The Beckhams' fourth child is named after author Harper Lee. "Victoria's favourite book is To Kill A Mockingbird, it's a very strong, passionate book and the author was Harper Lee, and that is where Harper came from," David Beckham wrote on Facebook (via The Guardian). He added that the middle name "symbolises spiritual perfection — the seven wonders of the world, the seven colours of the rainbow — and in many cultures it is a lucky number." And, of course, it happens to be the very number on the footballer's jersey.
Brooklyn Beckham is a photographer
As the first-born Beckham kid, Brooklyn Beckham certainly has a lot to live up to. But he decided to follow a completely different path to his parents by embarking on a career as a photographer. In 2016, the budding shutterbug snagged a gig shooting the 2016 Burberry campaign when he was aged just 17. It was a major job for any photog, let alone a teenager who was only getting his start. This was met with fury on the basis of, as one veteran photographer told The Guardian, "sheer nepotism."
In a scathing review of Beckham's output, The Guardian wrote, "To call his photographs a bit tame is like saying a hamster is not a very fearsome animal. These pictures have no bite and no drama, and nothing to say." Ouch. But Beckham needn't take any notice of savage art critics. Shortly after dropping out of the prestigious Parsons Schools of Design, apparently due to homesickness, he landed an internship role for an unnamed "respected British photographer," as reported by the Mirror.
Regarding his aesthetics, Beckham has said that he takes inspiration from everyday life. If his parents' combined bank balance is anything to go by, his is the picture of wealth. "I love taking mirror portraits and I've always done that in a cool way," he said in Icon. "If I walk on the street and there's a little broken mirror, I'm drawn to it."
Romeo Beckham has a model girlfriend
Bearing a striking resemblance to his genetically blessed mom (who wouldn't want those sharp cheekbones?), Romeo Beckham is turning out to be quite the heartthrob. He was previously linked to "Stranger Things" star Millie Bobby Brown in 2019. At the time, The Sun reported that Brown was besotted by Romeo, with mom Victoria Beckham giving her "the seal of approval as she is a big fan of Millie's," according to an insider. However, it wasn't to be for Eleven and the son of Number Seven.
But now it appears that Romeo has found his Juliet in model Mia Regan, who is signed to major agency Storm Models. As reported by the Daily Mail, the couple has been together since 2019. The British model is extremely close with Posh Spice, with Vogue noting that she has modeled for her potential future mother-in-law on several occasions. In fact, Regan mimicked Victoria's signature leg in the air pose while modelling VB's sportswear collection, as per the Daily Mail.
It seems that the romance has Posh's blessing and the young couple are super loved-up. On Romeo's 19th birthday, Regan paid him a sweet tribute on Instagram writing, "4,500 miles away from you, yet still all the love in da world! Happy 19th Ro Ro… LOVE U 4 EVA." Despite their long-distance relationship, this is one Romeo romance that won't turn into a Shakespearean tragedy, as these superstar-crossed lovers are anything but fortune's fools.
Harper Beckham challenges gender stereotypes
David and Victoria Beckham have encouraged the daughter to explore pursuits that combat stereotypical gender roles, and wouldn't you know it, she has become a mini judo master in the making. Understandably, David was ecstatic when Harper Beckham won a judo medal in 2021, crowning her "My little judo star" in an Instagram tribute celebrating Harper winning an impressive silver medal. As noted by The Sun, mom Posh took to the comment section to share her excitement: "Harper Seven you are a legend!!! We are so proud of you." Forget bending it like Beckham; Harper has mastered the Way of the Warrior.
Being taught self-defence from an early age is undoubtedly one of the most positive things that the Beckhams could have done for their daughter. What's more, it is a highly effective form of empowerment.
At the Forbes Women's Summit (via Marie Claire), Victoria Beckham gave a powerful speech about raising her daughter as a strong woman. "That's my message to her constantly. She knows she can do everything and probably more than her brothers can," the former Spice Girl declared. "We talk about it a lot. She wants to be an inventor and she's very proud of that. She's a strong smart woman — little woman. I am still banging on that drum and I am not going to stop. I don't think any of us want to stop. It's a very important time for women right now." Victoria Beckham's message is certainly one that all parents can learn from.
How the Beckham boys make extra cash
Victoria and David Beckham are both self-made millionaires. Aside from their respective singing and professional soccer careers, they've raked in tons of extra cash through product endorsement (lest we forget seeing Becks' pecks in those racy H&M underwear ads) and Victoria's successful fashion and beauty lines, as per Forbes. Yet, the proud parents aren't known for spoiling their kids. In fact, the Beckhams' children are encouraged to pay their own way through life, despite having filthy rich parents.
"We try to lead by example, by showing them it's important to work hard," David told HuffPostUK in 2013. "That's one of the key things me and my wife have always done. … We juggle everything around the family because our main priority is the children … being hardworking is the best thing you can show children."
In 2014, a 15-year-old Brooklyn Beckham got a weekend job at a café where he was paid around $3.65 per hour, as reported by the Daily Mail. Evidently, it was a positive experience. "I worked there for two years and helped with the food and made coffees on weekends. I loved it," he enthused to Icon regarding the job most unbefitting of an A-list offspring.
Meanwhile, Cruz Brooklyn sent jaws dropping when he tried to sell his heavily used Louis Vuitton x Supreme sweatshirt for $150,000, as per the Mirror. Now that's a Depop Drama we'd love to see.
Harper Beckham the mini fashionista
Being the only girl in a testosterone-filled household, Harper Beckham bonds with her mommy over fashion. Considering the Beckham family owns several multimillion dollar properties, there's no shortage of space for Harper's burgeoning wardrobe. Like momma, like daughter.
When she was just a tyke, Harper sat front row at Burberry's fashion show and, as Glamour put it, "stood out from the rest." Subsequently, having been attending prestigious fashion shows since she was barely out of the womb, and sitting next to girl boss Anna Wintour on several occasions, the stylish youth has cultivated a collection of exquisite designer clothing. As chronicled in Vogue's Style File, Harper has been wearing head-to-toe designer brands since she was a newborn. Her enormous wardrobe includes pieces by Stella McCartney Kids, various Chloe dresses and tights, Gucci boots, and Marc Jacobs coats to name a few, all of which totals to tens of thousands of dollars. Additionally, she wore a custom made $2,350 gown from her mom's fashion line, as per People. She may not even be in her teens yet, but Harper Beckham is already a fashionista.
"Her wardrobe is ridiculous," a bemused David Beckham remarked to Vogue. "I'm glad I got a two-year contract." Well, that's rich coming from the man who once spent £1,000 on pie and mash.
Her dad may be termed Golden Balls, but Harper is the Golden Belle.
Cruz Beckham runs in A-list circles
With two superstar parents known throughout the world, it's inevitable that Cruz Beckham will be able to bop around in the elite circles of the rich and famous. The teen is friendly with another A-list offspring, Tilly Ramsay, presenter and daughter of foul-mouthed chef Gordon Ramsay. As reported by OK Magazine, Tilly is close pals with Cruz, who appeared on her cookery show. Additionally, the carefree kids were spotted cavorting in the snow together around Christmas time in 2018, as per the Daily Mail.
As reported by E! News, Cruz also has famous godparents: "Desperate Housewives" star Eva Longoria and musician Marc Anthony, both of whom were present at his and Harper Beckham's joint baptism in 2019.
What's more, Cruz has a glitzy girlfriend. In the summer of 2021, he was spotted at Reading Festival holding hands with Bliss Chapman, who was supermodel Kate Moss' bridesmaid, as per The Sun. This marks a continued tradition of the Beckham family cosying up to Kate Moss' squad: In 2019, a source claimed to The Sun that Brooklyn Beckham reportedly had a thing with Kate's younger sister, Lottie Moss.
"Cruz and Bliss have been dating for just over a year," an insider told The Sun. "They're really happy and had a great time at the weekend enjoying some live music at Reading. Beckham family fans have been closely monitoring social media to spot the couple and some had seen them in the crowd." The pair do seem to be blissfully cruising along.
The Beckhams teach Harper about the power of feminism
As one of the original innovators of Girl Power, we're not too surprised that Posh Spice encourages her daughter to uplift women. After all, what better way is there for every girl to spice up her life than through embracing female solidarity?
In a candid interview with Glamour, Victoria Beckham opened up about the importance of teaching her daughter to support other girls. "I was bullied a lot at school, mentally and physically, and the fact I can talk to Harper about that and how girls should be kind to girls… really I use my own experiences and share that," she explained.
Likewise, David Beckham told the Irish Independent that feminism is a major part of raising his kids. "I'd like to feel that I am a feminist," he declared, before explaining how having a daughter impacted his parenting style. "Having a little girl, I think that's a big part of it. You know, my mum and my dad always brought me up to respect my sisters, my mum, my grandmother. … It is an important part of my life," he reflected.
And the Girl Power doesn't stop there. As Victoria Beckham revealed at the Forbes Women's Summit (via Marie Claire), "Every day when Harper goes to school, she walks up the school stairs and I give her a kiss. I say, 'Harper, you're a girl, you can achieve anything. You can do anything that you want to do.'"
Are Posh 'n' Becks set to become grandparents?
While his little brother may be named Romeo, it's actually Brooklyn Beckham who's a true Lothario. Having been linked to over a dozen women in the space of a few years, including "Hugo" actor Chloe Grace Moretz and singing sensation Rita Ora, Brooklyn is engaged to actor Nicola Peltz.
With a Beckham wedding on the way, will Victoria and David Beckham soon be proud grandparents? It's a real possibility. "I promise to be the best husband and the best daddy one day," Brooklyn declared to Peltz on Instagram, rather tellingly. In fact, Peltz sparked pregnancy rumors in June 2021 when she uploaded a photo of herself sporting a baby bump on Instagram, as per The Sun. However, it ultimately transpired that the bump was merely for a movie role.
But rumor has it that Posh is stoked about the idea of soon becoming a grandma. "Brooklyn and Romeo are both settling down and babies aren't likely to be a million miles off," a source told OK Magazine. "Particularly as Brooklyn is getting married soon, so babies are the natural next step. Victoria would love to be a young gran and wouldn't she be the most glamorous granny we've ever seen!"
There's no denying that Brooklyn and Peltz are super loved up, with the former. frequently gushing over his lady love on social media. But as for spawning grandkids for their eager parents, is tonight the night when two become three?