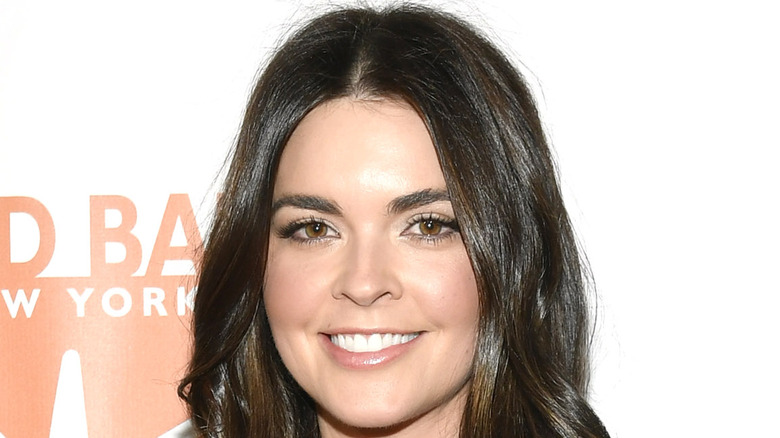 Katie Lee is no stranger to viewers of Food Network. Per her website, Lee is one of the hosts of "The Kitchen," which first made its television debut in 2014 and earned her an Emmy in 2017. She also hosts Cooking Channel's "Beach Bites with Katie Lee," has served as a judge on Food Network's annual "Halloween Baking Championship," and makes regular appearances on "Beat Bobby Flay." Lee also hosts two digital series for Food Network, "Katie Lee Eats Meat, in Sweats," and "What Would Katie Eat?" Lee has also carved out a niche as a sought-after guest on such daytime talks shows as "Rachael Ray," and "Today." In fact, she's a regular contributor to the latter, demonstrates her unique and flavorful recipes.
Lee can also lay claim to expanding her reach into the bookstore as the author of several cookbooks and even a novel. Yet, despite being a foodie fan-favorite on television screens for more than a decade, there's much that you might not know about this self-taught culinary expert. This is the untold truth of Food Network's Katie Lee.
She was once married to an iconic rock star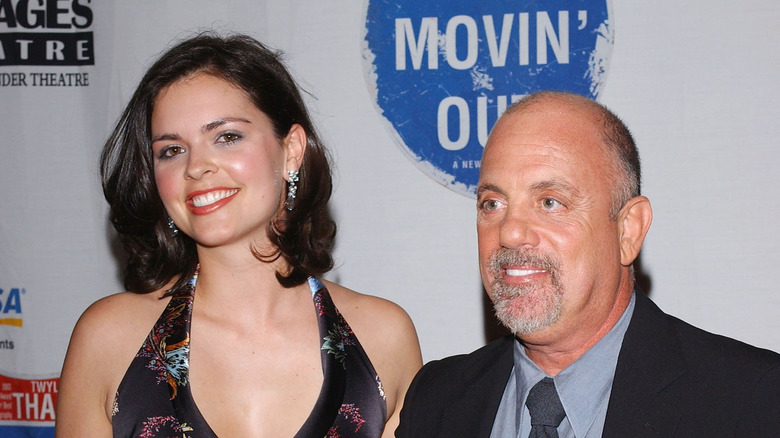 Katie Lee was just 23 years old and still attending college when she met Billy Joel in the bar of Manhattan's Peninsula Hotel in 2002. As Page Six recalled, they married just two years later. The marriage was apparently rocky, partly due to Joel's prodigious drinking during those years, but also because of their age difference: Lee was just four years older than Joel's daughter, Alexa.
In 2009, Joel and Lee announced they were divorcing. "After nearly five years of marriage, Billy Joel and Katie Lee Joel have decided to separate," they said in a joint statement (via New York Post). "This decision is a result of much thoughtful consideration. Billy and Katie remain caring friends with admiration and respect for each other."
There are apparently no hard feelings between the ex-spouses. In 2015, when Joel and his girlfriend Alexis Roderick revealed they were expecting a baby, Lee told Extra she was "really happy for them. He's a great guy, he deserves all the happiness in the world, and he's a terrific father so I'm really, really happy. He will always be in my life and I think he's just the greatest."
She once hosted Top Chef — but not for long
During her marriage to Billy Joel, Katie Lee was adamant about establishing her own career. "I don't want to just be Billy Joel's wife," she said, per the New York Post. "I've always wanted to work." In 2005, she was hired to host a new culinary competition, "Top Chef." "We're delighted to have Katie Lee Joel as host," Bravo exec Frances Berwick declared in the network's announcement for the show (via Reality TV World). "Her passion for excellent cuisine pushes our contestants to the top of their game."
While the show itself won raves from the likes of the New York Times, Lee was apparently seen as a weak link. Televisionary bluntly described her as "robotic," while commenters thought she was "abysmal," a "personality vacuum," and "about as exciting to watch as a piece of cardboard."
When "Top Chef" returned for a second season, Lee had been replaced by Padma Lakshmi. As Reality TV World reported at the time, Andy Cohen — then Bravo's vice president of production and programming — confirmed she wasn't returning. "She is a dynamic, beautiful woman who is passionate about food with a real zest for life," he said. "Everybody at 'Top Chef' is going to miss her next season but she will always be part of the Bravo family."
The one ingredient she avoids at all costs
As Katie Lee's fans can attest, she's whipped up a lot of dishes over the years, utilizing a broad range of ingredients. There is, however, one particular item she can't stand. "I hate wasabi. And I love spicy food, so I'm not sure why I have this aversion to wasabi," she told Food Network. Even the slightest hint of it was enough to send her running, Lee claimed.
Lee also told Food Network of the "guilty pleasure" food that she knows she shouldn't be eating but can simply cannot avoid. "French fries," she revealed, sharing her theory that french fries' sole purpose is as a delivery system for ketchup. "So, french fries with a lot of ketchup and really salty," she shared.
Meanwhile, Lee's hatred of wasabi entered the annals of game-show history when her antipathy for the sushi condiment formed the basis of a clue on "Jeopardy!" She marked the momentous occasion by sharing a photo of herself on Instagram, posing next to a television with the clue onscreen. "Look Ma, I made it!! We are such big @jeopardy fans…I was beside myself!" she wrote in the caption.
She considers Bobby Flay to be a mentor
Speaking to Food Network, Katie Lee was asked to single out her biggest culinary guide. "Bobby Flay has become a great mentor to me," she explained. "He's one of my very best friends, and kind of like a big brother, and I always feel like I can go to him for any kind of advice. […] So he's always there, and I'm very lucky to have him as a friend and a mentor."
In a subsequent discussion with People, Lee continued to sing Flay's praises, saying that she relies on him for both cooking advice and business acumen. "I look to him for a lot of advice," she said. Her favorite thing about being able to work in the kitchen alongside Flay, she explained, was the depth of knowledge she says he brings to the experience. "I learn something from him every time. He's the best at flavor. I call him Flavor Flay."
She's skeptical of carb-free eating
One type of enduring diet fad that comes and goes pretty consistently is the no-carb or low-carb diet, exemplified by such popular diets as Atkins and keto. Katie Lee, however, is skeptical. "I don't subscribe to that no-carb thing. I'm so sick of the Atkins diet and all that," she told Health. "First of all, if you're not eating carbs, all you do is think about them. It's one of those things that you take out and, initially, you lose weight, but you are miserable."
As for how she manages to maintain her own fitness and health, Lee admitted that it's not always easy, particularly working in food television. "There's food everywhere, and even off camera, there's craft services, where you can just walk by and grab a handful of chips," she explained. Confronting that tantalizing temptation of craft services on a daily basis, she revealed, had led her to something of an epiphany. "I learned quickly that if you eat everything [on set], you will feel terrible at the end of the day. So I'll take a couple of bites, and then I walk away."
As for what she does eat, Lee emphasizes the consumption of vegetables and large salads. "Nobody ever got fat eating vegetables," she quipped.
She met her second husband on her show
Following her 2009 divorce from Billy Joel, Katie Lee remained single and focused on her career as a food TV personality. But that work led to meeting her second husband, Ryan Biegel, a producer on "Beach Bites with Katie Lee." As she told Health, the first time she laid eyes on Biegel, it was attraction at first sight. "I remember going into a production meeting for the first time and thinking, 'God, that guy is so cute.' I was a little bit nervous."
Apparently, the feeling was mutual. As Lee recounted, Biegel later confided that, before he'd met her, he'd seen her on television promoting one of her cookbooks, and told himself, "I'm gonna marry that girl." As they got to know each other while working together on the show, she found her attraction growing, and evolving. "Forget the love stuff — I really like him, too," Lee said.
In March 2018, Lee revealed via Instagram that Biegel had popped the question while they were vacationing in Paris. She said yes. That September, they tied the knot. The ceremony, she told Vogue, was held in Nerano, a small village on Italy's Amalfi Coast "where we fell in love," she said.
Here's what Katie Lee eats in a typical day
Being surrounded by food all day, every day, Katie Lee had developed mindfulness about what she eats. As she told Delish, she tends to eat the same breakfast each morning: Greek yogurt with granola and fruit. She also ensures that between-meal snacking is a similarly healthy apple with some peanut butter.
A typical lunch, she added, was usually a big salad. As she told Health, she jokingly compares hers to the one favored by Elaine Benes in "Seinfeld." "I have one of those big metal mixing bowls — I call it my trough — and I pile in whatever vegetables I have. I know I'm really unattractive eating it, shoveling it in my face, usually alone," she added with a laugh.
Dinner, however, is where Lee tends to mix things up, with Delish noting eclectic faves ranging from chicken parm to grilled fish to Chinese takeout. When entertaining at home, Lee's go-to dish is "a whole side of salmon," accompanied by a rub made up of chili powder, brown sugar, salt, and pepper.
She's come up with some brilliant kitchen hacks
Having spent years working on TV cooking shows, Katie Lee has picked up a few tips and tricks along the way, and that's especially true when it comes to healthy eating. In an interview with Shape, Lee detailed some of the clever kitchen hacks she's developed over the years.
The key, she explained, is to maintain "a well-stocked pantry." Then, when mealtime approaches, something like a quick pasta can be thrown together easily since all the ingredients are all right there. In addition to pasta, she also likes to have plenty of canned beans available. "I put them on a salad for a boost of protein or mix them with some greens and add some chopped veggies for something a little heartier," she said. "Beans, pasta, and greens are your go-tos. With those things on hand, you can always make a quick dinner." Aside from those staples, Lee also suggests having an array of more unique ingredients on hand as well, like capers, miso, and curry paste to add variety and rich flavor to mealtimes.
She made her culinary reputation on a burger
Katie Lee was still known as Katie Joel when she competed in Rachael Ray's Burger Bash and won. Grub Street reported that her grilled cheese patty melt entry beat out burgers concocted by the likes of "Top Chef" judge Tom Colicchio and even Ray herself. That burger — which had come to be known as Lee's Logan County Hamburger (adapted from her grandmother's recipe, named after her family home of Logan County, Virginia) — has since gone on to become one of Lee's signature recipes.
Nobody found that to be more surprising than Lee herself. Looking back on her burger's championship status, she told Interview, "That simple, silly burger, I can't believe they won the Burger Bash and people know them by name — I never thought that I'd be the burger queen," she admitted. Said simple burgers utilize such non-gourmet staples as white bread and American cheese. Yet, in an installment of "Kate Lee Eats Meat, in Sweats," she maintained that they're still one of her favorite meals.
She's a firm believer in the power of meatloaf
While Kate Lee's Logan County Burger may be her signature dish, she's also pretty well known for her meatloaf. As she declared when sharing her recipe with "TODAY," meatloaf is easily one of her "all-time favorite comfort foods."
While she's been known to get experimental with dishes, when it comes to meatloaf she's a purist. "I do always make it the same way. I do it with sautéed onions, bell peppers, herbs, and I put Worcestershire sauce and ketchup in the meatloaf and on top of it. It's traditional," she told Interview. However, she admitted she will alter her recipe to use ground turkey instead of beef if she's hosting someone who doesn't eat red meat and will also adapt her recipe for meatloaf sliders, by whipping up downsized versions that can be baked in the oven simultaneously.
When serving her meatloaf, Lee also remains traditional with the side dishes to accompany it. "I serve it with mashed potatoes and green bean casserole, which is a real traditional Southern dish," she said (via Interview).
She went to Mexico to research her first novel
In between her various television shows and cookbooks, Katie Lee also found the time to write her debut novel, published in 2010 by Simon and Schuster. "Groundswell" mirrored her experiences (albeit heavily fictionalized), and followed a young personal assistant on a movie set who falls in love with an older movie star and marries him, until it all falls apart due to "an incriminating text message." Her life in tatters, she flees to a tiny coastal village in Mexico, falls for a hunky California dude, and learns to surf.
In an interview with Grub Street, Lee revealed she'd recently returned from spending a month in Mexico, where she was doing research for "Groundswell." As she explained, a recently acquired passion for surfing took the original kernel she'd had for her story and sent it off in unexpected directions. "I always thought that if I wrote a novel, it would be about food. Maybe a girl who works in a bakery, a cook, this or that," Lee admitted. "But then I started surfing last summer and I was like, I found my story!"
She had a baby after struggling with fertility
After Katie Lee married Ryan Biegel, she wrote in a candid Instagram post that the couple had planned to start a family soon. Unfortunately, some health issues led their doctor to recommend fertility treatments. At the time, she described the physical and emotional toll that the process had taken, only to emerge with no baby. As she wrote, "We were filled with hope and excitement only to be crushed."
Less than a year later, she issued a far happier Instagram post, this one displaying her exposed belly accompanied by the caption, "Eating for two. Baby Biegel is on the way." In September 2020, the beaming mother once again took to Instagram, this time to share a photo of herself and newborn daughter Iris Marion.
Six months later, Lee brought her daughter along for an appearance on "TODAY." "Oh my gosh. I love being this baby's mom more than anything in the world," Lee gushed. "I mean, she's just so sweet and cuddly. She's very well fed, if you can't tell."
She became an ambassador for Weight Watchers
Weight Watchers has been a recognized brand among the diet-conscious for decades, until a rebranding effort changed the organization to WW, with a new tagline, "Wellness that Works" (via Forbes). In 2021, Lee joined WW as a celebrity ambassador, following the 2020 birth of her daughter.
As Lee told People, WW was part of her postpartum "journey," which had led her to an epiphany wherein she became more focused on strength and the energy needed to raise her daughter rather than surface-level looks. She credited WW with helping her to arrive at "a really strong and happy place in my own skin."
Interviewed by EatingWell, Lee expressed her love for the WW program and its point-based system, marveling at how easy it was for her to follow. "If I'm recipe testing and I'm making something that's more indulgent, I can eat it and still be on my plan," she explained. "I just adapt the rest of my day to stay within my points."
Katie Lee has no patience for internet trolls
One byproduct of being a celebrity with a large social media following is that one will inevitably be criticized by know-it-all followers. And, when that social media profile comes with updates on one's children, some of those followers are more than happy to point out all the parenting mistakes someone is making.
Katie Lee is not immune to this circumstance, which came to pass when one of her Instagram followers wrote in a comment that she was holding her daughter too much. "She needs time for her back/spine/stomach muscles to develop," wrote the busybody, insisting they were "just trying to help." Lee, however, was just as happy to clap back, which she did with a post on Instagram Story (via Us Weekly). "Mom shame much?" Lee wrote back. "Not to worry, my baby gets plenty of tummy time, activity time, etc."
In fact, Lee found herself firing back at a mom-shamer even before welcoming her daughter. As Us Weekly reported, she posted a photo of a bottle sterilizer on Instagram, which led a commenter to snark, "They call breast milk liquid gold for babies." Lee responded by posting a screenshot of that message, and writing in the caption, "Haven't even given birth yet, and I'm already being mom-shamed for posting a bottle sterilizer."