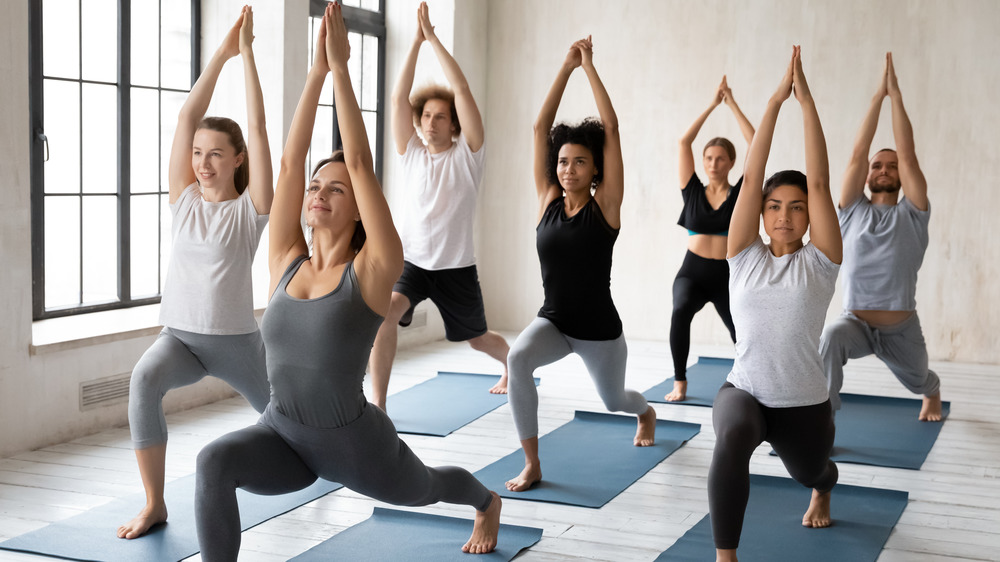 Fitness goals may have been on your list of New Year's resolutions leading into 2020, but no one could have predicted all that the year ended up entailing, and just how that would end up wreaking havoc on the fitness industry. With non-essential businesses forced to temporarily shutter and gyms being considered a hotbed for virus transmission, many fitness and personal trainers were forced to pivot their business models, or risk closing down completely.
The fitness industry is continuing to evolve, with more distance-based trends expected in 2021. This is as evidenced by both the trends that are rising and the trends are on the decline. For instance, Steven Virtue, a fitness development manager at Total Fitness in England, told Luxury Lifestyle Magazine that he predicts online coaching and virtual fitness to take the place of time spent in gyms. These trends were growing even before gyms closed, but that time certainly accelerated the switch. Here's a look at some of the many fitness trends you can expect to do without in 2021.
Your gym membership will be a thing of the past come 2021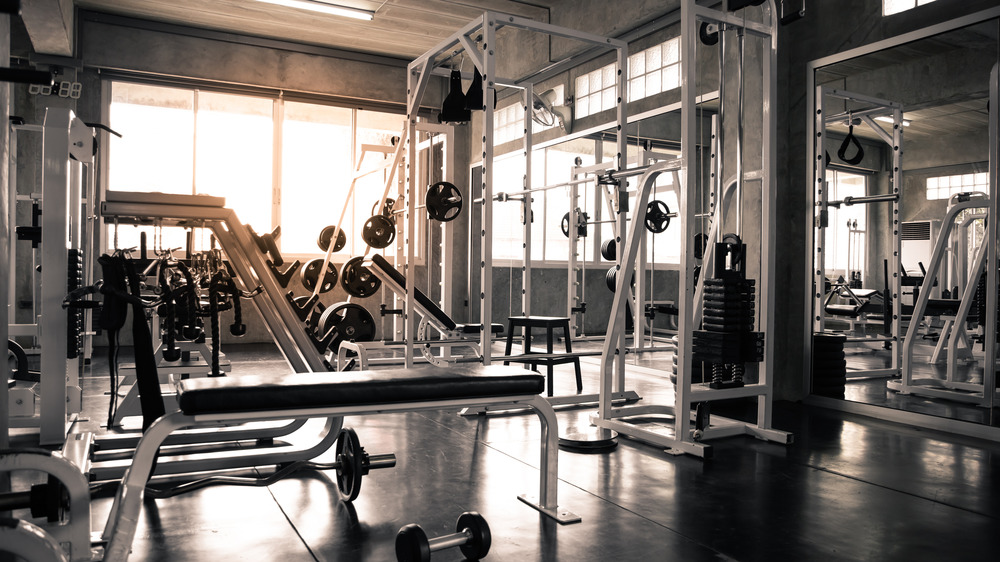 It's entirely possible that the events of 2020 have permanently reshaped the fitness industry, causing in-person, gym-based workouts to drop significantly in popularity — a trend that's expected to continue into 2021. According to an April 2020 survey conducted by Harrison Co., it's estimated that as much as $10 billion annually could leave the fitness club sector, with an estimated 34 percent of gym users planning to cancel their gym memberships in the wake of the pandemic (via BusinessWire).
However, it's not that previous gym-goers expect to be less active. Quite to the contrary; the survey reported that 37 percent expected to workout more, largely citing a renewed appreciation for health and well-being. And most of these exercisers will be working out at home.
Catalina Zbar, founder of Telomere Consulting and a business consultant for fitness studios, told Kisi, "A recent MINDBODY survey [a software program for reserving wellness services] showed that in 2019, 7% of MINDBODY users used live streamed workouts compared with 80% during COVID-19." And when you're spending so much time at home, home-based workouts are pretty much your only option, the normalization and ease of which will have staying power. This will shift the fitness landscape away from the traditional gym and toward gym-free solutions.
Indoor bootcamps will be traded for outdoor bootcamps in 2021
Being confined to home 24/7 isn't everyone's idea of a good time, so when the weather allowed, many people used their workouts as an excuse to escape the confines of their houses and apartments in 2020. As Steven Virtue, the fitness development manager at Total Fitness, wrote for Luxury Lifestyle Magazine, "Lockdown has seen a rise in fitness bootcamps in parks and outdoor spaces … and is something which looks to continue even whilst gyms are open in the new year."
Health Club Management concurs, pointing to outdoor workouts as important options for gyms to provide if they want to continue attracting members. In addition to boot camps, the magazine cited running and cycling groups, swimming pool workouts, and fitness trails as activities that are likely to gain traction come 2021. This is because these options give people the ability to get fit in natural, outdoor environments while limiting their risk of exposure to viruses and bacteria. Plus, exercising outside offers mental health benefits, according to the publication. In a nutshell: Outdoor workouts are in, and indoor workouts are out.
Maskless workouts won't be on trend in 2021
No one loves working out in a face mask. But if you're counting down the days until you can strip that mask from your face and hit the gym in your uncovered glory, you might be counting for quite some time. According to an article published in Forbes and written by Dr. Mark Kortepeter, a physician and biodefense expert who has been involved in combating multiple epidemics, masks are here to stay for much of 2021, if not longer.
The good news is, several studies on the use of masks during exercise found that masks had no significant effects on oxygen saturation or other physiological changes during exercise, even intense exercise (via The New York Times). So while you may not love wearing a face mask at the gym, it's unlikely to make your workout (or you) suffer. And it might just become part of your routine. "I believe we can get used to going to the gym … with a mask," Dr. Danny Epstein, an attending physician in the internal medicine department at Rambam Health Care Campus, told The New York Times.
Grungy gyms will get left behind in 2021
No one likes a dirty gym, but you've probably encountered a few in your lifetime. Maybe there are dust bunnies in corners and around weights. Maybe the gym staff doesn't enforce rules about clients wiping down equipment. Or maybe you've never seen anyone lift a finger to disinfect surfaces. It's gross, but there's a "tough" culture in some gyms that, while not completely eschewing cleanliness, implies that a little dirt is part of the drill. As if to say, "You're here to pump iron, not whine about the facilities."
Well, COVID-19 may be impacting that culture to some extent. Ralph Scholz, the head of the German Industry Association for Fitness and Health, told ISPO, an organization supporting the sports and outdoor industries that according to an industry survey, many people won't return to gyms unless they're confident that training won't place them at a higher risk for infection. "Many people are concerned about having the highest possible standard of protection. It must therefore be in the studios' own interest to ensure exactly that," Scholtz says. So, to keep up with cleanliness standards and expectations, that grungy garage gym might just end up looking a lot more pristine.
Long workouts will get the boot in 2021
Long, multi-hour workouts have been on the downward slide for quite some time. For one thing, busy schedules rarely allow time for them. But in addition to the time crunch of modern lifestyles, research surrounding the benefits of shorter, more intense training protocols, like high-intensity interval training (HIIT), have also contributed to the rising trend of "quickie" workouts. In fact, HIIT has already become one of the biggest trends, according to the 2020 annual fitness trends report conducted by the American College of Sports Medicine, and it is expected to continue into 2021.
When you consider how drastically life has changed for many people in 2020 — parents and busy professionals being asked to juggle homeschooling and new virtual work routines, caring for sick parents, navigating new shopping protocols, and taking on the stress of this "new normal" — it's even harder to find the time or wherewithal to schedule a long workout. Plus, it's become easier to find high-quality short workout routines on the internet and through apps. Many popular fitness sites make it easy to search for 15- or 20-minute routines that you can squeeze in between meetings or before you start your day.
Even spin classes are going outside in 2021
As much as people seem to be reticent to head back to the gym, many individuals are also craving socialization. Social distancing has been tough on everyone and may have you jonesing for your favorite cycling class.
Of course, not all of 2020 was spent in isolation. When in-person group workouts were available in 2020, people were ready to sign up, according to a survey by digital fitness platform ClassPass. And when such classes went outdoors, people continued to sign up. In fact, the company reported that there was a 400 percent increase in outdoor classes offered by studios, with four in five survey respondents stating they were willing to attend these classes. This form of outdoor group training is expected to continue to grow as a trend for 2021.
"Many studios are getting creative with outdoor classes including using beautiful city backdrops for class," ClassPass revealed. And Los Angeles, California was rated the "most likely city to book an outdoor class" in the United States. Even SoulCycle has gone outdoors, having introduced SoulOutside in 2020.
Gyms that don't provide online solutions are out in 2021
According to Health Club Management's fitness trends report, a leading trend heading into 2021 is a "hybrid gym model." In essence, a gym that offers workout options in-person and also online, making life easier for customers who are doing their best to stay healthy, even when their schedules don't allow a trip to the gym. In fact, ClassPass' annual trends report stated that 95 percent of worldwide in-person studios were forced to close, at least temporarily, in 2020 and as a result, many studios began offering livestream and on-demand workouts.
The importance of having a hybrid gym model becomes clear when you look at how companies that already had hybrid options in place benefited. For example, according to an April 2020 article published in Forbes, Alo Yoga, which features Alo Moves as its long-standing online platform, experienced a 300 percent increase in engagement online in the weeks following New York City's shutdown. And now that the concept of hybrid gyms has become even more normalized, being able to choose between in-home or gym workouts will continue being important to clients going forward.
Virtual runs will continue to replace in-person events in 2021
Just as former gym-goers are itching to get back into group fitness classes, runners are itching to partake in live events in 2021. For much of 2020, long-distance competitions were cancelled and as a result, virtual races popped up all over the internet. According to a newsletter from The New York Times, RunSignup, a race registration platform, saw an increase in virtual races — where people can complete a pre-determined race distance, record their time, and earn swag all on their own time — as the year progressed. Johanna Goode, the director of marketing at RunSignup told The New York Times, "Post-Covid, I'm seeing a lot more longer-term challenges or programs that give people something to do over a longer period of time." For instance, a challenge to complete 50 or 100 miles before a set date.
Of course, many do also hope that non-virtual races will become popular again in the future. As 2020 national cross-country champion Natosha Rogers told Runner's World in an April 2020 interview, "Any opportunity to race right now sounds amazing."
Workouts without a holistic element will get left behind in 2021
Another major trend to come out of the 2020 pandemic is a greater understanding of the need for holistic health. In late June 2020, as much as 40 percent of the U.S. adult population was struggling with mental health or substance abuse problems, according to the Centers for Disease Control and Prevention.
In addition to traditional exercise programs, the nation started looking to the use of holistic health measures, including meditation, yoga, and various forms of therapy, to help manage mental health. As Anindya Ghose, a professor of information sciences at NYU Stern, told Marketplace in November 2020, apps that focus on health are the fastest-growing category, with the most popular focusing on mindfulness.
Health Club Management magazine pointed to a predicted 2021 trend of fitness centers and gyms offering mental health opportunities to their members. This might include meditation classes, access to counselors or social workers, a more robust yoga schedule, or partnerships and discounts to mental health providers in the area. As these services become more widely available, gyms that fail to view health holistically are likely to become more scarce.
Say goodbye to routines that require lots of equipment in 2021
Gyms have long hung their hats on the need for big, fancy exercise equipment, including treadmills, squat racks, and bench presses. But when people were forced to transition their workouts to the home in 2020, many realized they could get by without lots of expensive equipment. Plus, most people simply don't have the space for a decked-out home gym, especially when sharing confined quarters with the entire family. Not to mention, workout equipment is expensive. When people's expendable income is shrinking, the last thing they're likely to do is put down big bucks on a total home gym.
According to Yahoo Finance, small home gym equipment like kettlebells and dumbbells sold out of most locations, including Amazon and Walmart, by April 2020 as people looked for smaller, affordable equipment to keep their workouts going. Other products like jump ropes, suspension trainers, and resistance bands also made CNET's list of most-popular home gym equipment in 2020. The thing is: Once people become accustomed to using fewer pieces of equipment in their routines, the need to return to workouts featuring a full-service gym is likely going to continue to be less important.
Tech-free fitness won't make it into 2021
Using technology to bolster fitness programs and track results has been a growing trend for years. In fact, according to the American College of Sports Medicine, wearable technology was the number one trend leading into 2020. And with the quick pivot in the industry from gym- and studio-based workouts to on-demand virtual training, live-streaming, and apps, technology took front and center in the industry as a whole. While workouts may have once been seen as a time to unplug and take a break from your phone or laptop, technology is now the medium in which workouts take place.
Even as it becomes safer to return to gyms, it's unlikely that the interest in fitness-based technology will flag. In fact, Steven Virtue, the fitness development manager at Total Fitness, gave his thoughts on 2021 trends to Luxury Lifestyle Magazine, saying he expects remote coaching, wearable technology, and virtual fitness to pick up steam. And as fit tech continues to rise in demand, it's likely that tech-free workouts will become less standard.
Solo workout sessions may no longer be all the rage in 2021
While there will always be people who want to workout alone, many Americans are likely itching to get back into group workouts and forge new social connections. Many people who transitioned to home-based workouts have joined live-streaming routines, Zoom workouts with other users, or have hired virtual personal trainers to help them stay motivated at home. Some have even included limited friends in their "bubbles" to be able to buddy up during outdoor runs or training sessions. This means that even people who previously considered themselves workout loners have become more accustomed to the company of others during weekly workouts.
And with this growing appreciation for coaching and socialization, exercising with others — whether with a friend or a trainer — is likely to continue trending, both online and off. In fact, personal training and group training were already growing trends in 2020, landing in the American College of Sports Medicine's top 10, so it makes sense that the trend would continue to grow.
Expensive fitness apps aren't welcome in 2021
Online training and fitness apps aren't always cheap — with some costing upwards of hundreds of dollars per year. But there's this beautiful concept of supply and demand. As supply in an industry increases, demand for any given product typically decreases, and pricing has to fall in order for a product or service to remain competitive. That's exactly what happened in 2020. In a matter of weeks, trainers and gyms had to transition offline services to the internet, thus increasing supply of online fitness programs exponentially.
To stand out and grab a piece of the market, trainers and gyms had to price themselves more competitively. As Well+Good pointed out, "Top trainers are creating videos for YouTube, while Nike Training Club recently committed to making its app totally free. Orangetheory At-Home, likewise, offers free workouts for both members and non-members on YouTube, the brand's website, and its app." So if you were hesitant to dish out $30 or $40 a month on an app before the pandemic, chances are you can find great options for a fraction of that price, if not for free, heading into 2021.
Companies without wellness programs and benefits are out in 2021
With so many people transitioning to working from home in 2020, companies began looking for ways to keep employees productive and happy despite such new circumstances. As such, corporate wellness is becoming a must-have for businesses trying to keep a competitive edge.
According to a survey by ClassPass, an online fitness platform, 50 percent of respondents reported that their workload, stress levels, and burnout increased in 2020, and another 25 percent reported that resources, like pay, had decreased. However, those surveyed also stated that incorporating fitness into their schedules helped bolster their motivation and production while helping them develop new routines. In fact, 70 percent of respondents indicated that a company's fitness benefits are the most valuable outside of healthcare.
Corporations appear to be listening. The corporate wellness benefits market is expected to grow at a 5.4 compound annual growth rate from 2020 to 2027, Grand View Research revealed. Indeed, 2021 is likely to bring more wellness benefits to your company's health package in an effort to keep high-quality talent, not to mention improve their employees' productivity and overall health.