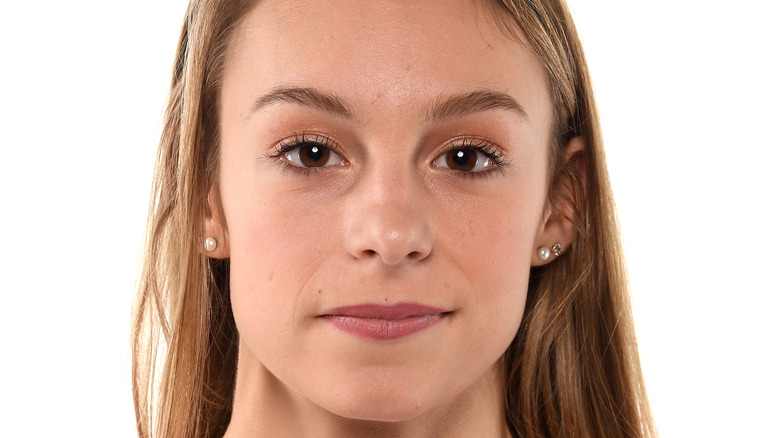 When the USA Women's Olympic Gymnastics Team was announced in June 2021, all eyes turned to the six young women who would compete in Tokyo in one of the nation's favorite sports (via USA Today). Grace McCallum was the fourth gymnast announced for the USA team. Fans of the sport probably already know McCallum; after training at Twin City Twisters, she went on to compete for the USA National Team from 2018 to 2021. She's come in first numerous times at competitions like the Pan American Championships and the Pacific Rim Championships, according to her Utah Utes profile. Aside from her USA team mates Simone Biles, Sunisa Lee, and Jordan Chiles, it's safe to say that McCallum is one of the most exciting gymnasts out there.
McCallum grew up in Isanti, Minnesota with her large, Catholic family. Aside from gymnastics, she spends her time with her two dogs and her family enjoying nature (per Team USA). Curious to find out more about the life of this Olympian? Here is the untold truth of Grace McCallum.
This is what Grace McCallum's typical day at the gym looks like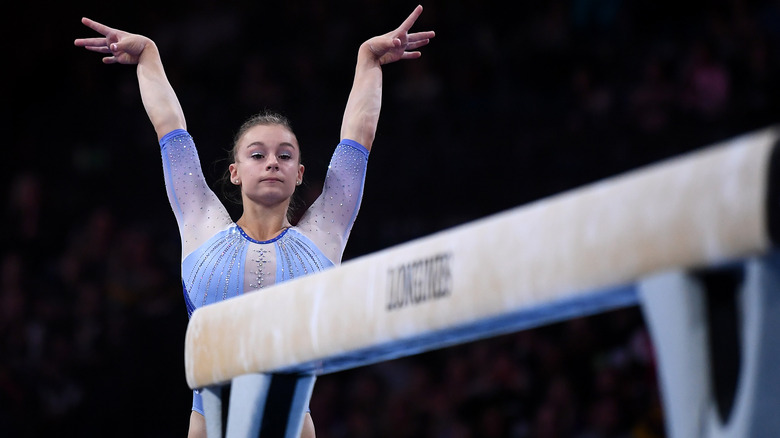 As an elite gymnast, Grace McCallum is constantly training at the gym. A quick glance at her Instagram or TikTok will show you that she's there just about every single day, working on her technique and her strength for hours at a time. In an interview on the "All Things Gymnastics" podcast, McCallum opened up about her very intense gym routine. She explained that she worked on all four events every single day. "It depends on the time of season and the time of year, but yeah, we'll do skills or halves or routines and we normally do conditioning at the end," she shared.
For McCallum, a typical day would include between four and six hours of training. Wow, talk about an intense schedule. McCallum graduated from high school in 2021 (via USAGym), so we can only imagine how busy she must have been managing both schoolwork and training all at once!
Grace McCallum is one of six children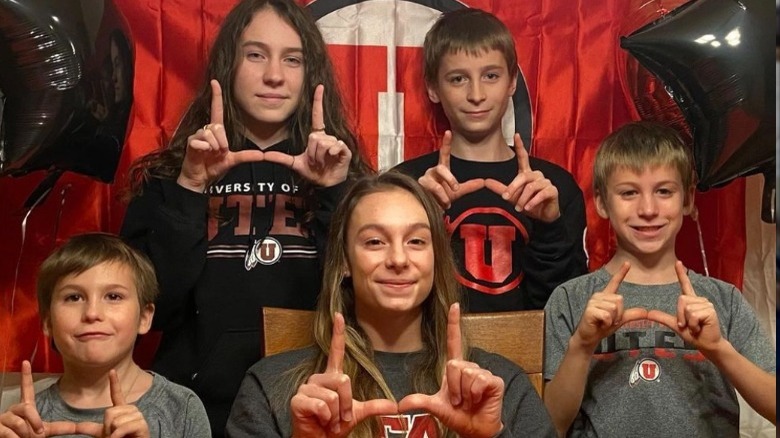 Grace McCallum certainly had the support of her parents when she was growing up — after all, training to become an Olympic gymnast takes a lot of time! But she wasn't the only child they were taking care of. In fact, McCallum is one of six children; her siblings are called Rachael, Madelyn, Joseph, John, and Xavier (via CNA).
By the looks of things, the McCallum brood get along incredibly well. In an interview on the "All Things Gymnastics" podcast, McCallum explained that she liked to spend her free time hanging out with her brothers and sisters at her grandparents' house by the lake. Judging by her social media, the gang always have a great time together. In an Instagram story from 2020, McCallum can be seen in a paddle boat with her young brothers. In an adorable TikTok, she and her brothers perform a dance together. It looks like this gymnast is an amazing big sister.
Grace McCallum dreamed of the Olympics as a kid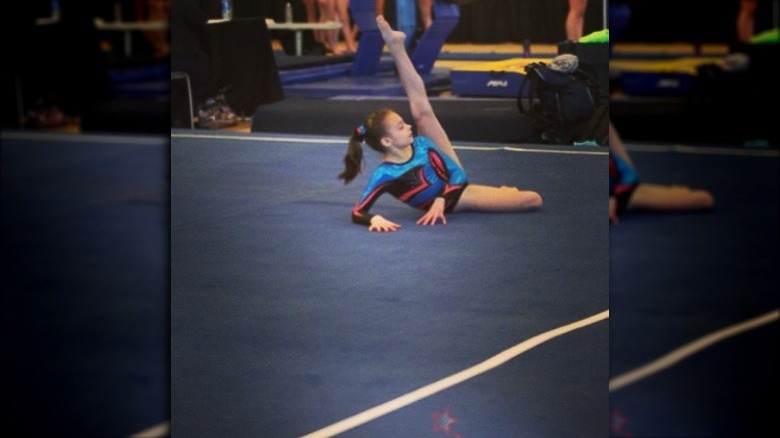 Some kids dream of being actors, some dream of being musicians, and some dream of bringing home the gold medal for their country at the Olympics. For Grace McCallum, going to the Olympics as part of Team USA has always been the ultimate aspiration. McCallum began to fantasize about the Olympics as soon as she took her first gymnastics class. "That was my dream. That's every little kid's dream though," she told CBS Local.
McCallum saw her first Olympics in 2012. As she said on an interview on the "All Things Gymnastics" podcast, she initially thought achieving her goal would be easy. "It wasn't until I was a little older that I realized how hard it actually was gonna be," she continued. Obviously, as McCallum got older, she realized that being an elite gymnast meant a lot of hard work and fierce competition, and she kept fighting for her ambition. In 2021, her dream finally came true when she made the USA Olympic Women's Gymnastics team.
Grace McCallum brings her rosary to every competition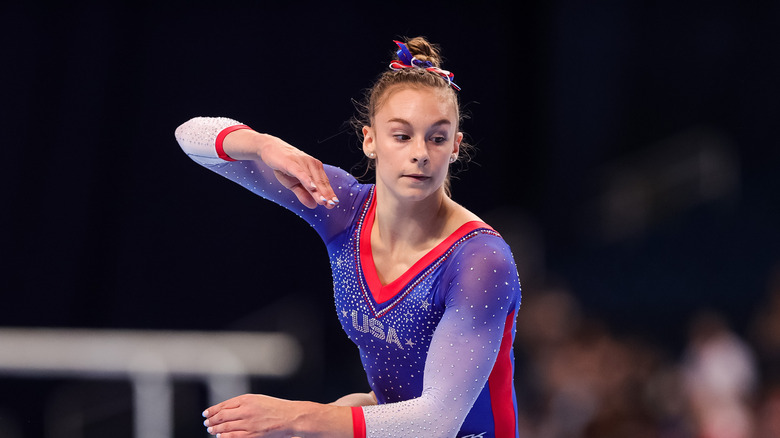 A big part of Grace McCallum's life is her Catholic faith; her entire family is Catholic, and for McCallum, religion helps her through the highs and lows of competing. "I think I just kind of lean on my faith a lot and trust God's timing," she told KARE 11. "He has a plan for everything."
According to McCallum's mother, who spoke to the National Catholic Register, she brings her rosary and her grandmother's cross with her whenever she travels to competitions. "She travels with those things to kind of bring her peace and calm," her mother revealed. In such a competitive, high-pressure environment, it's easy to see why McCallum would need to have her faith to keep her grounded.
Apparently, McCallum also loves to hear that her fans are sending her their prayers before a big competition. Her mother even said that her own prayers for her daughter helped her to nab the bronze medal at the 2019 U.S. championships.
These are Grace McCallum's gymnast inspirations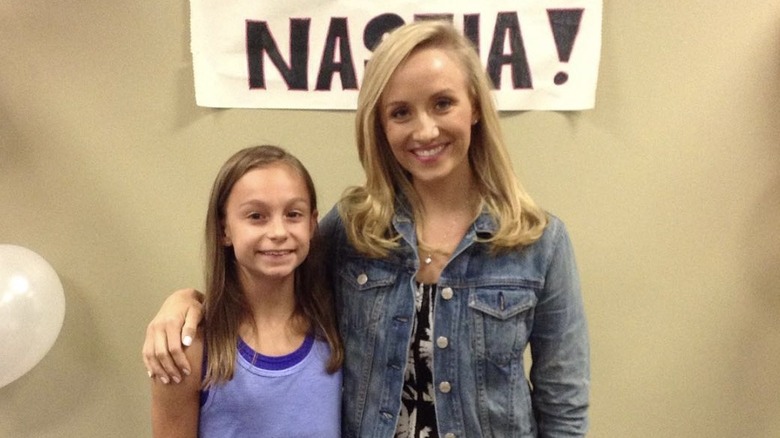 As a young girl growing up with dreams of attending the Olympics, Grace McCallum looked up to a few people. Unsurprisingly, her teammate Simone Biles is one of her biggest inspirations. She told CBS Local that watching her and the other older gymnasts gave her something to aspire to. "When I was growing up, just watching them, I thought, 'Wow! They are so cool! They are so good!' I never thought that I would be up there with them someday," she shared.
In her interview with the "All Things Gymnastics" podcast, McCallum said that the gymnast Maggie Nichols used to train at her gym and was a "big inspiration." "Maggie's always super positive and she really — she just works really, really hard, she just goes after what she wants," she gushed. In a press conference, McCallum explained that she was inspired by how Nichols bounced back from a bad injury to do the same in the run-up to the Olympics (via Minnesota Monthly).
In 2019, McCallum tweeted an old photo of herself with Nastia Liukin, a famous American gymnast who famously won five Olympic gold medals. McCallum called her "the person that inspires me the most." It looks like McCallum has had plenty of amazing role models to look up to over the years.
Grace McCallum calls fellow gymnast Jade Carey her best friend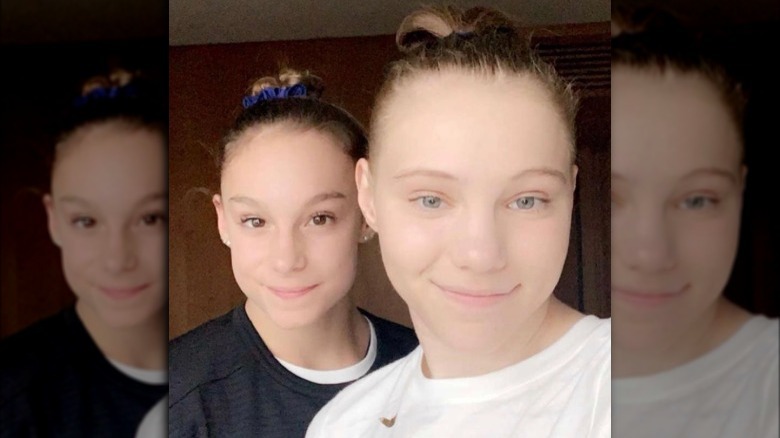 It's pretty clear that the entire group of gymnasts who were selected for the 2020 Olympics in Tokyo are close. However, it turns out that Grace McCallum and her teammate Jade Carey are actually best friends. In 2020, McCallum tweeted a sweet birthday message to her bestie, writing, "I love you so so much! Can't wait to keep traveling the world with you and making many more amazing memories!" A year later in 2021, McCallum posted another birthday message for Carey on Instagram, showing that their relationship was still going strong.
It is so amazing that these two BFFs get to experience something like the Olympics side-by-side. They had each other's backs at the Olympic trials — as McCallum said at a press conference after the Olympic trials, she was in so much shock to be chosen that she actually had to ask Carey if she heard correctly when her name was announced (via PopSugar). And, according to The Gymternet, Carey has said that she and McCallum will likely be roommates in Tokyo. How adorable is that? We can't wait to see these two best friends competing side by side in Tokyo.
Grace McCallum shows off her gymnastics training and dancing skills on TikTok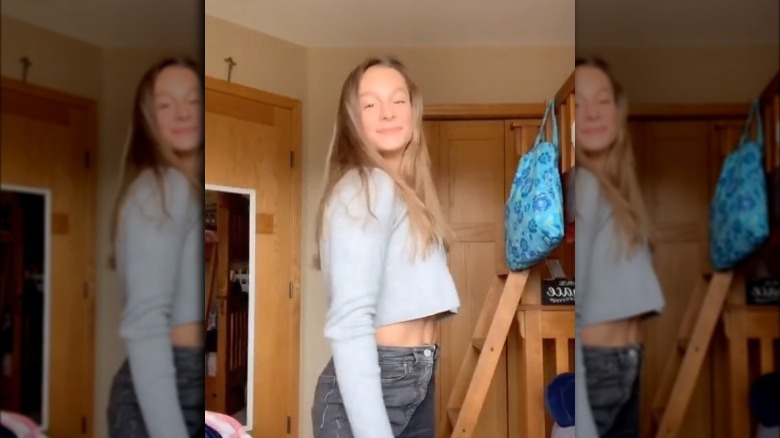 Like many other young teens, Grace McCallum has embraced social media — especially TikTok. In her Team USA biography, she cites making TikToks as one of her favorite hobbies. And based on her TikTok portfolio, she can't get enough of the platform.
McCallum's TikTok looks a lot like the profile of any young girl — except for all of her elite gymnastics posts! Many of her videos feature an insider look at her daily training. McCallum also posts videos of her and her friends doing TikTok dances at the gym, at home, and at the lake. She also shares some adorable videos showing the less glamorous side of being an elite gymnast. By the looks of things, McCallum leads a pretty normal life, even though she's an Olympian, and we love how down-to-Earth she is. If you're curious about what McCallum is like when she's not competing, you will absolutely love her TikTok profile!
Grace McCallum had a horrific elbow injury when she was 13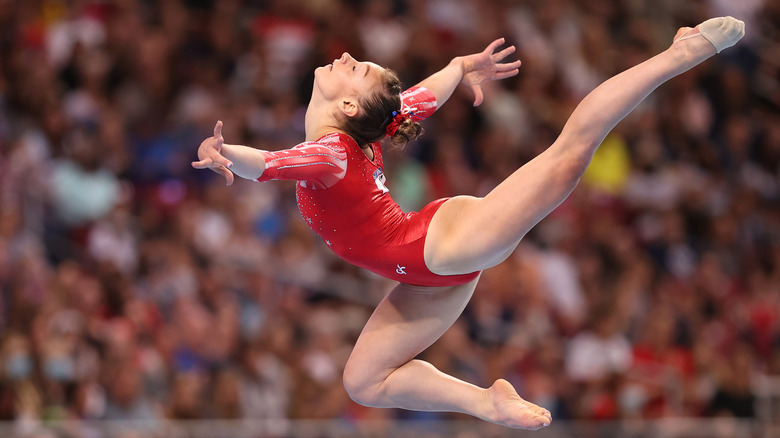 Gymnastics isn't exactly the safest sport — in fact, many elite gymnasts experience terrible injuries throughout their career. One of Grace McCallum's worst injuries came when she was just 13 years old in 2016. As she told NBC Sports, she was doing a backflip with one and a half twists, when she landed on her elbow, breaking multiple bones. Despite the horrific nature of the injury, McCallum remained calm and focused. "The first thought that came into my head, 'Will I still be able to compete next weekend?'" she recalled.
McCallum had intensive surgery and was told by the doctors that she only had a 50% chance of competing in the elite level, "Mostly because they didn't know whether she'd ever gain full range of motion in her elbow again," McCallum's coach explained. Apparently, the gymnast was back in training just one week later, and two years later, she'd regained her entire range of motion. It sounds like this gymnast owes her career almost entirely to good luck!
Grace McCallum almost gave up on the Olympics after an injury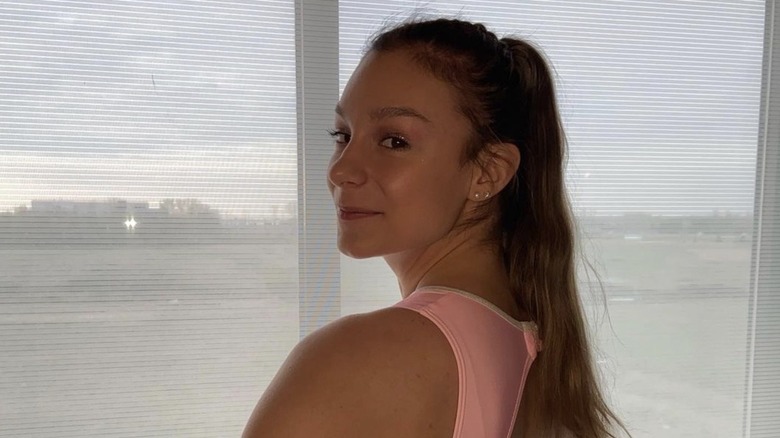 After her terrible elbow injury at the age of 13, Grace McCallum had yet another injury that threatened to ruin her career. In January of 2021, just months before the Olympic Trials, McCallum landed awkwardly on her fingers on the beam and got a boxer's fracture, which required a "plate and seven screws," as she told KARE 11. She decided to have surgery rather than waiting for the injury to heal naturally as she felt it was the safer option.
As McCallum told The Central Minnesota Catholic, the whole experience was pretty scary. "I thought my Olympic dreams were down the drain, but then I thought, 'No, you know what? Everything happens for a reason,'" she revealed. So, McCallum persevered and got back to training as soon as possible. In fact, she returned just in time to regain her strength for the Olympics. "If you were to say an injury was perfect timing, that was literally perfect timing," she shared with KARE 11. Thank goodness the accident didn't happen any later!
Grace McCallum plans on going into medicine after her gymnastics career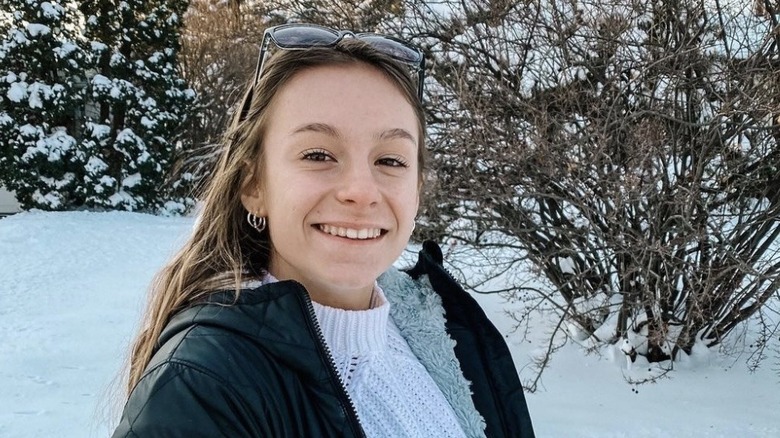 Unfortunately, gymnastics careers don't last forever. In fact, most gymnasts retire in their mid-twenties. So even though Grace McCallum was only 18 years old in 2021, she is already making plans for the future. As she told The Central Minnesota Catholic, she plans on going into healthcare. "I knew I wanted to go in the medical field somewhere because I feel, as a gymnast, you already know so much about your body," she explained. McCallum hopes that this extra knowledge will help her become a medical professional who can work with other athletes. "I know their pains, and so I think it would be really cool to help them in any way I can," she continued.
After suffering through a few injuries of her own, McCallum certainly understands the difficulty of bouncing back as an athlete. She also revealed to PopSugar that she's been seeing a sports psychologist for four years, so she definitely understands the importance of mental health, too.
Grace McCallum had to train at home during the COVID-19 pandemic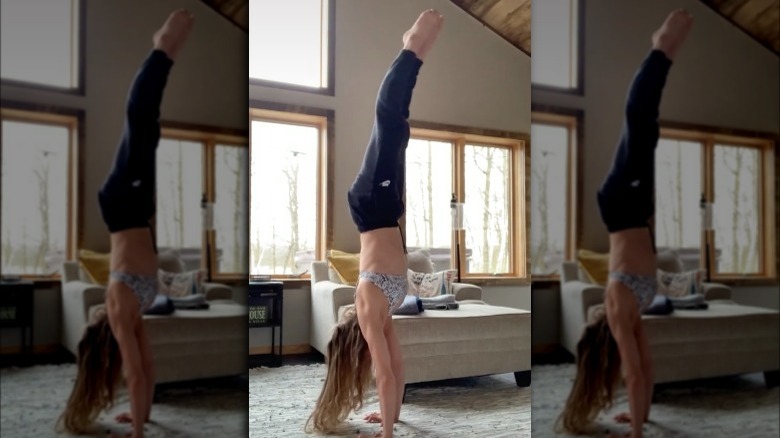 The COVID-19 pandemic certainly wasn't an easy time for Olympic athletes. For Grace McCallum, the lockdown meant that the gym where she trains in Minnesota closed and she had to try to keep up with her training at home — which wasn't exactly a breeze (via FloGymnastics). McCallum shared with the "All Things Gymnastics" podcast that the gym let her borrow a few pieces of equipment to use at home during the lockdown. She even posted a few videos of her at home workouts on TikTok.
Even though training at home wasn't a walk in the park, McCallum actually felt that the time away made her even more determined. "I feel like it actually got me more motivated to get back in the gym," she explained. So when McCallum returned to training on-site, she didn't even feel that she had to work too hard to get back into shape. What a total pro!
Grace McCallum chose the University of Utah for the gymnastics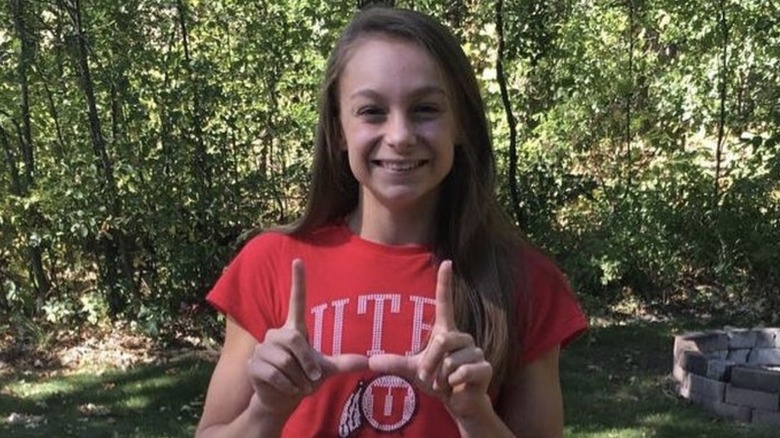 After the Tokyo Olympics in 2021, Grace McCallum will be heading to the University of Utah to begin college. Incidentally, the university is also the alma mater of her Olympics teammate, MyKayla Skinner. One of the main reasons that McCallum chose the university is that they have an amazing reputation when it comes to gymnastics. When she visited the school, she told KARE 11 that she was immediately drawn to the collegiate team. "It kind of felt like home right away," she gushed. "I love the program … I love the atmosphere and how hard the girls work."
In November of 2020, McCallum officially registered as a student at the University of Utah. She posted a picture on Instagram with her and her siblings wearing Utah sweatshirts, with the caption, "So excited to officially be a Utah Ute!" It looks like McCallum will be throwing herself into this next adventure with just as much determination and focus as she always does!
These are Grace McCallum's favorite and least favorite gymnastics events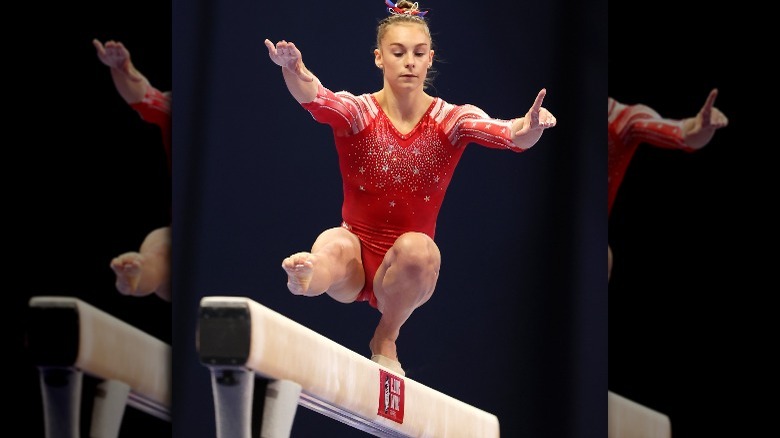 In women's gymnastics, there are four main events: vault, uneven bars, balance beam, and floor. Elite gymnasts compete in every event, but, naturally, most people tend to prefer one over the others. As Grace McCallum explained on the "All Things Gymnastics" podcast, she also has her preferences. "My favorite event to compete is floor, but my favorite event to train is bars," she said. Her least favorite, she went on, is beam.
However, this doesn't always translate into McCallum's best performances in terms of points. Her best event at the Olympic trials was vault, for which she scored 14.766. Her second best at 14 points was beam, even though it's her least favorite. Funnily enough, McCallum earned her lower score for her floor routine (via The Gymternet). It looks like McCallum is pretty reliable in every event — even if she doesn't always find some of them all that fun.
Grace McCallum is the tallest gymnast on the U.S. Women's Gymnastics Team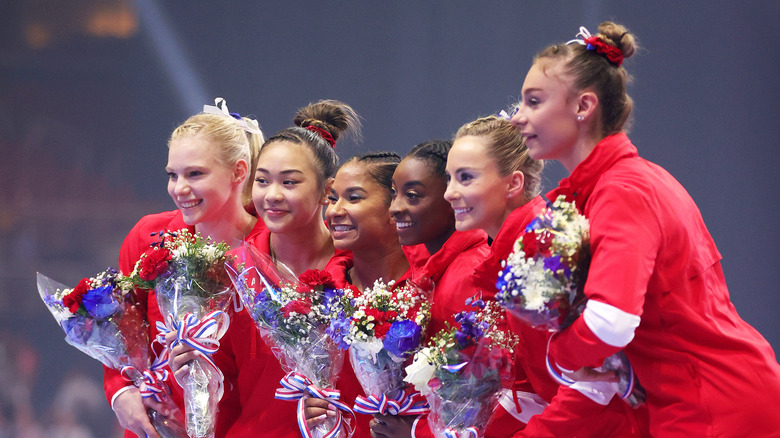 One thing that is crucial for elite gymnasts is height, and many successful gymnasts tend to be on the shorter side (per Teen Vogue). However, Grace McCallum is the tallest gymnast on the U.S. Women's Gymnastics Team heading to the Tokyo Olympics. In fact, as of 2021, McCallum is 5′ 3 1/2" tall, making her one of the tallest elite gymnasts around. According to Slate, the average female gymnast stands at 4′ 9" tall. As McCallum told FloGymnastics, she grew two inches after the 2019 World Championships, which forced her to relearn and adjust some skills and techniques.
Being a tall gymnast isn't always easy. As McCallum told KARE 11, "I just look like a giant." However, McCallum refuses to let her height get in her way. She has worked hard to make the necessary adjustments to her gymnastics, and she even proudly stated, "Tall is beautiful, so you just have to work with it." This gymnast certainly knows how to roll with the punches. What an amazing role model McCallum is for young women!