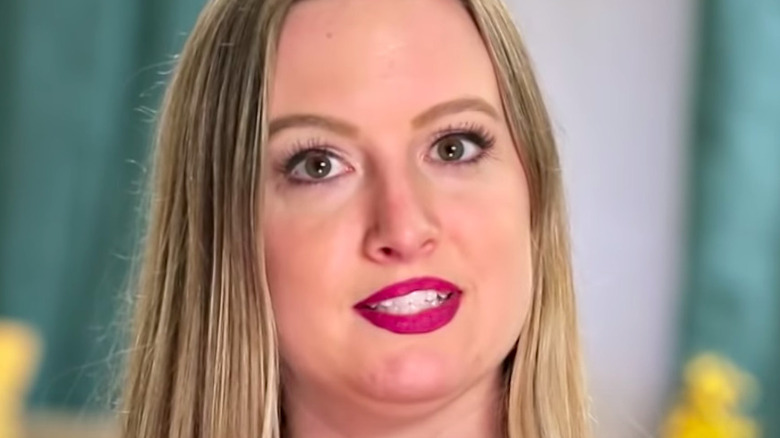 Some people write "90 Day Fiancé" off as just another reality show. It's "Married at First Sight" with the vague promise that everyone's who they appear to be on the internet. It's "The Bachelor," but instead of a rose, the winner gets a green card. And they work for that green card.
In reality, the beloved series — which has snowballed into a phenomenon dominating most of TLC's programming — is a case study in cultural differences. And it's one that relies on common tropes (think: Russian mail-order brides, African internet scammers, and the idea that foreigners would dupe unwitting Americans into a green card marriage). The twist is that the so-called American dream is much more like a nightmare.
This is partly because of the show's knack for casting the worst American stereotypes, then unexpectedly injecting a twinge of humanity (see: Angela Deem, who was plucked directly from the "The Maury Show," and her heartwarming relationship with Nigerian husband Michael Ilesanmi). It's what makes the show so good, and in this sense, it's not surprising Elizabeth Potthast and her Moldovan husband Andrei Castravet are breakout stars. Libby's family seemingly ticks every box of the Florida man (and woman) stereotype — from the top of her father's flag-adorned baseball cap to the bottom of their alleged seedy past. And it's addicting to watch.
The Potthasts' drama has captivated audiences to the point that they've dug deep – Reddit forum deep. What's the truth? Here's a look.
Elizabeth Potthast has two brothers who aren't on TV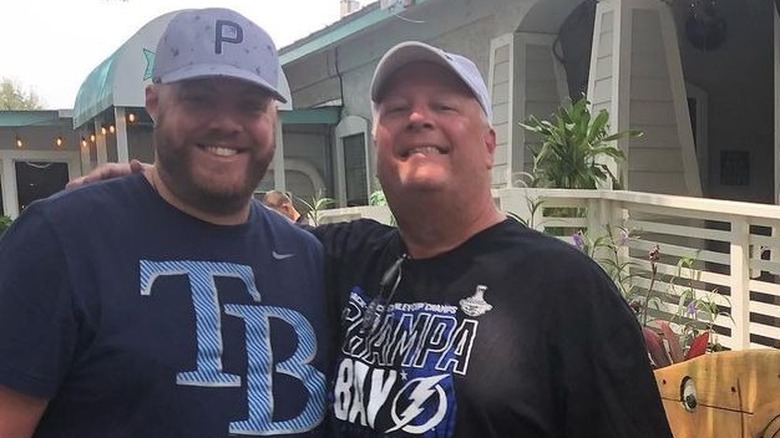 It's kind of hard to keep track of just how many Potthasts there actually are, but "90 Day Fiancé" star Elizabeth Potthast is actually the youngest of ten children. Two of her brothers — Mike and Daniel Potthast — mostly steer clear of the screen. Daniel occasionally sneaks around in the background (see: Libby's Maldovan wedding) but Mike avoids it altogether. So, what's their deal?
Records show that Daniel is a crucial part of Chuck's real estate business, CDC Capital Investments LLC. He's listed as a managing member, but other directories list him as the key principal (i.e. the business' go-to guy). In truth, someone has to run things while Chuck is busy breaking up his kids' kitchen fights, poolside fights, yacht fights, and RV fights. He's got his hands full.
Mike, on the other hand, is even more low-key. His life is totally private, save for the odd Instagram snapshot on one of the other Potthasts' accounts. His own Instagram account is totally locked up, but per his profile, he graduated from the University of North Carolina Charlotte in 2016 before heading to the University of Southern Florida. He graduated from the Vinik Sport & Entertainment Management Program in 2019 and was a member of the Sig Tau fraternity. If he wants to be a reputable sports manager, it's hard to really blame him for standing on the sidelines as his siblings duke it out on camera.
Where is Libby's mom?
Elizabeth Potthast's mother, Pamela Putnam, doesn't seem to be wrapped up in the same reality TV drama as her kids. Sure, she attended the explosive Moldovan wedding, but the talent agent is almost never on the show. So, where is she?
Libby's parents are divorced. According to ScreenRant, Pamela remarried (hence the new last name) and now resides in North Carolina — not exactly a short drive to the depths of Florida where the majority of the Potthasts live. Nonetheless, she does make the trip for the big stuff, like her own mother's birthday. She's a proud mama and a proud grandmama. Unfortunately, drama just bleeds through the veins of this family. They can't escape it even if they're not under contract with TLC.
Pamela's 15 minutes of fame eventually found her on Instagram, where she posted a homophobic image of a rainbow during LGBTQ Pride Month. Basically, she was asking for it. The picture read, "Rainbow … a promise of God, not a symbol of pride" and was expectedly met with mass backlash, including from Libby, who disavowed her mother without naming names.
Kenneth Niedermeier, whose same-sex relationship may just be the healthiest in all of the "90 Day Fiancé" extended universe, also had some choice words to share — or rather, a choice emoji. Per Monsters & Critics, he threw some shade with a rainbow emoji before Pamela disabled the comments section. Yikes.
Libby has a low key acting career
It's not totally true that the family business is real estate. The Potthasts are also in showbiz — and not just as the turbulent "90 Day Fiancé" stars who really put the question mark at the end of "Happily Ever After?" We already know that Libby's off-screen brother Mike is an aspiring sports and entertainment manager (or at least that's what he studied in school). He follows in the footsteps of matriarch Pamela Putnam, a talent agent who owns the agency Stellar Talent and Image.
Like her mom, Libby also has a background in showbiz. Before hitting it big as a reality star, the expectant mother pursued an acting career. She's even got her own IMDb page, but she's only booked a handful of parts (think: a small speaking role as a cashier in a 2011 episode of "Homeland," which is closer to Claire Danes than any of us have been). As of this writing, most recently, she starred in the 2019 faith-based thriller "Be Still and Know," which you can watch via IMDb TV. Fair warning, one reviewer suggested you're "better off watching paint dry," but it's unclear what they expected out of a TV-PG thriller.
Do the Potthasts script their own drama?
Fans have long accused "90 Day Fiancé" of being fake, but mostly in that production sort of way — like a word is repeated over here, a phrase is edited over there, or producers carefully rile up cast members behind the scenes. That's how reality TV works. Nobody wants to watch a boring show, but for many, the Potthasts' explosive drama is too good to be true.
According to ScreenRant, some viewers think the Potthasts are scripting their own drama to land a spinoff like "The Family Chantel." Libby's sister Becky even once alluded to "portraying" a "character" on "a show" in a now-deleted Instagram post that ended up on Reddit. Not to mention, Libby is an actress and her mother is a talent agent. So what's happening?
Admittedly, the Potthast family has made some poor choices — some that are so poor it's almost inconceivable a reasonable human being would actually make them. Why would a family who can't spend five minutes without screaming at each other take an RV trip? Why would Chuck invite his feuding children to a no-drama afternoon on a yacht, then directly bring up what they're feuding about? Why would anyone's brother stand up at his sister's wedding and make a speech accusing her new husband of living off their father? Clearly, the Potthasts are either inventing their own drama or simply like to watch the world burn.
The Potthasts have been accused of shady business practices
"90 Day Fiance" portrays Chuck's real estate business as wildly successful. At the very least, it's profitable enough that he can hire all of his children and hand out a $100,000 business loan if he chooses (which he didn't). In reality, things might not be as rosy. The family has been accused of business practices that are a whole lot shadier than hiring Andrei.
The Better Business Bureau has a documented complaint against Chuck Potthast's business, CDC Capital Investments LLC, that accuses the family of exploiting tenants with poor credit by knowingly renting them a foreclosed property. The tenants claim that the Potthasts ghosted them once the bank unexpectedly came to evict them.
A similar complaint was made on the company's Yelp page, which has an abysmal single star. One of the three negative reviews directly accuses Chuck of being a scammer that makes "slum lords look like Walt Disney." There's some debate about whether being on"90 Day Fiance" hurts or helps the cast's businesses, but from the looks of it, the Potthasts are taking what they can get.
Which sibling started a rival business?
Andrei Castravet is like a fountain of drama for the Potthast family — and not by his own doing. As fans know, Libby's siblings can't stand him, and a lot of that has to do with their belief that he's seeking handouts from their father (see: Charlie's wildly inappropriate wedding speech, one of the most uncomfortable "90 Day Fiancé" moments ever). It only got worse on "Happily Ever After?" when Andrei got his real estate license and asked Chuck for the infamous $100,000 business loan that was audacious enough to sustain a whole season's worth of drama.
Chuck didn't give Andrei the loan, and it's hard to say what kind of meltdown Libby's siblings would've had if he did. Instead, he gave his son-in-law a gig with the family business — as he did for the rest of his kids. This annoyed Libby's sisters, Jenn Davis and Becky Lichtwerch, enough that they considered going into a competing business behind their father's back. In the Tell-All, Libby slammed the pair. "That looks like betrayal," she said. "[Andrei] would never do that." Well, Andrei did do that.
According to InTouch, the couple launched their own business called Castravet Inc. in 2020. Andrei, who's always been clear about wanting to be a business owner, is the president of the company. Libby is the vice president. Andrei never ended up joining the family business, either. Per the tabloid, he actually works for Keller Williams Realty Tampa Central.
Megan Potthast is standing on a lucrative career – literally
Charlie Potthast has been wildly critical of Andrei Castravet's career, particularly about his work in the family business. In one episode, he even accused his brother-in-law of "scheming" behind his back to "take money" out of his pocket. As it turns out, Andrei should've been checking Charlie's shoes.
In a shocking episode of "90 Day Bares All," Charlie's wife Megan revealed that she makes up to $1,000 a day by selling racy photos of her feet online. "If people like my feet — some people have foot fetishes — why not make money?" she said (via E!). "I never thought I could make money from selling foot pictures, but foot modeling is a thing, and if I can make money, why not?"
That's not all. After Andrei accused Megan of being "broke" and "a porno star," she owned up to selling more than just snaps of little piggies. She also hawks "sexy videos" and "stuff like that." In her words, "I don't find feet sexual, I don't find your stomach sexual. My boobs are freakin' fake." Anyone else up for a pedicure?
All the Potthast sisters are on OnlyFans
Megan isn't the only Potthast selling pictures on the internet. All three of the Potthast sisters — Jenn, Becky, and Libby — are on OnlyFans. Of course, that doesn't necessarily mean they're selling scandalous content, though it is one of the reasons we know that Andrei has been working on his abs. Yes, he's on the platform too, and according to ScreenRant, he does occasionally post nude photos — but never of that area. Sorry, folks.
Though a distastefully superficial Reddit poll voted Jenn the most attractive Potthast sister, Libby's OnlyFans account seems to be the most controversial. Some of the photos have leaked online, and according to ScreenRant, led to mass controversy when fans saw what they believed to be an exposed tampon string. You really can't make this stuff up — or apparently, you can.
After sparking mass hysteria, Libby finally broke her silence about TamponGate. Per ScreenRant, she was adamant that the image was fake, though fans didn't necessarily believe her. Some people even thought the image was a hoax she used to get more subscribers. Either way, she seems to be doing alright. Some people like her content and others don't. That's just the biz, and if you don't believe us, ask Bella Thorne.
Wait, is Libby a hypocrite?
Elizabeth Potthast and Andrei Castravet are just a couple names on the growing list of celebrities joining OnlyFans, from Cardi B to Sonja Morgan. They're not even the first "90 Day Fiance" stars to launch an account. They joined the ranks of Brittany Banks, Stephanie Matto, Colt Johnson, and most notably, Larissa Dos Santos Lima — who has some words to say about their new venture.
As fans might remember, Libby and Andrei shamed Larissa for her success on OnlyFans during a "Happily Ever After?" Tell-All. Libby, in particular, called Larissa a "f***ing stripper." Larissa was later axed from the series after a racy CamSoda stream where she pulled in $100,000 in just an hour, according to TMZ.
There's a staggering amount of money to be made from these types of websites, and you can't blame Libby for wanting a piece of the pie, but you can call her a hypocrite. That wasn't lost on Larissa, who responded to the couple's OnlyFans announcement with a few choice lines from Offset's "Clout" (per Showbiz CheatSheet): "They know I'm the bomb, they ticking me off/ Saying anything to get a response/ I know that mean they traffic is low/ Somebody just gotta practice to launch/ So f**k being tame, I'd rather be wild/ B***hes is Brandy, they wanna be down/ Soon as these b***hes got something to sell/ They say my name, say my name, Destiny Child." Ouch!
The real deal with Andrei Castravet's past
As fans saw in the series, Andrei Castravet's past caused major controversy before his wedding in Moldova. Charlie and Chuck swore if they dug into it, they'd find something sordid, and they kind of did. It's not really clear what happened, but Andrei was honest about working as a detective in a corrupt police department in Moldova.
As ScreenRant recapped, Andrei revealed that he was forced to go along with the corruption by those in higher ranks. When he refused, they planned to set him up for a crime he didn't commit, and he was forced to leave the country. Did he ever actually get in trouble with the law? That's up for debate.
Since Andrei's criminal record is foreign, it's not easy to obtain. A prominent YouTuber, The Celeb Talk Guy, claims to have found court records that seem like they belong to Andrei. These records show that someone with the same name from the same town was arrested for embezzlement back when Andrei was a cop. They even spent a few months in jail. As TV Season & Spoilers points out, it was a complicated case, and the person ultimately "sued the country for wrongful conviction" and won.
This is in line with Andrei's story, and if it's true, proves he's no criminal. After fleeing Moldova, he ended up in Ireland, took a job as a club bouncer, met Libby on a dating app, and the rest is history.
Chuck Potthast was arrested for failing to pay child support
Those who live in glass houses shouldn't throw stones unless their homes are made of plexiglass. Clearly, that should've been part of Chuck Potthast's next renovation because his family has enough mugshots to make an entire gallery wall. We'll get into those later, but it all starts with the reality TV patriarch.
As fans saw on the series, the minute Chuck landed in Moldova for Libby's wedding, he started digging into Andrei Castravet's past, adamant his son-in-law was hiding "red flags" (via InTouch). As it turns out, he had tucked a couple of red flags into his own suitcase.
According to InTouch, Chuck was arrested in 2009 for failing to pay child support. The business owner reportedly "faced a contempt of court charge" and had to "pay a lump sum of $17,564." It just goes to show you that Chuck doesn't always give money to his kids — unless it's for Libby's wedding.
Jenn and Becky drove right into legal trouble
Real estate might be the Potthast family business, but as it seems, so is running into trouble with the law. Chuck Potthast isn't the one with a mugshot, though most of his children's infractions have to do with driving.
According to InTouch, Jenn Davis was arrested in 2005 after she was caught "driving a vehicle with [a] registration that was expired for more than six months," to which you might want to say, c'mon Jenn. They mail you the renewal forms. You don't even need to wait in line at the DMV! She pleaded guilty and paid a fine. Per Starcasm, she was also "driving with a revoked, canceled, or suspended license," but it's unclear what happened with that.
Becky Lichtwerch also got into trouble on the road, but what kind of trouble depends on the tabloid you're reading. InTouch claims she pleaded guilty to speeding on the interstate in 2008 and had to pay a fine. Who hasn't? Starcasm's report is a little more serious. They claim, like Jen, Becky was knowingly "driving with a revoked, canceled, or suspended license." If that's true, the Potthasts definitely have another mugshot to add to the family photo album.
Charlie Potthast has the longest rap sheet
Charlie Potthast had no problems throwing around accusations about Andrei's past, but he was hiding an arrest record of his own. He's actually got the longest rap sheet in the whole family.
According to InTouch, it started with a DUI charge in 2005 (though Starcasm also claims he was "driving with a revoked, canceled, or suspended license"). Charlie "pleaded not guilty." The following year, he managed to get the charge "reduced to reckless driving" and was sentenced to a year of probation and DUI-related classes. He did what the court asked him to do, and the case ended. His substance use issues did not.
In 2006, Charlie was arrested again, but this time for drugs. Per InTouch, he was charged with "possession of cocaine" and "drug paraphernalia." One was a felony, and one was a misdemeanor. He first "pleaded not guilty" before switching to a "best interest plea." The result was a second round of probation, which he finished in 2008.
As for the other Potthasts, there might be other legal issues. Starcasm claims that one of the brothers who isn't on TV was charged with "possession of less than 20 ounces of marijuana" and "possession of drug paraphernalia." Since the gossip blog wouldn't name names, who actually knows?
If you or anyone you know is struggling with addiction issues, help is available. Visit the Substance Abuse and Mental Health Services Administration website or contact SAMHSA's National Helpline at 1-800-662-HELP (4357).
Charlie Potthast is estranged from his family
It is very clear that the Potthast siblings don't get along. Charlie Potthast and Andrei Castravet seem to have the most explosive relationship (hence the near fist fight towards the end of "Happily Ever After?" Season 6). The internet has taken sides, and Andrei has overwhelmingly won out. He's even willing to admit he "might come off as an a** on the show," but it actually might run deeper. By looks of the Season 6 Tell-All, Charlie Potthast is estranged from his family, and Megan Potthast all but confirmed fans' suspicions in an Instagram Story (that was conveniently captured on Reddit).
"Just watched part 2 of the Tell All and it makes me want to barf the way my husbands family talk about him. Disgusting," she wrote. "They say he is toxic? No… all his family that talk crap and spread lies about him are toxic. Cancelling us out of the family and saying he's toxic to make themselves feel better?! Joke! I guess my kids are toxic too because you have nothing to do with them either."
It's true that as much as Libby, Becky, and Jenn disagree, they make regular appearances together on social media. Charlie, on the other hand, has kept his co-star siblings off his Instagram feed for at least a year at the time of this writing (though he does seem to be in touch with his brother). Is it for show or is it for real?