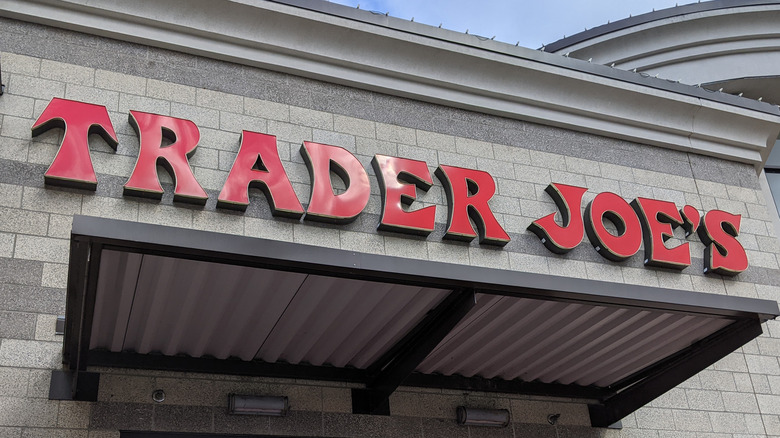 The Trader Joe's frozen food aisles offer a food fantasia, particularly the section of real estate in those jam-packed with those icy chests devoted to the wonder that is ice cream. While you may admittedly find a larger selection of pints at other supermarkets, the curation here is second to none. There is truly something for everyone whether you're a fan of the classics or prefer a fun, new flavor mash-up. And if you're vegan or lactose intolerant, not to worry — Trader Joe's has you covered, too. There are a wide variety of non-dairy frozen dessert alternatives that don't taste like an afterthought. And if you want to take things beyond the scoop, Trader Joe's also offers a fantastic assortment of bon bons, cones, and ice cream bars to keep your sweet tooth satisfied.
True to TJ's fashion, the ice cream and frozen dessert offerings are ever-changing, so you never know what you'll come across. While that means that some of your favorites may take a hiatus from time to time, the most popular flavors often make a comeback. Plus, you'll have something new to look forward to when you're in need of some sweet and cool relief.
Below we've got the inside scoop on which ice cream and frozen dessert treats you should keep an eye out for and which to avoid on your next Trader Joe's excursion, ranked from worst to best.
13. Trader Joe's Cold Brew Coffee and Boba Coconut Non-Dairy Frozen Dessert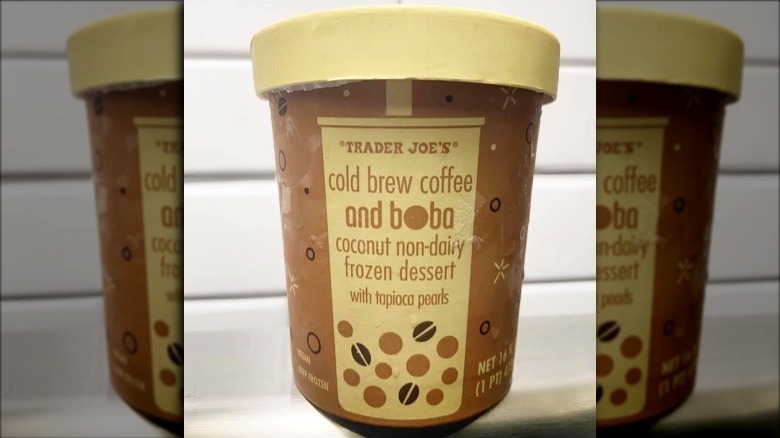 We have no objection to chasing trends. In fact, one of the things Trader Joe's does best is being attuned to what's in the culinary zeitgeist and giving it a unique spin. The results are usually successful, but we must report that their Cold Brew Coffee and Boba Coconut Non-Dairy Frozen Dessert is a rare misfire.
This pint brings together not one, but two recent food sensations: cold brew coffee and boba tea. On the cold brew front, the results aren't bad at all. The frozen dessert is extremely coffee-forward and while the texture could be creamier, it's not all that bad. If you're accustomed to the iciness of a Starbucks Frappuccino, for instance, the texture here won't be an issue.
It's the boba addition, however, that has us scratching our heads. According to Buzzfeed, there simply isn't enough boba here to get some of that chewy tapioca texture in each bite. But that might even be beside the point. A great deal of joy from drinking bubble tea is derived from the ritual of sucking those tapioca pearls through a giant straw. That's lost here, as well as the supple boba consistency that's usually so delightful to chew, which gets altered significantly by the cold temperatures necessary for ice cream. Our advice to Trader Joe's? Keep the cold brew, drop the boba, and all will be good.
12. Trader Joe's Ice Cream Bon Bons with Chocolate Cookie Crust
If there's one particular weak spot in the Trader Joe's ice cream arsenal, it's vanilla. Though the sweet bean flavor generally gets a boring rap, TJ's version is the equivalent of watching the end credits of a Marvel movie that doesn't even have a final scene teaser.
So it's too bad vanilla is the flavor of choice in the Ice Cream Bon Bons with Chocolate Cookie Crust. While the chocolate coating and crumbly base elevate the ice cream, the complete 60 calorie package still manages to disappoint because of that lackluster vanilla flavor. The silver lining here is that at least it won't be difficult to resist scarfing down a box of the bon bons in a single sitting.
Trader Joe's does offer an alternative bon bon option, but that one has its own drawbacks, too. It's vegan, so it's filled with vanilla non-dairy frozen dessert, which may not please everyone with its flavor and texture. And rather than a cookie base, tiny pieces are integrated into the "ice cream" portion instead. For bite-sized frozen treats, you're betting off sticking with mochi or mini cones.
11. Trader Joe's Strawberry Non-Dairy Oat Frozen Dessert
Since Trader Joe's offers ultra-popular dairy-free oat milk, it was only a matter of time before a frozen dessert made with the grain-based beverage came around. To be clear, the store's Strawberry Non-Dairy Oat Frozen Dessert is a purely vegan affair. According to Trader Joe's, the strawberry base consists of crushed oats, water, tapioca syrup, and coconut oil. Agave syrup is also in the mix for added sweetness. Pieces of almond brittle and candied strawberries round out the pint.
While it's nice to have an oat milk option in the frozen dessert space, reviews have been mixed. On the vegan food review site abillion, the reaction is generally positive. As one reviewer writes, "This is a tasty treat with little surprises of strawberry and crunchy praline." But some might notice that the flavor of the candy bits and even the namesake strawberry are weak and unsatisfying.
For a vegan ice cream alternative, Strawberry Non-Dairy Oat Frozen Dessert is certainly a worthy buy, especially if you're willing to pump it up with some classic ice cream additions like a vegan syrup. But if you have no dietary restrictions and are happy to go the dairy route, this may end up being a one-and-done sample.
10. Trader Joe's Southern Peach Crisp Ice Cream
Trader Joe's obviously had Georgia and the rest of the American South on its mind when it came up with this brand new ice cream entry just in time for the summer. It's a flavor combo that the retailer seems particularly pleased with, writing, "In addition to the dreamy, sweet cream ice cream base, our Georgia-based supplier also makes the inclusions in-house – specifically, swirls of luscious peach jam (made with South Carolina-grown peaches, of course) and chunks of buttery oat crisp imbued with hints of cinnamon & sugar."
While that all seems wonderful on paper, the actual product tastes like a rough draft. The "crunchy buttery oat crisp" is sparse to the point where it's sometimes a no-show in a given scoop, while the namesake peach is embarrassingly faint.
That's especially odd, given that sometimes Trader Joe's overindulges and goes too far with the added ingredients, making for an overly strong flavor experience. Yet, this is a case where we desperately need a lot more of that sweet stone fruit and crispy oat crunch. With a bit of retooling for next summer, Southern Peach Crisp Ice Cream has the potential to rise to the top of this list. But, as it stands, there are better Trader Joe's ice creams out there.
9. Trader Joe's Ultra Chocolate Ice Cream
With so many wild, Wonka-fied items at Trader Joe's, the basic stuff often gets overlooked. That includes the Ultra Chocolate Ice Cream, which is not laced with any fruit swirls, candied nuts, or shards of European cookies. It's simply plain jane chocolate. And, honestly? That's just fine.
Now, is it "ultra"? Well, that's definitely a stretch. And the distinction of being "super premium," another boast on the label, is also admittedly punching above its weight class. If you were to compare this with chocolate ice cream offerings from a high-end producer, it likely won't stand up to the competition. But in the realm of moderately priced brands like Breyer's and Dreyer's, Trader Joe's has the edge. The cocoa flavor is sufficiently fudgy (though perhaps it's a tad too sweet for some palates), plus the texture is just about right. And for the price, a quart of Ultra Chocolate is an excellent value.
If chocolate ice cream on its own seems too boring, simply raid the other Trader Joe's aisles for D.I.Y. mix-ins like Dark Chocolate Peanut Butter Cups or Organic Reduced Sugar Cherry Preserves to zhuzh things up.
8. Trader Joe's Matcha Green Tea Ice Cream
It used to be that if you were searching for green tea ice cream in the United States, the only place to find a scoop was on the dessert menu of a Japanese restaurant. But then matcha mania swept the nation and now it's thankfully available from major retailers, Trader Joe's included.
In 2017, TJ's Matcha Green Tea Ice Cream got plenty of buzz but unfortunately for a very wrong reason. Apparently, some containers may have contained metal pieces, according to SF Gate, and though the retailer is known for including odd ingredients in its ice cream, that most definitely was not one of them. The offending containers were recalled quickly and no one reported being harmed by the defective batch.
You'll be happy to know that issue was quickly resolved and the only ingredients packed into the pint now are cream, milk, cane sugar, eggs yolks, and real matcha powder (plus carob bean gum and guar gum). The result is similar to caffeinated vanilla with a rich earthiness and slightly bitter finish. While this one may not completely knock your socks off, it's a welcome alternative to standard ice cream flavors (especially vanilla) and proof that matcha isn't just a passing fad.
7. Trader Joe's Soy Creamy Cherry Chocolate Chip
Trader Joe's soymilk spin on Ben & Jerry's iconic Cherry Garcia is back from the dead and plenty of folks are extremely grateful for its triumphant revival. Shockingly, after an impressive 14-year run, Soy Creamy Cherry Chocolate Chip was pulled from shelves in 2018 due to declining sales. But it wasn't long before the non-dairy frozen dessert was returned from its thaw which wasn't a surprise considering how much love it gets.
Living up to its name, the cherry-flavored base (made with organic soymilk and organic cane sugar) is indeed exceptionally creamy. There is also just the right amount of cherry chunks and chocolate chips (non-dairy, of course) in the mix.
On Trader Joe's Reviews, Soy Creamy Cherry Chocolate Chip earns near-unanimous perfect scores. One commenter writes, "This soy cream is as good as any ice cream! I can't stay away from it!" Another notes that "This stuff is so amazing. I mix it with some peanut butter and a little sea salt and [it] feels like my whole mouth is in heaven." There are also a handful of one-star reviews, but it turns out those are just fans complaining about the quart being put on ice.
6. Trader Joe's Mini Mint Ice Cream Moutfuls
There is no denying that mint chip is among the coolest of all ice cream flavors and when it comes to Trader Joe's excellent take on the popular standard, it's like enjoying a scoop of a Miles Davis "Kind of Blue" era solo. While the store often excels at taking risks and moving outside the box, this is a case where TJ's manages to keep the recipe straightforward and the simplicity certainly pays off. Purists are sure to appreciate the detectable but not overwhelming mint flavor and similar restraint is applied to the chips which add a light chocolate touch and a bit of crunchy texture.
"It's deliciously creamy with a great real fresh mint flavor that is cooling and refreshing on a hot summer day," is the assessment on Trader Joe's Rants. Over on Reddit, a user gushes, "TJ's mint chocolate chip ice cream is superior to all other mint chip ice creams. I've searched far and wide and nothing compares. It's not dyed green, the mint flavor does not taste synthetic, and the chips are really high quality."
But with its Mini Mouthfuls, Trader Joe's has upped the ante, sandwiching a scoop of mint chip ice cream between a pair of chocolate wafers. Think of it as a shrunken, minty, Oreo-like version of the Chipwich. If only this was available when we were kids.
5. Trader Joe's Mango & Cream Bars
The creamsicle is an ice cream all-timer that brings together a refreshing contrast of texture and flavor. For the traditionalists, Trader Joe's Tangerine Cream Bars impress with a sweet and luscious vanilla center and tangy citrus (orange also joins in on the action here) sorbet coating.
But for a taste of that nostalgia with a tropical twist, consider TJ's Mango & Cream Bars. This Aussie import wows with fabulous fruitiness plus some extra sweet relief from its creamy counterpart. The key, according to Trader Joe's, is zeroing in on "perfectly ripe, exquisitely juicy mango" of the Australian Kensington Pride variety.
Unlike your typical interior, exterior creamsicle, the Mango & Cream bars pair the components side-by-side (70 percent mango sorbet, 30 percent sweet cream), which we consider a plus because you get to decide whether you want to tackle each side solo or savor the flavors together with an all-encompassing bite. There's also no stick. Simply use the wrapper to push the bar straight into your pie (or rather, ice cream) hole. And to top it all off, each serving is only 60 calories.
4. Trader Joe's Wildberry Cheesecake Ice Cream
One of the newest additions to the Trader Joe's ice cream lineup, Wildberry Cheesecake is already causing a sensation amongst the store's fervent faithful. If you prefer your pints stuffed with mix-ins, this is your jam. There are cheesecake chunks aplenty offering that signature creamy tang and sweet, crunchy crust. Thick ribbons of the wild berry swirl (a blend of blueberries, raspberries, strawberries, blackberries, and elderberries) provide a welcome fruity zing.
Plenty of folks on Reddit are pretty enthusiastic about this particular treat, sharing ringing endorsements such as "The best ice cream I've ever had!" and "I had to stop myself from eating it all in one sitting. So good!" So, it seems pretty clear that the people have spoken, and rather definitively at that. Trader Joe's absolutely needs to carve out a permanent spot in the freezer case for this brilliant dessert within a dessert. Of course, if you're not a fan of the tangy cheesecake edge of this ice cream, it may not rank quite so high on your own personal list, though we urge you to give it a try before dismissing this flavor.
3. Trader Joe's Cookie Butter Ice Cream
Crossover events can be hit or miss, to say the least (the less said about Rick and Morty crashing the "Space Jam: A New Legacy" debacle, the better). But thankfully Trader Joe's fusion of its vanilla ice cream and their beloved Speculoos Cookie Butter does not disappoint.
If you're not familiar with Speculoos, it's a spiced biscuit cookie (similar in taste to gingerbread) that's popular in Belgium and traditionally enjoyed on December 5th and 6th. A decade ago, the geniuses over at Trader Joe's opted to transform the holiday treat into a spreadable sensation that is now a store classic and undeniable fan favorite. Adding it to ice cream was a logical move (unlike the riskier and less successful move of adapting cookie butter to beer) and it elevates Trader Joe's decent enough vanilla flavor to far greater heights.
While Speculoos may be tied to winter for many, Cookie Butter Ice Cream is available year-round. So, if it's not currently in your freezer what are you waiting for?
2. Trader Joe's Ube Ice Cream
If you're lucky enough to be shopping at Trader Joe's when this limited edition gem is available, be sure to stock up on plenty of pints — you'll be glad you did, trust us. Ube ice cream is fun on all fronts including the name, that deep purple hue, and, of course, the fabulous flavor.
Pronounced "oo-beh," the Asian purple yam that goes by that name has been a staple in countries such as the Philippines for many, many years. It's finally now having a moment stateside. Unlike some ube ice cream, which sometimes doesn't contain any ube at all, this version is made with the real stuff, along with natural ingredients such as grape extract and beet juice, which are added to achieve that eye-catching purple look.
As for how it tastes, Trader Joe's explains that, "From a flavor perspective, it's been likened to a cross between vanilla and pistachio, with a hint of coconut," and it certainly hits all of those notes.
1. Trader Joe's Mini Hold the Cone Chocolate Chip Ice Cream Cones
Anointing Trader Joe's Mini Hold the Cone as the chain's top ice cream offering is an easy enough decision. The long-time fan favorite is simple yet so satisfying. Consider the little scoop and its little edible holder. Its small stature offers big rewards because you'll be getting a taste of creamy and crunchy with every bite. Plus, you'll be finished well before the ice cream starts to melt, thus avoiding the biggest grievance when it comes to taking your time with a standard-sized cone. To be safe, though, there's a layer of chocolate coating atop the ice cream and inside the cone for added drip protection. Plus, you know, it's an extra hit of chocolate and we can't be mad about that.
All right, now for the hard part — which flavor of Hold the Cone rises above the rest? There are options aplenty, from seasonal selections to rotating limited-edition releases. There's even a vegan Hold the Dairy side project that features coconut milk. And let's not forget good old reliable vanilla and chocolate.
But, while all of those flavors are perfectly respectable, our personal favorite is another Mini Hold the Cone standard: chocolate chip. Not only does the ice cream offer the best-of-both-worlds chocolate and vanilla one-two punch, but it also earns major bonus points for its addictive cocoa-infused cone and those delightful little chocolate chips that add both flavor and texture to the eating experience.