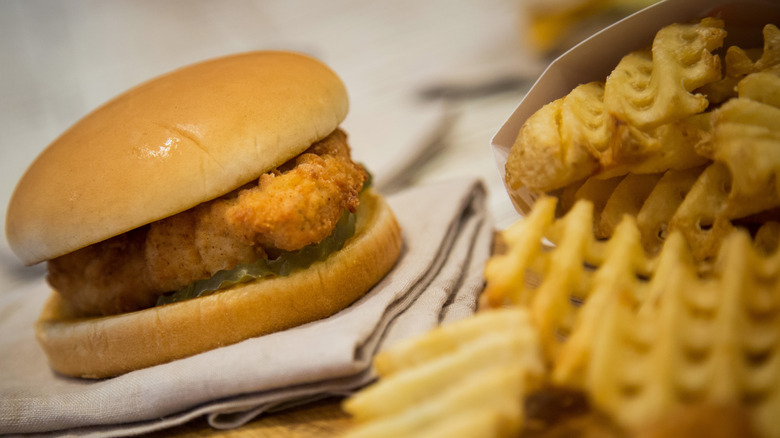 There's no denying that the South is home to some mouth-watering cuisine. When you think of Southern food, you probably think of savory biscuits and crispy fried chicken — and the South certainly does have the comfort food corner covered. However, you may be surprised to learn about popular Southern chain restaurants that serve up delicious burgers, hot dogs, and even Mexican cuisine.
While you surely know about Chick-Fil-A and Waffle House no matter where you're from, there are tons of other Southern chains that serve up noteworthy meals. Venture below the Mason-Dixon line and you're bound to discover various chains that are foreign to the North. Many of these restaurants offer speedy drive-thru service and are known and loved for their reliability. Some of these chains are major players in the Southern food scene, with hundreds of locations across the South. Of course, we didn't forget about the smaller restaurant chains and local favorites.
When it comes down to it, some of these popular Southern restaurants are well worth the visit, while others are just okay. Taking into account price, service, variety, and quality, we've ranked Southern restaurant chains from worst to best.
13. Milo's Hamburgers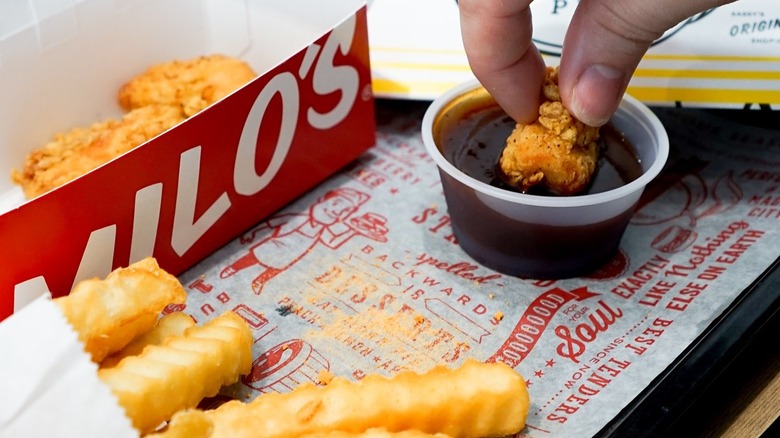 With 22 locations only in Alabama, Milo's Hamburgers is understandably a lesser-known Southern chain. The burger joint began way back in 1946, when founder Milo Carlton diligently worked to perfect his signature burger sauce. Expanding from a small cinder block shop in Birmingham to a regional franchise, Milo's still maintains its homegrown, local vibe.
At Milo's, you'll find chicken nuggets, chicken breast sandwiches, and chicken tenders in addition to the titular hamburgers. They are most well-known for their freshly brewed sweet tea, dubbed "the South in a glass" on their website, and of course, their savory burger sauce. This sauce is famous in the area, lauded for its delicious simplicity.
While Milo's is a pretty popular burger destination, it lacks in menu variety and, of course, geographical reach. Reviews of Milo's on Zomato are mixed, and many visitors noted the slow and sometimes less than kind service, as well as the underwhelming quality of the burgers. After all, a secret sauce only goes so far if the actual meat on the burger is only so-so.
12. Jack's
If you live in Alabama, Tennessee, or Georgia, you've probably heard of Jack's, or Jack's Family Restaurants. The chain is certainly no newcomer to the Southern fast food scene — it has actually been around for 60 years.
What started as an unassuming walk-up hamburger stand went on to become a restaurant chain with almost 200 locations, according to its website. The inexpensive sodas, fries, and milkshakes resonated with the community. Their dedication to service and community is clear when you visit a Jack's location. They even have a non-profit arm of the company, Jack's Family Fund, which has partnered with the Kids to Love organization to assist foster children in finding permanent homes.
Now, customers flock to Jack's for freshly made biscuits with a charming Southern vibe, which is not surprising considering their motto is "All About the South." They have plenty of protein-packed biscuits, like chicken and bacon and sausage, and even limited edition bologna biscuits from time to time.
While the biscuits are satisfying, one user on a Reddit thread noted that the overall value of Jack's pales in comparison to similar restaurant chains, and their prices are slightly steeper than many competitors.
11. Newk's Eatery
Often referred to as the Panera Bread of the South, Newk's has one of the wider culinary varieties of popular Southern restaurant chains. They cover the lunchtime bases of soups, sandwiches, and salads, but their condiment offerings are where they really shine.
The condiment bar at Newk's, bestowed with the name of the "Roundtable," is what sets Newk's apart from other chains, as Taste of Home noted. You'll be pleased (and maybe shocked) to see freshly prepared garnishes like capers, roasted garlic, and croutons made in-house. Essentially, they have everything you need to spruce up your macaroni and cheese or cobb salad.
While Newk's is certainly strong in terms of offering a diverse menu, they aren't the best option out there if you're really craving a quality salad or a specialty sandwich. The concept isn't unique enough to make it exciting, as a review in the News-Press pointed out. It's definitely worth visiting when you're hungry on the road, but likely not the spot you seek out when spending time in the South.
10. Biscuitville
A regional favorite in North Carolina and Virginia, Biscuitville is a great option for — you guessed it — biscuits! Their savory biscuit sandwiches are freshly whipped up every 15 minutes until they close for the day at 2 p.m.
Biscuitville is no newcomer to the Southern restaurant scene. In fact, they have been serving their signature scratch-made biscuits since 1966, all made with locally sourced ingredients. The family-owned joint has 60-plus locations, with new storefronts constantly on the way. Like many other chains, Biscuitville customers have their go-to menu items. These favorites run the gamut from the classic bacon egg and cheese biscuit to the homestyle gravy biscuit. Their spicy chicken and honey biscuit is also a unique signature offering, pleasantly balancing spicy and sweet.
Perhaps the biggest downside of Biscuitville is their early closing time. If you have a hankering for a greasy biscuit sandwich at 3 p.m., forget about it!
9. Raising Cane's
Crispy chicken fingers, Texas toast, and crinkle-cut fries. It's a winning combination that you can't really go wrong with. That's the philosophy behind Raising Cane's, a fast food chain with a loyal customer base and an incredibly simple menu. The limited offerings are a double-edged sword, of course. While it means that they do chicken fingers REALLY well, it's not the best place to visit if you're craving, well, anything else.
Still, their chicken tenders are a unique, finger-licking good creation. Using the highest quality breast tenderloins, they have created a perfectly craveable product that keeps customers coming back. Add some warm Texas toast and crispy fries into the mix and you'll understand why the chain is growing so quickly.
There are currently more than 550 Raising Cane's locations throughout the United States. While the name is commonplace across the nation now, they started their fried chicken journey in Baton Rouge, Louisiana. Fun fact: founder Todd Graves was told by his business class professor that a fried chicken business would never work. Funny how that turned out, huh?
8. Bojangles
A staple of the Southeast, Bojangles has earned its reputation by serving delicious chicken sandwiches and freshly prepared biscuits. The chain has a huge reach, with more than 700 locations in the United States, and even one in Honduras. Most Bojangles are located in North Carolina, but the company has an eye on expanding its reach in the United States.
They are most known for their hand-breaded, crispy chicken sandwiches, as well as show-stopping biscuits that are made in-house every 20 minutes. Bojangles also offers various "fixins" ranging from seasoned fries (which are some of the better fast food fries you can get), mashed potatoes with gravy, macaroni and cheese, coleslaw, and more. Basically, they have all the comfort food staples you could ask for.
The menu at Bojangles hits the mark on variety and quality, but ultimately, there are better options out there for fried chicken aficionados. While Bojangles' chicken doesn't hold a candle to its major competitors, there are certainly worse places to grab a lunch on the go.
7. Cook Out
There's something about drive-thru burger chains that provide such comfort — you can always count on them when you're on the road and start craving a juicy cheeseburger meal. While it's not fair to directly compare this chain to In-N-Out, Cook Out holds a very similar reputation among burger lovers in the South, according to Delish.
From its humble beginnings in Greensboro, North Carolina in 1989, the chain now has more than 250 locations across 10 Southern states. Cook Out boasts the use of fresh rather than frozen beef in their burgers. They also have one of the more impressive milkshake menus out there, with a whopping 40 different flavors to choose from, including favorites like strawberry, Oreo, and chocolate chip mint.
What differentiates Cook Out is the massive and often overwhelming menu, with a variety of barbecue plates, chicken dishes, combination meals, and even quesadillas. The other draw of Cook Out? Incredibly low prices. After all, you can get a filling, satisfying meal for less than ten dollars. Still, the burger quality doesn't quite match up to pricier competitors like Shake Shack in the end.
6. Zaxby's
The fried chicken food scene is no doubt a competitive space, but this Southern chain holds its own. Zaxby's currently has over 900 locations in 17 states, according to ScrapeHero. Since its 1990 founding in Georgia, Zaxby's has focused on their signature ZaxSauce, a "creamy blend of zesty spices" made specifically to enhance their chicken fingers.
Zaxby's has a broad range of items, from flavorful wings to fried and grilled chicken sandwiches and even salads (though let's be real, you don't head to Zaxby's for a salad). Offerings like their Texas toast and banana pudding milkshake have really put them on the map, and are definitely an upside against competitors like Chick-Fil-A.
You can get a great main meal at Zaxby's, and the cheddar bites and french fry sides are great additions to the mix. However, several reviews on TrustPilot call out poor customer service at Zaxby's chains, adding that it ruined their overall experience with the restaurant.
5. Waffle House
This is one of the more well-known Southern chains around, and for good reason. Open 24 hours a day and seven days a week, Waffle House is the ultimate comfort dining location. They serve up an unreal amount of waffles — 145 across the nation every minute, to be exact! With most locations in the South, Waffle House's more than 2,000 locations do also include some Northern states.
The chain has national notoriety, and therefore receives social media buzz quite often. In June of 2021, someone who lost their Fantasy Football League took to Twitter to broadcast their unique punishment – spending a full 24 hours at a Waffle House. The twist? Every waffle they ate shaved an hour off the clock. The thread went viral, with plenty of users commenting on what their waffle lineup would be.
Internet buzz aside, Waffle House really is one of the better chains out there. The prices are almost unbeatable, with single waffles costing about three dollars, sandwiches ranging between three and five bucks, and a great value menu to boot. We can't say Waffle House is anything snazzy, but it's a classic diner where you can count on a cost-efficient and satisfying breakfast any time you want it.
4. Pal's Sudden Service
Whoever said life moves slower in the South probably doesn't frequent Pal's Sudden Service. Praised for its super fast and friendly service, the drive-thru regional spot offers all the classic fast food fare — breakfast biscuits, burgers, sandwiches, fries, and even hot dogs.
The eye-catching design of their locations is enough to make the chain stand out, with their bright blue brick and comically large food and drink cartons adorning the buildings. Unfortunately, Pal's only resides in Tennessee and Virginia, flying under the radar a bit when it comes to bigger Southern restaurant chains.
It's a shame there aren't more locations, because Pal's has figured out a system that works. Efficient employees quickly serve high-quality items from a well-balanced (though admittedly small) menu. While burgers might seem like the main event on the menu, fans can't resist the Cheddar Rounds, delightfully crispy hash browns filled with cheddar cheese. They also have a fairly robust drink selection, with flavored sweet teas and chocolate, vanilla, and strawberry milkshakes.
3. Dat Dog
Dat Dog is a widely adored New Orleans institution. There seems to be a theme of these Southern restaurants starting as a small local stand and evolving into a successful chain, and Dat Dog is no exception to the rule. Their small hot dog stand (just 475 square feet) turned into a smash culinary hit in the area.
If you live in or find yourself visiting New Orleans, it's well worth stopping by to grab one of their gourmet hot dogs or sausages with the toppings of your choice, all housed in a toasty bun. If your mouth isn't watering yet, you can top off the meal with a local craft beer.
These hot dogs are so popular in the area that there are often debates on the best way to enjoy a Dat Dog meal. The restaurant has a friendly vibe with their counter service, which many other Southern chain competitors lack. Luckily for non-New Orleaners, the chain is planning to open additional locations in Florida and expand its customer base further out.
2. Chick-fil-A
It's fair to say that Chick-fil-A has the most notoriety when it comes to Southern restaurant chains. The cult-favorite fried chicken company has had its fair share of controversies over the years, often hindering the brand's growth.
Despite its sordid history, Chick-fil-A has consistently ranked as a top fast food chain in America. Why? It's pretty simple — their fried chicken is just incredible. People often try to deduce just what makes their chicken so intensely craveable and delicious. Some of it is due to their selectivity when choosing pieces of chicken, their own special Chick-fil-A grill, and a thorough breading technique. The care the brand puts into its process really shows when you take a bite into their chicken sandwiches. The golden, crispy chicken paired with salty pickles and a high-quality bun is ridiculously good. A big downside (unless you're an employee) to Chick-fil-A is of course that they are closed on Sundays, due to the founder's Christian faith. If this has convinced you to pick up Chick-fil-A for your next meal, just make sure you visit Monday through Saturday!
1. Taco Bueno
Listen, we're just as shocked as you are that a fried chicken spot didn't top this list. But hear us out! This Texas-based chain is consistently rated as one of the best options out there for Mexican food, and not just among fast food spots. It was found to be Americans' number-one favorite Mexican restaurant chain in 2020.
Taco Bueno has roots in Texas and additional locations in Oklahoma, Kansas, Colorado, Louisiana, Missouri, and Arkansas. Why is the chain so popular? It's mainly thanks to their focus on fresh, in-house meal preparation using real ingredients. After all, as they note on their website, "reheating isn't cooking." They also make it easy to customize your order to your unique culinary preferences. Their menu isn't massive, but it has all of the bases covered — original crispy tacos, bean burritos, chicken quesadillas, and chips and guacamole are all on offer. Also, their combination meals are great options when just one or two tacos won't do the trick. Or, if you're feeling frugal, grab a small plate of party nachos or a party taco from their value menu.
The value, quality, and convenience of Taco Bueno make it the clear winner of popular Southern restaurant chains.