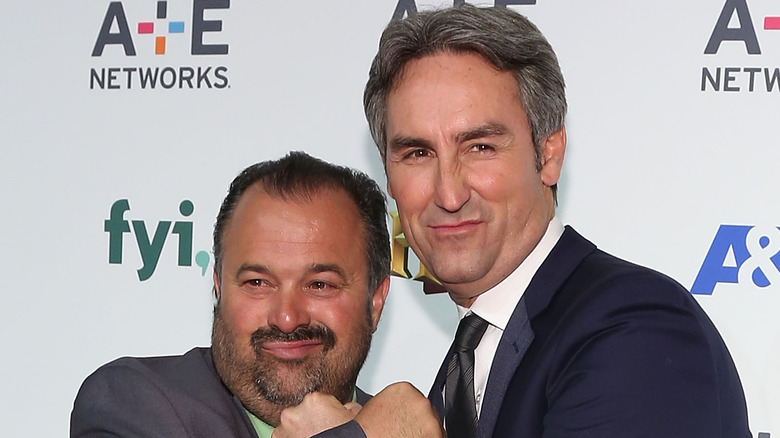 The History Channel has pumped out some seriously awesome shows in the past decade or so, and "American Pickers" is at the top of the list. Outsider reports that this show gets 1.3 million views or so per episode, and what really makes the program worth watching is the camaraderie between pickers Mike Wolfe and Frank Fritz.
These two are obviously the most famous pickers around, but fame isn't what their bond was made of. For Wolfe and Fritz, it was all about spending long hours traveling the open back roads of the United States in search of dusty treasures that have been virtually forgotten. The banter in the front seat, the shared excitement of picking unknown loot out of piles of hoarded "junk," the strategizing together, and the team haggling were at the root of the show since it first aired in 2010. And it takes something very special to be able to handle each other at the close quarters afforded by a van's front cabin day in and day out.
Obviously, these two are the best of friends, or at least that's how the show made it appear. These days, it's seemed the duo's relationship has tarnished in a way that may never end up turning into "rusty gold." It's really a sad time for viewers, now that the drama between them has started coming to light. But what exactly happened? Let's take a look at what went wrong between Mike Wolfe and Frank Fritz.
Frank Fritz and Mike Wolfe had been friends for a long time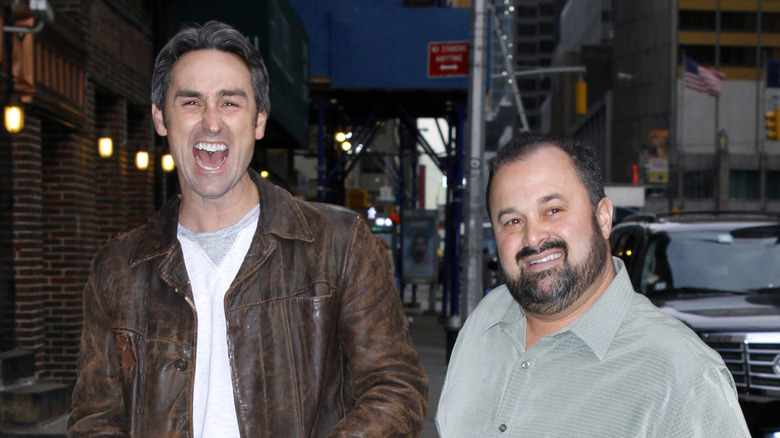 Mike Wolfe and Frank Fritz weren't a match made in Hollywood. Honestly, the television executives had nothing to do with bringing this pairing together. This is a classic tale of two childhood friends who started from comparatively meager beginnings before rising up in "the biz" together.
According to American Profile's "Ask AP: American Pickers," the dynamic dusty-treasure-hunting duo met in grade school, long before Fritz's scruff started to fill in. Their picking also started long before the show was even conceptualized. In an interview with Bicycling, Wolfe says he picked his first item when he was still a kid, and the two had been picking for years before the show ran its first episode. In fact, "American Pickers" took a while to get off the ground. Wolfe spent years sending home-shot videos of his picking to networks, according to Thunder Press, before the History Channel picked them up. At the time, Fritz was working full-time selling fire fighting equipment, but Wolfe didn't want to do the show without his friend. So, Mike talked him into giving up his day job to venture into the world of television picking, and from there, the story basically wrote itself.
With such a long history of friendship and partnership, it seems almost impossible that the original American Pickers' bond could have simply disintegrated. The evidence, however, says otherwise.
Half of the duo disappeared without a trace
One thing "American Pickers" fans are likely to have noticed is that Frank Fritz hasn't been on the show for a while now, and he seemed to have just disappeared into thin air. In one episode he was there, and in the next he was gone. Fritz's IMDB profile shows that his final episode outside of some credits was the 2020 season's "Burlesque Queen," in which the pair picked through a marina in Illinois while Danielle Colby, Antique Archaeology's shop manager, was off doing her own thing.
"Burlesque Queen" seemed like any other episode of the show. There was picking, there was van-riding, there was haggling, and there wasn't any palpable sign that this would be Frank's final episode, nor was there even a hint that Wolfe and Mike's friendship and professional relationships were on the fritz. Pun intended.
Things got weird when the next episode, "Ghost of the West," rolled its opening credits without any sign of a very important member of the main cast. There was no mention of Frank or why he wasn't there until some episodes later, when it was said that he was out for back surgery, as fan points out on Facebook. But viewers were still left wondering whether or not they'd see Frank again as the show kept filming without him.
Is Frank gone for now or for good?
This is the big question that's been on fans' minds since Frank Fritz last appeared on "American Pickers": Is Frank gone for good or is he only out for the time being? Ultimately, that remains to be seen, but from what Fritz has said, the outlook isn't looking very good for all the Fritz-lovers out there.
In an interview with the Sun after his disappearance, Fritz said, "I would like to come back to the show, but we will see. I was doing it for 11 years, but there is a lot of controversy going on right now."
When he seemingly vanished from the show in 2020, the picker says he was out for a couple of reasons. The first is the back surgery, in which he had metal rods inserted into his spine (via Outsider). Years of riding around in a van can do that to you. Then, he mentions that the COVID-19 pandemic hit and things really got messed up. Fritz has Crohn's disease, and according to WebMD, people with Crohn's have a chance of having worse outcomes with the virus because some of the drugs prescribed to treat Crohn's lower the immune system, preventing the body from attacking itself.
Even with those understandable reasons for Frank being gone from the show, he said it would be up to the network if he'd be coming back, but it really looks doubtful.
Their feud came to light in 2021
The network may have been in charge of Frank Fritz's possible return to the show after his time off for health reasons, but in the end, it looks like they gave him the red light. This news broke when the feud between Fritz and Mike Wolfe was officially confirmed in an interview with the Sun in July 2021. All that time, fans were questioning what had happened, and it had taken over a year to get a straight answer.
Fritz said that he didn't leave the show, but rather finished filming and stepped away for the back surgery. Now, he's saying he's done with the production for good, and he blames it on the dissolution of his and Wolfe's friendship, which he ultimately blames on Wolfe. Of course, celebrity feuds are nothing new, and they don't always last forever. There's still a shot that he could end up back on the show before it's finished running its course, but from the way he talks, even that is doubtful.
Frank seems to place all the blame on Wolfe, but that doesn't necessarily mean he had no part in their fallout. He's had his problems too, and there are two sides to every story.
Frank Fritz's substance issues could have strained their relationship
Frank Fritz has admitted to having alcohol abuse issues in the recent past, and he told the Sun (via TV Showcase) that they had gotten bad enough for him to do 77 days of treatment at the Abbey Center in Bettendorf, Iowa, to get those issues under control. It seems he took the experience seriously, saying "I went there to learn and get the most out of it that I possibly could." He's apparently been sober since, but beforehand, things had gotten a little rough. In 2017, Fritz was arrested after a concerned citizen called his van in for swerving down the road, and in 2018, he pleaded guilty to driving while intoxicated, as reported by ABC's WGAD8.
Alcoholism often impacts those around the person affected, and it seems that Fritz's substance abuse may have changed his relationships — or at least it's hinted at in a recent Instagram post from Danielle Colby regarding Frank leaving the show. "I wish things could have been different but we must be accountable for our actions when we cause instability or pain and suffering to others. Frank caused so much pain for himself that it has been hard to watch," Colby says. Okay, it's less of a hint and more of a shout.
Frank Fritz says Mike Wolfe ignores him
Frank Fritz told the Sun that while he was down from his back injury and subsequent surgery, Mike Wolfe, the man who's been his friend and picking partner since they were children, didn't contact him once. "I haven't talked to Mike in two years. He knew my back was messed up, but he didn't call me up and ask how I was doing. That's just how it is," he said.
Fritz also said that he believes there's no way the show could find two people that have the same chemistry that he and Mike do while riding around the country, which as a missing element in the show's future, could certainly change the feel of the production.
The picker expressed that it would be hard for him to continue on with the show after so long of not even talking to Mike. If what Frank says is true, the show would probably miss the chemistry he mentions even if he does return.
Maybe Mike Wolfe just has too much on his plate
Let's say for the sake of argument that Frank Fritz is correct and his former co-host and friend hasn't tried to contact him in almost two years. It sounds like something deeply personal, and Fritz certainly seems to feel that way about it. But maybe there's another reason. Maybe Mike Wolfe just has too much on his plate to keep in contact.
Besides being the primary face for the History Channel's "American Pickers" franchise, which undoubtedly saps the majority of Wolfe's time, the guy really does have a lot going on. As AmoMama points out, Wolfe is a family man, and as such, he's got what many would agree are more important people he needs to make time for. Mainly, his daughter, Charlie and, back when the piece was written, his wife. These days, as TMZ notes, Wolfe has a new girlfriend (Leticia Cline) and he is going through a divorce, both of which are likely time consuming.
On top of that, Wolfe has written two books, "Kid Pickers" and "American Pickers Guide to Picking" (which he wrote with Fritz and other members of the show's cast). He also works with a charity called Operation Smile, inspired by his daughter's cleft lip and palate. And Wolfe does all of this while spending a huge portion of his time on the road for the show. He's busy with a capital "B."
Is Mike Wolfe simply a glory hog?
Mike Wolfe and Frank Fritz may have been the faces of "American Pickers" for the majority of the show's run, but there wouldn't have been an "American Pickers" if it wasn't for Wolfe. He is the one who conceptualized, pitched, and sold the show while Fritz was busy with his day job. Wolfe is also the one who convinced Fritz to come to the show in the first place. But would any of that excuse Wolfe from becoming a glory hog who makes the show all about him? Fritz doesn't think so.
When Fritz explained his estrangement from his co-host and the show to the Sun, he had some choice things to say about how he believes Mike is trying to take all the glory. "The show is tilted towards him 1,000 percent. I can't even bend that far down to show you how much," Fritz said, being just about as blunt as possible. He then compares himself to the members of Aerosmith that nobody seems to pay attention to because everyone's looking at Steven Tyler, whom he compares to Wolfe.
"I found my spot," Fritz said, "I'm second and he's number one on the show."
They both may have changed too much
Things certainly have changed for both of the original "American Pickers" stars. Being on television and adjusting to the fame and the money that comes with it is bound to change a person in one way or another. Plus, both of their lives have changed in other ways.
Mike Wolfe has a growing kid, and he's moved on to a new relationship. He's also constantly under the spotlight, whether he put himself there or not. Frank Fritz has had his fair share of changes too. He told the Sun that it was a rough breakup led to his drinking. Then there was the drinking and the sobering up, the injuries, and, as Distractify points out, the fact that he lost a significant amount of recently. Whether that's related to his recovery, his Crohn's disease, or something else, the lifestyle changes needed to accomplish such weight loss may have impacted many parts of his life.
It's understandable that these new developments may have changed both Wolfe and Fritz's personalities a bit. Perhaps the former friends have grown in two completely different directions, and they may no longer be compatible with one another. As sad as it might be to hear, the result of their growth may have destroyed their chemistry for good.
Mike Wolfe is the high-dollar picker while Frank Fritz is the everyman
Watching "American Pickers" will quickly show you that Mike Wolfe and Frank Fritz each have their own picking style, even if there's been a lot of crossover over the seasons. For example, they both seem to love motorcycle stuff, as RRStar points out, but Wolfe is more energetic and personable while Fritz tends to be more reserved in demeanor. Fritz likes hair metal and Wolfe likes country. Fritz also seems to think the differences in their picking reflect the differences in who they are, both of which he implies are important to their fallout.
Fritz told the Sun "I'm not arrogant and I'm more of a regular ol' guy," implying that his former friend might be the opposite. For Fritz, the people he "connects with" are the ones who drink Busch Light and eat pizza. "My guy buys a $150 sign, not an $8,000 sign," he said.
The way Fritz mentions this stuff right after his analogy of Steven Tyler and Aerosmith suggests that he believes Wolfe is the opposite, or at least a different, type of person than he is. Maybe it took a decade or more of riding around in a van for that to become clear and take its toll on their relationship. You're bound to learn a lot about someone when you're that close for that long.
There's been rumor of Frank Fritz's replacement
One of two things are likely to happen if "American Pickers" wants to keep the two-person dynamic that made up so much of the show. Either Danielle Colby is going to have to pick up the slack and take Frank Fritz's seat in the van, or they're going to have to find someone to replace the original American Picker. There's also a chance that the show will simply try to come up with a new dynamic that doesn't involve a replacement, which EW's sources suggest may happen. But there have been rumors circulating around about someone else stepping in Fritz's shoes.
If you hop over to Reddit, you'll see that some fans think Mike Wolfe's brother, Robbie, is going to replace Fritz. Robbie has already been on the show since Fritz departed, and Fritz has straight up said he thinks Wolfe was gunning to have Robbie replace him. Regardless, it seems like Fritz is gone for good, and it looks like when he went to the wayside, his friendship with Wolfe disappeared too.