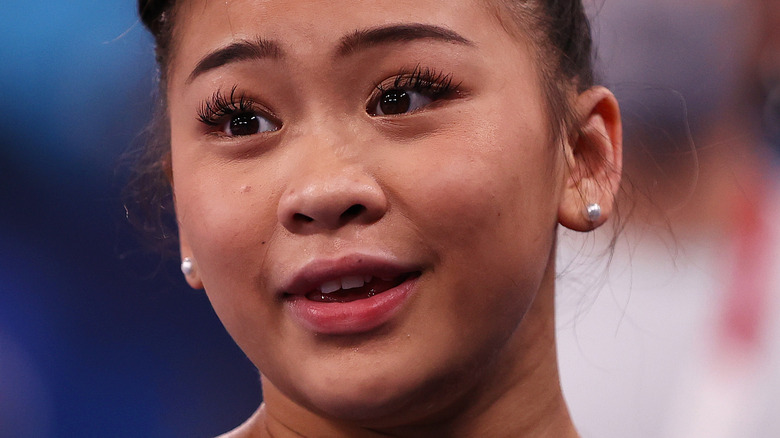 Gymnast Suni Lee surprised the world at the 2020 Olympics (held in 2021 due to the COVID-19 pandemic) when she won gold in the Women's Individual Artistic All-Around competition, extending the United States' winning streak in this event, which began in 2004. Previous gold medalist Simone Biles was also slated to compete, and favored to win, but dropped out due to mental health concerns. Biles's exit opened the door for a newcomer to become champion, and Lee took full advantage of the opportunity.
Since her historic win, Lee's life has completely changed. Not only has she become one of the most recognizable athletes in the world, but she's also already amassed an estimated $2 million dollar fortune, according to Showbiz Cheat Sheet.
Despite injury and family tragedy, the gymnast has achieved greatness, and from it, wealth. How did Lee fight through so much adversity to stand on the highest Olympic podium in Tokyo, and what can she expect to gain from her accomplishment? Keep reading to find out.
Suni Lee comes from humble beginnings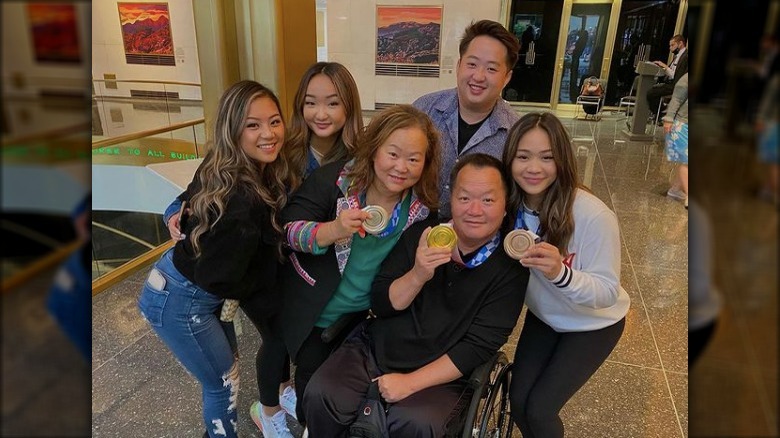 Suni Lee, the daughter of two immigrants, grew up in St. Paul, Minnesota among a large Hmong community, and forged a particularly close relationship with her father, John Lee, per ESPN. Suni's father has been ultra-supportive of her sport since she began, motivating her, giving her pep talks, and even building a balance beam for her when he was unable to buy one, as told by Today.
Just days before a major competition, Suni's father fell off a ladder and has since been paralyzed from the chest down. After his accident, Suni's father became an even greater source of inspiration for her. "This is our medal. We both worked for this. He sacrificed everything to put me into gymnastics. Both my parents really have," she told Today's Hoda Kotb.
The Hmong community in Minneapolis-St. Paul has been supportive of Lee, too; many of them gathered to watch her win gold. Going into the Olympics, Lee hoped to be a strong representative of her community, especially given the anti-Asian hate many were experiencing at the time. "People hate on us for no reason," she told Elle. It would be cool to show that we are more than what they say." Lee did just that when she became the first-ever Hmong American to win gold in gymnastics. It's safe to say she made her community proud.
She got paid for her Olympic gold medal
Suni Lee's Olympic performances were not just historic – they were lucrative, as well. Olympians who medal get paid according to the standing: $37,500, $22,500, and $15,000 for gold, silver, and bronze, respectively, per WUSA. Lee placed first, second, and third in various events, giving her a grand total of $75,000 in earnings from her work in Tokyo.
Although $75,000 is a lot of money to earn in a week's time, it won't last forever. Thankfully for Lee, winning Olympic medals continues to pay out, even when an athlete is no longer competing.
Lee recently signed with talent management agency Smith & Saint, the founders of which want "to set her up for life," per The Wall Street Journal. "It's great to continue to capitalize and to give her visibility after the Olympics," co-founder Madison Smith told the outlet. Although she could potentially compete in Paris at the 2024 Olympics, she's wisely maximizing her earnings now after her momentous win.
Suni Lee joined the cast of Dancing With the Stars
Suni Lee had nothing but opportunity when she returned from Tokyo, including the chance to join teammate Simone Biles on a post-Olympic gymnastics tour. Lee chose a different route, though, and joined the 2021 cast of ABC's "Dancing With the Stars." Lee isn't the first Olympic gymnast to do this. In fact, former all-around gold medalists Nastia Liukin and Simone Biles have both competed on the stage, per People, as have Laurie Hernandez and Shawn Johnson, both of whom won their seasons, per Parade.
Lee's choice to dance with other stars allows her to balance college classes with her dancing schedule, as told by The Wall Street Journal, and it'll come with a hefty payout. According to Variety, "Dancing With the Stars" contestants make $125,000 for their rehearsal and first two weeks, and earn more the longer they compete, with a maximum earning potential of $295,000. Regardless, the experience is very profitable for Lee.
Suni Lee is a college athlete
Even before her Olympic win, Suni Lee was set up for financial success. Lee verbally committed to Auburn University when she was 14, per The Auburn Plainsman, and began attending this fall on a gymnastics scholarship. "I knew that if I made it to college, my life would be safe," she said of her goal.
Thanks to some changes in the National Collegiate Athletic Association, better known as the NCAA, Lee, and other athletes, will be able to earn money through their NIL – name, image, and likeness. Lee's NIL, in particular, will be incredibly worthy, thanks to her heightened visibility from her Olympic performance.
With this NCAA rule change, Lee can broaden and monetize her social media accounts, create merchandise with her NIL, or even start a podcast, just as other college athletes have already begun doing, per Newsweek. Thanks to the new guidelines, a gymnastics scholarship won't be the only part of college athletics proving to be lucrative for Lee.
Suni Lee is making money through Instagram
Suni Lee has a strong presence on social media. And as we all know, influencers can make serious cash. As of this writing, Lee currently has 1.6 million followers both on Instagram and TikTok and 171.1 thousand followers on Twitter. The gymnast can use each of those platforms to generate income, and she already has.
Soon after returning from Tokyo, Lee partnered with the Pearson+ app by posting an ad on her Instagram account. As the Viral Nation co-founder told Vox, influencers with over 1 million followers can make $100,000 per post, even $250,000 in some cases. While it isn't public information how much Lee is charging per Instagram post, she very well could have earned six figures for her ad with Person+.
Lee can also monetize her high follower counts per the newly-lax rules of the NCAA. As reported by the Associated Press, posts on Twitter could potentially earn influencers $10 dollars per 1,000 followers, posts on Instagram $20 dollars, and posts on TikTok $3-4 dollars. Should Lee capitalize on this opportunity, she'll boost her net worth in no time.
She's received gifts since her Olympic win
Suni Lee's Olympic gold medal didn't just result in money and fame. The elite athlete has also been given gifts in celebration of her historic victory. While gifts don't directly increase her net worth, they do save her from having to spend her own money on the items.
On a visit to the "The Ellen DeGeneres Show," Lee was given a pack of school supplies to use while at Auburn University. Host Ellen DeGeneres made the gift cheeky by covering the supplies with Justin Bieber's face, Lee's celebrity crush. What do we need to do to get free school supplies with Justin Bieber's face all over them?
Lee isn't the only one in her family getting gifts, though. Lee's father, John Lee, captivated the country during the Tokyo Olympics by sharing his story, positive attitude, and bond with his daughter. He left an impression on one Olympian, in particular, Simone Biles. Biles teamed up with Today to gift John Lee an electric wheelchair, as his former one was manual. We love that Suni Lee's Olympic win has benefited her family, too.
How much is Suni Lee worth?
Athletic prowess has serious earning potential, especially if you're of Olympic gold medal caliber like Suni Lee. While she's worth an estimated $2 million now, she could very well boost that amount to that of Simone Biles, or another American gold medal-winning gymnast, Shawn Johnson.
Simone Biles, widely considered the greatest gymnast of all time and teammate of Lee, is worth an estimated $10 million, according to Celebrity Net Worth. She's earned her net worth through Olympic medal payouts, sponsorships with popular brands, and her "Gold Over America" tour.
Shawn Johnson competed in the 2008 Beijing Olympics for Team U.S.A. and brought home multiple medals. Since her time as a professional gymnast, Johnson has stayed in the public eye through a strong social media presence, stints on reality shows like "Dancing With the Stars" and "Celebrity Apprentice." She now has an estimated net worth of $9 million dollars, per Celebrity Net Worth. We would've tried a little harder in P.E. had we known the earning potential.
The career she will likely have
In order to earn the amount of money Shawn Johnson or Simone Biles have, Suni Lee will have to leverage her success as an athlete to garner money-making opportunities. Lee has already seized opportunities similar to her predecessors', like "Dancing With the Stars," but there are endless others for her to take, especially when considering the careers of her fellow gymnasts.
Another American gymnast who's earned a sizable net worth after winning gold at the Olympics is Nastia Liukin. Liukin, now worth an estimated $2 million dollars according to Celebrity Net Worth, has used her platform to write a memoir, create a beauty product, and hold her own gymnastics competition, as well as other successful business ventures. She's also used her gymnastics knowledge to commentate for NBC at the Olympics.
Liukin's, Johnson's, and Biles's careers can all serve as road maps, or at least idea banks, for Lee's future career. We can't wait to see what she does next.
Unique experiences she's had so far
Staying relevant is of utmost importance for a celebrity, especially when it comes to earning money. So far, Suni Lee has managed to stay in the public eye thanks to some very unique experiences.
Not only is Lee on screens across America every week while she competes on "Dancing With the Stars, but" she's also visiting talk show sets and attending star-studded events. Lee has been featured on "The Today Show," "The Late Late Show with James Corden," and "The Ellen DeGeneres Show," to name a few.
The gymnast also showed up at one of the most exclusive events in the world: the 2021 Met Gala. Lee wore gold, a color she's no stranger to, and detailed her entire process of getting ready with Vogue. Lee told Corden of the event, "the night was so amazing … it was so surreal." If Lee is already garnering invitations to events like the Met Gala, we can bet she'll have no trouble finding other opportunities to strike gold.