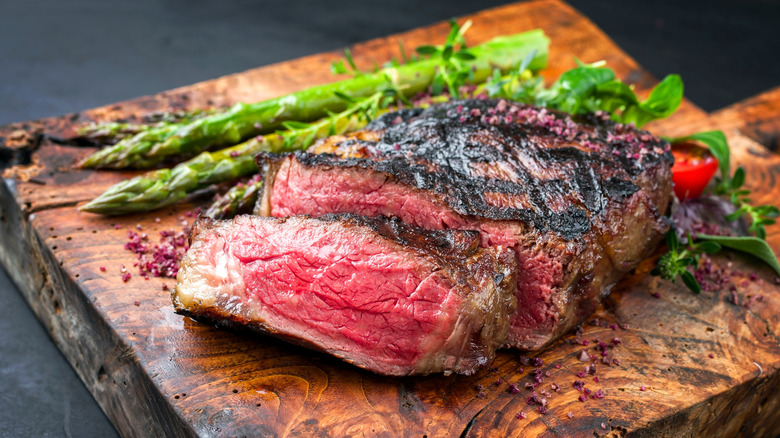 A night out on the town for a steak diner is one of the rare restaurant excursions when opting for a chain may actually be to your benefit. There are three main factors at play here: quality, because steakhouse chains have the hook-up on some primo beef; equipment, particularly those inferno-inducing broilers that produce an otherworldly char; and experience, because steak isn't that difficult to perfect, and if chefs are preparing hundreds of orders a day they're bound to nail the cook (well, at least most of the time).
Since top quality steaks are such a pricey proposition, it's best to do your homework before dropping some major coin. We've already offered up a rundown of our favorite steakhouse chains and shared some ordering do's and don'ts. Now we'd like to further your education with our ranking of chain restaurant steaks, from not worthy of making the cut to the absolute height of bovinity. And if you're on a budget, don't have a cow. We've included some wallet-friendly options (though they don't all resemble your typical steak dinner) — but spoiler alert, you won't find any bargain basement beef at the top of the list, so if you have a friend with a baller expense account, now is the time to hit them up.
20. Outback Steakhouse: Bone-in ribeye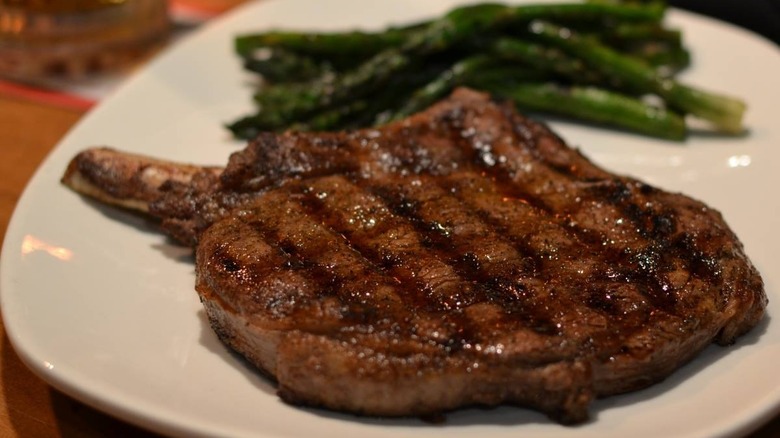 Outback may boast the most outlets of any steakhouse in the United States, but more often than not quantity isn't usually an indicator of quality, and that sadly holds true here (trust us, we bit the bullet and sampled every steak on the menu — you're welcome). Sure, a meal at the inexplicably Land from Down Under-branded chain is easier on the wallet than dining at glitzier competitors, but the cuts are generally sub-par, so the wiser investment is to pay a premium elsewhere or even go the DIY route and grill your own.
If you do happen to find yourself at Outback, beyond an order of the obligatory Blooming Onion, the slightly-above-middling bone-in ribeye is going to be your best bet. It weighs in at an impressive 18 ounces and comes with two sides, so you'll definitely be leaving full of food — and likely some regret.
19. The Cheesecake Factory: Steak Diane
If you were to rank the over 250 items on the Cheesecake Factory menu, the steak selection would fall toward the bottom of that list — as far as serving up simplicity, this isn't the spot. But if you're desperate to scratch that beefy itch, stick with what the exceedingly popular chain does best and get saucy. The Steak Diane fits the bill with ho-hum medallions of beef swimming in a pool of mushroom and wine sauce, laced with black peppercorns. Don't forget to reserve some sauce to ladle onto the accompanying scoop of mashed potatoes.
The old school classic, according to What's Cooking America, is likely named after the Roman goddess of the hunt and is traditionally served tableside, though not shockingly, you won't be getting that kind of service here. While the dish has been prepared by everyone from Gordon Ramsay to Guy Fieri, this rendition is not exactly fine dining.
18. Chili's Grill & Bar: Steak fajitas
Chili's originated in the Lone Star state, so it's only appropriate that they offer the full fajitas spectrum from carnitas to shrimp. But steak is the way to go for this Tex-Mex standard that, according to The Austin Chronicle, dates back to the 1930s. Back then, the campfire-kissed beef quickly became a favorite among Mexican vaqueros, and it's no surprise the preparation (with some adjustments) would eventually spread to the masses.
Presented on an extra hot serving plate (watch your fingers!), the grilled strips of steak and vegetables are served traditionally with Mexican rice, black beans, and tortillas, along with a side of sour cream, pico de gallo, salsa, and shredded cheese for plenty of make-your-own taco options. The spread is satisfying but doesn't quite rise to the cast iron's sizzle. It's the best steak on offer at Chili's, but that's not saying much. If you're here and in the mood for beef, place your bets on a burger.
17. Cracker Barrel: Country fried steak
When it comes to the cult of Cracker Barrel, singling out the must-order menu pick is a contentious subject. We like to sing the praises (with a country twang, of course) of the country fried steak which epitomizes the best of Southern comfort. USDA Choice beef is tenderized and flattened, deep fried, then smothered with creamy sawmill gravy. Filling, right? Well wait, there's more! You'll also be getting a couple of sides (or three if you're feeling extra gluttonous) because it wouldn't be a visit to Cracker Barrel without some macaroni and cheese. And don't forget about the cherry on top: your choice of a scratch-made buttermilk biscuit or corn muffin.
If you happen to have a hankering for a heavy-duty breakfast, you're in luck. The country fried steak is an all day affair. Whenever you choose to chow down keep in mind that you're tinkering with a carb and sodium bomb so have your server on standby with a water pitcher in-hand and brace yourself for a lengthy post-meal nap.
Is it delicious? Yes. Does it cure your hankering for a juicy steak? Not really, which is why you'll find it so low on our list.
16. Applebee's: Shrimp and Parmesan sirloin
The marriage of seafood and cheese is the culinary equivalent of Maria and Tony's doomed romance in "West Side Story." Add an entire steak to the equation and you've got a recipe for disaster. And yet, Applebee's somehow pulls this seemingly incongruous throuple off (barely) with one of the chain's most popular offerings, the Shrimp 'N Parmesan Sirloin.
Let's start with the steak, a grilled half-pounder of top sirloin. As for the quality, the beef is graded USDA Select, which is a step below Choice. In other words, when it comes to marbling and juiciness the verdict is "meh," but luckily the nicely charred exterior swoops in to save the day. Next, the Parm, which is folded into a warm lemon butter sauce. Unlike a dad joke, the cheesiness is more than welcome. Finally, a six-pack of blackened shrimp tops things off with a hit of peppery spice. (And let's not forget the side pieces: garlic mashed potatoes plus some steamed broccoli to temper all that guilt.) Is it the surf and turf of your dreams? Not quite. But for the price, it does the trick.
15. Chipotle: Steak burrito
Since steak is so costly, it rarely shows up in the world of fast food — so when it does, of course, we simply must rank it. Chipotle not only offers steak, but actually makes it taste pretty darn good (as far as fast food steak goes). According to the divisive (we'll get to that in a bit) Mexican chain, the "responsibly raised" beef is sous-vided, marinated overnight in chipotle pepper adobo, and then finished on the grill. Though the results can be a bit chewy, the flavor is there, not to mention the value at under $10. Order it in a burrito (white rice, black beans, cheese, roasted chili-corn salsa, skip the guac) for a satisfying on-the-go meal — assuming there are no severe repercussions.
And now for the elephant in the room. Indeed, we have been hard on Chipotle in the past, and for very good reason since the chain has dealt with quite a few scandals over the years. But the company claims to be cleaning up its act so it's worth considering rolling the dice… assuming you're in the mood for some so-so steak.
14. Texas Roadhouse: Road Kill
Fun fact: According to NBC, it's legal to eat roadkill in many states, but surprisingly Texas is not one of them. So you can rest assured that the Road Kill served at the rootin' tootin' down home eatery Texas Roadhouse is absent of big rig-tenderized armadillo.
Beef (from a ranch, not the road) is the meat of choice, served up as a chop steak, which is essentially a bunless hamburger. The juicy, mega-sized discus of fresh ground chuck (y'know, 'cause everything is bigger in Texas) is topped with melted jack cheese along with a sautéed duo of mushrooms and onions. The complete package is, at least visually, a hot mess — so yeah, it definitely lives up to its billing. But looks can be deceiving and the meaty monstrosity has plenty of fans including Kim from Insanely Good Eats who opines, "It may not have the best sounding name but Texas Roadhouse Road Kill is sure to blow your taste buds away." Still, the presentation leaves much to be desired if what you're looking for is an actual piece of steak.
13. California Pizza Kitchen: Carne asada pizza
Bet you weren't expecting to find pizza on this list. But those culinary wizards at California Pizza Kitchen have a way with unconventional toppings, and that even includes steak. Now there is, indeed, a fire-grilled ribeye to be found on the "main plates" portion of the CPK menu. Pass — this is the California Pizza Kitchen, not the California Steakhouse Kitchen. If it's cow you crave, stick with the namesake specialty, specifically the south of the border-inspired carne asada pizza. While the barbecue chicken pizza may be the chain's claim to fame (they invented it, after all), the synergy of thin slices of marinated steak, fire-roasted poblanos, cilantro pesto, and the perfect pairing of mozzarella and Monterey jack is like a fiesta in your mouth.
The complete package is such a success that Delish anointed it their top CPK pie, gushing, "The flavor combo is so perfect and unique, you'll want to order it every time." It doesn't beat a steak dinner, of course, but if you're out with a bunch of pizza lovers and end up at CPK, take our advice and order the carne asada pizza.
12. Benihana: Teriyaki steak
Full disclosure: If we're judging strictly on the steak at this Japanese teppanyaki institution, the hibachi grilled New York strip would end up a few notches lower on our list. While the sear hits the mark, the meat lacks a pronounced beefy bite to truly shine on its own. For this reason, we recommend the teriyaki addition, especially since the addictive sweet and savory sauce is prepared in-house.
But there are other factors connected to the Benihana experience that come into play and help this middle-of-the-road steak gain a few extra points. There is, famously, the parade of sides which also reap the benefit of soaking in that hibachi heat. Veggies? Yum. Fried rice? So good. Shrimp? Yes, please. (By the way, if you'd like a "colossal" shrimp upgrade to pair with your teriyaki steak, ask for the Benihana Excellence.)
And you absolutely can't discount those dazzling tableside theatrics. The onion volcano! Crazy knife tricks! The shrimp tail in the pocket toss! So yeah, we have no qualms about this ranking considering you're not only enjoying a delicious dinner but you're also getting a show.
11. Morton's The Steakhouse: Prime New York strip
With over 60 locations from Troy to Tokyo, Morton's is one of the most recognizable names in the steakhouse world. Unfortunately, consistency at the Landry's-owned chain isn't a strong suit which is especially troubling when you're dropping a fistful of Benjamins on a meal. Let's start with the sides, which, per high-end steakhouse protocol, cost extra but are worth the price of admission. The loaded baked potato lives up to its billing, packed with bacon, cheese, sour cream, and chives. And then there's "The Troy" — sautéed onions and button mushrooms finished in a heavenly au jus. Troy, whoever you are, we thank you.
The main event, however, is hit-or-miss which shouldn't be the case for a steakhouse of such high pedigree. While we've sampled one too many overcooked steaks to offer a full-throated recommendation, when Morton's game is on, it's on, and that's especially true with their New York strip.
The aged USDA Prime beef is always top shelf — they've been using the same supplier since Morton's opened its doors in Chicago over four decades ago. And if (fingers crossed) your 16-ounce slab of Big Apple excellence arrives with that crust on point and the center ruby red, you'll experience the pinnacle of steak nirvana.
10. Smith & Wollensky: Cajun marinated USDA Prime dry-aged bone-in rib eye
Smith & Wollensky bills itself as "America's steakhouse" so the fact that one of its top tier offerings features a Louisiana flourish shouldn't come as a complete surprise. It all starts with a gargantuan 28-ounce bone-in ribeye, which just so happens to be our absolute favorite cut. The exquisitely marbled, gloriously flavored USDA Prime dry-aged steak is a knockout au natural, but a spicy Cajun marinade is like a Mike-Tyson-at-his-peak punch to your facehole. The heat (courtesy of cayenne, white pepper, and chili powder) is noticeable, though you can rest assured it doesn't overwhelm the meat.
The good folks at Smith & Wollensky were kind enough to reveal the secret behind their magical marinade for the home cook, but we highly recommend chowing down at the chain's clubby confines. Soaking in the distinctive green and white façade at the New York City flagship is truly a sight to behold.
9. Fleming's Prime Steakhouse & Wine Bar: Petite filet mignon
With a couple of menu hacks, you'll be eating like royalty at this upscale yet totally laidback steakhouse that somehow resides under the same corporate umbrella as Outback. Rest assured, the steaks at Fleming's don't underwhelm (unlike their sister chain), and that includes the stellar filet mignon.
Now if you're wondering why the petite is our size of choice, we have our reasons. Set your sights on the selection of "over the top" add-ons and pull the trigger on the jumbo lump crab meat, which is laced with a rich, eggy béarnaise sauce. The decadent steak topper will more than make up for that size downgrade. Add a side of roasted asparagus, and congratulations, you've got yourself a retro showstopper — a steak Oscar. In the hierarchy of surf and turf pairings, this delicious dish just might take the crown.
8. Fogo de Chão: Picanha
The carnival of carne that is Fogo de Chão offers a mouthwatering taste of traditional Brazilian churrasco. Prepare for whiplash as servers roam the floor armed with giant skewers of fire grilled all-you-can-eat meats of flock and fowl so go easy on the salad bar. For steaks, there are options aplenty including filet mignon, beef ancho (ribeye), and fraldinha, a flavorful and well-marbled cut from the bottom sirloin. For bacon lovers, there's a steak wrapped in hardwood-smoked, honey-cured porcine pleasure that warrants ample real estate on your sure-to-be crowded plate.
But the spotlight shines brightest on the picanha, Brazil's most celebrated cut, which somehow remains a relative rarity stateside. Butchered from the top sirloin, the beef benefits from an extra-thick fat cap which melts like butter into the meat. To enjoy the best of both worlds, request a juicy interior medium rare slice, but also sample some of that crusty, sublimely seasoned edge.
7. LongHorn Steakhouse: Delmonico
If you're talking about bang for the buck, there's no beating the steak selection at LongHorn. Value and high quality are a rare combination for steakhouses, but the casual chain founded in Atlanta presents the full package, especially with its stunning Delmonico. And speaking of rare, don't be afraid to opt for that "cool, red center." Yeah, the steak is that good. We're talking 14 ounces of expertly seasoned and grilled USDA Prime ribeye.
It may be the most expensive option on the menu, but at a cost of nearly half the price it would set you back at a higher-end steakhouse, it's well worth it. Plus it comes with a side (we recommend you upgrade to crispy Brussel sprouts) and salad. But perhaps most importantly, you don't need to get dressed up for the occasion.
Oh, one more thing while we have your attention. You really must leave room for the molten lava cake, served warm and gooey in the middle with a cool scoop of vanilla ice cream. Drool!
6. The Capital Grille: Porcini-rubbed bone-in ribeye with 15-year aged balsamic
The general rule of thumb for steaks is keep it simple, but in the right hands some embellishments are welcome. You can assuredly find that expert touch in the kitchen of The Capital Grille where the chefs know their way around a rub. Though you can't go wrong with the bone-in kona crusted dry-aged New York strip (coffee grounds and steak, who knew?), the chain's Italian-accented "signature steak" is squisito.
Porcini and balsamic may not be the first, or even fiftieth ingredients that come to mind when you think of steak, but why that isn't the case is anyone's guess. The earthiness of the mushrooms deftly enhances the complexity of the beef while the super-vintage vinegar wows with subtle umami notes. Summing up the brilliant flavor fusion, Peter and Kate Michael from Hinsdale Living explain, "It's like eating a steak that's been infused with steak sauce."
5. Ruth's Chris Steak House: Cowboy ribeye
Strap on your spurs and blast some Waylon Jennings in honor of this 22-ounce wonder courtesy of the oddly-apostrophed Ruth's Chris. The venerable steakhouse chain opts to wet-age its corn-fed Midwestern beef, vacuum-sealing the steaks for a tenderizing 24 to 28 days. A visit to the 1800 degree Fahrenheit broiler yields that patented Ruth's Chris crust. Adding to the wow factor, the steak is served on a sizzle plate with a tab of butter and a green pop of parsley, 'cause this is a classy joint. Quite frankly, we'd be happy with any steak here, but the cowboy ribeye manages to fire on all cylinders.
It's no wonder the faithful keep coming back again and again. And for the first-timers, just like the bit of extra bone on the ribeye (that's what makes it a cowboy steak — the bone doubles as a built-in handle for easy eating out on the range), your expectations are bound to be exceeded.
4. The Palm: Center-cut filet mignon
Listen up, filet fans. We know you prefer your steaks extra tender and easy on the fat. Well the fancy French cut doesn't get much better than the perfect specimen of tenderness on display at our favorite steakhouse chain. It's all in the sourcing, and for The Palm that means cattle-raised on a strict corn diet. Just like all the steaks served at this nearly-century old gem, the center-cut filet is aged at least 35 days, allowing the flavor and texture to be optimized. Notice how your knife digs cuts into the steak with little effort. Marvel at the glorious interior. Then savor that juicy goodness.
Go ahead and pair that steak with a bold red or stiff martini, shrimp cocktail starter, plus a side of garlic mashed potatoes for the ultimate steakhouse spread. This is an outing you definitely want to keep in mind for Valentine's Day, an anniversary, or a date night when you really want to impress.
3. CUT: Japanese Wagyu New York
Ordering Kobe beef at a steakhouse can be tricky, but this is a case where you definitely want to go for it. Here's the deal: More often than not, restaurants that claim to be serving Kobe, the ultra-exclusive Japanese beef that is prized for its jaw-dropping marbling, aren't actually serving authentic Kobe. You're likely being offered a different type of wagyu — or just blatantly being lied to and getting some random inferior steak.
But at Cut, you can rest assured you'll be served the real deal. The swanky steakhouse owned by celebrity chef Wolfgang Puck offers "100 percent true Tajima Kobe" which, according to Michelin, "melts in your mouth like smooth caramel." Make no mistake, indulging in such rarified beef is going to cost you an arm and a leg (and the other leg, too), so reserve the unforgettable experience for an extra special occasion.
2. Del Frisco's Double Eagle Steakhouse: 45 Day dry-aged prime ribeye
Dry-aging is a process that helps to develop flavor, while increasing tenderness. Here's a quick primer: As the steak bides its time in a temperature-controlled and bacteria-free refrigerator (don't try this in your home fridge!), collagen, basically the glue that holds the fibers of the meat together, starts to break down yielding more tender results. Meanwhile, water is removed from the tissue, which helps to concentrate the beefiness of the flavor. After a month, that transformation really starts to take shape and the steak is no doubt ready for prime time. But keep the aging going another two weeks and you've got a steak that really soars.
Case in point: Del Frisco's Double Eagle 45 day dry-aged Prime ribeye, steak's version of Dorian Gray (without all the baggage). The extra aging does wonders for the beef, coaxing out a fabulous funk that will turn your taste buds loose.
1. Mastro's Restaurants: SRF Wagyu Tomahawk Chop
If you're on the hunt for a steak that checks all the boxes, look no further than Mastro's craveable and Instagrammable wagyu tomahawk chop. Sure, the tomahawk trend is getting a bit tired, but trust us, you definitely don't want to sleep on this one. The SRF refers to Idaho's celebrated Snake River Farms which specializes in exceptionally marbled wagyu beef. The two-inch thick steaks are hand-cut and dry-aged to perfection. Then let the maestros at Mastro's take care of rest, ensuring an exquisite sear and getting the temperature on the cook just right.
It comes in two sizes: extra large and extra extra large (32 and 40 ounces to be exact) so either way, this is a team effort. You'll attract plenty of eyeballs as the behemoth is paraded to your table. It's truly a feast for the eyes, but that meat is far better in your belly.