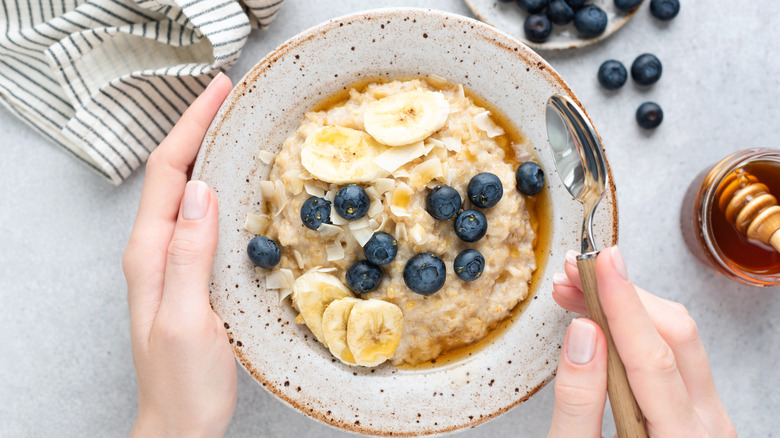 When you want to start off the day feeling completely full and ready to take on all of your tasks, what do you reach for in the kitchen? While a lot of us probably wish we had the time to make ourselves a complete breakfast of eggs, toast, fruit, and whatever else we usually enjoy on weekend mornings, that's just not the reality that we face. When you're rushing out the door, you usually just want something that's quick to make — or even to eat on the go.
But instead of heading to your local fast food breakfast joint, you should just grab some oatmeal instead. It's way better for you than a greasy breakfast sandwich handed to you out of a drive-thru window, and it's one of those foods that will keep you full for a long time.
Think oatmeal is bland? That's probably because you haven't been getting the best oatmeal available. There are surprisingly a lot of different oatmeal brands out there, so you should take a look at all the options before you write off this smart breakfast completely. Take a look at our ranking of some of the most popular oatmeal brands on the market so you can decide which one to buy the next time you're picking out your breakfast for the week.
16. Market Pantry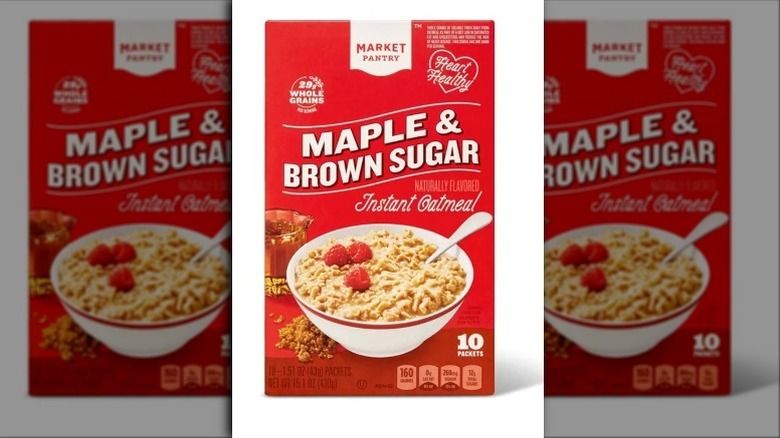 We love going to Target for all sorts of things, from clothes to makeup to birthday party supplies. But when it comes to food, Target can sometimes be lacking, especially when it comes to their brand, Market Pantry. We were disappointed to discover that the Market Pantry oatmeal (now Good & Gather) is just not that good. When you first eat a spoonful of the stuff, it will taste bland. Of course, oatmeal is the king of bland food, but this stuff is especially boring. It basically tastes like you're eating nothing, if nothing had a thick and goopy texture.
But to make it worse, there's also a strange aftertaste to this oatmeal that will make you want to refuse a second bite. It's got a sweetness to it that tastes kind of artificial. Combine that with the texture, which is weird and lumpy instead of smooth and creamy, and you can see why this oatmeal brand has landed itself in dead last.
Sure, this brand might be on the more affordable side, but at what cost? We don't think it's worth the money you're going to spend on it.
15. RXBar
You've probably already seen RXBars is checkout lines at your grocery store. They're the ones that list all the super-simple ingredients right on the front of the package. But did you know that this company makes oatmeal as well? They do, though we hate to admit that it was definitely not our favorite oatmeal out there. These individually packaged oatmeals come in different flavors, like maple, chocolate, and apple cinnamon. However, we didn't think the flavoring was strong enough at all. They taste pretty innocuous — and pretty boring — despite the appealing packaging.
The texture of these is also a bit off. While the best oats are nice and creamy, that's not what you're going to get here. Rather, they get super mushy and almost stringy-looking, which might be coming from the egg whites. Without that texture and flavor, you're left with a breakfast that you'll probably just end up throwing away. Our take? Don't waste your money on this brand's oatmeal.
14. Trader Joe's
As you probably already know if you're into oatmeal, Trader Joe's sells a few different kinds of the stuff, and it's not all created equally. However, we can say that across the board, their oatmeal just isn't that good. There are so many other Trader Joe's products that we love that we can't get too upset when their staples aren't the best. But, unfortunately, you should not expect a delicious bowl of oatmeal when you get your oats at Trader Joe's.
The best is the Organic Oats and Flax Instant Oatmeal. That's because the flax gives the oatmeal a more interesting flavor. However, the steel cut oats? Don't even bother. They don't have the rich, nutty flavor you'd often find with this type of oats. And don't get us started on the Unsweetened Instant Oatmeal — we didn't even know oats could be this flavorless.
While you can always add toppings onto your oatmeal that will make it more appealing, you shouldn't have to do so just to make it edible.
13. The Gluten Free Bar
The Gluten-Free Bar is a company that, you guessed it, makes gluten-free products, including oatmeal. If you don't eat gluten, you may be perking up as you read this, knowing there's a oat product you can enjoy. Unfortunately, though, it's not one of the best. There are a few different flavors available, including apple cinnamon, coconut cashew, maple raisin, and fruit, nuts, and seeds.
Some flavors are better than others. The coconut cashew, for instance, isn't bad. However, some flavors leave a lot to be desired. For example, one Amazon reviewer had this to say about the apple cinnamon flavor: "The texture is very slimy and snotty like too much cinnamon or something. I could not eat it. Not good at all, will not buy again." And at times, the flavor can be way too intense, which probably isn't what you're going for when you're reaching for a packet of oatmeal.
And to add insult to injury, this stuff is really expensive. A case of six packets costs $15 on the company's website. Considering oats are one of the cheapest food items you can buy, this price seems seriously over the top considering the quality.
12. Quaker Oats
We hate to bash a classic, as this is the oatmeal that many of us probably grew up with. But just because it's where you started on your oatmeal journey doesn't mean it's where you want to end up. Though you may have gotten used to it over the years, we're here to tell you that there are better oatmeals on the market now. Perhaps the reason you've never truly loved oatmeal before is because you've only eaten Quaker oatmeal.
Of course, you already know that you can get Quaker oats in a ton of different flavors, from old-fashioned to instant, from the most classic of flavors to the most random niche tastes. But overall, these are not great oats. After you cook them, they tend to be limp and lifeless, and they don't have much of a flavor to them — all of that comes from the extra sugar that always seems to be pumped into the fancier varieties.
Is it the worst oatmeal in the world? No. But if you truly love oats, it's time to move onto something that's a little more exciting.
11. Straw Propeller
Sure, oatmeal can be a fast and easy breakfast — when it's prepared the right way. But if you forget to make overnight oats and have to wake up in the morning to scoop out the plain oats, cook them, and then add your sweeteners and toppings, you might be there for a while preparing a bowl of the good stuff. If you're looking for a solution that's easier and can help you get on your way quicker, Straw Propeller oatmeal might be what you're looking for. That's because they come in individual little cups you can prepare quickly and one at a time.
We like that they have unusual flavors like Blueberry Blitz and Cherry and Chia. And of course, we love how easy they are to prepare. But really, this stuff doesn't taste much better than your standard cheap packet of oatmeal. Most of the flavors are super bland, and the texture doesn't come out evenly. The packaging may make it look nicer than your standard Quaker stuff, but we don't think it's worth dropping good money on these bad boys.
10. O Organics
If you're looking for the most basic of oatmeals and don't care too much about extra add-ins or flavors, you may want to look into O Organics. You can find this brand at Alberstons, Safeway, and similar grocery stores, and if you're just looking for a standard bowl of oatmeal, it's going to get the job done. The old-fashioned oats from this brand are better than the instant, as they really hold their shape. You have to cook them for longer, but we think it's worth it to get just the right texture.
However, if you don't want to have to cook your oats for a while on the stove, you can opt for pre-packaged instant portions as well, which will make it easier for you to take your oatmeal on the go.
Now, we don't think that this even comes close to being the best oatmeal on the market, but if it's available at your local grocery store and you don't mind adding your own flavor and toppings, then it's a basic, solid choice.
9. Bakery on Main
One thing that we love about the oatmeal from Bakery on Main is the fact that there are so, so many flavors to choose from. That's amazing because, first of all, it takes time and a lot of thought to pull together all the ingredients you need to make a super-flavorful oatmeal. Even if you're going to do that from scratch, though, you probably won't get a chance to choose from a bunch of different flavors on any given day. So, the fact that you can reach for walnut banana, almond and vanilla, or cranberry apple almond three days in a row makes this oatmeal appealing.
But despite how good it looks, it's still not our favorite out there. Sure, you're not going to be too disappointed when you reach for this stuff, but we didn't like the goopy texture. In fact, it's so thick and sticky that it could be described as having a glue-like consistency. If you're in a pinch and are looking for a flavored oatmeal, you should consider it. Otherwise, move on.
8. McCann's Irish Oatmeal
How much do you know about Irish oatmeal? Nothing? We didn't either, unless, until we heard about McCann's Irish oatmeal. According to the company's website, Ireland has always been known for growing oats — even before they were growing potatoes. Because of that, they take their oats really seriously, and that comes across in the flavor of their oatmeal. If you want to go with the traditional stuff, stick with the classic steel cut oatmeal. This is some of the best steel cut oatmeal on the market, so it's definitely a win. It does take some time to prepare, though, so keep that in mind before you try to start making breakfast five minutes before you need to leave the house.
We also like the other products from McCann's, though we have to admit that some companies have much better flavors. However, the maple and brown sugar instant oatmeal from this brand definitely isn't bad. If you don't mind flavoring your own oatmeal, this is definitely a variety you're going to want to try out.
7. Bob's Red Mill
If you know exactly what you like when it comes to your oatmeal and you're not open to compromise, then Bob's Red Mill is the brand for you. It's also perfect if you just want to get a good idea of what the whole oatmeal landscape looks like when you can choose pretty much any variety of oat. That's because this brand offers an astonishing number of different kinds of oatmeal. No, we're not just talking flavors — we also mean varieties. For example, you can snag old-fashioned rolled oats, extra-thick rolled oats, steel cut oats, quick-cooking rolled oats, high-fiber oat bran, and instant rolled oats. And that doesn't even come close to naming them all.
You can also get flavored varieties of this oatmeal — even ones that come in individual containers so you can take them on the go. However, we like to stick with the traditional plain oats from this brand so we can play around with different flavors and different textures as we please.
6. Purely Elizabeth
These days, people want more out of their oats than the plain, basic stuff. However, you may not always know what to include in your oats to make them taste as good as they can be. That's where Purely Elizabeth comes in. In addition to the oats, you'll also find quinoa, hemp, and chia seeds in the mix. This gives your oatmeal an added bit of texture you won't find with a lot of other brands. And if you're looking for the most aesthetic of the oatmeal brands, you've found it here. We love the packaging that Purely Elizabeth's oatmeal comes in, and we think you will too.
The plain oats from this brand are kind of boring, and after a few bites, you'll realize they're not that flavorful. However, when you get the cups of oats, you'll be in for a special surprise. These flavored oats are super tasty, and they even come with granola on top. That means you get some extra crunch that you'll go crazy for. We think keeping these around for a busy morning is a great idea.
5. Better Oats
When you want an amazing taste and that extra health factor, you really can't go wrong with Better Oats. With this brand, you'll find a lot of flavors that are seriously so delicious. The cinnamon roll and the blueberry muffin are types you absolutely need. There are different varieties from this brand, but they're all super creamy, which will have you loving every bite.
It's not just about the taste, though — we love that many of the oatmeal products from this brand have an extra dose of healthiness to them. For example, you can get oatmeal that's filled with flax, which can give you some extra healthy fat to help you get through your day (and that's great for first thing in the morning). And if you're watching your calorie intake, you're in luck, as there are several varieties of this brand that are only 100 calories per serving. That means you can even eat it as a snack.
Better Oats really are better than most of the competition.
4. Nature's Path
You might notice that a lot of the better oatmeals on this ranking tend to be on the expensive side. That may be frustrating considering that oatmeal is usually regarded as one of the least expensive foods out there. However, if you're looking for a budget option that still tastes fantastic, then you can't go wrong with Nature's Path oatmeal. You're going to get a lot of oatmeal without having to spend a ton of money, and we think you're going to like it. It's all organic, and it's even low in sodium if that's something you're watching out for.
The taste of this oatmeal is fantastic too. The consistency is just right — you're not going to get any weird, goopy textures here. We recommend the variety pack because you'll get to try an assortment of flavors from the company. We love the maple nut and flax plus the most, though all of the flavors are delicious.
It's also an easy brand to get ahold of, so if you're looking to break into the world of exciting oatmeals, this may just be the ideal brand to start with.
3. Oats Overnight
We're going to warn you now: Oats Overnight is not your typical oatmeal. If you're looking for your classic bowl of oats in the morning, then this is not going to be for you. However, if you're more interested in eating your oatmeal on the go and getting in a lot of protein in the process, then this brand is just what you're looking for. Basically, you get a pouch of oatmeal powder. You pour it into a blender bottle with some water and shake it up. Leave it in the fridge overnight, and in the morning, you'll have an amazing breakfast to start your day.
It's basically a mix between oatmeal and a protein shake. We know that doesn't necessarily sound good, but believe us when we say that this stuff is delicious. Flavors like strawberries and cream and blueberry cobbler are out of the ordinary and frankly amazing. And if you want to get your oatmeal and your morning coffee taken care of in one step, we recommend the mocha dream, which contains as much caffeine as a cup of coffee.
You also get the added benefit of extra protein in your diet. You're looking at 20-plus grams of protein in each serving, so it's ideal for people who tend to be active a lot throughout the day. Just a warning, though: This stuff isn't cheap, so keep that in mind before you buy a whole month's supply.
2. Umpqua
Into oatmeal that has a bit more texture than your average bowl of oats? Then Umpqua is the brand that you've been looking for. These oats have a distinct chewiness to them that you won't get from other brands, and we love that we're not just getting a mushy texture when we eat these. And since they come in both cups and pouches, you can choose whichever one works best for your daily life.
People online love this brand as well. An Amazon reviewer raved about the brand's products, saying, "The texture of this oatmeal far surpasses anything you find on the grocery shelves. It retains a crunchy, nutty taste and feel down to the last bite. As for the assortment of flavors offered in the cups, they are all very good. I lean toward the fruits more than others but cannot find fault with any I have tried. A bit expensive but by far the best quality. It will remain a breakfast staple in my pantry."
Yes, you might pay a bit more for this brand's oatmeal than you would for others, but we think it's worth it if you're truly an oatmeal lover.
1. Kodiak Cakes
Looking for the best of the best when it comes to your oatmeal? You can't go wrong with Kodiak Cakes' oatmeal. This stuff is seriously out of this world, and we'd be surprised if you didn't want to eat it every single morning from now on. These oats are super filling, and they will keep you going until lunch, even if you eat later in the day. And since there are so many flavors to choose from, you won't have a problem finding one for every person in your family. Our favorites are the peaches and cream and the cinnamon, but you should also try the blueberries and cream and chocolate chip if you're looking for something that's out of the ordinary.
Oh, and if you want to get a little bit of extra protein first thing in the morning, try the Oatmeal Power Cups. They boast 14 grams of protein, which will help get you going on even your laziest days.