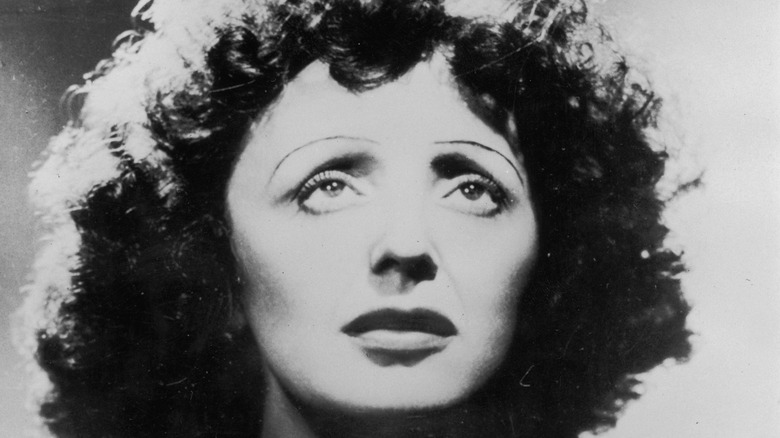 Edith Piaf's life and music were filled with sadness, tragedy, glamour, and triumph — so quintessentially French, it can be placed in a box with baguettes, berets, and the Eiffel Tower. Coming in at just 4 feet 10 inches, Ed Sullivan called her "the most amazing 97 pounds in the business," notes the Wall Street Journal. She started singing from the time she was a little girl and did not quit until she took her last breaths.
Once she started working professionally in clubs, she wore a simple black dress that became her signature look for the rest of her career. Unlike most chanteuses, she was not conventionally good looking. Beautiful, sure, but she was morose, and her music told tragic tales of poor women, lost women, and lost love. Most of the songs were inspired by her own life. Her most famous song "Non, Je Ne Regrette Rien" ("No, I regret nothing") embodies the irony of her life and image as someone who truly lived, but to her own demise.
Edith Piaf was raised in a brothel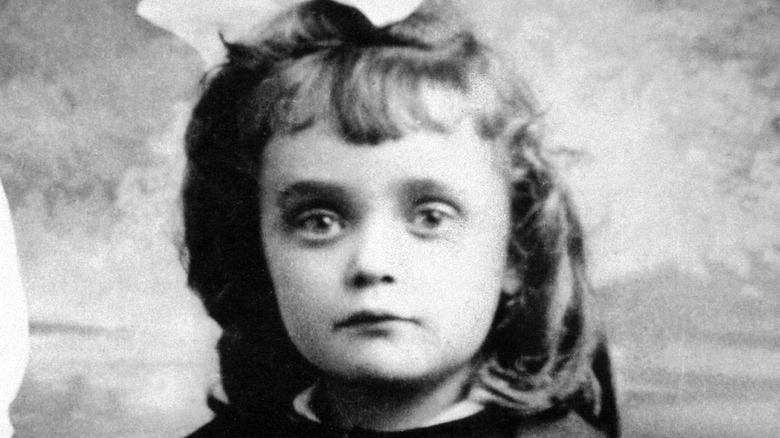 Myth and reality are often entangled when it comes to Edith Piaf's childhood because her life sounded like a fable. It has been said Piaf was born in the streets of Belleville, a working class neighborhood on the edge of Paris. People interpreted this as if her mother gave birth to her on the actual pavement. In truth, she was born in a hospital like most babies. Unlike other children, she was born to traveling circus performers. Her father was an acrobat and her mother, a singer. According to The New York Times, "Her mother deserted her after two months and she lived for two years with her maternal grandmother in wretched conditions of filth and neglect."
According to "No Regrets: The Life of Edith Piaf," when Piaf's father returned from fighting in World War I, he saw the condition his daughter was living in. He moved Piaf to live with his mother, who ran a brothel. This was where another myth was born. It was said that Piaf was blind, and that the prostitutes made a pilgrimage to pray to Saint Thérèse to make Piaf see again. Soon after, her eyesight was restored — miraculously. Later it was learned that Piaf was taken to a doctor who diagnosed her with "acute keratitis, an inflammation of the cornea caused by the herpes virus or bacteria." The condition was treated with proper medication.
She began singing in the streets at age 14
By age 8, Edith Piaf went to live with her father. They traveled with a circus for a time, but soon her father, not one for commitments, quit and they traveled around the country. According to Provence Wine Zine, "At age 14, in 1929, young Piaf began working with her father in his street performances… " He did his death-defying contortions, and Piaf closed out with a song.
Long before her father took her back, she began singing in the streets of Bernay. Per "No Regrets," her mystique began when she sang on tables at the local Cafe de la Gare. One neighbor commented that, "Her voice was already unique, magical." Piaf claimed her blindness played into her ability to sing, saying, "When I wanted to understand, to 'see' a song, I would close my eyes."
Over time, she developed her own repertoire of songs. At age 16 she began working without her father. Piaf worked with a younger acrobat, a girl knnown as Mômone. They performed in the streets and army barracks. While making a life for herself, she met a young man named Louis Dupont and became pregnant. According to Provence Wine Zine, "At 17, she gave birth to her only child Marcelle who died two years later to meningitis." Piaf left Dupont and continued to sing with Mômone in the streets and at a seedy club called Lulu's.
She was accused of murder
While singing near the Arc de Triomphe, a passerby heard Edith PIaf singing "Comme un moineau," which translates to "Like a sparrow." The man's name was Louis Leplée, and he would be the one to give her stage name, La Môme Piaf, (The Little Sparrow), "Piaf" being slang for sparrow. Leplée owned an upscale cabaret near the Champs-Elysées called Le Gerny's. He paid her 40 francs a night and helped to shape her image. According to "No Regrets," "He would present her not as a glamorous chanteuse, but as herself: the contrast between her childlike mien and her assaultive vibrato would move audiences as it moved him."
Within the year Piaf became a sensation, playing on the radio, seeing her name in the newspapers, acting in films, and recording an album. While in Cannes for a charity ball, Leplée was robbed and murdered in Paris. Despite being nowhere near the scene of the crime, she was arrested and questioned, but later released. According to The Travel Geek, "The police thought that by working in the Le Gerny's, Piaf brought the attention of her friends in the street mafia to the establishment." Piaf often dated and hung around with the milieu, the French mafia, something prostitutes and Piaf did for protection while working and living in the tougher parts of town. Although she was found innocent, it put a stain on her career.
Her career took off just as Germany invaded
In the 1930s, the Great Depression was making its way to France, just as Edith Piaf was coming of age and striking out on her own. She saw protests and political heat around her but was too busy with her voice. According to "No Regrets," Piaf wrote to a friend, saying, "I've decided to be serious and work hard to please my dear old Papa Leplée." She broke ties with the mafia and began focusing on her career — this time under the tutelage of lyricist Raymond Asso. She became his Pygmalion, being taught proper diction and etiquette. He wrote songs for her and helped keep her away from her troublesome friends. She began booking major venues and cabarets and recording new songs.
Asso had a tight rein on Piaf's career, telling her where to sing, what to sing, and even how to spend her money. In August of 1939, he was drafted into the army. By September, Germany declared war on France. Piaf kept working. In 1940, a sign of her established fame, the playwright Jean Cocteau wrote a play, "Le Bel Indifferent," for her, about her, and starring her. By June, the Nazis had placed their flag over the Arc de Triomphe. According to Music and the Holocaust, "She had to register with the German Propaganda department and agree to have her song lyrics vetted, but the Nazis liked her and she was encouraged in her work."
The French accused her of siding with Nazi Germany
The fact that Edith Piaf continued working throughout World War II was enough to make French countrymen and women give her some serious side-eye. German soldiers attended her performances, and she was popular with Nazi leaders. While Nazi censors vetted her songs and would not play those written by Jewish lyricists, some fell through the cracks. For example, according to Music and the Holocaust, her song, 'Il n'est pas distingué' (It is not distinguished), has the lyrics, "I can't stand Hitler, the Nazis seem to forget that we were the people who slammed them in the [first world] war."
Piaf protected two Jewish musicians, Michel Elmer and Norbert Glanzberg, whom she helped to go into hiding. She inadvertently assisted the resistance movement by living in a home where many Jewish men and women hid. She went on a tour that ultimately was a covert undercover operation. Her photos with the French prisoners in the audience was then used to make 120 fake passports that many of them used to escape. Per Music and the Holocaust, "She continued to sing at prison camps at her own initiative even when resistance activities were not being carried out, and it will never be quite clear whose morale (the Nazis' or the prisoners') she was hoping to boost."
Edith Piaf failed with American audiences
After the war, purge panels were formed to question those who may have appeared sympathetic to Germany. Edith Piaf's music was banned by this panel. After pleading her case, telling them about her efforts to help the resistance, she was released and free to perform once again (via "No Regrets"). By this time Piaf was 30 years old, famous, controlled by no one, but still desperate to keep her career afloat since post-war France was still recovering. The United States was popular, and other French singers had a lot of success playing in the country, so in 1947, Piaf set sail for a U.S. tour.
Upon her arrival in New York, she was met with disappointment for not being the typical star — not having the charisma and good looks the U.S. had come to expect from Hollywood. And, Americans were not fans of being sad, one of Piaf's main charms. The New York audiences did not turn out for her in the way she expected. According to All Music, "Just as she was about to leave the country, a prominent New York critic wrote a glowing review of her show, urging audiences not to dismiss her … " After the review, she received an eight-week run at The Cafe Versailles in New York, a club frequented by celebrities. She stayed in the U.S. for five months.
The love of her life died in a plane crash
Edith Piaf had more lovers than she could count. After an affair with famous actor John Garfield in the U.S., she wrote in her journal, "I'm not meant to have a heap of lovers. At the end of each affair I'm more disgusted than ever. I'd like one true, wholesome love" (via "No Regrets"). It was at this time Marcel Cerdan arrived in New York for a match. Cerdan was a French boxer just as famous and beloved as Piaf. Due to the fact Cerdan was married with three children, they tried to hide their affair, though it made its way into the Parisian tabloids anyway.
Both Piaf and Cerdan came from poor neighborhoods and respected each other's triumph over their struggle to create successful careers. According to KCRW, "At the height of their love, Piaf penned the song, 'Hymne à l'Amour,' in September of 1949." The couple both traveled often for work and at times could continue their affair if they happened to be in the same place. In 1949, Piaf was back in New York, and Cerdan was scheduled for a fight with Jake LaMotta. Cerdan planned on traveling by boat, but Piaf insisted he come by plane so they could spend more time together. Cerdan's plane crashed into the Azores; there were no survivors. Piaf was heartbroken. That night she sang at The Cafe Versailles. She told the audience, "Tonight I'm singing for Marcel Cerdan."
A car crash led her to addiction
Edith Piaf was plagued with arthritis, which began around the time of Marcel Cerdan's death. So by 1951, when she was in a car accident, she was already on a lot of prescription medication. She was driving with her new boyfriend, Andre Pousse, when he missed a turn, and they crashed with her breaking an arm and two ribs. She was prescribed morphine. According to "No Regrets," Piaf wrote, "I was addicted" and "I was earning millions; the drug dealers knew this and took advantage." She recalls seeing people entering her apartment and "robbing" her but being too weak to do anything about it.
According to Everyday Health, "By the mid-1950s, after several car accidents, her painkiller use had become an addiction." In addition to morphine, she drank more heavily. Always a drinker, as was the life of most nightclub entertainers, she was certainly drinking now as a means to kill the pain, both physical and emotional. She never recovered from the death of Cerdan. In fact she hosted seances and kept whatever belongings she had of his as relics.
Edith Piaf and her first husband divorce
Despite the litany of lovers, Edith Piaf had not yet married. In fact when she met her soon-to-be-husband Jacques Pills, she was in the midst of a relationship with famous French cyclist, Louis Gérardin, whom she claimed she wanted to marry. According to the Independent, she ended things by sending him a letter that read, "When you receive this letter I will be married." Her relationship and marriage to Pills was abrupt. Pills, who was also a singer, wanted to work with Piaf on a song. They began rehearsing every day and, soon after, announced a tour together and their engagement.
Piaf's lifestyle was anything but stable. According to "No Regrets," Pills' sister, Simone, took care of Piaf. She retrieved cortisone for Piaf when she was in pain, stayed up with her when she couldn't sleep, made sure she was up by 1 p.m., and witnessed the numerous folks around Piaf borrowing money, flattering her, drinking with her, and endlessly partying. Piaf was in and out of rehab for morphine and alcohol. She was also in and out of the hospital for health problems.
After the couple could no longer tour, being together became difficult, and Piaf did not like to be alone. She began an affair with lyricist Jean Dréjac and traveled all of the U.S. with him. Upon her return to Paris, after traveling the U.S., Mexico and South America for a year, she and Pills divorced in 1956.
Edith Piaf died of liver failure
Through her addiction and ailments, Edith Piaf continued to sing and attract crowds in her 40s. Her lover and fellow singer, Georges Moustaki, said of her when she was on stage, "She could breathe there, she was at home, she constructed her own world. If she felt ill in the wings, she felt better once she went on" (via "No Regrets"). In 1959, she rushed off stage on two occasions, coughing up blood. A doctor said that she had a hemorrhaging ulcer from all the medicine she had been taking. She was hospitalized and lost a significant amount of weight. After that, she was in and out of hospitals but continued to perform publicly when she found the strength.
During a recovery period in which she could not even sing, lyricist Michel Vaucaire and the composer Charles Dumont played for her "Non, je ne regrette rien," which became one of her most famous songs. Although not her final recording, it certainly felt like a song that summed up her life that was coming to an end. Right before her death, and her decline in health was obvious, she married a young singer, Theophanis Lamboukas, who was 20 years younger than her. Dumont said of this union, "She wanted to do something mythic … to show right at the end, she embraced love, youth, beauty. It was hugely romantic." Piaf died of liver failure on October 10, 1963. She was 47 years old.
She was denied a funeral mass by the Catholic Church
After her death one of her closest friends, Jean Cocteau, a world famous French writer, said, "Edith Piaf burned herself up in the flames of her glory. I never knew anyone who was less protective of her spirit. She didn't dole it out, she gave everything away." Cocteau died the day after Piaf. Within 48 hours, France lost two of its greatest artists.
The Catholic Church denied her a funeral mass because she divorced and remarried. Despite this, she had a pretty epic procession and display of fanfare following her death. According to The New York Times, "… about 100,000 persons lined up for hours to file past the bier." The day of her funeral thousands of people lined the streets to see her hearse pass, and a group of 40,000 people watched her get buried at Pére Lachaise Cemetery in Paris, where many famous people such as Oscar Wilde and Eugène Delacroix are buried. According to the New Zealand Herald, 50 years after Piaf's death, on October 10, 2013, the Catholic Church decided to finally grant Piaf a formal mass. It was held at St. Jean Baptiste, the church she was baptised at in Belleville where Piaf grew up.
Her melancholic legacy lives on
Edith Piaf continues to be a national monument to all things French. In Paris, there is a street named after her, a bronze statue of her, and an entire museum dedicated to her life. According to Newsweek, the singer was not always glorified. "During her life she was often vilified for her sexual liaisons, for breaking up marriages and drug abuse." For a long time after her death, her music was considered old hat. Somewhere in the 2000s, there was a renewed interest, and the singer's life and music became a celebrated national treasure again.
In 2007, the biopic "La Môme" ("La Vie en Rose"), starring Marion Cotillard, certainly helped to bring the singer's legacy back into the world's imagination. Cotillard won an Oscar for her portrayal of Piaf. In 2015, on the 100th anniversary of her birth, The National Library of France held an exhibit in her honor. According to The Guardian, the library, "… has amassed more than 400 exhibits including photographs, song sheets, handwritten notes, posters — some of them never before seen by the public — as well as film excerpts and musical recordings aimed at reminding visitors of the role the cabaret singer played in French cultural history and collective memory." Preserving her tragic and yet triumphant legacy has become an important venture to preserve French culture.