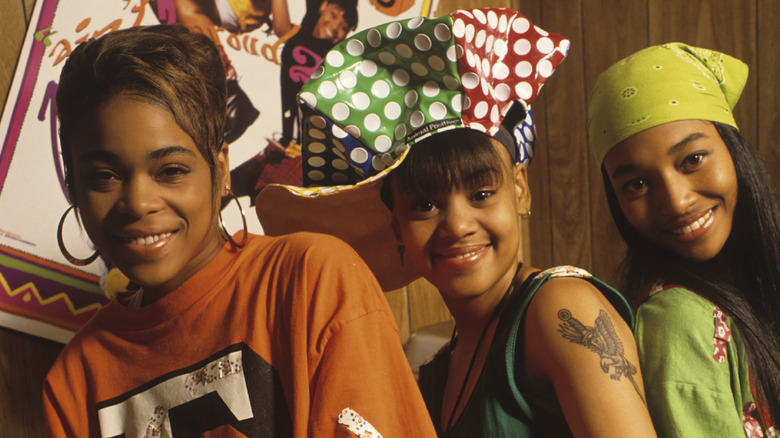 At the dawn of the 1990s, in Atlanta, Georgia, arguably the greatest girl group in pop music history was soon to launch into the music stratosphere. According to Black Past, TLC is the best selling American girl group in music history, with over 65 million albums sold. As a trio, Tionne "T-Boz" Watkins, Lisa "Left Eye" Lopes, and Rozonda "Chilli" Thomas released four studio albums in a decade and won 56 different awards, including five Grammys.
Combining hip-hop from Left Eye and R&B from Chilli and T-Boz, with lyrics that ranged from spiritual to sexual, the group helped put Atlanta on the musical map and reshaped girl groups for the generations to follow. It is not a coincidence that by the end of the decade, two of the most popular music acts, Outkast from Atlanta and the R&B/hip-hop girl group Destiny's Child, reflected TLC's influence.
For the three women, while their success marked them as music legends, they have faced trials before, during and after their time in the spotlight. Unstable upbringings, relationship issues, band infighting, and the tragic death of one of their own has marked the TLC story as much as their music. Despite this, the surviving members have carried on the group's name and continue to entertain fans. Here is the tragic real-life story of TLC.
Lisa "Left Eye" Lopes Lost her Father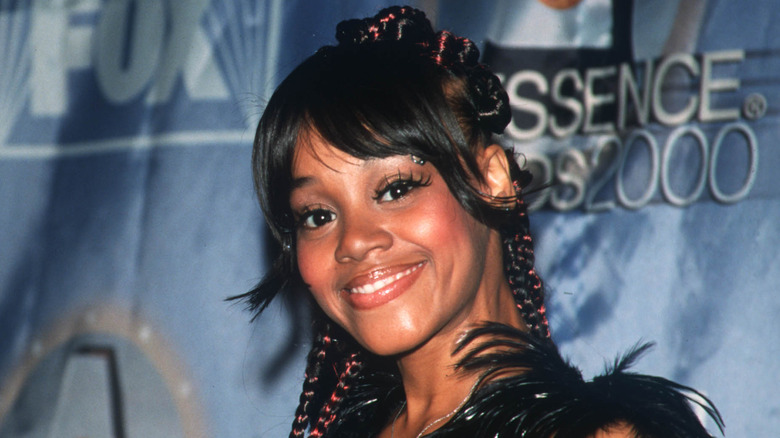 According to VH1's "Behind the Music," both Tionne "T-Boz" Watkins and Rozonda "Chilli" Thomas grew up in single mother homes, while Lisa "Left Eye" Lopes' childhood was fraught with fear from her domineering father, Ronald Lopes.
"He was a very dominant man. He was the king of the castle. … 'What I says goes!'" Lisa said of her father.
As told by the Atlanta Journal-Constitution, the young Lisa recalled her father assaulting her mother as she tried to leave their home and threatening her and her two siblings with a butcher's knife for the rest of the evening. Despite this, Lisa still wanted to have a relationship with her father. One area where she connected with him was their love of alcohol. Despite being underage, Lisa remembered being encouraged by her father and other adult family members to drink.
According to The Famous People, Lisa's parents eventually divorced, and she was raised by her grandmother. After moving to Atlanta, she soon met Tionne "T-Boz" Watkins and Crystal Jones, and in less than a year in Atlanta, the three met record manager Perri "Pebbles" Reid, who told the ladies she was going to sign them. Excited to call her father about the news, her joy turned into pain when she learned her father was killed by a relative that same day.
If you or someone you know may be the victim of child abuse, please contact the Childhelp National Child Abuse Hotline at 1-800-4-A-Child (1-800-422-4453) or contact their live chat services.
Rozonda "Chilli" Thomas' Regrets Abortion
While Rozonda Thomas was the last member of the trio to join, she quickly became friends with Tionne Watkins and Lisa Lopes, and their chemistry meshed perfectly to form TLC. However, as the singer told World Star Hip Hop.com, her hopes for stardom became very complicated when she became pregnant. She had been in a relationship with the group's producer, Dallas Austin, and Thomas decided to terminate her pregnancy.
To Vlad TV, Austin recalled the early stages of the romantic relationship with the artist and how it almost ended the group's (and Watkins') career. "We would hide it because Pebbles was so crazy about the girls being groupies and … 'don't be dating no producers' … so we first started dating, we kept it away from her and only the girls knew it. It wasn't until she got pregnant the first time that Pebbles found out and then she kicked her out the group."
Working on their debut album and with Perri "Pebbles" Reid actively looking for Thomas' replacement, Austin convinced her to keep the trio the same. While the decision may have saved her music career, it is something that Thomas looks back on with regret to this day.
"I didn't want to do that … I'm 20, my career hadn't even really started, so how do I do all of that? How could I be a mommy? It messed me up. … It broke my spirit … I gave in and broke to what someone else wanted."
Crystal Jones: the Forgotten Original Member of TLC
Crystal Jones, who along with Tionne "T-Boz" Watkins and Lisa "Left Eye" Lopes, was part of the original TLC, before being replaced by Rozonda "Chilli" Thomas. "Behind the Music" says at the group's audition for LaFace Records, Jones did not impress LaFace's co-head, L.A. Reid.
Interestingly enough, Jones was the band's leader. "2nd Nature," the group's original name, was led by Jones and T-Boz, but Left Eye auditioned for Jones, who decided to add her. T-Boz recalled that she and Left Eye immediately clicked, leaving Jones the odd woman out.
Jones was out and replaced by Chilli, who was a dancer for LaFace artist Damian Dame. Following the release of their 2013 biopic, "CrazySexyCool: The TLC Story," Jones spoke to Rolling Out about her portrayal. While the film portrayed her as not as talented as T-Boz and Left Eye, Jones said her exit stemmed from her unwillingness to sign Perri "Pebbles" Reid's contract without representation.
"I turned to Pebbles and I asked if I could take mine home and have my mom look it over and she said 'absolutely not.' So I chose not to sign my contract … They kept having meetings without me and all of a sudden, they told me they didn't want me in the group anymore."
T-Boz's Suffers from Sickle Cell Anemia
In an interview with "Good Morning America" promoting her book, "A Sick Life," Tionne "T-Boz" Watkins remembered a conversation she had when she was just 7 years old. "I was told at 7-years-old I would never live past 30, I would be disabled my whole life and never have kids." T-Boz, and around 100,000 people in the United States, suffers from an incurable blood disorder called sickle cell anemia.
In March 1992, TLC seemed to be on cloud nine. Their debut album, "Ooooooohhh… On the TLC Tip," was released the month prior to critical and commercial success, and the group was touring to packed venues. "Behind the Music" says while on tour, T-Boz, who had kept her disease private to even her bandmates, suffered a life-threatening sickle cell attack. The episode forced a tour postponement as she rested for two weeks in a Nebraska hospital.
Rozonda "Chilli" Thomas and Lisa "Left Eye" Lopes stayed in the hospital to look after T-Boz's progress. Also, as Chilli recalled, the group adjusted their touring schedule. "What we decided is that we're going to work three nights a week, have a few days off, maybe four the next, and just make sure we have those days off so that we can all rest, especially her."
Speaking to People, T-Boz admitted years later, she fell into a coma after breastfeeding her child. She said, "sickle-cell patients need every drop of fluid they can get, and losing that much breast milk almost stopped my heart."
Detroitation of their Relationship with Pebbles
It is a classic trope for young groups to sign bad first deals with their manager. A tale as old as time. However, it did not take long for the women to understand how bad their contract was with their first manager, Perri "Pebbles" Reid, and her company, Pebbitone. According to "Behind the Music," the deal gave Pebbitone a stake in their songs, the name of the group, exclusive publishing and production deals, and committed the group for up to eight albums.
Shortly after Tionne "T-Boz" Watkins recovered from her sickle-cell episode, the three ladies began to look for a way out of Pebbles' grip. They believed that Pebbles had turned down a variety of different venues where they could perform or advertise themselves, such as films and television. Pebbles denied this but agreed to step back from the group. However, still under the contract they signed with Pebbles, their now former manager would be receiving a healthy cut of the band's earnings for years.
The relationship between Pebbles and TLC took another interesting turn decades after her departure. Speaking to Marc Lamont Hill of the Huffington Post in 2013, she said she believed that Rozonda "Chilli" Thomas slept with her then husband, LaFace Records co-head L.A. Reid. According to Essence, in 2020, she and Viacom agreed on a settlement after she sued the network for her portrayal in the TLC biopic, saying the film portrayed her as "conniving and dishonest."
The volatile relationship between Andre Rison and Left Eye
In the early 1990s, Atlanta culture became the center of pop culture, music, and sports, with TLC and the Atlanta Falcons at the forefront. Falcons' wide receiver Andre "Bad Moon" Rison became a sports superstar. Eventually, as told by "Behind the Music," the two worlds collided when Rison and Lisa "Left Eye" Lopes began a romantic relationship.
The relationship played out in national headlines for the better part of a decade — for better and for much worse. Abuse allegations and infidelity rumors followed the seemingly in-love couple. According to the Atlanta Journal Constitution, Lopes said her relationship with her father contributed to her attraction to Rison. "I think people naturally gravitate toward things they can relate to, things they've experienced, what's familiar to them."
In June 1994, Lopes set fire to Rison's home following a fight. The Boom Box says that Lopes was angry when Rison returned home after a night of clubbing, and the pair fought. Rison claimed he hit Lopes in self-defense before leaving, at which point Lopes set fire to Rison's shoes. The fire burned out of control and consumed the house. Lopes turned herself in, though she avoided jail time. By June 2001, the pair were discussing marriage, MTV reports. The marriage would never happen.
If you or someone you know is dealing with domestic abuse, you can call the National Domestic Violence Hotline at 1−800−799−7233. You can also find more information, resources, and support at their website.
At their peak, TLC was bankrupt
At the 1996 Grammys, TLC took home two awards for "Best R&B Album" and "Best R&B Performance for a Duo or Group." The ceremony today is not remembered for the awards but instead the post show interview when the group announced to the public that they were "broke as broke can be." In a tale of young artists being taken advantage of, TLC is one of the most cautionary examples of this story.
According to Beat, despite two successful albums up to that point, on July 3, 1995, the group declared bankruptcy holding a debt of $3.5 million. The contract signed long ago with Perri "Pebbles" Reid, as well as the group's deals with LaFace and Arista Records, left the three ladies with very little money.
All three parties, (Pebbles, LaFace, and Arista) took out their shares for recording expenses like distribution, studio time, and more. They also took out expenses for the ladies' travels, lawyers, hotels, clothing, and music videos. This was compounded by Tionne "T-Boz" Watkins' expensive medical requirements and Lisa "Left Eye" Lopes' legal battles, along with the fact that their 56 cents per album sold had to be split three ways between the members. By the end of the year following their 1994 album, "CrazySexyCool," each member of one of the best-selling girl groups took home only $50,000. Over the next few years, the group would negotiate with LaFace and finally get Pebbles' contract out of their lives.
Band in-fighting after the release of "FanMail"
In 1999, after the release of their critically and commercially successful third album, "FanMail," which Revolt said cemented their legacies as the girl group of the era, the three members started to take shots at each other.
In an open letter Lisa "Left Eye" Lopes wrote to Entertainment Weekly in November 1999, she challenged her two bandmates to release an album featuring three separate sets of their own music. Each would be a solo album, and the "winner" would receive a $1.5 million prize. In the letter, she referred to Tionne "T-Boz" Watkins as "Player" and Rozonda "Chilli" Thomas as "Hater." She also called producer Dallas Austin as "The Manipulator."
"The Challenge" seemed to be a climax to rising tension. During a show the month before the letter, concertgoers noticed Chilli and T-Boz seemed to ignore Left Eye while she mirrored their disinterest. During the song, "What About Your Friends," T-Boz stared down Left Eye while singing the song's lyrics.
In spite of any tension between the women, T-Boz and Chilli responded to the statement with a plea for unity. Left Eye then responded by saying, "I just want credit for my ideas, because I am the creative force behind TLC." According to The Hartford Courant (via the Kitsap Sun), Left Eye's continued distancing from TLC eventually led one of her bandmates to start taking more shots towards her in the media. Chilli called her "the troublemaker" and said they were "tired" of Left Eye's comments and actions.
Chilli and T-Boz's Failed Romantic Relationships
Lisa "Left Eye" Lopes was not the only member of the group to have trouble with men, though neither Rozonda "Chilli" Thomas or Tionne "T-Boz" Watkins have set fire to their partners' homes. Both women had longtime partners in the music industry, and both women's relationships ended in heartbreak. For Chilli, this began with her music producer, Dallas Austin.
The two dated on and off throughout the '90s, and after an initial pregnancy that ended in an abortion, they actually had a son. However, as Austin told Angela Yee in an interview, Chilli eventually left him for another Atlanta based musician, Usher, leaving him heartbroken. While he still produced for TLC, he recalled one session being like "a torture chamber." Usher and Chilli dated for a few years before they split. It was believed that Usher had affairs outside of the relationship leading to its ending, and he took that heartbreak to make the smash album, "Confessions." Chilli told US Magazine years later that this was just a false rumor.
According to Cheat Sheet, T-Boz did actually walk down the aisle unlike her bandmates, marrying rapper Mack 10 in 2000 and having a daughter. Unfortunately, like with Andre Rison and Left Eye, allegations of abuse surrounded the couple, and they divorced in 2004, with T-Boz being granted a temporary restraining order against her ex-husband.
If you or someone you know is dealing with domestic abuse, you can call the National Domestic Violence Hotline at 1−800−799−7233. You can also find more information, resources, and support at their website.
Left Eye's Premature Death
In spite of the tensions that the group dealt with at the beginning of the 2000s anf her debut solo album, "Supernova," not yet released in the U.S., Lisa "Left Eye" Lopes still desired to continue her music career in and outside the group. According to the New York Times, the rapper had traveled to Honduras with her entourage. She was working on a documentary about her "spiritual journey," as her spokesperson explained. On April 25, 2002, Lopes and her entourage were involved in a single car accident, with their car going off-road and flipping several times before coming to a halt.
Lopes suffered fatal injuries from the crash, while the other members of the vehicle, including both her siblings, suffered only minor injuries and were treated at a hospital. She was a month away from turning 31-years-old. According to Biography, her solo album, "Supernova," had yet to be formally released in the U.S., and TLC's fourth album, "3D," was still in production. The documentary she was working on, titled "The Last Days of Left Eye," would not be released until 2007, as told by MTV. The remaining TLC members paid tribute to their late musical sister four months later at the 2002 VMAs.
T-Boz's Suffered a Brain Tumor
Unfortunately for Tionne "T-Boz" Watkins, sickle cell, money issues, and the death of her friend and musical partner were not the only ordeals she has had to face. Speaking to CBS News in 2009, T-Boz revealed to the world she had been suffering from a brain tumor for three years. Doctors told her it was benign, however, because of her sickle cell anemia, surgery to remove the tumor would be extremely risky, potentially causing the loss of hearing, speech, and more.
"[I] can't just go have surgery? They were like, 'No, I'm sorry, sickle cell is a factor, that's your reality and you can die.'"
Dr. Keith Black from Cedars-Sinai Medical Center ultimately performed the surgery. And, while it was successful, the healing process took three years, according to Essence. In her first public appearance, T-Boz wore sunglasses to hide the fact that she could not blink her right eye, while speaking very little as she still could not form some words.
T-Boz's Continued Financial Troubles
While not as shocking as the first time she declared bankruptcy in the mid-1990s, money problems followed Tionne "T-Boz" Watkins into the 21st century. In November 2011, Watkins filed for bankruptcy to the tune of $768,643, according to Billboard. In court documents, it was discovered that the singer was receiving only $1,200 royalty payments from TLC and was owed a quarter of a million in child support payments.
Unfortunately, the money struggles would continue with the singer, as the next month, she filed for bankruptcy once again, Attorney Patrick Cordero reports. Under the third bankruptcy plan, Watkins would have to pay $2,880 for 36 months. In February 2012, a judge denied her bankruptcy filing (via WSJ). Trustee Adam M. Goodman said she had not "been pulling her weight in bankruptcy," citing missed meetings, failure to provide any financial plans, and not turning over proof of her monthly mortgage payments. Speaking to The Guardian in 2015, Watkins said this about TLC: "A lot of people have made money off us, and we haven't."