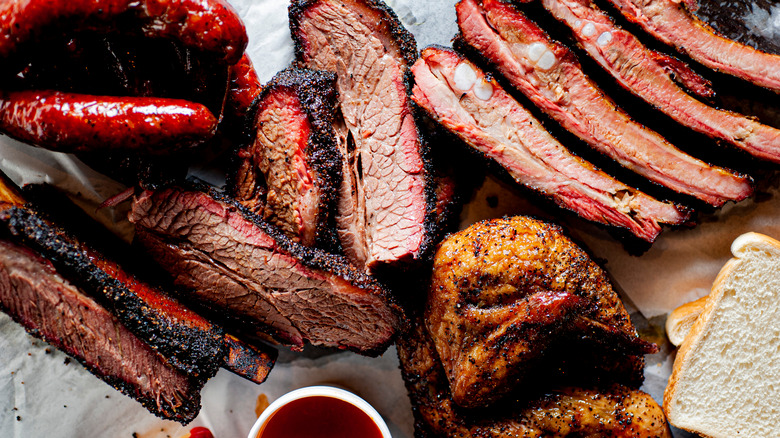 Smoky, decadent, messy barbecue may be an American summer food staple today. But this popular cuisine actually has its roots in the Caribbean, where meats were cooked over an open pit or grill, and covered in a variety of spices and basting sauces.
Since making its way north, barbecue has largely found its home in the American South, with places like Memphis, Kansas City, Texas, and St. Louis putting their own unique spin on it. Today, the cuisine is more than just a tasty dinner; it's the subject of competitions and debates to decide who has the best. Thanks to the rise of a number of chain restaurants, you can enjoy barbecue just about anywhere in the U.S. — and even most major cities around the world.
Looking for a tasty spot to dig into a pulled pork sandwich or a rack of ribs? Let's take a look at the country's barbecue chain restaurants, ranked from worst to best.
12. Famous Dave's BBQ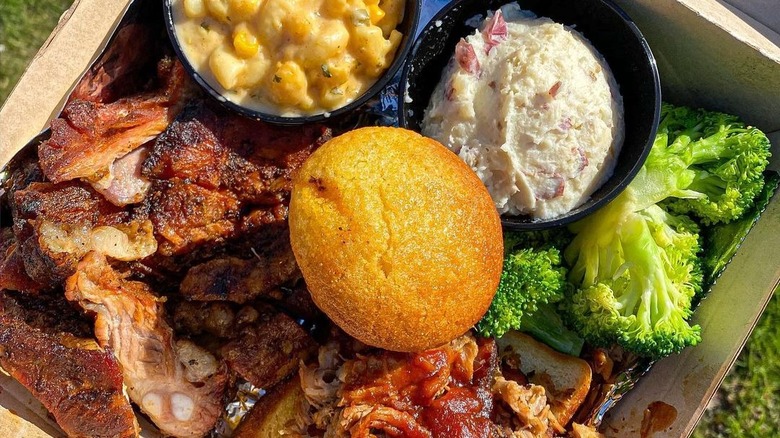 Most barbecue chains got their start as a small, local restaurant, serving up its city or region's signature style of barbecue. That can't be said for Famous Dave's.
Famous Dave's BBQ's founder, Dave Anderson, grew up in Chicago. Even after spending 25 years searching for the nation's best BBQ, he wound up opening his first restaurant in a small resort he purchased on Big Round Lake in Hayward, Wisconsin. The "restaurant" was actually a barbecue shack, and the resort featured just eight cabins. But the location was hugely popular, often "serving as many as 1,000 diners a night."
Today, Famous Dave's has around 150 locations across the U.S., with locations in 32 states. There are even several international locations, including one in Dubai, Winnipeg, and Abu Dhabi.
Menus vary a bit from one location to the next, but most serve a variety of types of barbecue, loosely inspired by regional specialties. For instance, they label their ribs "St. Louis-style" and offer Texas beef brisket. In reality, their smoked and grilled meats, sides, pastas, and other dishes are more in line with most chain restaurants than they are with a classic corner barbecue shack. Famous Dave's is generally described by reviewers as BBQ for those who have never had BBQ. As one reviewer put it, "If you've ever had real bbq, you should never go to this place."
11. Dickey's Barbecue Pit
Dickey's Barbecue Pit started as a single location in Dallas, Texas in 1941. Founder Travis Dickey served beef brisket and pit hams alongside two side options; barbecue beans and potato chips. Patrons could wash down their meal with a beer, bottled milk, or soda. Two of Dickey's sons took over the family business in the late 1960s, and quickly turned the restaurant into a chain, opening locations throughout Dallas and Fort Worth.
In 1994, Dickey's Barbecue Pit began franchising. In the 2000s, it went international, with locations in places like Abu Dhabi and Canada. Today, Dickey's has more than 500 restaurants, making it the largest American BBQ chain in the world, and has launched two additional brands; Wing Boss and Big Deal Burger. Their menu still features mostly Texas-inspired barbecue, with exceptions like their St. Louis-style ribs and unique combinations like Brisket Chili.
Dickey's Barbecue Pit has suffered some of the effects of any restaurant that grows to this size, with one being that the food often suffers. One reviewer reported that the mac & cheese "tasted eerily like Stouffers," and generally reported that the meats were "not bad." The verdict? If you live in an area that isn't known for its barbecue, and local restaurants aren't an option, Dickey's Barbecue Pit should still be your last resort. Much like Famous Dave's, Dickey's Barbecue Pit is more like an imitation of Southern BBQ than an authentic recreation.
10. Dinosaur Bar-B-Cue
Dinosaur Bar-B-Cue doesn't have near the number of restaurants as most of the chains on this list. Instead, the brand has just six locations, all of which are in New York. The first restaurant opened in Syracuse in 1988 in a historic building built in the early 1920s, and once home to the popular barroom N&H Tavern, which operated on the site for over 50 years. Harlem, Brooklyn, Buffalo, Troy, and Rochester all lay claim to their own locations as well.
If you're thinking that New York doesn't have its own barbecue style, you're correct. Dinosaur Bar-B-Cue actually specializes in St. Louis-style ribs, which are dry-rubbed and slow smoked. Besides ribs, this New York chain also offers brisket, pulled pork, and smoked chicken. For those who prefer seafood, you'll find Cajun fried catfish, and one option that's a rarity at most BBQ chains; spicy shrimp boil.
With fewer locations, Dinosaur Bar-B-Cue does offer a better experience than the larger chains we've highlighted so far. But without a single regional style tying everything together, the menu feels a bit random and disconnected. And reviewers report that while the meat itself isn't bad for an East Coast restaurant trying its hand at St. Louis-style BBQ, the dishes are drowning in sauce. As you'll learn later on this list, most authentic barbecue restaurants let diners sauce the meat themselves, rather than doing so in the kitchen, a mistake that Dinosaur Bar-B-Cue is guilty of.
9. City Barbeque
Founded in another city that isn't known for its smoked meats or barbeque sauces, City Barbeque got its start in Upper Arlington, Ohio, near the state's capitol. It's also newer than most of the barbecue chain restaurants ranked on this list; it was launched in 1999 by founder and current owner Rick Malir.
Today, the chain has locations in seven states. While it might not be a top choice for barbeque lovers who frequent local spots known for delicious smoked meats, it has succeeded in bringing barbeque to areas where the cuisine is less common.
One thing that makes City Barbeque stand out from a few of the other big name chains? They often run out of certain meats partway through the day. If this sounds like a bad thing, you'll think otherwise when you hear the company's owner explain why that is; "We're proud of the fact that we don't reheat food and only serve fresh products. Bbq takes hours to cook, 18 hours or more. When we sell out, we sell out, and we need to let the guests know that because sometimes it's going to happen."
While the chain gets bonus points for taking more time than other chains to properly slow smoke their meats, don't visit expecting the same quality you might find at your favorite corner spot in Memphis, Texas, or Kansas City.
8. L&L Hawaiian BBQ
If you've never visited Hawaii, you might not know that the state has its own unique style of barbeque. This chain was first launched in Hawaii and for over 50 years, it has served fresh lunches throughout the islands, mostly through drive-in restaurants. Today, the brand has expanded to more than 200 locations in the lower 48. While most are on the West Coast, several locations have opened in states like North Carolina and Virginia.
L&L Hawaiian BBQ is known for authentic Hawaiian-style barbecue. This means plates with a double serving of white rice, macaroni salad, a sampling of fresh-caught seafood, chicken, and other proteins — grilled rather than smoked. According to L&L Hawaiian, this unique style of BBQ is the result of 19th-century sugar plantation laborers who came from all over the world in search of work, sharing their lunches. This led to a blend of cuisines; hence the white rice alongside macaroni salad and grilled meats.
While ribs and brisket aren't on the menu, a variety of other options, like BBQ beef bowls and fried shrimp, are. You'll even find a few unique oddities; SPAM Musubi, a sushi dish with grilled SPAM, and Loco Moco, hamburger patties served over rice and topped with brown gravy and fried eggs.
This barbecue chain falls low on this list because traditional Southern BBQ lovers will be disappointed in the lack of smoked and shredded meats. But if you're up for something unique, it may be worth a visit.
7. Corky's Ribs and BBQ
Unlike some of the other chains on this list, Corky's Ribs and BBQ has its roots in real Memphis-style barbeque. The first Corky's opened in Memphis, Tennessee in 1984. The restaurant is far from a copy of authentic Memphis-style barbeque; instead, it's one of the restaurants that pioneered it, and introduced the world to the Birthplace of Rock and Roll's unique and smoky cuisine.
Despite having expanded beyond Memphis and even beyond Tennessee, the restaurant remains popular among locals; in fact, it's been voted the #1 barbeque joint in the city a whopping 22 times. Besides the original location, there are four more locations in Tennessee, one in Mississippi, and two in Little Rock, Arkansas. Its Memphis-style barbecue starts with a spice rub, which often has a unique blend of herbs and spices created by each restaurant's pitmaster. Next, sauce is added to the various types of meat as it is smoked. The result is added flavor and a caramelized finish.
Today, Corky's Ribs and BBQ locations keep things classic, with Memphis-style brisket, port, ribs, and sausage. Corky's falls towards the middle of our list because some locations are better than others.
While the original location in Memphis might be consistently ranked among the top local BBQ joints, don't expect the same quality at other locations. One reviewer called the chain's Gatlinburg, Tennessee location "The worst BBQ place I have ever been."
6. Sugarfire Smokehouse
In Memphis, BBQ meats are sauced, then smoked. But in St. Louis, the opposite is true. St. Louis is known for its ribs, which are grilled rather than slow-smoked, and are sauced heavily in the city's classic style of sauce, which is sweet and a little acidic, with a tomato base and liquid smoke. While ribs might be the showrunner, other meats get the same treatment in the Gateway to the West.
The style works; St. Louis has plenty of barbeque restaurants to choose from. One of the most popular chains is Sugarfire Smokehouse. The chain was started, not by a dedicated pitmaster, but by a restaurateur and chef. Mike Johnson was already running several successful restaurants across the city when he heard that a local Dickey's Barbecue Pit was going out of business, and it was looking for a buyer to take not just their building, but their gear as well. Johnson stepped in with his own unique St. Louis take and found immediate success.
Today, Sugarfire Smokehouse has several locations across Missouri and Illinois, as well as one each in Florida, Iowa, Texas, and Colorado. The chain wins major points for its take on its home city's ribs and for its unique sides, though other restaurants on this list might be a better choice for other smoked meats.
5. Full Moon BBQ
While the next barbecue chain on this list operates in just two states today, it has a 30-year reputation for serving up delicious Southern-style barbecue that's always cooked low and slow over hickory wood-fired pits.
Full Moon BBQ was founded in 1986 in the heart of Birmingham, Alabama. If you're eager to visit the original location, keep in mind that it follows tradition in more ways than one; like most old-school barbecue stands, it's only open on weekdays and is closed on weekends. However, if you're looking to get your BBQ fix in the evening or on a Saturday or Sunday, you can visit one of their other 16 locations.
While many barbecue chains have switched to smokers, Full Moon BBQ keeps things classic. Each of the restaurant's locations has a 30 foot by 15-foot brick fire pit where they smoke their meats daily. Brisket, pork, chicken, turkey, and catfish are some of the menu's popular proteins, while traditional Southern "trimmings" like corn on the cob, collard greens, and deviled eggs are just a few of their side options.
Their menu shines in some areas, while lacking in others. One reviewer reported their meal being hit or miss; the restaurant's famous slaw and pork were hits, while the brisket was a clear miss.
4. Mission BBQ
After visiting one of Mission BBQ's locations, you won't be surprised to learn that the chain was started just outside of Washington, D.C., in nearby Baltimore. The first location opened on September 11, 2011, in an effort to "change the world" in one small way ten years after the events of 9/11. This barbeque chain goes above and beyond in honoring veterans of the U.S. military, as well as firemen, police, and other first responders.
The décor of each of their restaurants, which are now located in over a dozen states, feature vintage photographs of military men and women, as well as hundreds of police, fire, and military badges, uniforms, and other memorabilia, much of which is provided by the chain's patrons. Every day at noon, the restaurant's staff pause and stand to play the National Anthem. The chain also participates in and supports a variety of military-minded charities and fundraisers. Mission BBQ celebrates its pride in the U.S. in more ways than one. Rather than focusing on a single barbeque style, the menu features a selection of different regional specialties. Dig into Texas-inspired brisket, St. Louis-style ribs, and Memphis marinated meats, served side-by-side.
The wide menu variety and patriotic mission make Mission BBQ a great lunch or dinner spot. But if you're looking for something with less of a chain feel, keep reading for some other options.
3. Martin's Bar-B-Que Joint
Nashville, Tennessee might not be as well-known for barbeque as its western neighbor. But you wouldn't know that from the lines that wrap around the block at Martin's BBQ's downtown Nashville location. While Nashville specifically might not have a unique barbeque style, West Tennessee does. Rather than a style of rub or sauce, though, whole-hog barbecue is the tradition on this side of the state.
Whole-hog roasts were once a staple in the region, but it's a dying tradition, thanks in part to rising meat costs and the time it takes to properly smoke a whole hog. Martin's Bar-B-Que is perhaps the best known. As of 2017, 27 barbecue joints across the U.S. continue to roast whole hogs. Six of them are Martin's locations. While not all Martin's Bar-B-Que Joints offer whole hog roasts, those that do roast on-site, over coals and hickory chips. Pulled pork shoulder, served on its own, as a combo, or on a sandwich, is one of the more popular menu items.
Today, there are 10 locations across the Nashville metro area. The chain has also expanded into Louisville, Kentucky, Birmingham, Alabama, and Charleston, South Carolina. If you're looking for delicious, authentic BBQ or a whole hog experience, Martin's is a must-visit on your next trip to Nashville. While it might be rapidly expanding, none of Martin's locations have that chain feel, so you'll enjoy a tasty, hearty meal, no matter where you're dining.
2. Joe's Kansas City Bar-B-Cue
In 1990, Jeff and Joy Stehney attended their first barbecue contest. They were instantly hooked. Not long after, they bought a competition-style smoker and started their own team, naming it Slaughterhouse Five. The team quickly started winning contests, including some of the most prestigious barbecue competitions in the country.
It wasn't long before friends and acquaintances were begging the pair to open a restaurant. They resisted for several years, before finally giving in early in 1996. Their first restaurant was actually called Oklahoma Joe's, and opened in Stillwater, Oklahoma. This location was run by the couple's business partner, as they lived in Kansas City. When the chicken counter in a gas station and convenience store closed in their neighborhood, they jumped at the opportunity to open a BBQ joint closer to home.
They named it Joe's Kansas City Bar-B-Cue, and the rest, as they say, is history. The original location still exists, but has since taken over the entire building. You can even dine outside under the old cover that once protected drivers pumping gas, and that now keeps the rain off your barbecue platters.
Despite having plenty of competition in the city, Joe's continues to be one of the most popular barbecue joints in Kansas City. It has only expanded within the city, with three locations currently open. If you want to experience authentic Kansas City barbeque at its finest, Joe's is always a great choice.
1. 4 Rivers Smokehouse
It might surprise you to learn that the top spot on our list of barbecue chain restaurants ranked from worst to best isn't located in BBQ hot-spots like Texas or Kansas. But if the popularity of 4 Rivers Smokehouse has anything to say, it's that a barbecue chain based in Florida can rival joints in Memphis, Kansas City, or Dallas.
Founder John Rivers launched 4 Rivers Smokehouse in 2009, with a simple goal; to serve delicious, de-regionalized BBQ. His restaurant is a passion project. He only launched it after leaving behind a successful 20-year career as the president of a billion-dollar healthcare company.
The restaurant actually got its start in 2004 after Rivers launched the "Barbecue Ministry," a fundraiser cookout he hosted to raise money for a family with a young daughter diagnosed with cancer. It took a few years, but his garage operation inspired him to open a store. A line formed out the door of that restaurant on the first day, and returns nearly every day since then.
The chain has since expanded across Florida. While you'll find St. Louis-style ribs and Texas sausage on the menu, 4 Rivers Smokehouse prides itself on delivering its own delicious take on each and every dish. This effort shows; the restaurant is popular among locals and visitors alike. As one reviewer put it, "who doesn't love 4 Rivers???"