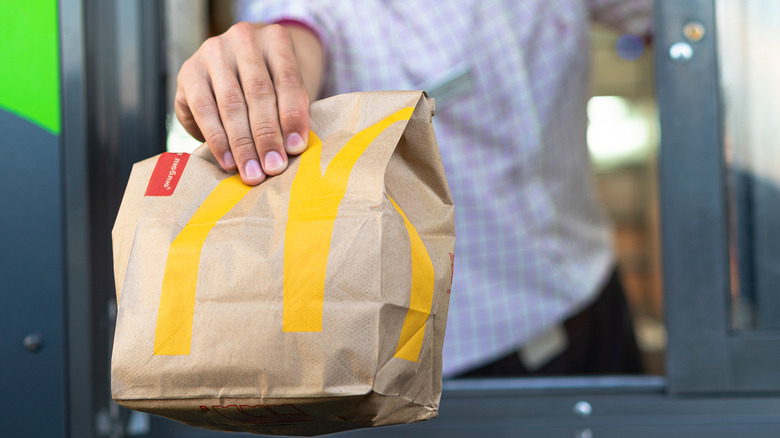 From the great plains of Mid-Western America to the hustle and bustle of city life in Tokyo, Japan, while the cultures may be vastly different, there is one thing we can all agree on. There may be no greater or widely recognized brand than those golden arches of McDonald's. Beloved by all, it's a staple of life as we now know it today. What started as a tiny operation in San Bernardino has boomed to nearly 40,000 operating restaurants in over 100 countries all over the world. With an approximate brand value of nearly 130 billion dollars, it shows zero signs of slowing down.
Of course, it's quick, convenient, and relatively inexpensive, but it's the menu favorites that keep us coming back again and again. From our beloved childhood memories of eating Chicken McNuggets and pining after the latest and greatest Happy Meal toy, to those foggy late nights of our early adulthood where we gleefully pounded burgers with good friends. Some things never change, and neither will our love of McD's. We're on a mission to see (and taste) how our most beloved menu items stack up against one another. It was quite an adventure filled with pleasant surprises, lots of wrappers, and a never-ending chase to hunt down a working ice cream machine (more on that to come), but it was all done in the name of research. Who comes out on top? Here are the most popular McDonald's menu items ranked from worst to best.
20. Breakfast burrito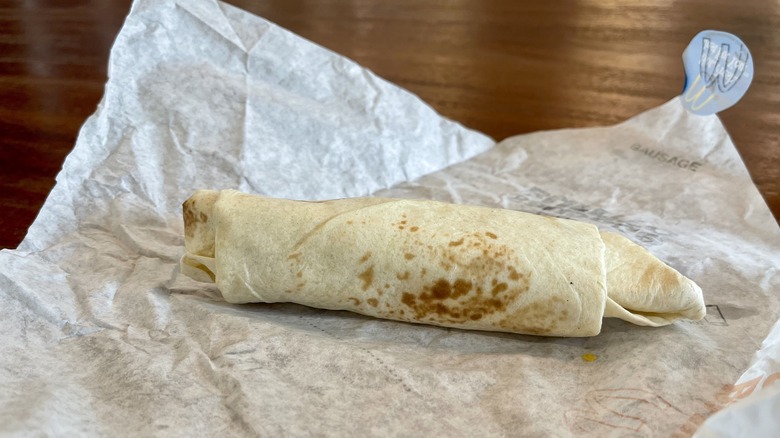 We're not going to lie. McDonald's has a seriously impressive list of options for every taste on its breakfast menu. There's good reason that when you roll up to the drive-thru on any given morning there's a line of hungry hopefuls itching to get their tired souls a sip of coffee and a bite of their savory or sweet delicacies. It's quick, budget-friendly, and a staple of the American diet.
In the wonderful world of the McMuffins and the McGriddles, there's absolutely no reason you should be reaching for their breakfast burrito. This grab-and-go item is described as a sausage burrito that's "loaded with fluffy scrambled egg, pork sausage, melty cheese, green chiles and onion." What we received was an uninspired, sad looking flour tortilla filled with a hodgepodge of breakfast foods thrown together. Let's just say there's a reason they hawk them in orders of two. This did nothing for us and with their expansive breakfast offerings, there are so many other things you can and should be ordering. In conclusion, this gives burritos a bad name, and frankly, you can make a better copycat breakfast burrito at home. Pass.
19. Filet-O-Fish
Don't @ us for this next one. The Filet-O-Fish may be iconic and beloved, but we're still scratching as heads as to just why. The sandwich, featuring fried Alaskan Pollock and a heaping of tarter sauce, was introduced over 50 years as their first non-meat option and for a simple reason: to appeal to Catholics. It's since become a staple of their menu and loved by many.
For us, there are two things that do not go hand in hand: Fast food and the fresh catch of the day. We get it. There is absolutely a lane for fast food seafood, and that's evident with long-standing spots like Captain D's and Long John Silver's. But still, we are baffled. While we have to give credit where credit is due, it does has a unique flavor but we find that the tartar sauce and cheese overpower any flavor coming from the fish and it simply gets lost in the mix. While we're not ones to turn down cheese, the slice of processed American cheese is an addition which we will never quite understand.
18. Baked Apple Pie
There's nothing as American as apple pie and that wonderful aroma that wafts from the kitchen when a fresh one is revealed straight out of the oven … But, what they serve at McDonald's is a far cry from the classic slice of the good stuff you've envisioned in your mind. McDonald's Baked Apple Pie features "100% American-grown apples, and a lattice crust with sprinkled sugar." It's portable, yes, but worthy of our appetite and the 240 calories and 11 grams of fat? Not exactly.
Let's start with the consistency. When we bit into the pastry (that had clearly been sitting under the heater for a bit) we were met with a mouthful that was all flaky pastry, and no apple. This continued on as we took bite after bite. Head our warning and the one that's bestowed on the packaging: if you quickly take a bite this can burn the roof of your mouth a la Hot Pocket style— we've all been there. If your eyes are still set on a piece of classic American comfort, may we suggest pairing it with their sundae for a twist on apple pie a-la-mode?
17. Sausage McMuffin
Sorry, folks. This is what happens when you mess with a classic. We will sing its praises all day long because the Egg McMuffin nails it thanks to its hint of saltiness from the Canadian bacon that works in perfect harmony with a freshly toasted English muffin and that ooey, gooey, cheese. The second you substitute it with a sausage patty something for us just goes awry.
The pork sausage patty used in the McDonald's Sausage McMuffin brings with it a slight hint of spice. Perhaps inherently now flawed on its own, but for us, when that is met with cheese and a bun, in the form of a muffin, it almost mimics a burger — but not one we particularly want to devour at the crack of dawn. If you're not a fan of Canadian bacon, that's fine. We find that the sausage patty works much better when it's complemented with a warm and flaky biscuit. There, problem solved.
16. Chocolate shake
McDonald's chocolate shake is a perfectly harmless addition to their dessert offerings. Using their soft serve, it is then mixed with chocolate syrup and topped with a whipped topping. No, it is not a "milkshake." The reason behind this very particular nomenclature? Dairy regulations are varied depending on the state you're in. Because of this, a milkshake must contain a certain amount of you know, milk, to actually be classified as one. So, while McDonald's "shakes" do contain milk, it's just simply not enough. The more you know, right?
Their chocolate shakes are a fine way to beat the heat and satisfy that sweet tooth. This one is not super chocolatey as they add just the right amount of chocolate syrup to the mix. It's dare we say, almost light, mimicking the consistency found in a classic black and white shake. We also love the fact that it is topped with whipped cream. Is it the best shake you'll ever have? Not by a long shot, and we can suggest better fast food shake options, but it does the trick.
15. Hamburger Happy Meal
The classic McDonald's hamburger is where it ALL started — yes, we have watched "The Founders" many times. If that's where it all started for the company then the Hamburger Happy Meal was for so many of us, our first taste of the golden arches. This has strong emotional attachments for us and it's classic McDonald's all wrapped up in one perfect little box. Now, about that box. The smiling packaging opens to reveal a hamburger, kid-sized version of the world-famous fries, apple slices, and a toy (the best part in our humble opinion!). Who didn't love that element of suspense and anticipation as you'd open up your box to reveal what toy you were the proud new owner of? It also comes with a drink making for one heck of a deal.
To this day, we're still mesmerized by the Happy Meal, and it's not just the really cool limited-edition toys that they've been rolling out for decades. We're adults and we have no shame in admitting that we still dabble in the happy meal from time to time. It is a well-rounded and balanced option that's not on the heavy side making for a great and cheap snack. Oh, Happy Meal: you have our hearts (and stomachs) forever.
14. Classic cheeseburger
On the topic of classics, the McDonald's cheeseburger has been around since the dawn of time. Well, not exactly … But, it's long been a staple of the restaurant and a huge part of why McDonald's has staked such a claim in the restaurant industry and pop culture as we know it today. It all begins with a 100% all-beef burger that's seasoned simply with salt and pepper. On their standard bun, it's then topped with American cheese, chopped onion, ketchup, mustard, and their signature tangy pickle chips.
It's simple, but delicious. While it may not be that show-stopping wow moment you're tastebuds were longing for when compared to some others higher on our list, you always know what you're going to get with this burger. It also doesn't hurt that at only 300 calories it's suitable to curb your burger craving without obliterating your daily calorie intake. Never change, little guy, never change or we'll be sending the Hamburglar on you.
13. Chicken McNuggets
Here's the thing. There's something both familiar and comforting about McDonald's Chicken McNuggets. Every bite conjures up all the nostalgia and instantly transports you back to your childhood. Much like the classic cheeseburger, we know exactly what we are getting and we enjoy it, too. A nice salty and crunchy coating gives way to its meaty center. While McDonald's has ventured into other poultry offerings over the years (we'll never forget you chicken selects!), the nuggets remain the same.
They go wonderfully with the chain's tangy sweet and sour sauce and they can certainly pack a punch with a nice dunk in their buffalo. In the grand scheme of fast food chicken nuggets and tenders, they probably couldn't hold a candle to the wonders at Checkers or KFC, but it is a-okay. We'll likely seek out another chicken option on our visits, like the McChicken, but while they aren't earth shattering in the flavor department, we'd probably revolt if they were ever taken away. Just be sure to eat them while they are still warm as the texture gets questionable as it heads to room temperature.
12. French fries
There is a reason these are considered world-famous fries. In their ideal form, whole potatoes are sliced and then cooked to golden brown perfection in McDonald's blend of vegetable oil. They are generously salted before being presented to us in all their starchy and crunchy glory. We said in their ideal form, because when they are great, they are great, but when they're cold, they are absolutely horrible. As they cool, they ever so quickly morph into petrified, sad potato sticks that can not even be saved by a little ketchup or a dip in creamy ranch dressing. It's happened to us many times so we can confidently attest to such a horror.
We have to thank the McDonald's gods, because on our particular visit, the fries were hot and fresh and we were lovin' it. Keep it up McDonald's, and please don't serve us fries that were sitting on the counter for what feels like an eternity. Thanks!
11. Sausage McGriddles
Y2k brought a lot into our lives, including a marvel in the fast food industry, McDonald's line of McGriddles. Introduced in 2003, it pioneered a new, totally unique breakfast sandwich that was emblazoned with an adorable M on top. On paper, it doesn't sound like it has any shot of working, but after one bite, you'll understand. Available in several varieties, like bacon, egg, and cheese, the classic sausage McGriddles remain ever so popular. "Warm griddle cakes—with the taste of sweet maple" hold their "savory, sizzling hot sausage." The description is intriguing enough to give it a try.
On our visit, we were presented with a Sausage McGriddles breakfast sandwich that was hot and fresh, as expected. It's fantastic, but after a few bites, we found the flavors to air a bit on the monotonous side. In most cases when this happens, you could always shake things up with the addition of sauce, but in this instance, there really isn't any that would work with this. Adding ketchup to a pancake is weird, after all. It left us feeling a bit confused and about halfway through the sandwich, we abandoned ship. If you really love the in-your-face battle of sweet and savory, then this one has your name written all over it.
10. McFlurry with Oreos
If you're lucky enough to find a McDonald's with a working ice cream machine, then you're lucky enough. Or, we think that's how the saying goes. In our battle of which McDonald's items reign supreme, we found it increasing difficult to find a location with an actual operating ice cream machine. Tough times, folks. If you happen to strike gold, you can get your hands on their famous McDonald's McFlurry. Introduced in 1997 and a favorite of many, the McFlurry takes your favorite candy and blends it with ice cream resulting in a cold and creamy flavor explosion topped with a funky looking spoon.
For us, not all McFlurrys are created equal and the McFlurry with Oreo cookies will always rise above. Unfortunately, on our visit, our McFlurry was riddled with inconsistencies. In particular, the treat was not blended but instead crumbled Oreos were simply placed on top. On the bright side, it was still delicious. We absolutely love their soft serve and the addition of Oreo cookies makes for a delicious treat. If you can look past this one glaring flaw, we think you'll be quite pleased.
9. Big Mac
Ah, behold the Big Mac. McDonald's true claim to fame and one meaty giant to boot. Introduced in 1967, it's since become synonymous with the chain and a favorite of fans all across the globe. They even created a little jingle about it in the 1970s that's still stuck in our heads. Let's break this monstrosity down. The Big Mac take two 100%, all-beef patties with Big Mac sauce that is then sandwiched between layers, three to be exact, of a sesame seed bun. It's topped with shredded lettuce, chopped onion, pickle chips, and finally two slices of American cheese. There's a LOT going on here, to say the least.
While it is a staple of McD's, we found it missed the mark completely in the balancing department. This sandwich is inherently flawed in the meat-to-cheese-to-bun ratio. The flavors are there, but they are just off. Each and every bite brought a load of bread with only a little bit of meat. This is a big one, so it will satisfy a big appetite. Unless we're absolutely starved, though, we're probably going to be glancing right over it on the menu.
8. Hotcakes
As if it wasn't already abundantly clear, we are quite a fan of McDonald's breakfast offerings. Tried and true, their morning menu is an affordable and convenient way to get your motors gassed up in the morning. Hotcakes may not qualify as a grab-and-go option, but we think it is absolutely worthy of carving out a few extra minutes in your day. An order of Hotcakes comes with 3 "golden brown hotcakes with a side of real butter and sweet maple flavored hotcake syrup."
Color us impressed, because we were seriously taken aback by these pancakes. Our pancakes arrived piping hot making it abundantly clear that they were freshly prepared upon ordering. It's wonderfully generous portion size for the accompanying price tag, they were very fluffy and frankly tasted like pancakes you'd order from a classic diner. You may not think to order the Hotcakes on your next visit to McDonald's, but trust us when we say you may be pleasantly surprised.
7. McChicken
Much like the chicken or the egg debate, the origin story of the McChicken versus McNuggets may leave you perplexed. We're here to clear the air. The scoop is that the McChicken actually came first, in 1980 to be exact. This proved to be a major disappointment in the sales department and was quickly nixed. The silver lining? This failure actually inspired the release of their Chicken McNuggets, which we all know and love today. Because of that success in the poultry department, they brought back the McChicken in 1988, then took it away for a while, before eventually it made its glorious return in the late 1990s forever becoming a staple of the menu.
This classic with a sordid past features a chicken patty that is topped with shredded lettuce and a dollop of creamy mayo that's brought together on a lightly toasted bun. It's simple. Straightforward. Delicious. We also don't mind dipping it in a little tangy barbecue sauce or even some honey mustard sauce. It's convenient, versatile, cost-effective, and overall a great snack worthy of the small price tag and place on our list.
6. Coca-Cola fountain soda
You might be thinking this is absolutely bananas crazy to have a soft drink so high on our list. Trust us here. This isn't any ordinary Coca-Cola product. The secret to just why this is so fantastic? Well, it all comes down to McDonald's very meticulous methods of soda temperature control. There's no crazy secret recipe here. Instead, the soda syrup is delivered to them and stored in stainless steel tanks that help to regulate its temperature, air levels, and minimizing any exposure to light. All three have a major impression on the product and can quickly degrade the flavor. The water that's then filtered through the soda machine is also kept at a chilly temp to further maintain its integrity. if you're looking to impress friends at a next party you can share with them exactly why every sip of McDonald's Coke is extra crisp and bubbly.
We also love the extra big straw that accompanies the drink further ensuring that all the flavors go directly from the cup to making a grand entrance to your taste buds. Even if you're not a regular soda drinker, this hits the spot and is a must-try.
5. Hash Brown
The McDonald's hash brown is an absolute must-have when hitting the Golden Arches in the morning. With just eight ingredients, they've been on the menu since the 1970s and arrived just a few years after they introduced the fast-food masses to breakfast. Made from shredded potatoes, these hash brown patties are soft on the inside while being enveloped in a crispy, toasty exterior that is generously dosed with salt. It is a pure delight in one handheld paper sleeve and one we find grabbing ourselves again and again.
Another thing we absolutely love about them? They are so consistent. Unlike its sibling the troubling French fry, these marvel us even when they reach a cooler room temperature. The flakiness of the potato is perfectly complimented with just a tiny bit of grease. Pro tip: Ask for buffalo sauce on the side and just wait to have your mind blown.
4. Double Cheeseburger
We must clear the air first. There is a difference between the McDouble and a Double Cheeseburger … and it's a pretty big one (in our opinion at least). Let's break down their similarities. They both feature two 100% all-beef patties that are seasoned with salt and pepper and then topped with pickle slices, chopped onion, ketchup, and mustard. But, here comes the biggie: The McDouble only has one slice of American cheese and it's sandwiched between the two beef patties. On the other (and better) hand, the Double Cheeseburger elegantly stacks the two beef patties with two slices of cheese. It's clear who the winner is in this case.
It's also been known to cure a few hangovers and end a few wars in our day (okay, just the first part is true). It clocks in at a whopping 25 grams of protein and just 450 calories making for a suitable snack or light meal.
3. Spicy Crispy Chicken Sandwich
Usually, we're all about the 'oldies but goodies,' but this newbie has positively won us over, therefore, earning a spot near the top of our list. The battle of fast food chicken sandwiches is fierce, and McDonald's entered the ring with guns blazing. Launched in early 2021, it's a simple and straightforward approach to the spicy crispy chicken sandwich. It features a fried chicken breast that is topped with pickles and a mayo-based pepper sauce all sandwiched in between a buttery potato roll.
Upon the first bite, we argue that this could easily pass as a sandwich from a full-service dining location. The chicken was executed very well, with a nice crunchy exterior, and seemed freshly prepared. We also got a welcomed level of spice from the sauce that is rare in the fast-food world. It's also interesting to note that they created a new bun just for this sandwich as well as crinkle-cut pickles. Kudos to you, McDonald's!
2. Egg McMuffin
In the world of fast-food breakfast, nothing has continually impressed us time and time again like the McDonald's Egg McMuffin. Introduced in 1971, It is the first-ever quick service restaurant breakfast sandwich, and dare we say, the G.O.A.T. What was dreamt up as a crazy idea to mimic an eggs benedict but in an on the go form, has become one of the most beloved breakfast items of all time. It spurred a slew of imitators but none that came even close to replicating our first and only.
The Egg McMuffin features a "freshly cracked Grade A Egg," in perfect circular form might be add, with American Cheese and a slice of Canadian bacon, all sitting atop a toasted English Muffin. It's utterly delicious and at just 300 calories it has the added bonus of being a great source of protein featuring nearly 20 grams of the good stuff. There's also just something about those bites of cheese that somehow melt off the sandwich and get stuck to the paper wrapping that we can't resist. Whatever you are doing McDonald's, please don't ever change.
1. Quarter Pounder with cheese
Burgers are what landed McDonald's on the map and it only makes sense that in all of its various incarnations they eventually perfected it … And, so enters: the Quarter Pounder with cheese, or as the cool kids say, the QPC. The 100% all-beef, 4-ounce fresh patty is impressively cooked to order and seasoned with a dash of salt and pepper before being grilled to perfection on their flat iron top. It's topped with slivered onions, pickles, and two slices of melted American cheese, one on the top and one on the bottom, that's loaded onto a sesame seed bun.
McDonald's has nailed it here. They've finally achieved the perfect bun to meat ratio with its 4 ounces of beef holding up its own to the sturdier sesame seed bun. The quality is there and it's apparent in every bite that this was, in fact, made to order. We also love the use of two slices of cheese as we feel that utilizing one would have caused that welcomed flavor to be completely lost by all the meat. Where's the beef? We found it and it's at McDonald's. Don't sleep on this one, friends.