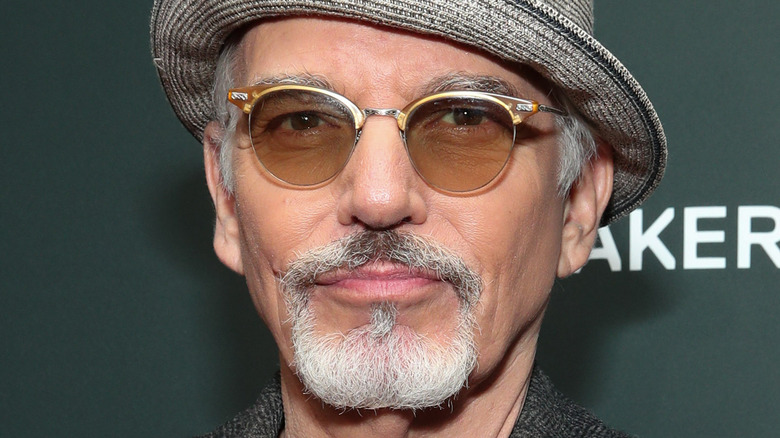 Billy Bob Thornton is a well-known name in the film industry. According to Style Weekly, though, he first started working as a musician and was a part of a ZZ Top cover group called Tres Hombres before trying his luck as an actor. Life hasn't been a smooth ride for Thornton. He's seen it all: tragic losses, a difficult childhood, poverty, addiction, heartbreak, and more. And he's pretty self-aware, too.
He told NBC News in an interview that he has his own set of insecurities to work through and demons to face. He said, "As many movies as I've done, I'm still not a real — I'm confident, I'm very confident as an actor when I'm doing it, but not real confident that I'll work again." He went on to explain that when he is asked to play a part, it's quite likely that five other actors have been asked before him and have refused the opportunity.
When Thornton was asked whether he wishes to be included in the film industry a bit more and be admired for who he is, he replied, "I want to be liked, yeah. I want to be liked without playing the game." Here's the tragic real-life story of Billy Bob Thornton.
His family was poor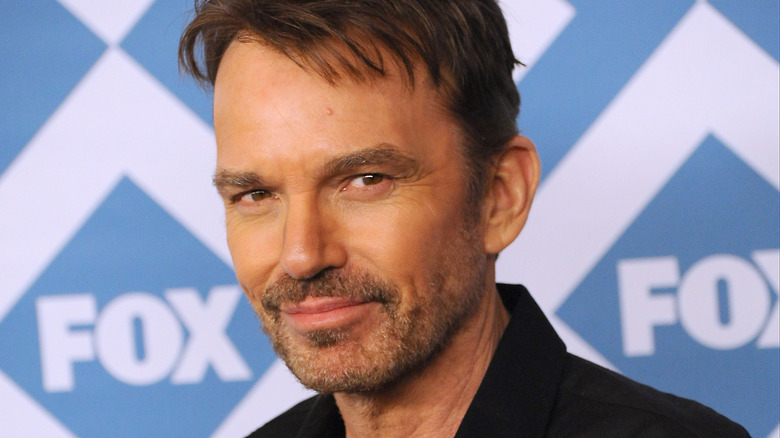 For Billy Bob Thornton, childhood was hardly a rosy affair. There were a lot of obstacles to overcome, and his family often didn't have enough food to eat. According to Entertainment Weekly, he was raised in Malvern, Arkansas, in a large family. His folks basically ate the food that his grandfather managed to bring home after hunting. Thornton would help out his family later by working in factories and doing various local music gigs.
Not being privileged also meant that Thornton saw some horrifying things as a kid. For example, he witnessed a fatal hit-and-run accident right outside his home when he was six years old. He also heard a neighbor dismissing the entire incident because the victim was Black (via GQ).
The one good thing about being a kid, Thornton said, was being blissfully unaware of the hardships that they faced as a family. He told ABC News, "We didn't have a lot of money. But you know when you're a kid you don't know that. I mean you're not aware of all of that kind of stuff."
Billy Bob Thornton struggled with dyslexia
According to Showbiz Cheat Sheet, Billy Bob Thornton has struggled with dyslexia ever since he was a kid. This made school very difficult for him, and he also found himself struggling later as a professional actor. In fact, he often needed someone else to read out his lines to him on set so that he could remember them. He even made a film on the subject called "Dislecksia: The Movie." The documentary dug deeper into the condition and looked at the solutions needed to overcome the difficulties associated with dyslexia.
The actor revealed more details about his childhood experiences in a conversation with Men's Journal. Thornton explained, "I was severely dyslexic, so I was just kind of known around school as a moron. Nobody really encouraged me. Dyslexia drives you, because you're trying to overcome this thing." He added that he'd heard something that applies to his life: Researchers believe that kids with conditions such as dyslexia end up excelling in fields like the arts to "compensate in other ways."
He couldn't pursue his baseball dreams
When Billy Bob Thornton was still a teenager trying to figure out what he wanted to do in life, he hoped that being a decent baseball player meant that he could pursue a career in the sport. He'd done quite well for himself as a pitcher in high school and aspired to play for the St. Louis Cardinals (via the Chicago Tribune.)
Thornton did get the chance to participate in a tryout for the Kansas City Royals but was hit by a series of unfortunate events. Sadly, 30 minutes into the game, he was badly injured when a ball hit him hard, breaking his collarbone and leaving him thoroughly gutted. Thornton said, "At the time I was devastated. Who knows if I could have been any good?"
The setback hurt even more because Thornton's dad was a basketball coach. When Thornton decided to try his luck at acting later, he was discouraged by many folks around him. However, his mother offered him hope and said that he would outdo himself in the future. She even predicted that her son would come home with an Oscar one day.
He had an abusive childhood
Home was definitely not a safe space for Billy Bob Thornton as a kid. According to GQ, Thornton would wait in fear for his dad to return home from work, counting to 100 several times in the final minutes before his father came in. He has lived with obsessive compulsive disorder since childhood, and he hoped that this ritual would guarantee that the night would go smoothly. His dad was an abusive man who terrified the entire family and regularly hit Thornton and other family members.
As per NBC News, Thornton's mother said that her son was often beaten as a child, and her husband would even use a belt at times. Thornton said that the first time he was hit, he was three or four years old. When asked what advice would he offer to someone else who had been through something similar, he said, "I say get away from it, but don't punish the person who has inflicted it upon you. Forgive them and leave."If you or someone you know may be the victim of child abuse, please contact the Childhelp National Child Abuse Hotline at 1-800-4-A-Child (1-800-422-4453) or contact their live chat services. Also, if you or someone you know is dealing with domestic abuse, you can call the National Domestic Violence Hotline at 1−800−799−7233. You can also find more information, resources, and support at their website.
Thornton really struggled to get an acting gig
Acting wasn't an easy profession to get into for Billy Bob Thornton. According to a piece by The Things, the actor spent many years netting minor roles in films such as "For the Boys," "Tombstone," and "Indecent Proposal." Success was really hard to come by, as far as Thornton was concerned. When it finally did come, it was through a movie that he directed, scripted, and acted in: "Sling Blade."
Thornton hasn't taken his success for granted and thinks acting isn't a function of talent alone. He said that in order to be a really powerful actor, a person needs to think about some of the most impactful moments from their life, focus on how they felt back then, and use that emotion to play a role convincingly.
As detailed by Men's Journal, the actor was in his 40s when he finally got noticed. In other words, he had to wait a long time for success. When he was asked about how long it took, he said that he persevered due to his own ignorance, always believing no matter what that he'd be noticed sooner or later. He added, "If I had made it when I was in my 20s, I think I would have grabbed everything I could. And there's no telling where I would have ended up."
He had many unsuccessful marriages
Romance was a tough nut to crack for Billy Bob Thornton. According to the New York Daily News, the actor has been married several times. His first marriage was to a woman named Melissa Lee Gatlin, and the couple had a daughter, Amanda Brumfield. Thornton and Gatlin were only married for two years. Later, he dated actress Toni Lawrence and married her in 1986. They, too, decided to break up in a couple of years.
After that relationship broke down, Thornton tied the knot with another actress, Cynthia Williams, in 1990 and even worked with her in a film called "One False Move." They split up after a brief period together. Thornton tried again and married a Russian actress named Pietra Dawn Cherniak. They had two kids together before calling it quits.
Thornton proceeded to date actress Laura Dern. They were engaged to be married, but things turned sour when Thornton met Angelina Jolie. They made things official in 2000. Unfortunately, this didn't last very long, either, and the pair divorced in 2003. After his breakup with Jolie, Thornton was rumored to have dated actress Téa Leoni, who once said, "Billy Bob is my new favorite person in the world."
After several attempts, Thornton seems to have found everlasting love and has been married to his current wife, Connie Angland (pictured), since 2014. They'd known each other for 12 years before tying the knot.
His split with Angelina Jolie was particularly rough
Billy Bob Thornton has expressed regret for his spilt with Angelina Jolie. He told NBC News in 2004 that the relationship was definitely worth fighting for, saying, "Angie was the only person that I ever had a chance with. And I screwed that up." When he was probed further, Thornton explained that he was insecure in the relationship and scared. He explained, "I was afraid of her. She was too beautiful for me. She was too smart for me. She had too much integrity for me. I felt so small next to her."
Their relationship and breakup received a lot of media attention. The couple had been known for being vocal about their affection for each other, and they'd even sported matching tattoos.
What did Angelina Jolie think about the relationship? Well, as per Showbiz Cheat Sheet, the actress felt that they ended up drifting apart as a couple and simply could not find their way back to each other. They didn't have much to talk about and had different passions, something that the actress acknowledged. She said, "It was just totally different paths in life, and then we just looked at each other one day and we had nothing to say to each other."
Billy Bob Thornton has faced several health issues
Billy Bob Thornton has dealt with obsessive compulsive disorder for a long time. The actor told NBC News that it can be an exhausting experience to live with it. He described his OCD with the following example: "You're constantly doing mathematics in your head. … Certain numbers represent certain people. And I can't use that number in a certain circumstance."
Additionally, as per ABC News, his dedication to doing justice to movie roles meant that he would experiment with food and his eating habits, constantly putting on weight or shedding pounds to fit each role. He was so obsessed at one point that he found himself battling an eating disorder. He survived on just tuna and Twizzlers for an extended period of time to come across as "gaunt" in one of his films. According to Vulture, Thornton has dealt with several phobias as well, and he struggled to keep his fears in check when shooting for the film "Love Actually."
If you are struggling with an eating disorder, or know someone who is, help is available. Visit the National Eating Disorders Association website or contact NEDA's Live Helpline at 1-800-931-2237. You can also receive 24/7 Crisis Support via text (send NEDA to 741-741).
Thornton battled a smoking addiction
Billy Bob Thornton had a smoking habit that he found difficult to get rid of. He couldn't help turning to it despite the fact that he lost his father to lung cancer. He told NBC News, "I wish I didn't do it simply because it hurts other people in my life." He admitted that he enjoyed smoking and would've been very happy if someone could tell him that it wasn't harmful to his body after all. Thornton said, "Some people love hot fudge sundaes I love this — this thing."
Thornton also spoke about how difficult his father's last moments were and said that he was hallucinating toward the end, something that was very hard to witness. Thornton stayed by his father's side, despite their troubled history. He said that it was traumatic to see his father suffering so much and that he wasn't okay with leaving him all alone.
If you or anyone you know is struggling with addiction issues, help is available. Visit the Substance Abuse and Mental Health Services Administration website or contact SAMHSA's National Helpline at 1-800-662-HELP (4357).
Billy Bob Thornton lost his brother
Losing his brother in 1988 was a harrowing experience, something that Billy Bob Thornton couldn't really come to terms with. He was 33 years old and was working in the film industry, trying to make a mark for himself, when his brother, Jimmy, passed away unexpectedly. He had a heart ailment that had remained undiagnosed until that point. Thornton made a heartbreaking confession to the Huffington Post: "I've only had a couple of times in my life when I was carefree… For a couple of years I felt OK, which is very rare for me. And then he died. I've never trusted happiness since."
Thornton had already been afraid of losing his brother for years. As per GQ, he once woke up at night and thought the worst had happened when he looked at his brother in bed and thought he wasn't breathing. To his relief, it turned out that this was false and Jimmy was alright. Sadly, he did die years later from ventricular fibrillation when he was only 30 years old.
Thornton told the Huffington Post that losing Jimmy changed him in many ways. He explained, "I don't want to forget what it felt like when he died, because he deserves [that remembrance]. That's how important he was to me."
One of his daughters was convicted in a disturbing case
Billy Bob Thornton's daughter from his first marriage, Amanda Brumfield, was involved in a horrifying incident in 2008. As per People, Brumfield was not on talking terms with Thornton at the time. She was ultimately convicted of aggravated manslaughter in a disturbing case that involved a baby's death, for which she was deemed responsible.
In her defense, Brumfield claimed that the child, whom she'd been babysitting in October 2008, had an accidental fall from her playpen. Investigators refused to believe this and felt that the baby's injuries were far too severe and didn't align with Brumfield's claims. She was found guilty in 2011. Thornton released a public statement on the case, expressing his support for the baby's family. He said, "Anytime a baby's life is lost is an unimaginable tragedy, and my heart goes out to the baby's family and loved ones."
He lost some of his best friends
Billy Bob Thornton is no stranger to loss. He lost one of his closest buddies, actor John Ritter, with whom he'd worked on the film "Bad Santa," in 2003. The actor died from a heart complication. Thornton told NBC News that it was rather difficult to cope with Ritter's death. He said, "No matter what your beliefs are about life, you know, the fact of the matter is, is that you miss people when they go."
As per Entertainment Weekly, he lost two other close friends, Warren Zevon and Johnny Cash, around the same time. He was gutted. "It was really sh*tty," he said, recollecting that he experienced pain in his chest when he found out about Zevon's death. And then he found out about Ritter's demise a few days later. He was shocked. The following day, it was announced that Johnny Cash was no more. Thornton implied that it felt unreal and difficult to believe. He said, "It was like a cartoon, you know?"