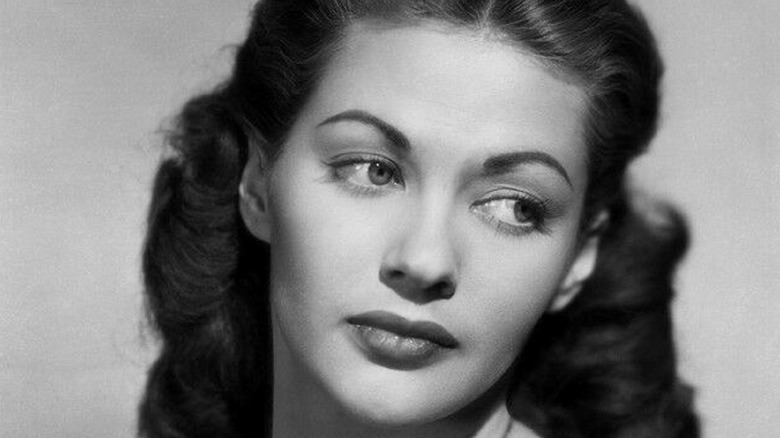 Yvonne De Carlo, born Margaret Yvonne Middleton in Canada in 1922, was an actress popularly known for playing the character of Lily Munster in the sitcom "The Munsters." She grew up in a poor household with a single mother, who had dreams of one day having her daughter be a star in Hollywood. De Carlo was an entertainer from the start and performed in her neighborhood while she studied acting and dancing. In 1940, she traveled to Hollywood to pursue her dreams, and she worked in chorus lines while auditioning for roles in different films (via IMDb).
In the early 1940s, De Carlo secured several small and uncredited film roles, but that didn't stop the aspiring actress from achieving her dreams of stardom. It was in 1945 when she finally got a starring role in the movie "Salome, Where She Danced." From there, her career in the entertainment industry skyrocketed, and she became known as a multi-talented international star.
The Royal Canadian Air Force helped secure her first lead role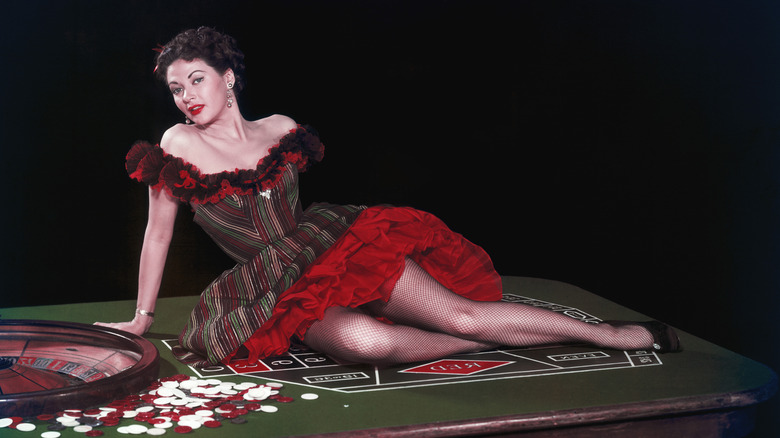 Before "Salome, Where She Danced." Yvonne De Carlo didn't have lead roles under her name. According to My Vintage Photos, about 20,000 women auditioned for the lead character, but De Carlo stood out among the rest. She was so driven to get the role that she devised a plan that could help her. She took a few pictures of herself in pin-up fashion and asked her two childhood friends from Canada who became pilots to campaign for her. De Carlo's friends gave out her pinup photos to people at the Royal Canadian Air Force, and everyone loved it.
Although "Salome, Where She Danced" wasn't a critical success, De Carlo was praised for her performance. One film critic, Bosley Crowther, wrote, "Miss De Carlo has an agreeable mezzo-soprano singing voice, all the 'looks' one girl could ask for, and, moreover, she dances with a sensuousness which must have caused the Hays office some anguish. The script, however, does not give her much chance to prove her acting talents."
Yvonne De Carlo recorded an album with John Williams
Yvonne De Carlo wasn't just an actress and dancer. She also had a beautiful singing voice, and she shared it with the world when she decided to record an album. "Yvonne De Carlo Sings" was released in 1957 and consisted of 10 tracks, and some of the songs included are "Blue Moon," "End of a Love Affair," and "Little Girl Blue" (via Discogs).
The album was recorded in collaboration with John Williams, who went by the name John Towner before he became known for his iconic film scores. Back then, Williams had just started working in Hollywood as a studio pianist for a few movies, according to Britannica. John Williams conducted the orchestra that provided music in De Carlo's tracks. Later on, Williams would be known for the musical scores he composed for films, such as "Jurassic Park," "Schindler's List," "E.T.: The Extra Terrestrial," and many others.
She took the role of Lily Munster for financial reasons
By the 1960s, Yvonne De Carlo's Hollywood career wasn't as active. She had fewer jobs and took roles in B-movies as well as guest appearances on TV shows. It was in 1962 when the actress' life took a downward spiral. Her husband, stuntman Bob Morgan, got into a horrific accident while filming the movie "How the West Was Won" from MGM. He was run over by a train on set and lost his left leg as a result (via Do You Remember). The couple sued MGM for the accident, but it was deemed that the production company had no fault in it.
Medical expenses were piling up, and De Carlo worked hard to cover the bills. She took to working in nightclubs, but she was slowly getting deeper into debt. It was then when Universal Pictures offered her the role of Lily Munster in the new sitcom that was being developed. Desperate for work, De Carlo signed a contract to play the role, despite the character being far from what she typically portrayed on screen. Little did she know that Lily Munster will be the character she will be best known for.
Yvonne De Carlo drove a customized Jaguar sedan
According to her son, Yvonne De Carlo loved watching horror movies. "She used to yell 'spooky movie,' and we'd run to watch them with her," her son said via the Los Angeles Times. In fact, she loved horror so much that she decided to customize her personal car with creepy decorations. It was during her time working on "The Munsters" that De Carlo bought a 1965 Jaguar Mark X.
The actress wanted a fun vehicle to drive, so she decided to have it decked with ghoulish elements. George Barris, who helped customize the car, said, "She was a wonderful lady and a car buff. She loved the show so much that she incorporated it into her life, her own car," as reported by Tahoe Daily Tribune. The Jaguar had spider web hubcaps, a black sunroof, a gargoyle hood ornament, a Dracula crest, and custom gold coffin rails. However, the actress had to sell her beloved car, as it was repeatedly vandalized by fans who wanted to have a souvenir.
She has two stars on the Hollywood Walk of Fame
Yvonne De Carlo has two stars on the Hollywood Walk of Fame — one for the Motion Picture category and the other for Television, per Walk of Fame. She appeared in more than a hundred movies in her decades-long career, and her most notable roles include Anna Marie in "Salome, Where She Danced," Amantha Starr in "Bond of Angels," and the wife of Moses, Sephora, in "The Ten Commandments." In regard to her iconic role as Lily Munster, De Carlo said, "It meant security. It gave me a new, young audience I wouldn't have had otherwise. It made me 'hot' again, which I wasn't for a while" (via Tahoe Daily Tribune).
Although "The Munsters" was on air for only two seasons, the sitcom, as well as De Carlo's role, made a mark. Kevin Burns, a producer and the actress' friend, stated, "I think she will be best remembered as the definitive Lily Munster. She was the vampire mom to millions of baby boomers. In that sense, she's iconic." De Carlo's last role was Norma in Disney's TV movie "The Barefoot Executive," which was released in 1995. She had a stroke in 1998 and died of heart failure in 2007 at 84 years old.