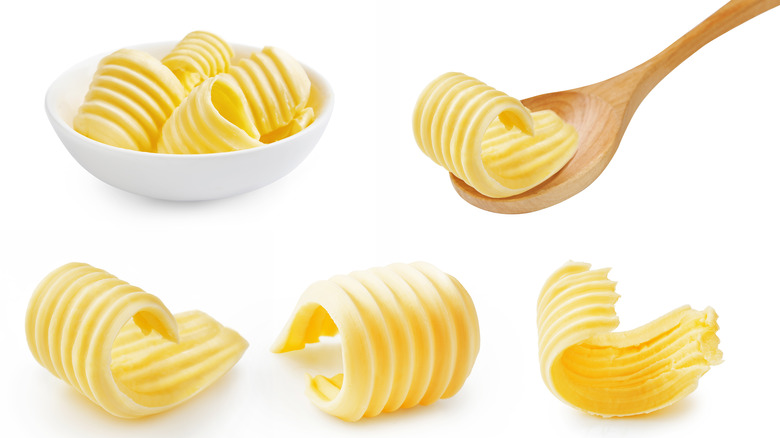 If you've ever cooked anything before, then you've likely worked with butter before. And if not, then you've definitely had butter at a restaurant, or at the very least, eaten something with butter in it, whether or not you were aware of it. Suffice it to say, butter is kind of a big deal. More than that, butter is delicious. Creamy, soft, and savory, butter is incredible, versatile, and oh-so-important, as any chef will tell you. But what you might not know is that some brands that people think are butters are actually margarines, which are spreads made from vegetable oils rather than pure cream like butter.
Whether you're cooking or baking, butter and margarine are typically staples in the kitchen, and if you're like most people, you probably don't make your own at home. So, if you want to know all the most popular butter and margarine brands, ranked worst to best, then keep reading! Because seriously, there are some store-bought butters that are better avoided and others that are highly impressive, and you'll want to know which is which. Want a hint? Most margarines are not that good.
16. Imperial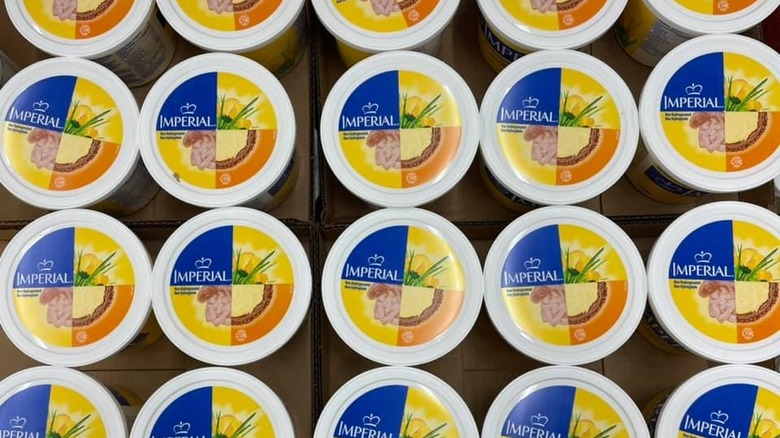 Imperial is definitely one of the cheaper brands out there, and it's pretty easy to find at most grocery stores. Because of that, many people rely on Imperial to meet all their butter needs. But what you might not know is that Imperial isn't butter. On the contrary, it's actually a vegetable oil spread. The ingredients in Imperial might be off-putting, too. It's made up of familar ingredients such as vegetable oil, water, salt, and whey, and a bunch of other science-y sounding additives like distilled monoglycerides, soy lecithin, potassium sorbate, and calcium disodium EDTA. Yeah, not exactly gourmet ingredients, is it?
And while that alone doesn't necessarily mean that Imperial is bad, reviews of the butter seem to indicate just that. "This product is okay," one person wrote on Influenster. "I'm not crazy about it because I feel like it's more oil than butter flavor but it's cheap and it works!" Like they said, it's cheap and gets the job done, but it's not the best.
15. I Can't Believe It's Not Butter
As the name of this product would imply, it's not, actually, butter. While I Can't Believe It's Not Butter has fewer ingredients than Imperial, and that's definitely appealing in terms of a quality product, that doesn't mean it's perfect. The ingredients include multiple vegetable oils, salt, lecithin, natural flavors, vinegar, vitamin A palmitate, and beta carotene. If you're wondering what all that tastes like, it basically tastes like imitation butter, unsurprisingly.
And the reviews of I Can't Believe It's Not Butter seems to echo the sentiment that consumers don't actually confuse it will the real stuff. "After trying this, I CAN believe it's not butter. It tastes like canola oil — not butter," one person wrote. "It's not butter this stuff is actually one molecule away from being the container it comes in," another added. I Can't Believe It's Not Butter is definitely one of the worst butter brands out there, and it's best to steer clear.
14. Parkay
Another cheap and widely available option for margarine is Parkay. But that doesn't mean it's something you should try. Not only is Parkay not even close to real butter, but the ingredients list is super long and a bit concerning if you're health-conscious. Among other ingredients, Parkay contains liquid soybean oil, water, salt, as well as hydrogenated cottonseed oil, vegetable monoglycerides and soy lecithin. There's even more, but the gist of it is that Parkay is made up of a lot of not-so-great ingredients, and that makes the taste less than stellar.
But don't just take our word for it. Reviews of Parkay butter products prove that the brand is seriously bad. "​​​​Parkay doesn't have the nicest taste," one person wrote. "This butter is terrible tasting and it is so runny that [it] is almost like water when poured," another added. "It isn't spreadable either because it absorbs into whatever you put it on before you can taste it." Clearly, you don't want to waste your time with Parkay.
13. Smart Balance
In terms of margarine products, there are a few brands that attempt to paint themselves as healthy alternatives to real butter that actually aren't all that healthy. And Smart Balance is just one such brand. Once again, Smart Balance is not technically a butter product, it is a vegetable oil spread. Smart Balance contains a vegetable oil blend made up of canola, palm, extra virgin olive, and flaxseed oils, as well as salt, water, sunflower lecithin, vitamin A palmitate, beta carotene, and even more.
And reviews of the brand aren't happy with the product, either. "I thought this would be easy to spread but it's so hard to pick up with a knife and spread onto anything," one person wrote. "I like butter alternatives but margarine is blah," another added. So clearly, Smart Balance is not only lacking in taste, but the texture isn't even all that great. Basically, avoid it.
12. Country Crock
One of the most popular butter brands out there is definitely Country Crock. Though not technically butter, Country Crock certainly tries to imitate that butter taste in a smooth, spreadable creation. The ingredients in Country Crock, though, are a bit concerning. There's a variety of oils including soybean, palm kernel, and palm oil, as well as salt, lecithin, and Beta Carotene, among other artificial ingredients.
Reviews of Country Crock make it clear that the butter spread isn't all that great. In fact, people aren't that fond if it. "Had a stale bad taste to it, almost like freezer burn," one reviewer wrote. "This in my opinion is not edible. Definitely would spend a little more to get actual butter that taste[s] better," another added. Yes, Country Crock is not the best quality butter out there, but as far as spreads go, it's probably one of the best. Still, if you want real butter, this is so not the way to go.
11. Brummel and Brown
Brummel & Brown is far from your typical spread. The product claims to be healthier than actual butter because it's made from yogurt. But when you look at what is actually in it, there are still some vegetable oils and other ingredients that make it far from the ideal butter product. For instance, there's soybean oil, nonfat yogurt, palm kernel and palm oil, modified corn starch, salt, mono and diglycerides, potassium sorbate and more. So Brummel and Brown isn't really healthy. More than that, it doesn't taste that great.
As reviews of the brand claim, the butter isn't the worst, but also not the best. "I personally felt this tasted a little plastic. It wasn't as good as other products I've tried. It had a strange aftertaste. Needs to taste more natural," one review complained. But some people actually really enjoy it. "I love this butter. It's made with yogurt so the calories are much lower but it still tastes good. Just not ideal for cooking," another added. Brummel and Brown is pretty mediocre, and beware that it's not all that healthy.
10. Challenge Butter
If you want a butter that's actual authentic butter, then Challenge Butter fits the bill. With just two ingredients, ​​pasteurized cream and natural flavoring, Challenge Butter is about as real as you can get. But just because it's actual butter and not a vegetable spread designed to taste like butter, doesn't mean it's is the best brand of butter out there.
Though the quality of Challenge Butter isn't the best, people still tend to like the taste. "Its the best butter on the market. Just notice how many celebrity/YouTube chefs use challenge. There is no substitute," one review read. "This butter is completely fine. Just nothing extra special to justify the price," another added. Challenge Butter definitely has good flavor, and an impressive ingredients list, but store-bought butter has come so far recently that there are still a ton of better options out there, believe it or not.
9. Danish Creamery
It's no secret that when it comes to store-bought products, there is no shortage of preservatives, additives, and artificial flavorings on the ingredients list. From snack foods to candy to pasta sauces and so much more, it seems as though so many foods in the United States are chock-full of unnecessary ingredients, and that includes many butter brands. But fortunately, Danish Creamery isn't one of those brands.
In fact, Danish Creamery butter might be one of the best butter brands out there. It's been around since 1895 and the recipe has stayed the same that whole time as well: just cream and sea salt. But the taste is top-tier as well. Reviews of Danish Creamery butter rave about the product. "It held up well, has a nice taste, good saltiness and goes great on popcorn or toast. I will definitely buy this again," one review said. "My staple butter brand. It has a great taste and quality. Its price is good and usually has a rebate. I wish I knew if it were fully grass finished," another added. Despite not knowing if the butter is grass-finished or not, it's still an impressive product.
8. Vital Farms
Vital Farms butter seems to have a lot of good things going for it. The label boasts of pasture-raised butter from family farms, and that it's made in the U.S.A. Plus it only has two ingredients: cream and sea salt. While it's certainly a pretty good brand of butter, though it's far from the best, and reviewers of the brand can't help but notice that it tries a little too hard to imitate another brand of butter, but doesn't quite pull it off.
Reviews of Vital Farms butter definitely make it clear that the brand isn't the best. "It doesn't really melt as well as Kerrygold. I mean they are the standard. And if [Vital Farms] can't compare then back off. Especially with this price. Awful," one reviewer wrote. "Kerrygold is better in terms of flavor, smell, and color," another put it simply. Whatever the case, Vital Farms isn't the best store-bought butter out there, that's for sure.
7. Cabot Creamery
While not in every grocery store in the country, Cabot Creamery butter is still a pretty popular and well-known brand. So, if you're looking for new butter for your next grocery run, you might want to give it a try. However, you also might be disappointed when you do. The ingredients in Cabot Creamery butter are pretty simple and impressive, just cream and natural flavoring. That said, it's not for everyone, and there are certainly better butter brands out there you can try.
Reviews of Cabot butter range from pretty critical, to pretty positive actually. "I don't think this tastes nearly as good as other butters," one reviewer wrote. However, another praised the product. "This butter had such a nice rich but gentle flavor. You can really tell the difference between this and store brand or other name brands," they said. So, Cabot Creamery butter might just be one that you have to try for yourself to see whether or not you like it. Whatever the case, it's pretty mediocre, that's for sure.
6. Land O'Lakes
When you think of Land O'Lakes butter, you probably don't think of it being the best butter out there. And it's not, not by a long shot. But it's still pretty tasty. And while Land O'Lakes isn't the healthiest butter out there, it's also not terrible for you. Yes, the ingredients in Land O'Lakes butter are actually pretty impressive: simply sweet cream, olive oil, and sea salt,
The reviews of the butter seem to agree that it's pretty darn tasty — well, for the most part. Of course, there are some critiques. "It's okay. I mean it is salty and is better than a lot of others but I prefer different ones. This one just has a weird texture and is too greasy feeling for me," one person wrote. "The flavor is fantastic. The consistency is as good as it gets. The only downfall is the price, but it's well worth it," another added. Clearly, Land O'Lakes is a decent, widely available brand of butter.
5. Darigold
Darigold is another butter brand that's not always widely available, and you might not have even heard of it before. But if you see it at your grocery store, it's definitely worth a try! The only ingredients are cream and salt, and the taste is pretty good for a butter that's not as pricey or popular as other brands.
Reviews of Darigold butter seem to indicate that it's pretty popular among regular butter users, though it might not be the absolute best. "This is my backup butter choice when it comes to baking. Usually buy this if it's on sale at the store because it works the same as the Tillamook butter. It has good flavor and doesn't ruin your baked goods," one person wrote. "This is a great butter to use," another added. "[I] have tried many others and this one isn't bad at all." Darigold butter is definitely a good brand, just not the absolute best.
4. Horizon Organic
The butter from Horizon Organic is just like every other dairy product from the brand. It's top-tier, made with quality ingredients, and pretty darn healthy as far as butter goes. The only ingredients are Grade A pasteurized organic cream and salt. According to Horizon Organic, their butter is "made with milk produced on our farms by cows not fed GMO feed or given growth hormones or antibiotics." And that's what makes the brand so good and such a great product.
Don't believe us? Just check out this review of the butter, which is basically a love poem: "How do I use this butter? Well here's the thing, how DON'T I USE THIS BUTTER! I use, I abuse it! My arteries are clogged from it!" Clearly, the Horizon Organic butter is not to be missed. While it's still not as tasty as other brands, it's very much impressive and one brand that you should try.
3. Tillamook
If you just so happen to be a big cheese or ice cream lover, then chances are you recognize the Tillamook brand. Tillamook is known for being high quality, totally affordable, and available in most grocery stores. The cheeses from Tillamook are creamy, flavorful, and delicious, so it makes sense that their butter would be just the same. Made with just cream and salt, Tillamook butter is about as clean and simple as it gets, and the taste perfectly reflects that.
Yes, reviews of Tillamook butter are positively, well, positive. "Buttery! I am no butter gourmet, but this stuff does the trick," one person wrote. "We like Tillamook cheese so much, we named our dog after it," another reviewer claimed. "The butter is no slouch either. Highly recommended for fresh, buttery flavor." Tillamook butter is definitely one of the best store-bought butter brands out there, so next time you're doing your grocery shopping, definitely give it a try.
2. Organic valley
Another great brand of store-bought butter is Organic Valley, which makes a lot of dairy products as well. Not only is Organic Valley butter obviously organic, but it's pretty healthy and, tasty. Organic Valley butter is made with only pasture-raised milk, and sometimes salt, but the ingredients are of the highest quality, and you can't deny the flavor is beyond amazing.
Reviews of Organic Valley butter definitely seem to indicate that the brand is high quality and tastes great. "This is my favorite butter," one review exclaimed. "It does cost more but you get what you pay for." Of course, Organic Valley butter doesn't get across-the-board perfect marks, though the complaints are minimal. "Has a nice buttery taste and melts evenly in a frying pan. No added preservatives or [GMOs] used. Could have a little more salt," another review remarked. Clearly, this is one of the best butters you can buy at the store.
1. Kerrygold
Our absolute favorite butter brand you can buy in stores is Kerrygold. The only ingredients are pasteurized cream and salt. But what really sets the brand apart from other butter brands is that Kerrygold butter is made with cream from grass-fed Irish cows, and the difference is pretty noticeable.
Reviews of Kerrygold butter prove that the brand has an almost cult-like following. "The best butter I've ever tasted. I use it for all of my baking as well and it makes a massive difference in how my baked goods taste. I am a repeat customer. I don't use anything else. I highly recommend it!" one reviewer wrote. "This butter was recommended to me by the nutritionist. It has a flavor that reminds me of butter made at home from the family's ranch cows. I use it to cook sweet foods or for desserts," another added. Seriously, for the most authentic butter taste, there's no beating Kerrygold.