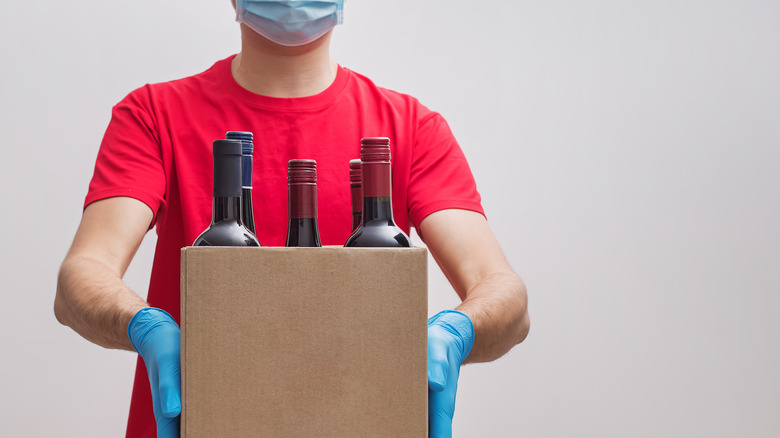 In case you hadn't noticed, 2020 gave us all a reason or two to have a drink or three. There was civil unrest, a stressful political season, and of course the wretched COVID-19 pandemic. If wine is your usual drink of choice — whether for perfect pairings at meal time, a relaxing moment on the couch once the kids are asleep, or to sip from a mug during yet another painstaking Zoom meeting — 2020 also made it harder to find favorite bottles, as many of us avoided going out to shop (even though liquor stores were deemed essential businesses and remained open during the pandemic in most areas, albeit often with strict safety protocols in place).
The good news is that it's easier than ever to find and buy great bottles of wine online. And as more and more customers are turning to the web to buy their wine, beer, and spirits, you can count on online booze buying to become ever easier and more popular as time goes on. According to a survey conducted by Drizzly, independent American liquor stores saw their online sales more than double (from 5% to 11%) during the COVID-19 pandemic compared to sales from the year prior. And a survey by vinSUITE conducted just after the 2020 Thanksgiving holiday saw a 78% increase in online wine sales compared to the Thanksgiving week of 2019.
Online wine sales are here to stay, and here are ten of the best places to get your wine online.
Underground Cellar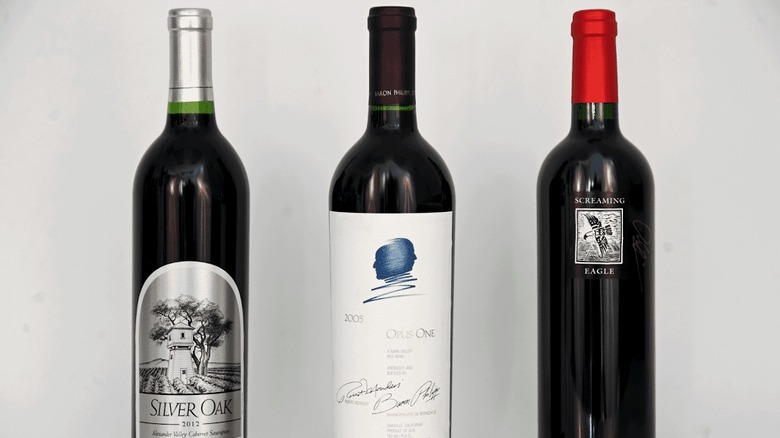 Buying wine from Underground Cellar is a bit like playing Russian roulette, except that instead of potential tragedy, you have the potential to get amazing bottles of wine for a fraction of their price in the best case scenario and getting a selection of fine wines at fair market prices in the "worst" case scenario. When you shop from Underground Cellar, you don't select individual bottles of wine, but rather you choose a given collection. These have names like Wondrous Cabernets or Gorgeous Pinots from Around the Globe, to name two. As you can guess, the former is made of up cabs, the latter pinots. Let's zero in on Pinots from Around the Globe collection to illustrate how it works.
You'd pay $204 for the Pinot collection, which comes with six bottles, meaning you're paying $34 per bottle, which isn't cheap. But five out of those six bottles are guaranteed to be "upgrades" that retail for more than that, so you get more than your money's worth. And in some rare cases, you may get way more — one bottle some lucky members who buy the Pinots from Around the Globe collection may get is a $500-plus bottle of 2016 Henri Boillot Bonnes Mares Grand Cru, for example.
A membership is required, but it's also free. And note that with your membership you can buy wines but have Underground Cellar hold them (in proper storage) and only ship when you want. (There are some shipping costs, unless you get a 12-bottle case shipped all at once.)
Winc
Winc wants to take all the guesswork out of getting great wine into your hands. So they do all the thinking stuff for you, more or less. When you sign up for a Winc membership, you take a survey (the Palate Profile, they call it) that helps develop a profile that will inform which wines they select for you. And note that while they are a winemaker, they also source wines from other wineries, so they have a deep catalog from which to curate your shipments.
Each month, you get a shipment of four bottles of wine selected based on your Palate Profile answers, and you can always skip a month without any charge (or cancel your account altogether without penalty as well, and you can always place larger orders which come with discounts once you're buying by the case). And don't worry if that initial six-question survey didn't perfectly pin your wine preferences, even though the questions are scientifically developed (think: "How salty do you like your food?" This tells how much minerality you like in white wines, and there are five different answer options), because you can give feedback on every bottle you get which will prompt the folks at Winc to adjust your next order. And if need be the next after that. And after that and so on until they have your preferences dialed right in.
Drizly
Founded eight years ago by a prescient team of entrepreneurs, Drizly is by now one of the best known alcohol delivery platforms writ large, and wine accounts for a huge portion of their sales. Or rather their brokerage of sales is a more accurate way to put it, because when you buy wine via Drizly, you are actually shopping local. Thus you have the convenience of online wine buying plus the satisfaction of supporting businesses in your community. They have partnered with thousands of wine and liquor stores in more than 1,400 cities around North America (Drizly is accessible to some 100 million customers in the United States and Canada), and they can usually deliver your order within the hour and almost always same day.
And if you're looking to give wine (or other booze) as a gift, Drizly has you covered there, too. You can browse based on the zip code of your intended recipient, and you can even use Drizly to curate large gift orders for business gifting with their White Glove team handling curation and logistics that meet your corporate gifting needs and budget with just a bit of input from you.
Minibar
Minibar is similar to Drizly in most ways. Both partner with local alcohol retailers, both ofter same-day to-your-door booze delivery (or scheduled delivery up to two weeks out), and both are generally well regarded by customers. If you're shopping for beer or spirits, Drizly is probably your better bet, and it's certainly the larger of the two, as Minibar is (currently) available in many fewer markets than Drizly. But if Minibar does serve your area, and if you're on the lookout for wine specifically, then by all means try Minibar.
Whereas Drizly is rather a catch all, showing you everything available in your area in a selected category, Minibar does a bit more curation, usually featuring mid- to higher-end wines so you can pick fine bottles suitable to your refined tastes. The Minibar shopping experience is refreshingly simple thanks to the crisp layout of the website or app, making the whole affair efficient and easy even for the less-than-savvy tech user.
Wine Access
As Fritz Hatton, the proprietor of Arietta Wines and an international wine auctioneer says at the start of a Wine Access promotional video, "The most important thing, personally, in choosing a wine, is the recommendation of the wine. Who has recommended it? There are so many wines… that what I rely on are recommendations from tasters I trust." Easy enough for an international wine auctioneer and wine shop owner to say, but what can the rest of us who don't have access to top sommeliers do? You guessed it — try Wine Access. Their team tries thousands of wines every year, and selects only about one out of 20 to offer their customers.
This is a company committed to connecting connoisseurs with wines they might never have otherwise found or even heard of and introducing newer wine fans to the finer stuff, such as with their curated Wine Club. Their online catalogue has plenty of bottles in the $20 range (and even some cheaper), but you'll also see bottles priced well over $200 and even the occasional $300 and $400-plus wine, like a $425 2014 Ornellaia Bianco Toscana IGT. And don't worry if you get a bottle you're just not loving, they offer a money back guarantee.
Harry & David
Sure, Harry & David might be best known for gift towers loaded with sweets like caramel popcorn, chocolates, and candied nuts, or for gift baskets stuffed with sausages, cheese, crackers, and spreads — and of course let's not forget their impeccable ripe pears and apples — but these guys also ship a lot of wine. And for decent pricing when you order in bulk — like a $220 12-bottle mix, which comes out to a perfectly fair $18 per bottle.
But the best thing about ordering wine from Harry & David? Well, it is all the other stuff. Say you're shopping for a great gift for the foodie in your life. They have literally dozens of different gifts in that category, many of which sport the "ADD WINE" banner. So if that Holiday Charcuterie and Cheese Board Gift just isn't enough on its own, just click the "Make It Extra Special" tab and add on a bottle of Pinot Noir or Merlot or what have you. (Or even a Sparkling Pear Juice if you're passing on the booze but not the special.)
Omaha Steaks
You would expect to find great wine at a fine steakhouse, no? So why be surprised that you can get great wine from an online purveyor of fine steaks? Omaha Steaks has an impressive roster of wines for sale, including more than two dozen reds, a selection of white and sparking wines, and lots of curated sets with several bottles. And while they also offer a number of Harry & David-style gift baskets with wine, crackers, dried meats, and such, here the beauty of it is that you can send wine along with top quality cuts of meat, making a superb gift indeed.
Let's use as Exhibit A the Omaha Steaks Deluxe Gift with Tour de France Wine Gift Set. That entails four filet mignons, four pork chops, eight burger patties, eight jumbo franks, four servings of potatoes au gratin, four Caramel Apple Tartlets, a seasoning packet, and three bottles of French wine, all for $200. Which is frankly a pretty good deal for multiple fine meals delivered in a box.
Wine.com
With a name like Wine.com, you'd hope that Wine.com would be a good place to get wine online. And good news, it is. In fact, by their own claim, they "have the largest wine selection in the world, online sommeliers with free advice, and unparalleled convenience." This Wine Enthusiast 2019 "Retailer of the Year" does indeed have a massive catalog. At a quick check for this writing, they currently have 4,039 reds for sale, 1,513 whites, 324 Champagne and sparkling wines, and so on down into other categories.
In fact, it would be a bit overwhelming trying to shop from that catalog if it weren't also well curated — you can shop by region, by price, by rating, and more — and if indeed there weren't help there for you. In researching this article, a chat window opened in mere seconds with a real human (named Julianne G. – thanks, Julianne!) helping recommend a bottle perfectly for specs given (bold Rioja, under $30) within about 45 seconds.
Naked Wines
Naked Wines is a company that's all about the little guy. Or little winery, that is. They invest in and support new and smaller wineries, helping these operations focus on winemaking without the distractions of fundraising and marketing and such. And in return, Naked Wines gets pretty sweet deals on a lot of pretty great wines, deals which are passed on to members. (Hey, that could be you!) Naked Wines customers can save up to 60% off market retail prices on wines, and many of those are from winemakers of whom they might never have heard if not for the agency of Naked Wines.
Now to be candid, the selection here is smaller than you get with other places. Remember how Wine.com had more than 4,000 reds on offer? At present Naked Wines has 144 reds for sale. And only 36 whites. But what they lack in quantity, they make up for with good ol' quality, and with a series of filters that make it easy to identify a great pick for your palate — think "Fruity White," "Rich White," or "Sweet White," the latter of which they currently only sell four. So you might not have a massive selection, but you'll find the bottle that's right for you.
Wine Insider
In a lot of ways, Wine Insider is a lot like many other companies that ship you wine. They have lots of bottles curated by varietal, by region, by price, and so on. And they pass on savings to you thanks to a direct-to-customer model, they offer lots of tasting notes and support so you can find the right bottles, they offer gift sets, and so on. What makes Wine Insider so notable is that they truly put their money where their mouths are. Or your money, that is — Wine Insider offers a 100% satisfaction guarantee that you will be satisfied with every wine you get from them, or you will be refunded in full.
They can also usually ship you your wines in just a few days, and when you order six or more bottles, the shipping is free, which is great because many places don't give free shipping until you order a full 12-bottle case. And hey, if celebrity partners like Ludo Lefebvre and even Martha Stewart feel comfortable becoming part of the Wine Insiders team, they must be doing something right. (Stewart has currently curated three half-case collections, in case you were wondering.)
Vivino
Vivino is a wine powerhouse, aggregating wines that can be shipped to 18 countries and all 50 states in the U.S. Vivino itself isn't a wine store, much like Grubhub isn't a restaurant. It works by pulling wines from its database of wine purveyors that ship to your location, presenting you with wines tailored to your tastes along with a vast amount of information about each wine they list.
Vivino also has a very handy app, which not only lets you browse and buy wine but provides you with a cool scanning and cataloging feature. You scan a wine label and the app pulls up information on a bottle of wine that you may be curious about. If you're at a restaurant and staring blankly at the wine list, you can use the same scan feature to take a snapshot of the wine list and get information about the selection to help you choose.
We took the app for a test drive with the wines we had on hand and were impressed with all of the information provided about each wine, how the app immediately saved the wines for easy reference and provided us with buying options if we wanted to order another bottle. When shopping, you can enter a price range and the app will immediately present you with the highest-rated wines that meet your criteria. You can also refine the search with more detailed criteria for a more tailored result.
Acme Fine Wines
If you're looking for a boutique-style wine experience that offers undiscovered sips and diamonds in the rough, Acme Fine Wines based in St. Helena, California should be your first stop. It's a real brick-and-mortar wine gallery, that also sells its incredibly special wine collection online. Owner Karen Williams and her team of expert sommeliers has curated a wine collection with an emphasis on smaller Napa and Sonoma Valley winemakers, small-batch wines, and the most coveted classics. At Acme, you can be one of the very first to taste debut wines from across California, an experience that many other wine purveyors don't often offer. And where other wine retailers rely on ratings by major wine publications or their customers, Acme provides in-depth information provided by the winemaker and suggestions by in-house sommeliers to help you choose a wine.
Since most people don't have a great deal of experience with niche wines, Acme Fine Wines has sommeliers ready to chat with you over the phone or via email to help you make a selection, even for a single bottle of wine. Given that these bottles fall into a more artisanal category of wine, most of the price points are slightly higher than some you'd find at your corner store. If you're working on a budget, there is a fantastic collection of very cool wines in the $20-50 range, as well as plenty of bottles worth the splurge.
Wine Express
Wine Express, not to be confused with Wine Access, is the exclusive retail partner of Wine Enthusiast magazine and catalog. Wine Enthusiast tends to appeal to a broad range of people interested in both wine and spirits, but without the gatekeeping that comes along with other wine publications and organizations. For those seeking to enjoy the best of the food and wine lifestyle without having to overthink every selection they make, Wine Express is here to offer those selections straight off the glossy pages of Wine Enthusiast magazine.
The 442 bottle selection is red-heavy, with a great majority of the bottles offered being reds. Nearly half of the bottles offered are from the U.S. with a varied international selection available as well. Esteemed wine director and certified sommelier Josh Farrell oversees the collection at Wine Express and personally weighs in on every wine listed. Because of alcohol regulations in certain states, there are 11 states that Wine Express doesn't ship to, so check out their Frequently Asked Questions page to make sure you're in a state that can receive their wines.
Sotheby's Wine
The Sotheby's name is synonymous with luxury. The auction house is known for its sales of jewelry, home goods, real estate, and fine art, but did you know that it also sells fine wines? The wines they offer may be the most affordable offering from Sotheby's. Sure, the most expensive bottle in the collection will run you a cool $6,200m but the least expensive is just $11.95. As a matter of fact, they offer 138 bottles for $30 or less and 400 wines for $30-75. The selection is French-heavy, with American and Italian wines coming in second and third, so don't expect to find too many selections from up-and-coming wine regions.
The benefit of buying wine from a place like Sotheby's is the implied quality of just about anything you purchase. Sure, there's no accounting for taste — but if you're going to trust anyone's taste, it might as well be theirs. Even a modestly-priced bottle of wine delivered in a Sotheby's box is bound to make an impression. All of the wines offered are rated at least a 90 from one or more major wine ranking publications. Sotheby's concisely breaks down when each wine has or will reach maturity for anyone interested in building a wine cellar, too. If you're tight on space, Sotheby's even offers to store your wine and provides a virtual wine cellar so you can visit your collection from just about anywhere.
Millesima
Francophiles and French wine enthusiasts rejoice! Millesima Fine Wine is here to deliver a massive selection of French wines from every corner of France. They also offer wines from a few other countries, but that's not really what we're here for, right? With over 2,000 bottles from Bordeaux alone, it's pretty clear where Millesima's priorities lie. They also boast a collection of 112 Champagnes, ranging in price from $12.99 to nearly $16,000. So if that French vacation isn't in the cards right now, we can't think of a better way to treat yourself than a few bottles from a region that you're looking forward to visiting one day.
Millesima also offers wine futures, which is essentially a form of trading that involves selling wine while it's still in the barrel. For those who can't wait to get their hands on the very first cut of a new vintage or who want to support a winemaker, this could be an interesting tactic. It can admittedly get a little complex depending on what region you're buying wine from and how much you're purchasing, but through Millesima, the option is open to you. If you see wine as an investment and don't expect to reap the benefits of it for months (or even years, in some cases) this could be a fun way to build your personal collection with some really special bottles.
Total Wine
Total Wine not only ships to 17 states in the U.S., but also has physical locations that offer an extensive selection to match just about any budget and taste. Set up more like a wine wholesaler, Total Wine calls itself a "wine superstore" and has over 8,000 bottles of wine in stock online, as well as thousands of spirits and beers. Additionally, they offer accessories, glassware, and just about anything drink-related to round out your home bar or event.
Total Wine has also developed an app that makes buying wine and drinks exceptionally quick. Each listing has a clear run-down of each wine's stats, as well as customer rankings on a 5-star scale, related wines, and bulk discount prices in case you'd like to save a little cash. With total wine, you're not getting anything exotic, just an easy-to-navigate wine platform with wines that will appeal to a large number of people at excellent retail prices.
Napa Cabs
With a name like Napa Cabs, you'd think that the only thing this particular site sells are Cabernets from Napa. In reality, they've got a generous selection of over 4500 wines that span a huge range of categories, as well as spirits, some specialty beers, and even some non-alcoholic offerings. Of course, it's true that where Napa Cabs really hits its groove is with Cabernets, boasting 863 Cabernet Sauvignons. For red wine lovers who enjoy tasting the best of what California has to offer, the selection at Napa Cabs is a great place to start.
Because they've got such a large inventory, they're able to sell many of their wines and liquors at slightly discounted rates. For some of the lower-priced bottles, you may not see much of a price difference, but once you start buying bottles by the case or half case, you may see more dramatic savings, sometimes by hundreds of dollars.
Chambers Street Wines
Chambers Street Wines is a physical store, aptly named for its location on Chambers street in New York City. The shop opened in 2001 with the intention of selling natural wines, which at the time, was still an emerging trend in the wine world. Since then they've grown into one of the most trusted purveyors of natural, organic, and biodynamic wines in the country. As their website mentions, there aren't very many big brand names available in this collection, so this is a fantastic chance to explore new wines! The complete online collection boasts nearly 900 wines, accompanied by descriptions of the wine and winemaker to help you choose amongst the varieties.
The wine selection is based mostly in old-world wine regions, leaning on bottles from the Loire Valley and Burgundy in France and Piedmont in Italy, for instance. With that said, there are bottles from all over the world, with a growing selection from the U.S. as American winemakers continue to develop new and sustainable winemaking techniques. While the Chambers Street Wines website doesn't list any exceptions to where they can ship, if you live in Alaska, Hawaii, or a state with tighter shipping restrictions, you might want to give them a call before ordering online. And since these wines are natural and more sensitive to their environment, the wine sellers recommend holding off on shipping wines during July and August in especially hot regions.
Bottlerocket
The Bottlerocket website looks a little bit like what we'd imagine if Party City opened a wine store. But don't let that dissuade you from taking a look at what they've got to offer. At the time of this writing, Bottlerocket had 569 wines listed, as well as 386 spirits. It's far from the largest selection online, but it gets to the point when you're trying to pick something for dinner or to send a gift. And helping you pair a wine with food or an event is what Bottlerocket does best.
The first categories listed aren't the typical red, white, and sparkling categories (although they have those as well). Instead, Bottlerocket offers up categories focused on meals, like poultry, seafood, and even take-out. We're especially enamored with that last category, which is then subdivided into popular styles of take-out cuisine, including Chinese, Indian, Japanese, Mexican, and BBQ. There are even 75 recommendations for wines that pair well with pizza, almost all of which are offered at economical prices that won't outshine the pizza itself.
For those looking for a deeper dive, they've also got categories for women producers, "green" wines that include organic and low sulfite wines, and even a wine club. The Bottlerocket wine club is available in three tiers, aptly named after different types of fireworks.
Gary's Wine & Marketplace
Gary's Wine & Marketplace is a virtual one-stop shop for a fantastic wine selection, as well as spirits and beers. They also boast an even more impressive cheese selection to compliment whichever beverages you choose. There are over 2000 bottles of wine to choose from, the majority of which are from across the U.S. for those interested in trying out some New World wines. Currently, about half of the stock is priced below $15, with the other half of the stock ranging from $15 to $1000.
For those looking for a wine adventure, but without the hassle of choosing wines themselves, Gary's offers several very exciting ways to wine. There are six different monthly wine clubs you can join, that include California-based wines, sparkling wines, Napa Valley reds, and even a case of wines that are more exploratory than the established favorites. If you'd like to share a glass with friends or even colleagues, Gary's also offers virtual wine tastings. They do the work of choosing wines for the tasting and ship the wines to each participant to enjoy wherever they may be. The tasting is hosted by one of Gary's wines experts so you don't have to worry about cramming all of the information ahead of time, either.