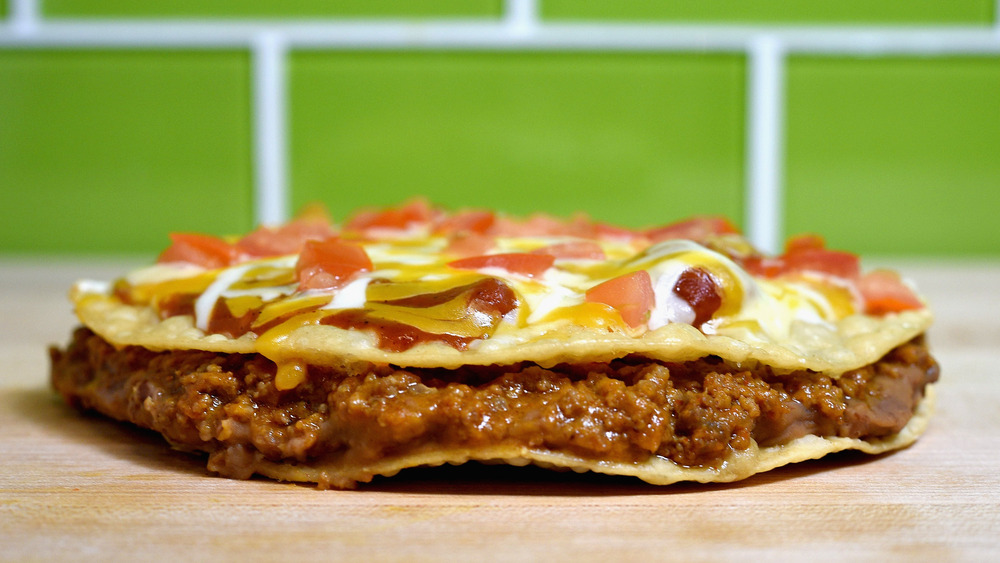 Last year took a lot from us. While the global coronavirus pandemic changed everything from health and safety to how we work, learn, and yes, even eat, many fast food restaurants were forced to make menu changes to stay competitive in a changing world.
For many consumers, restaurants removing favorite menu items at a time when so many suffered seemed like adding insult to injury. How could they take away Mexican Pizza at a time like this? The reality is, fast food restaurants contended with major challenges during the pandemic. Many became 100% drive thru operations — and they had to manage with an often reduced workforce and enhanced safety measures. Additionally, food distributors faced disruption, so restaurants may have had to manage changes in ingredient availability.
How do these factors translate into losing All-Day Breakfast and other standbys? Streamlining operations often meant cutting back on menu items that weren't top performers in sales and efficiency. That means the salads that sometimes don't get sold before they expired had to go. Or the pizza with bloated and wasteful packaging was no longer sustainable.
In 2021, we saw some of 2020's losses come back. Potatoes returned to Taco Bell, and Spicy Chicken McNuggets were made available again — for the time being. But let's take a look at some of the popular fast food items we lost in 2020, and find out whether you can expect to see them again sometime soon.
KFC Potato Wedges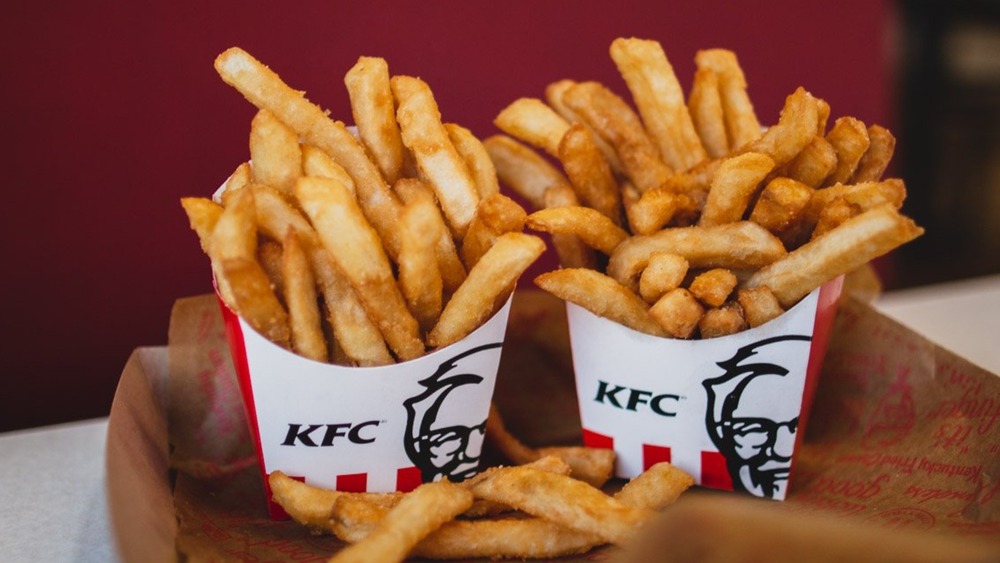 Fries are a fast food staple, but for decades of existence, Kentucky Fried Chicken didn't have them. KFC's competitor Popeye's has them, but for so many years, KFC's available sides were mashed potatoes, cole slaw, green beans, corn, biscuits, mac and cheese, and potato wedges. That changed in 2020 when the company introduced Secret Recipe Fries.
While many fast food items removed from menus in 2020 were a result of COVID-related streamlining, potato wedges got cut for other reasons. KFC was ahead of the curve, announcing in December 2019 that the potato wedges would be removed from the menu. By June of 2020, they were gone, after a thorough market test of the new Kentucky Fried Chicken Secret Recipe Fries that took their place.
KFC doesn't give potatoes a whole lot of room on their menu, as the chain only had mashed potatoes and the axed potato wedges on the menu before introducing Secret Recipe Fries. But perfecting the recipe for the new fries was 60 years in the making, according to KFC. The potato wedge replacement fries are in fact seasoned with KFC's secret blend of herb and spices, then fried.
McDonald's All Day Breakfast (in most locations)
If you're a late riser or just crave breakfast food all day, getting the timing right for McDonald's used to be a little stressful. You'd have to hit the drive-thru in enough time to grab a McGriddle before the restaurant switched over to the regular menu for the day. In October 2015, McDonald's introduced an all-day breakfast menu — albeit limited — for anyone seeking an breakfast favorites outside of breakfast hours.
But in March 2020, McDonald's temporarily stopped offering its all-day breakfast menu in an effort to streamline operations during the coronavirus pandemic. But McDonald's plans to bring back all-day breakfast soon. McDonald's U.S. president Joe Erlinger spoke for all day breakfast, saying, "I'll be back."
However, not everyone wants to see all day breakfast come back: McDonald's surveyed franchisees who overwhelmingly voted not to bring back All Day Breakfast. Without menu bloat, restaurants noticed they were able to improve the quality and speed of service, so there's an argument for never bringing it back.
Still, all day breakfast at McDonald's has been back in some locations, with franchisees offering limited breakfast menus all day or in some cases, until later in the day than usual. Other McDonald's locations may return to a full all-day breakfast menu later this year as the restaurant scales back to full operations.
McDonald's salads
Salads were another casualty of the streamlining of McDonald's menu. As restaurants focused on some of the easiest and most profitable food items to sell in the drive-thru, salads just weren't it. Unlike its All Day Breakfast, McDonald's seems to have no inclination to ever bring salads back.
McDonald's salads were physically large and have to be kept refrigerated for freshness. They're also easy to mess up and can drag down a drive-thru's ability to deliver fast, accurate orders, as they have a short shelf life and employees have to remember to include a silverware packet and salad dressing — and sometimes toppings, too.
McDonald's was once the largest seller of salads in the world. And it makes sense – consumers looking for something that at least appears nutritious can quickly pick one up in the drive thru of one of the most ubiquitous restaurants in the world.
But it seems McDonald's isn't really sad to see salads go. The restaurant has experienced problems with selling expired salads, as they weren't exactly bestsellers when stacked up against burgers and fries. And they've caused some health and PR headaches, too. In 2018, McDonald's saw nearly 500 cases of a "poop salad" outbreak of cyclospora, a parasite that can cause intestinal infection. The outbreak sent 24 people to the hospital and McDonald's had to recall salads from about 3,000 restaurants in 15 states mostly in the Midwest.
Don't expect to see salads back at McDonald's any time soon, if ever.
McDonald's bagels (though some places lucked out)
The fate of all day McDonald's breakfast is questionable, but you can still get all of your breakfast favorites in the morning, right? Not necessarily. If your go to breakfast sandwich comes on a bagel, you might be out of luck, as breakfast bagels were removed from the menu at many McDonald's locations in 2020. It seems the breakfast bagel wasn't as versatile or popular as English muffins or even the McGriddle, so when something had to be cut, it was the bagels.
McDonald's says breakfast bagels will return at some point in the future, but there's no definitive news on when you can expect to see them again. Unofficially, it might depend on your location (though Canadian locations seem the most promising). Your local McDonald's franchise may still have bagels in stock, or they might have chosen to keep this item on the menu. It doesn't hurt to ask, especially if breakfast bagels are a McDonald's favorite for you. Check your local menu to see if McDonald's breakfast bagels are available in your area.
If you love bagels for breakfast at McDonald's, you're probably ready to see them return. But they don't even break the top 10 on McDonald's breakfast menu offerings, so you can probably find something better until bagels are back on the menu.
McDonald's Buttermilk Crispy Chicken Tenders
For a restaurant that sells a lot of chicken McNuggets, McDonald's certainly has a weird relationship with chicken tenders. There's been an on again, off again menu situation, as the relationship between the restaurant and chicken tenders has gone up and down since 2004. In 2020, they were off again. But that doesn't mean chicken tenders won't come back again to McDonald's some day.
McDonald's introduced Chicken Selects in 2004 as a step up from McNuggets. But Chicken Selects were removed from the menu in 2013, only to be brought back again in 2017 in a new form as Buttermilk Crispy Tenders. McDonald's fans were clearly ready for chicken tenders again: When the Buttermilk Crispy Tenders were introduced in 2017, they sold out quickly after launch. But like many other McDonald's menu items, the Buttermilk Crispy Tenders got the axe under the McDonald's streamlined COVID pandemic menu in 2000.
You can, of course, still get chicken McNuggets, and Spicy McNuggets were put back on the menu in 2021, also.
While we didn't seen chicken tenders back at McDonald's at time of publishing, it's always possible we will see them again soon — and fans flocking back to pick up their long-awaited tendies.
McDonald's Artisan Grilled Chicken Sandwich
A lot of fast food is fried, high in fat, and all around more of a choice of convenience than a choice for healthy food. And while McDonald's Artisan Grilled Chicken Sandwich probably wasn't a top pick for health nuts, it was a go-to recommendation from some nutritionists for healthier options on fast food menus. With low fat and high protein, grilled chicken options at McDonald's were a decent choice for athletes, road warriors, and even carb-conscious eaters — or at least, they were a better choice than a burger and fries (via CNN).
But it seems the Artisan Grilled Chicken sandwich is yet another food casualty of the coronavirus, despite surviving the chicken sandwich wars of 2019. McDonald's decided to cut the grilled chicken sandwich when the company updated its menu to streamline operations during COVID.
While grilled chicken was still off the menu at McDonald's at time of publishing, the restaurant did have an abundance of chicken options available. In addition to McNuggets, McDonald's launched three new chicken sandwiches in February of 2021 — but they are all crispy fried and not grilled. The Crispy Chicken Sandwich, Spicy Crispy Chicken Sandwich, and Deluxe Crispy Chicken Sandwich take aim at the Popeye's, Wendy's, and Chick-fil-A chicken sandwiches. And likely, the new chicken sandwiches fill the chicken void left behind by the Artisan Grilled Cheese Sandwich, which may or may not return.
McDonald's Fruit 'n Yogurt Parfait
The McDonald's Fruit 'n Yogurt Parfait always stuck out on the menu as somewhat unusual. McDonald's doesn't sell a lot of fruit, much less fresh berries, and yogurt isn't a common ingredient on the menu, and neither is granola. Plus, there's an abundance of dessert options ranging from shakes to cookies.
But the Fruit 'n Yogurt Parfait functioned as a mostly healthy option to satisfy your sweet tooth, or to start your morning off right with a breakfast of yogurt and fruit with whole grains.
It was certainly one of the McDonald's menu items that you could order without hating yourself. The Fruit 'n Yogurt Parfait was low in calories and fat and featured real fruit and yogurt topped with granola. And it was likely a better dessert choice for health-conscious types than a McFlurry, shake, apple pie, or cookies. It was often recommended as one of McDonald's healthier options on lists, though it was pretty substantial for a smaller dish.
But the parfait, along with the all day breakfast menu it was featured on, is no more. It was cut from the McDonald's menu along with salads and the grilled chicken sandwich, with no indication it will return again soon.
McDonald's Spicy Chicken McNuggets (but there's a catch)
While McDonald's made some deep cuts to its overall menu, there were some additions in 2020 as well. McDonald's amped up the fast food fried chicken wars in 2020 with Spicy Chicken McNuggets, which were a big hit and sold out quickly nationwide. But the nuggets, fried in a tempura batter seasoned with cayenne and chili pepper, were not supposed to become a regular menu item. In fact, the spicy nuggets were only around for about a month in 2020. McDonald's probably planned to have them around for a little longer than that, but consumers snapped them up quickly and stock of the spicy nuggets ran out fast.
Why were the Spicy Chicken McNuggets so popular? Most likely their friendly similarity to regular McNuggets, paired with the slight adventure of spice. When the world has gone crazy and you want to do something adventurous, but not too adventurous, ordering the spicy nuggets instead of the plain ones seems like a decent risk to take.
The spicy nuggets and accompanying Mighty Hot Sauce were friendly to spice hunters and mortals alike, with a spice level that's enough to notice, but not enough to keep you from eating more.
But wait: There's good news for Spicy Chicken McNugget lovers, or anyone who couldn't get their hands on any during the first round: the nuggets were back by popular demand by early 2021. The sauce was back, too. But McDonald's didn't promise either would stick around forever.
Panera Bread Tuscan Chicken Sandwich
Panera's Tuscan Grilled Chicken sandwich featured an artisan ciabatta bread with chicken, provolone, parmesan, arugula, basil pesto and two specialty ingredients: smoky tomato confit and basil mayo. But the popular sandwich was removed from menus as a seasonal item along with the Cuban sandwich in 2020.
It's not clear if Panera chose to remove these sandwiches due to pressures from COVID, or other reasons. The Tuscan Grilled Chicken wasn't around very long — it was introduced in April 2019 and removed a little over a year later. It's possible it never really took to the menu, though there are Panera fans that miss it already. Or perhaps the switch was a result of the increased vegetarian options on their menu (via Live Kindly).
But if you still want the Tuscan Grilled Chicken sandwich, it might still be possible to order if off menu, considering most Panera Bread restaurants should might still have at least some of the ingredients to make it. However, you might miss out on the smoky tomato confit and basil mayo, unless Panera decides to bring those back once again.
Panera Bread Maple Glazed Bacon, Scrambled Egg & Cheese breakfast wrap
Panera Bread has one of the most extensive breakfast menus available for a fast food restaurant. You can get wraps, ciabatta or bagel sandwiches, soufflés, oatmeal, yogurt, and even fresh fruit. There is also, of course, the full bakery menu, which includes pastries, bagels and cream cheese, and pastries including coffee cake, muffins, and scones.
In 2019, Panera released three new whole grain breakfast wraps to add to their extensive breakfast sandwich options. They included a Mediterranean egg white wrap, chipotle chicken and avocado, and the maple glazed bacon, egg, and cheese wrap. All three were intended to be a quick, carb-conscious breakfast in a whole grain wrap. And while the chicken and Mediterranean wraps have remained on the Panera Bread menu, the maple glazed bacon wrap did not make it past 2020.
It's not clear why the maple glazed bacon wrap got the axe, but we're guessing consumer choice and nutritional perception might have had something to do with it. A healthy maple bacon breakfast wrap could have been a hard sell for Panera compared to the Mediterranean wrap with egg whites, tomato, and spinach. Plus, the still-available chicken wrap contains some healthy avocado. On the other hand, a whole wheat wrap may have scared off traditional bacon and egg lovers, and the idea of sweet bacon was probably too much for people who were looking for a healthy breakfast. Whatever the cause, this wrap is history.
Panera Bread Cheese Brittany
Panera Bread introduced two new treats – known as Cheese Brittany and Cherry Cheese Brittany — just before National Croissant Day in January 2019. What exactly is a Brittany? They're are a cousin of croissants, with flaky layers in a round (rather than crescent) pastry. The dough is laminated with butter and sugar and it has a caramelized outer crust. The Brittany is named after the region in France where the pastry originated from.
The Brittany pastries improved upon the already perfect croissant selection available at Panera Bread, adding a sweet cream cheese and cherry filling. At the same time, Panera Bread also introduced a new Almond Croissant, Classic Croissant and Chocolate Croissant.
But as COVID had Panera Bread and so many other restaurants streamlining products in 2020 to stay profitable and serve customers efficiently, the Brittany pastries were discontinued. They were eliminated to save time for the restaurants in overnight baking work and also so Panera could adjust to distributor inventory changes, according to a Panera manager on Reddit.
Subway Rotisserie Chicken Sandwich
While large fast food chains, including McDonald's and Taco Bell, made big changes to their menus in 2020 to respond to coronavirus pressures on their restaurants, Subway didn't make sweeping changes. The sandwich chain, which specializes in build your own offerings, didn't have a lot to change – except for two sandwiches on the menu.
In June 2020, Subway cut the Rotisserie Chicken Sandwich and Roast Beef Sandwich from their restaurant menus. It was a disappointment for those who like to order the sandwiches, especially carb-conscious eaters who favored the rotisserie chicken. Although Subway hasn't publicly explained why it chose to discontinue the sandwiches, some reports say roast beef was cut due to the beef shortage and subsequent increase in the price of beef. However, Subway says some locations may still carry the sandwiches. So if you're missing one or both of these Subway sandwiches, check with your local shop to see if they're still available.
In their place, Subway brought back its popular $5 footlong promotion through a two for $10 sandwich deal — though many franchisees weren't happy about it and said they'd lose money on the deal.
Taco Bell Mexican Pizza
After months of warning, Taco Bell removed its beloved Mexican Pizza from the menu in November 2020. The move was in an effort to streamline the menu for faster and more efficient service while reducing packaging waste. And although Taco Bell announced the removal of Mexican Pizza at the same time as several other popular menu items, the public outcry was louder for Mexican Pizza than any other food on the Taco Bell menu.
Many customers spoke out on social media to complain about the move, pleading with Taco Bell not to cut the pizza from the menu. And many purchased Mexican Pizzas in the weeks leading up to the change, both in an effort to enjoy it while it lasted and show the restaurant how much they loved the pizza. More than 160,000 Mexican Pizza lovers even signed a Change.org petition to keep the pizza on the menu, but it's gone nonetheless.
In particular, many Americans of South Asian descent who practice Halal were disappointed to see the pizza go, as it was a good vegetarian fast food option when the meat was substituted for beans, and especially tasty when it was covered in fire sauce. However, Taco Bell does still have vegetarian options, and you can swap out meat in any menu item for beans. Of course, it's not the same as Mexican Pizza. But if you're really missing the Taco Bell Mexican Pizza, you can always try to make it at home.
Taco Bell Grilled Steak Soft Taco
Taco Bell's grilled steak soft taco always seemed like a bit of an elevated menu item for the drive thru taco purveyor, offering grilled steak as an upgrade to the chain's standard seasoned ground beef taco meat. And it was a standby for health conscious Taco Bell customers looking for an alternative to fried foods, as the steak was grilled. The calories were low for a fast food item: The original had a decent amount of protein for only 200 calories – or 140 calories if you ordered it fresco.
But the fajita-like grilled steak taco was cut from the Taco Bell menu as part of an overall Taco Bell menu revamp in 2020. If you're still craving steak from Taco Bell, there are other options: Steak Quesadilla, and two breakfast burrito — the Grande Toasted Breakfast Burrito Steak and the Hash Brown Toasted Breakfast Burrito Steak.
There is still some hope if you really want a grilled steak soft taco: If you're ordering online, you might notice steak as an add on option when you're ordering a taco, either soft or crunchy. Hey, it's worth a try!
Taco Bell Beefy Fritos Burrito
Taco Bell's Beefy Fritos Burrito was a flour tortilla wrapped around ground beef, Fritos, rice, and nacho cheese. It was a pretty filling item for the dollar menu, offering a good value, much like many other Taco Bell Cravings Menu items. And according to Taco Bell devotees, Beefy Fritos Burritos were easily upgraded to a cheesy smothered burrito with some modifications to your order. You just needed to ask for beans and onions — albeit at a small upcharge — and then ask for the burrito to be grilled and served on a platter with red sauce.
Unfortunately, the Beefy Fritos Burrito was gone by 2020, though other burritos remained on the menu. And you can still get a Taco Bell burrito on the cheap, even if it doesn't have Fritos in it. As part of the menu changes, Taco Bell added a plain beef burrito to its dollar menu – so you could always try to customize the new beef burrito, similarly to the Beefy Fritos Burrito hack from back in the day.
Taco Bell Spicy Tostada
Yet another casualty of the Taco Bell menu update of 2020, the Spicy Tostada, was removed from the menu permanently. It used to be on the Cravings Menu, offering a cheap, relatively healthy option for Taco Bell devotees. And with a flat crispy corn taco shell as a base, it wasn't far off from the beloved Mexican Pizza, which of course has also been discontinued. Taco Bell didn't say why exactly why the Spicy Tostada was removed, but it's possible it got the axe for the same reason the Mexican Pizza did: packaging sustainability.
Taco Bell's Spicy Tostada was a variation of a traditional tostada, served on a hard corn tortilla with refried beans, cheese, lettuce, tomatoes, red sauce, and chipotle sauce. It came in with six grams of protein and five grams of fiber and with just 210 calories and 10 grams of fat.
Without the crunchy taco shell base you'll have a hard time trying to recreate the tostada with other Taco Bell menu items, but if you're looking for the same flavors, you could order the same ingredients in a crunchy taco instead.
Taco Bell 7-Layer Burrito
Taco Bell's 7-Layer Burrito got cut from the menu during the revamp, removing yet another vegetarian staple from the restaurant's options. The 7-Layer Burrito was introduced in 1993, primarily for vegetarian customers. It was a large meatless burrito that had refried beans, seasoned rice, sour cream cheese, lettuce, tomatoes, and guacamole. Big enough to be a meal with substantial fillings and plenty of flavor variations.
While the seven-layer version of Taco Bell's burrito favorite is no longer around, Taco Bell still has the Beefy 5-Layer Burrito. You could probably customize the Beefy 5-Layer Burrito into the 7-Layer Burrito by making it vegetarian and adding cheese, rice, tomatoes, and guacamole.
Taco Bell Cheesy Fiesta Potatoes
Cheesy Fiesta Potatoes — along with most other potato products — were removed during Taco Bell's 2020 menu revamp. Taking potatoes largely off the menu meant even more limited options for vegetarian and vegan tacos. It also impacted Loaded Grillers, as the Taco Bell menu featured potatoes not just in Cheesy Fiesta Potatoes, but also in the Spicy Potato Soft Taco and the Cheesy Potato Loaded Griller. However, one Taco Bell potato product lived through 2020: The breakfast menu Potato Bites stayed on the menu.
Many Taco Bell fans were disappointed to see the potatoes removed from the menu. But there's good news: in early 2021, Taco Bell announced potatoes would return to the menu, with the CEO using a potato filtered video to make the announcement. They've been back on the menu since then. And if you're still missing the Taco Bell Fiesta Potatoes, you can always make a copycat version at home.
Taco Bell Quesarito (but it depends on how you order)
Another casualty of Taco Bell's menu revamp was the Quesarito. The Quesarito had seasoned beef, shredded cheese, nacho cheese sauce, sour cream, seasoned rice, and chipotle sauce. There's also a vegetarian friendly black bean version that swaps in black beans for the seasoned beef. Although it's no longer listed as an option on the menu inside stores or in the drive thru, you can still order it.
If you want to order a Quesarito, you can just ask for it when you arrive at the restaurant or drive-thru. But in case you forget, it's listed on the menu when you're making digital orders. When you place an order in Taco Bell's mobile app or by using the website, you'll see both Quesarito options on the menu — with extensive customization options, including guacamole, fresco style, beans, and chicken.
Taco Bell Triple Layer Nachos
Two nacho items were removed for Taco Bell's updated 2020 menu: Nachos Supreme and Triple Layer Nachos. The Triple Layer Nachos were on the dollar value menu and topped with beans, red sauce, and nacho cheese. Nachos Supreme had nacho chips with ground beef, tomatoes, beans, nacho cheese sauce, and sour cream.
While these items were cut from the menu, the good news is you can pretty much still get them — just under different names. The Nachos Supreme are available in a larger portion with the Nachos BellGrande. Want a really large portion? You can get a Nachos Party Pack, either with ground beef or vegetarian with beans. And if you're looking for the Triple Layer Nachos, you can order the value menu nachos with sauce and refried beans on the side to assemble on your own. Another option? Try these copycat Taco Bell Triple Layer Nachos at home.