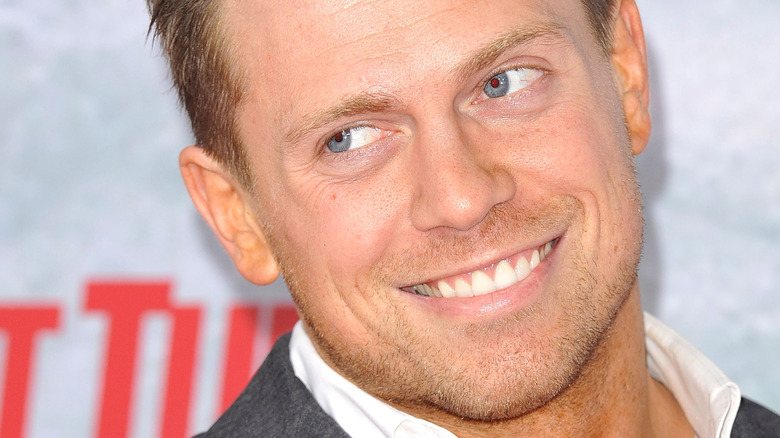 Whether you're into pro wrestling or not, chances are you've heard of Mike "The Miz" Mizanin. More than just a WWE personality, The Miz actually first became a household name way back in 2001 when he appeared as one of the "seven strangers" on MTV's "The Real World: Back to New York." From there, Mizanin competed on spinoff "The Challenge," where he not only showed he was athletic and a good competitor, but also that he had an unruly alter ego that would later go on to be his wrestling persona, The Miz.
While some may have doubted Mizanin because of his reality TV start, he's proven to be a remarkable and beloved wrestler. Although The Miz plays a heel, fans can't help but chant "Because I'm the Miz and I'm awesome" along with him.
Thanks to his decades-long career, Mizanin's made a good chunk of change over the years. His earnings have been, dare we say, awesome: According to Celebrity Net Worth, he is worth about $14 million. So, how exactly has he earned that cash? And how does "The Real World" alum spend said cash? Prepare to be a-Miz-ed
The Miz is a WWE superstar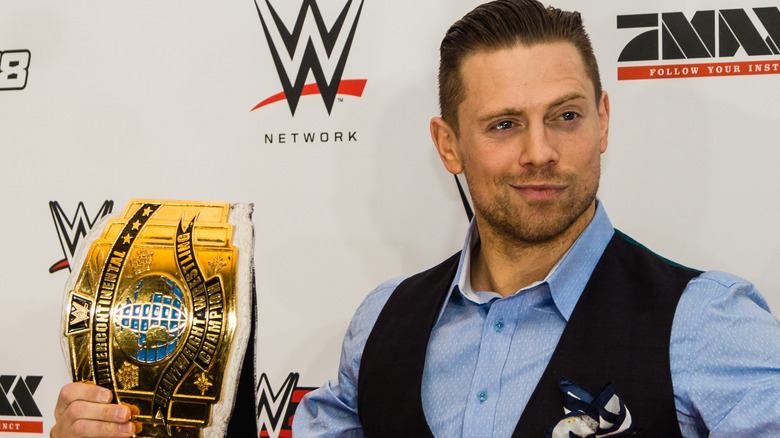 It's safe to say that becoming a professional wrestler was a great move for Mike "The Miz" Mizanin… and his pocketbook: In 2015, Forbes reported that wrestlers can make from $52,000 to $1 million per year, with those on the main roster usually making $500,000 annually. Given The Miz's popularity as well as the length of his career — he's been part of the main roster since 2006 — it feels safe to assume he's bringing in a more than solid paycheck.
In addition to being a villain or, in wrestling parlance, a heel, he's also a two-time WWE Champion and has WWE Intercontinental and WWE Tag Team Championships. Mizanin had to work extra hard for those accolades, telling Vulture, "When you come from a reality background into the WWE, you're looked at as a terrible human being."
But The Miz decided to not only play up on that hated persona, he clearly proved he had talent. He explained, "I wanted to make sure people looked at me as a legit WWE superstar…that I could do what everyone else could do in the ring." Mizanin also showed he was good for business. He dished to Forbes, "When I won the WWE Championship for the second time…if you looked at the ratings…they went up. And they went up the next week."
The many TV gigs of The Miz
Mike "The Miz" Mizanin has been making money from TV since he first appeared on MTV's "The Real World" in 2001. Like, a lot more money. According to a show contract obtained by The Village Voice a decade after he was on the series, "Real World" cast members were paid $300 a week while filming and could earn $2,500 for doing a reunion. However, his work on "The Challenge" surely boosted his bank account. As a source told Us Weekly, while rookies may only make $1,000 per week, recurring players can bring at least $80,000 — and The Miz competed for five seasons. Not to mention Mizanin actually won twice, taking his winnings to $130,500, according to EW. In 2006, he also won a version of "Fear Factor," which came with a $150,000 prize (per The Things).
Mizanin continues to make money off reality TV, but on his own show "Miz and Mrs," which has proven to be another success. He told Forbes in 2021, "Our ratings are through the roof! I think USA is absolutely happy with our show."
In terms of acting, according to his IMDb, Mizanin has had roles in "The Marine" movies, as well as "Santa's Little Helper." He's also made multiple TV appearances, with spots on anything from "Psych" to "Supernatural." It's clear Mizanin knows that to make money he has to stay relevant and he's willing to do that on and off the ring.
The Miz makes his hometown proud
Mike "The Miz" Mizanin is clearly a reality TV success story but he's also somewhat of a hero in his hometown of Parma, Ohio. While he wasn't on his high school's wrestling team or drama club, he found other ways to keep busy. "I was captain of the baseball and cross-country team, played basketball for three years, swam and played football for a year, was student government president and senior editor of the yearbook," he told Cleveland.com. Despite not starring in any school plays, Mizanin added, "I've always loved entertaining, always loved being on stage and stuff."
Even so, Mizanin didn't think he'd become the star he is today, but would "live [in Parma] the rest of my life and probably own a Mr. Hero [restaurant] like my dad." Yet after doing "The Real World," Mizanin realized he didn't want that. He recalled to Vulture, "My dad was like, 'You should stay in Cleveland and be the big name out here.' I was like, 'But no, Dad, I wanna be a WWE superstar.'"
While The Miz chose to depart Ohio, he did make Parma proud, so much so that they made July 3 "Mike The Miz Day." And Mizanin hasn't forgotten where he came from. As he wrote on his Instagram in 2019, "I honestly don't believe I would be where I am in my life if it wasn't for growing up in Parma."
The Miz's wife puts money in the bank too
It seems Mike "The Miz" Mizanin met his match in his wife, former pro wrestler Maryse Mizanin. The two have been married since 2014, and as they recounted on "Miz and Mrs.," they met eight years before when they both appeared on WWE's "Diva Search." Yet Maryse isn't just known for being "The Miz's" wife, she has a booming career of her own. According to the WWE, she's a two-time Diva's Champion and later came back to the organization as a manager. So, just like her significant other, she's pulled in some WWE money.
Maryse has also found ways to make money outside of the ring. In addition to working as a model, she also has acted in movies like "Sharknado 3: Oh Hell No!" and appeared in the E! show "Total Divas." Not to mention that she and her husband star in and produce their own USA series "Miz and Mrs." If her fame fades away one day, Maryse also has a real estate license to fall back on. She told the WWE, "That's my field, besides entertainment, which I'm really good at."
Maryse and The Miz apparently make a good team as well. As she said to SI, "We always have something going on, from WWE to our production company." As for if Maryse will return to wrestling, she dished, "I'm in and out of WWE, and I've had a lot of comebacks, and I'll probably have another comeback sooner than I even know."
The Miz spends a lot on real estate
Mike "The Miz" Mizanin and his wife, Maryse Mizanin, have made a lot of big real estate moves. For starters, in 2017, Realtor reported the Mizanins sold their Hollywood Hills abode for $3.05 million. Sure, it went under listing, but they still made a profit: The Miz purchased it for just (yes, just!) $1.865 million, according to the Los Angeles Times.
At the time, the Mizanins wanted to leave LA for somewhere more private. "People knew where we lived," The Miz told The Wrap. "They'd be driving past us taking pictures of our house everyday." While they originally wanted to move to Vegas because it's a tax free state and close enough to LA, they briefly ended up in Austin, Texas. The couple purchased a home there for $2.35 million, according to Dirt, but ended up selling it in 2019. As Realtor noted, they raked in $2.64 million for the property, once again making a profit.
Yet, The Miz really broke the bank in 2019 when he and his wife purchased a massive, 1.27-acre estate in Thousand Oaks, California, for a whopping $6.4 million. Mizanin appears to be quite proud of his home, which he calls Manor MarMiz. He even gave fans a tour of the spread, which of course boasts luxurious features like a full bar, as well as a music room, and game room. It's clear The Miz is living the good life.
Setting goals is the goal
Mike "The Miz" Mizanin isn't afraid to talk about his success and how he made it to the top of his career. He told Vulture that it began when he knew that reality TV wouldn't be enough for him. He explained, "Some people just wanna be famous. I wanted to be known for a talent. I wanted respect." For Mizanin, the way to do that was to be the best at wrestling, but he also apparently knew how to take on the entertainment industry. He dished, "You have to know what your talent is, and you have to exploit it. And then…you find ways and tools to elevate other sides of you that are weaker."
Mizanin told Forbes that another key to his success is getting out of his comfort zone. He revealed, "I always enjoy whenever there's something different and something out of the box… I wanna be a part of it because you never know what's going to happen." He also expressed the importance of never settling, telling Vulture, "If you succeed at a goal, make another one, and make it even bigger."
With $14 million to his name, The Miz obviously knows what he's doing so he wants to help others. He told the NY Post, "I want to make sure I hand down my knowledge like it was handed to me, from the likes of John Cena and Randy Orton. Those guys brought me up and taught me and I learned from them."
There've been many endorsement deals
Mike "The Miz" Mizanin clearly knows how to make money by using his talents, but he also brings in a hefty income because of his fame. For example, in addition to Mizanin's salary from the WWE and the money he makes from their live events, he also earns an income from royalties, which according to Forbes, comes from "product sales and non-wrestling appearances." As for what he gets paid from the WWE merchandise, Forbes explained that wrestlers usually earn "25% of WWE net receipts" that arise from the sale of licensed merchandise promoting the performer, with more popular entertainers like The Miz, sometimes receiving a greater share.
Outside of Mizanin's deals with the WWE, he has his own endorsements. He's worked with Domino's pizza, Lotrimin, and Cricket Wireless to name a few. He also has promoted his wife's business with Volition Beauty. The Mizanins often do partnerships as a couple, especially with the popularity of their reality show.
It seems that the Mizanins put just as much energy into their business deal as they do in the ring. When chatting to SI about their careers, they made sure to bring up their collab with Pampers, calling it an "absolutely incredible" product. "Whatever I do, it has to be perfect. I do everything I can to make the best product, like my beauty product, Pampers or with WWE." Maryse dished to the outlet. "I think that's why we are so confident that our projects are going to be good."
The Miz gives back
Mike "The Miz" Mizanin isn't just about making money — he also makes sure to give back to those in need. The multi-hyphenate has done so through his wrestling, like when he and Mixed Match Challenge partner Asuka donated the $100,000 they won in the tournament to the organization Rescue Dogs Rock, as well as when he's off the clock. One of those times was when he participated in the golf tournament "The Travelers Championship" to raise money for Connecticut's Hole in the Wall Gang Camp, which is a camp founded by actor Paul Newman for children with serious illnesses.
The Miz told WWE Community, "Whenever I can get out and go golfing, especially for a good cause, it always makes everything worthwhile." It seems he was touched by the event, saying, "We're raising money for kids with illnesses who can go to a camp to feel normal, feel like they can do whatever they want to do. It's a pretty great camp."
In 2021, Mizanin worked with the charity Soles4Souls through his partnership with Lotrimin. He explained to SI that it's "a charitable organization that finds sustainable jobs for people, as well as gives people shoes and clothing." He added, "We're doing a charity auction, where you can win an autographed pair of shoes signed by me." The wrestler also shared why he makes a point to get involved: "It's great to give back to people, and that's what this is: a chance to help."
Over-the-top purchases made by The Miz
In addition to scooping up real estate, Mike "The Miz" Mizanin sure finds ways to spend his money. For starters, he's into cars — or more specifically, luxury vehicles. In 2017, he told Dub Magazine that he bought a Hummer H2, and then a Mercedes-Benz S550, before getting his "Lambo-doored" Audi R8. But because, as he said, "You can't really go grocery shopping in an R8," he decided to add a Jeep Wrangler to his collection, which he souped up to match his WWE persona. It looks like he's acquired even more cars since then: In 2020, he shared a video of his Bentley and G-Wagon on Instagram, as well as mini versions of those cars that he bought for his daughters.
Homes and automobiles aren't the only things that he'll shell out on. In an episode of "Miz and Mrs," The Miz and his wife Maryse Mizanin accidentally spent over $600 on just one dinner. Apparently it was because of Maryse's order so The Miz called her out, saying (via DailyMotion), "My dinner was $45, your dinner was $600!"
Speaking of money moves Maryse and The Miz didn't see eye to eye on, in one episode of "Total Divas," she bought a house to flip without telling her husband, which he went on to call "a piece of junk." Meanwhile, the Miz once made a bold purchase of his own, sharing in a WWE.com video that he spent $10,000 on veneers that ended up getting punched out.
Taking his talents to the ballroom
In 2021, Mike "The Miz" Mizanin proved that he still has some tricks up his sleeve when he joined "Dancing With the Stars." While the show is of course giving The Miz more exposure, it also is proving to be quite lucrative for him. According to a 2019 Variety report, for just rehearsing and the first two weeks on TV, dancers make $125,000. Then if they make it past Week 3, which Mizanin has, contestants get more money for each week they manage to stay on the show. Variety's sources said they can get up to $295,000 if they make it to the finals.
While "Dancing With the Stars" is giving Mizanin a nice payday, he admitted to Us Weekly he misses the WWE, saying, "I love seeing a live audience every week and doing something that I'm actually really good at." Yet Mizanin hopes that doing the show will lead to more people watching wrestling. He dished to WKYC, "Maybe people who don't watch wrestling, don't watch WWE, maybe they'll tune in now because they saw me on 'Dancing with the Stars.'"
If he's anything like contestants of the past, whether Mizanin wins the trophy or not, being on the primetime ABC show will probably lead to even more TV appearances and profitable deals for him. It helps that Mizanin is showing off a different side of him that's not a WWE villain. As he shared with WKYC, "I hope to just show a little bit of Mike From Parma, Ohio."
The Miz wants more
Mike "The Miz" Mizanin may have already accomplished his dream of becoming a WWE superstar but the wrestler isn't ready to retire anytime soon. He revealed to SI, "You always want to be looked at as the biggest star in WWE, but there's more than that. It's taken me a long time, but all I want to be is The Miz." Yet that doesn't mean he doesn't have aspirations for his wrestling. He told NY Post in 2021, "My goal is to main event WrestleMania again, be WWE champion, be Universal champion, get the Intercontinental championship again, tag team titles with John Morrison."
While that seems like a lot to do, The Miz works better under pressure. As he dished to Vulture in 2015, "When I said I wanted to be a WWE superstar, they laughed at me. When I said I wanted to main-event WrestleMania, they laughed at me. So far I've been able to prove them wrong, and that fuels my fire." That kind of attitude explains why he confessed that his next goal "is to win an Oscar." Mizanin pointed out, "I make goals that everyone else thinks are unattainable, but I know I can do it."
However, The Miz's ambitions aren't just about his career; he has important goals as a dad to two daughters. As he told People, "I'm going to try to be a good father figure so they can grow up and hopefully every man will have to match who I am in their mind."