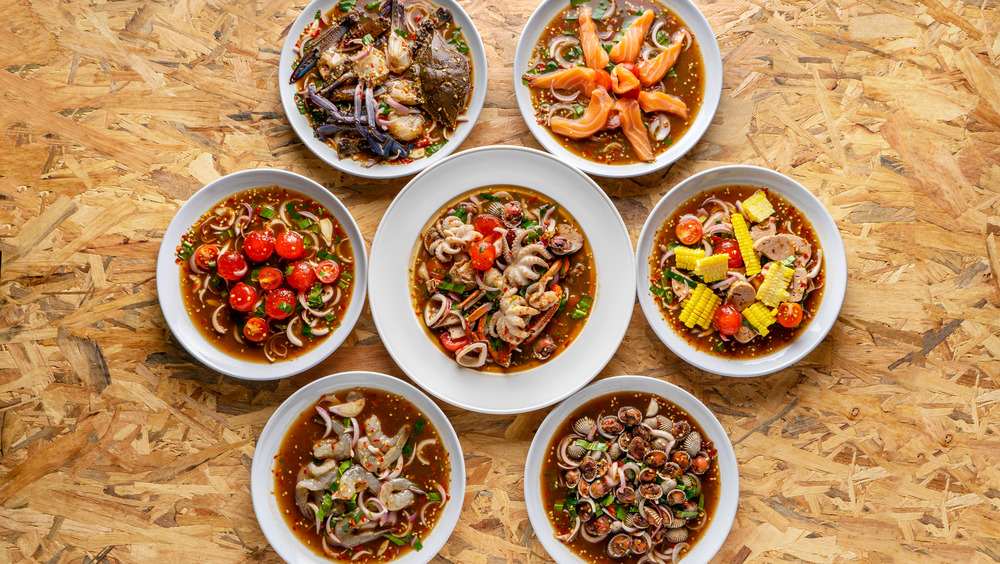 Ready to turn up the heat in your kitchen? Spicy food can bring flavor and adventure to your table. It can even spice up your health, offering benefits including a metabolism boost, pain relief, gut health, and supporting the immune system.
If you're craving something spicy, you've got lots of options. Sure, you could just dump a ton of your favorite hot sauce on your eggs in the morning, but there are plenty of recipes that use spicy heat to enhance the flavor of your meals — and we've got them here.
Not sure how spicy you really want to go? Well, the great thing is, when you're making these dishes, you get to control the spice level. And if you prefer to really dial up the spicy goodness, go heavy handed on the heat. Choose spicier peppers or chilies, add more of them, or increase the chili powder the recipe calls for. But if you're just experimenting, or you really can't handle a whole lot of heat, you can always scale back the spice in any recipe. Read on to see tasty, fiery recipes to turn to when you're ready to take your spice game to the next level.
Spicy ramen noodles will become your new staple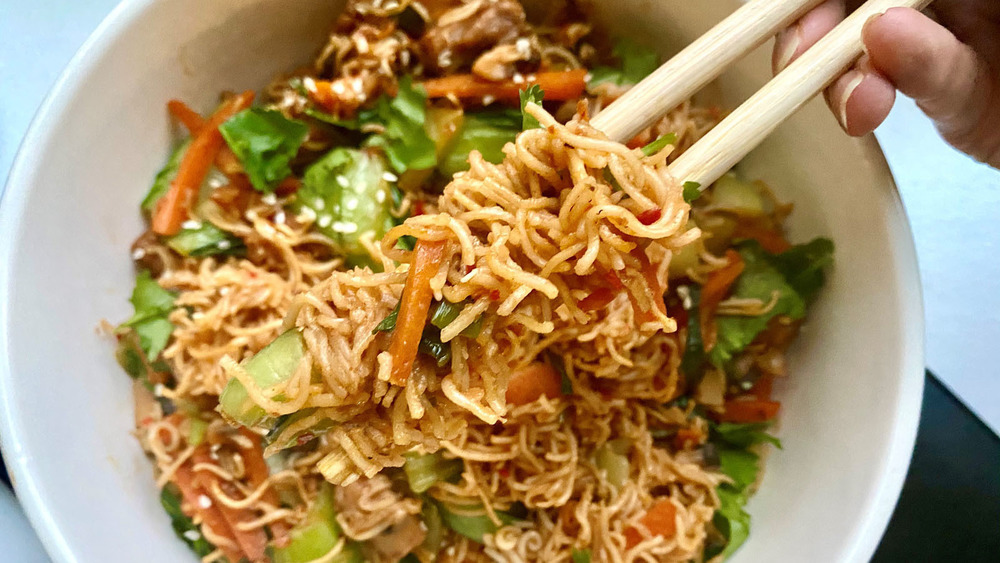 Ramen is a great staple to customize to your whims, and it comes together quite quickly when made fresh. That's why it's not just for dorm rooms: Add some veggies, a hard boiled egg, maybe some chicken or bacon, and you can elevate a package of noodles that costs just pennies into a real meal. It's also a pretty blank canvas for spice, which means you can play with chilies, peppers, and sauces to heat things up.
In this spicy noodles recipe, chili garlic sauce and chili oil turn a dorm-room staple into a flavorful, spicy dish packed with vegetables and protein. Add chicken, carrot, bok choy, green onions, and chopped mushrooms, and you've got meal-worthy spicy noodles that you'll be excited to make again. Taste it as you make it to decide whether you'd like to add more or less spice. If you go a little too far on the heat, you can increase the brown sugar, as adding more sweetness can tone down the kick.
Spicy slow cooker chicken colorado for a cozy kick
What's better than a spicy, hearty meal on a cold night? One that's waiting for you in your slow cooker when you get home, of course.
This spicy slow cooker chili colorado – meaning red chili — uses three types of dried chilies to make an irresistible sauce. Slow cooking this chili for more than three hours deepens the bold and spicy flavors of the chilies.
You'll start by rehydrating dried chilies — New Mexico chilies, ancho chilies, and chilies de arbol — by heating, removing the seeds and stems, and soaking them in covered boiling water for about 30 minutes. You'll then puree the softened chilies before you add the mix of chilies to the slow cooker with the beef.
In the slow cooker, you'll add even more spice with chili powder and then cook for three hours. When it's done, you'll have a spicy red chili that's full of deep, spicy flavor.
Easy spicy chicken potstickers bring the restaurant home
Potstickers might seem tough to make, but this spicy chicken potstickers recipe is easy and takes just over an hour from start to spicy goodness. Chicken, veggies, sauces, even glass noodles come together to create a satisfying restaurant-style appetizer. But what really sets these potstickers off is the chilies.
This recipe uses four fresh Thai chilies, which are known for their potency. They're small, but spicy, so they really pack a punch. If your store carries multiple types of Thai chilies, you can use this guide to different Thai chilies to choose which one works for your tastes. But if your store doesn't carry Thai chilies, you could swap in any other spicy pepper, such as serrano or jalapeno peppers. You might have more options shopping at an international market.
Spicy jalapeno poppers perfect for the barbecue
If you're craving spicy, you could add chilies or peppers to your dish – or you could just bite right into a pepper for a fuss-free delivery of spice. These spicy jalapeno poppers are great for parties, and even better: They have bacon.
The heat from these poppers clearly comes from the jalapenos. You can end up with a hot bunch of peppers, but removing the seeds and membranes from inside dials back the spice level somewhat, if you're serving them for those who don't want a super spicy appetizer. These usually come out pretty mild once they're baked and filled with cream cheese. If you prefer your jalapeno poppers hotter, you could leave some seeds in, though you'll want to take out some of the innards so you'll have room to actually stuff the pepper with cream cheese and bacon.
Spicy Buffalo cauliflower bites to impress wing lovers and vegetarians alike
Spicy can be healthy, as evidenced by these Buffalo cauliflower bites. Enjoyable for vegans and omnivores alike, these cauliflower bites are baked with a tangy sweet and spicy sauce.
Batter your cauliflower bites in a paprika and garlic sauce, then bake for about 30 minutes. You could fry them if you prefer, or use an air fryer, but these bites come out tasty just with regular baking at a high temp of 450. Finish up by brushing them with Buffalo sauce mixed with melted butter. You could tone down the heat and add some sweet stickiness to the bites with some honey, but you don't have to. Dip them in ranch or blue cheese sauce. These even reheat well in the oven!
Spicy Mississippi pot roast is a Southern classic with flair
When you think spicy, you probably don't think pot roast. But this pot roast is surprisingly robust, bringing out spicy flavors from six (or more) pepperoncini peppers. You could slice and remove seeds from the peppers before adding if you want less spice, but whole peppers can add the heat you may be looking for.
This Mississippi pot roast recipe is a slow cooker classic and easy to make. You just need to sear the meat, throw in packets of au jus and ranch, butter, and your peppers, then walk away. Eight hours later, you'll have a hearty, spicy pot roast that's great with mashed potatoes. Prefer to use your oven? You could cook it at 350 degrees Fahrenheit in the oven instead.
A spicy breakfast burrito to start the day with a boost
Who says breakfast can't have a little kick? These breakfast burritos bring eggs, cheese, hash browns, peppers – and spice – to the table early in the day. This is a great recipe for weekend mornings or a brunch. Or, you might enjoy them so much you want to make breakfast for dinner. And they take just 30 minutes to make.
Add spice to these burritos by topping them with fresh pico de gallo, plus your favorite hot sauce. We suggest Choula, Tabasco, or Valentina for an authentic flavor.
Spicy jerk chicken will become your new flavorful favorite
Can chicken set your mouth on fire? This famous Jamaican jerk chicken can. Jerk chicken is a spicy grilled dish with chicken coated in spices, then slow smoked over green pimento wood. The spice comes from its marinade of allspice and Scotch bonnet peppers, which are similar to chili peppers and often used in Jamaican cooking.
Some of the ingredients for authentic jerk chicken might be a little tough to track down, but this recipe offers some substitutions that can stand in just fine. If you're having trouble finding Scotch bonnet peppers, you can use a Scotch bonnet sauce, or swap in Habanero or serrano peppers. And while you could smoke your chicken, you can add smoke flavor to the marinade with Liquid Smoke and bake your chicken instead.
Easy roasted salsa to spice up snack time
Salsa offers a quick fix of spicy goodness any time of day. Eat it with breakfast tacos, tortilla chips, eggs — or just top your meats with it. This roasted salsa recipe combines dried chilies, tomatoes, onion, cilantro, lime, and spices to satisfy any spicy craving. The sky is the limit for spice in this salsa. You can choose any dried (or fresh) chili. Jalapenos (or something hotter, like habaneros) can add a lot of kick. Prefer a milder salsa? Banana peppers have an understated spice. Broiling your salsa veggies for about 20 minutes gives a slight char and an overall roasty flavor in the finished salsa.
Huevos rancheros for a bright and spicy homemade brunch
Huevos rancheros, or "ranch eggs" originate from the farms of Mexico, where ranch hands and farm workers enjoy this hearty breakfast. This dish is spicy, cheap, and filling, and it's even vegetarian if you prefer to go meat free. And with red salsa, green avocado, and white eggs, it reflects the colors and flavors of Mexico.
This recipe tops a warm corn tortilla with sunny-side-up eggs, fresh red salsa, guacamole, and your favorite Mexican hot sauce for a vibrant breakfast full of spice. Huevos rancheros are ready in under 30 minutes, even including making the fresh salsa and guacamole, which you can also use add to other dishes.
Chop up pico de gallo for some spicy freshness
Pico de gallo adds a kick to any dish, and it's more hearty and chunky than salsa, so it's got some extra versatility. You can top fish or chicken with it, put it on nachos, or just snack with chips. This spice delivery system is extremely fresh, clean, and healthy, made from fresh tomatoes, peppers, onion, garlic, and cilantro. Yes, you could buy pico de gallo prepared at a grocery store, but when you can prepare a big batch of it fresh in 10 minutes or less with very little effort, it's well worth making it at home.
Aguachile adds spice to the summer
You're probably familiar with ceviche, which cures raw fish, usually shrimp, in fresh fruit juices. It's a real treat on hot days when you want something refreshing and spicy. But aguachile – or "pepper water" in Spanish — is a more green take on ceviche with avocados, lime juice, serrano peppers (or jalapenos), and cilantro. The marinade sauce for this dish is especially appealing with a bright, lime green color and tons of bold spicy flavor to add some zip to the shrimp.
Taco pizza for a spicy variation on a fusion classic
Can pizza be spicy? Absolutely — especially if it's a taco pizza. This taco pizza recipe is part pizza, part quesadilla, with classic taco flavors on a bed of pizza dough. It's fun to make and delightful to eat, and it can satisfy a crowd that's split between a choice of tacos or pizza. Add some spice to your pizza with taco sauce, queso blanco dip, hot sauce, and pickled or fresh jalapenos. Even the ground beef has a little spice with chili powder in the taco seasoning mix.
5-Ingredient Costco tacos are quick, spicy and perfectly sweet
When you want some spicy tacos and you want them fast, these five-ingredient Costco tacos can get your hot lunch or dinner to the table in a hurry. Made with prepared rotisserie chicken meat, fresh pineapple, avocados, and a spicy roasted pineapple and habanero sauce, these tacos are ready in just 10 minutes. You could have them ready even faster if you use prepared pineapples cut up from the store or from a can. These tacos are great for a spicy and sweet weeknight meal filled with lean protein and tropical fruit.
Spicy chicken enchiladas, no takeout required
Chicken enchiladas are a classic Tex-Mex comfort food, if your idea of comfort food is a spicy hug from chicken, tortillas, and cheese. Traditional chicken enchilada sauce uses chilies blistered in a cast-iron pan ground into a spicy sauce. But you can take some shortcuts here and use a red enchilada sauce with just common spices and tomato paste. You'll use chili powder, garlic powder, cumin, oregano, salt, tomato paste, and vegetable broth for the sauce that gives these enchiladas their spicy flavor.
Copycat fiery Doritos Locos Tacos to keep you away from drive-through
Taco Bell's Fiery Doritos Locos Tacos were once a quick way to satisfy your craving for a spicy crunchy taco. But if you miss those days, you can recreate the signature spices at home with this copycat recipe.
Make your own taco shells, or take the easy route and just coat a prepared taco shell in hot sauce, chili powder, and other spices to add fiery Doritos locos flavor to your taco. You'll also add some chili powder to your taco seasoning for the ground beef to kick it up a notch. This spicy taco is ready at home in about 45 minutes — maybe not faster or cheaper than hitting the drive through, depending on how close you are to a Taco Bell — but fun to make at home and easy to dial up the spice if you prefer it hotter.
5-Ingredient Mexican street corn is a spicy adventure
Any spicy main dish deserves a spicy side, and this five-ingredient Mexican street corn fits the bill with tons of flavor, and with a fresh and healthy vegetable to boot. It's hot, messy, and completely delicious at that.
You'll grill or broil ears of corn, then top them with mayonnaise, cojita cheese, and taco spices. You could add some Tajin chili lime seasoning, your favorite hot sauce, or both to kick the spice level up a notch, if you prefer.
Copycat spicy Buffalo Wild Wings will save you a trip
Buffalo Wild Wings is known for their Buffalo wings, which come in flavors savory, sweet, and downright fiery. If you're craving BW3 but can't make it to the restaurant or prefer to stay home, you can satisfy your spicy chicken wing yearnings at home yearning at home. The restaurant even sells their signature Buffalo sauce at Costco, online, and at grocery stores, though you can make your own sauce also.
This recipe uses Frank's Red Hot sauce, oil, sugar, garlic powder, black pepper, cayenne pepper, and Worcestershire sauce with water, cornstarch, and even an egg to create a thick, spicy sauce worthy of chicken wings.
Spicy chicken tikka masala that's delightfully easy to make
Don't sleep on chicken tikka masala, a rich, saucy dish that uses Indian spice flavors for one-pot spicy perfection. Its origins are hotly debated, with some claiming it's a British curry, while others are certain it was dreamed up in Scotland, and still others who believe its roots are thousands of years old in India. Regardless of where it came from, chicken tikka masala is a great dish for when you want to enjoy the spices of India. The dish's star ingredient is curry powder, and you'll also use a spice mix of cumin, salt, ground ginger, garam masala, and cinnamon simmered with tomato sauce to give this dish a lot of spicy, flavorful depth.