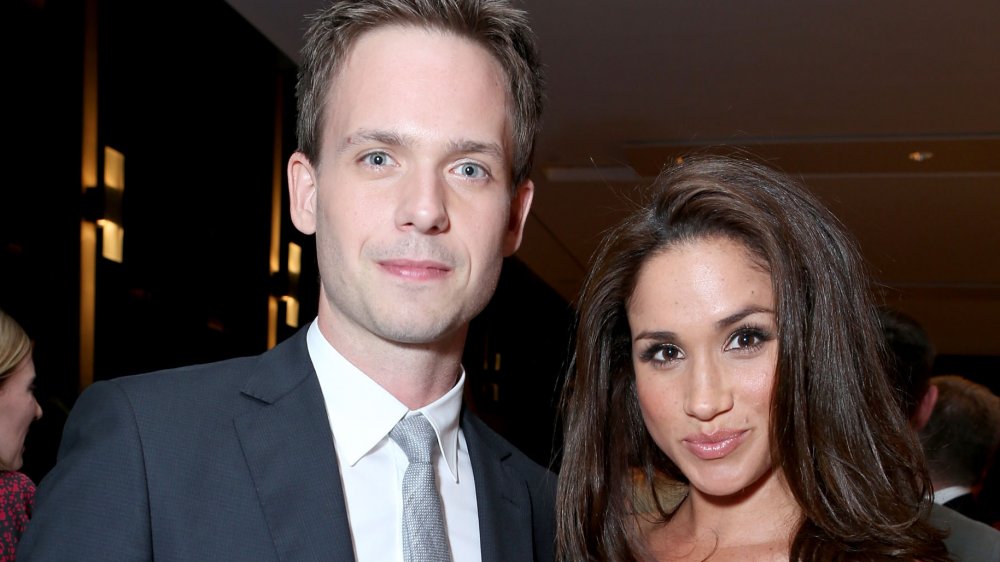 Before she was Meghan Markle, Duchess of Sussex and wife of Prince Harry, she was simply Meghan Markle, the well-known actress, beloved for her portrayal of Rachel Zane in Suits. Markle starred in the show from its first season in 2011 until its seventh season finale in 2018, at which point she quit acting to become a member of the royal family (via USA Today). During her seven-year stint on Suits, Markle's character was probably best known for her steamy relationship with the character Mike Ross, played by Patrick J. Adams.
In fact, the pair's on-screen romance was so fiery, it got a lot of people talking. As the Daily Mail pointed out, many fans were left in tears after their romantic wedding in the series seven finale. Their on-screen chemistry was so palpable, lots of people thought that there must be something going on with Markle and Adams in real life, too. Curious to learn more about their interesting real-life friendship? Here is the truth about the relationship between Meghan Markle and Patrick J. Adams.
The pair met doing a pilot in 2007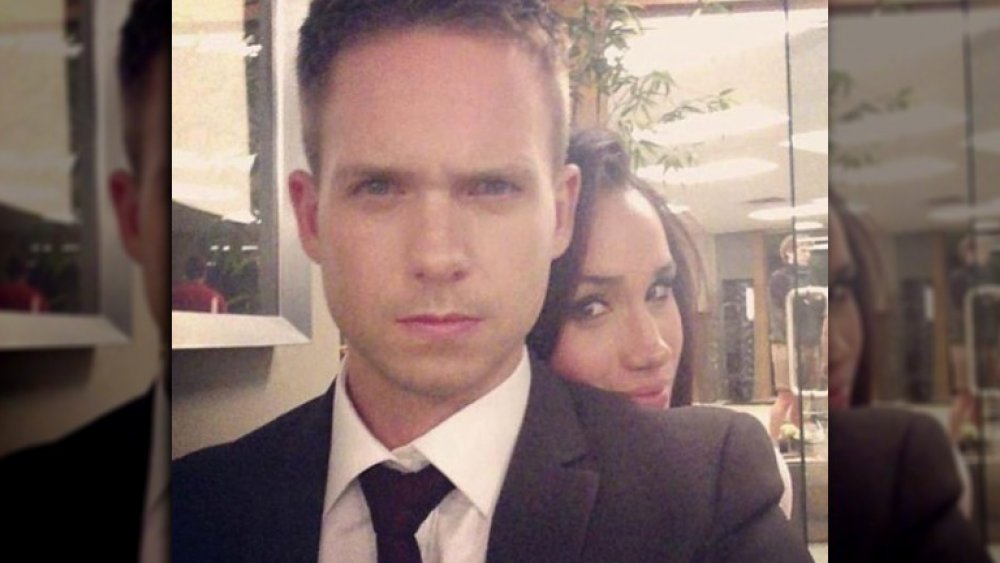 It turns out, Meghan Markle and Patrick J. Adams actually met years before Suits began in 2011. In 2013, Markle explained to Marie Claire that the pair had worked together on a TV pilot for ABC in 2007. She went on to confess that their roles in this pilot were pretty similar to their roles in Suits. "TV has always seen us in the same way," she explained. "He's the rough-around-the-edges guy, I'm the polished girl, and there's that, 'Will they ever be together?' tension," she went on. It's pretty clear that the two actors have had amazing chemistry since the very beginning.
In an interview with Larry King, Markle explained that their next meeting was during the Suits auditions. Apparently, the two actors fell into a firm friendship pretty quickly once they started working together again. Patrick J. Adams explained that their first job together was a little awkward as they didn't know each other. "[The next time] going into it, we realized we have to get to know each other and become friends very quickly," he went on to say.
Patrick J. Adams said the duo "grew up together" on Suits
Throughout their long working relationship on Suits, it's pretty clear that Patrick J. Adams and Meghan Markle developed a seriously strong bond as colleagues and friends. In 2018, Adams spoke to The Hollywood Reporter about the bond that formed from their early days on the show.
"In some ways, Meghan and I were the closest because we were the youngest people in the cast and both came in with the least experience," the actor explained. He described how their joint experience of learning on the go meant that they "grew up together over the course of the show." It's lovely to hear that the two young actors had each other to rely on throughout their first few seasons on the hit series. And by the sounds of things, their early bond helped them both navigate the world of professional television.
Meghan Markle and Patrick J. Adams became best friends while filming Suits
After forming their initial bond due to their similar ages and acting experience, Meghan Markle and Patrick J. Adams continued to get closer, eventually becoming the very best of friends.
To mark the Suits series finale in 2019, Adams posted a series of adorable throwback photos of him and his castmates on set. In several photos, Markle was seen lounging on various set pieces, clearly perfectly at ease, and having a great time working with her friend and co-star. In another series of photos, she was shown having drinks with Adams and her other Suits castmates and wandering through the streets of Toronto under an umbrella.
If Adams' candid shots weren't enough proof of their super close relationship, the bloopers from Suits really do show just how well the pair got on — in fact, judging by the hiccups, Markle and Adams seemed to struggle to get through most of their scenes without making each other cackle with laughter!
The duo was often credited for their undeniable onscreen chemistry
Anyone who has seen Suits would struggle to deny that Meghan Markle and Patrick J. Adams have a natural chemistry that flows between them when they act together on-screen. In fact, according to the book Meghan: A Hollywood Princess, by the royal expert Andrew Morton, this famous chemistry was what initially led to the show's success. After the first episode aired, Morton claimed, "Cast, crew, and the money men at the network were ecstatic, the producers thrilled that their gamble to cast Meghan opposite Patrick had paid off big time, the show's fans buzzing about the couple's on-screen chemistry" (via Express).
Apparently, this chemistry had been a feature of Suits since the very first table read. As Morton wrote, "When [Meghan] began the standard table read of the script, it was obvious that Meghan and Patrick generated chemistry — this elusive quality, the showbiz equivalent of lightning in a bottle." It sounds like sparks were flying between these two actors since the very beginning — and judging by the tension between Rachel and Mike on the show, we can't say we're surprised!
Their chemistry also revealed itself in real life too
It wasn't just on screen that Meghan Markle and Patrick J. Adams showcased some undeniable chemistry. Apparently, the same sparks were flying in real life, too. In Meghan: A Hollywood Princess, author Andrew Morton revealed that this chemistry was especially noticed at Markle's first wedding to Trevor Engelson in 2011. Morton wrote, "Their off-screen chemistry was equally noticeable, almost uncomfortably so, according to guests at Meghan and Trevor's wedding" (via Express). Yikes, it sounds like their friendship was so close that it raised a few eyebrows at Markle's own wedding!
In an interview on Larry King Now, King also picked up on their intense bond. He asked them why they weren't a couple in real life, adding with a cheeky smile, "I'm sensing something." It's pretty clear that just about everyone who saw Markle and Adams together could sense their sparkling chemistry.
They never thought about dating in real life
Even though Meghan Markle and Patrick J. Adams clearly had a strong bond both on and off the screen, the two colleagues never thought about dating in real life. When asked about the prospect of dating on Larry King Now, both immediately said, "No!" and firmly shook their heads. Adams added, "That would never work." The actors went on to explain that their romantic chemistry on screen came from a friendly familiarity from years of working together.
Plus, throughout their time on Suits, both were in relationships with other people. Adams started dating his future wife, Troian Bellisario, in 2009. Bellisario actually broke up with Adams briefly, but he won himself a guest role on her show, Pretty Little Liars, and won her back in 2010 (via POPSUGAR Entertainment) — so it's clear that he was already head over heels with Bellisario when Suits began.
Markle, on the other hand, was in a relationship with film producer and talent manager, Trevor Engelson. The couple began dating in 2004 and married in 2011 (via The Sun). Even though the couple split up in 2013, it's unlikely Markle would have developed an interest in Adams at the time.
Meghan Markle couldn't attend Patrick J. Adams' wedding due to her royal association
Patrick J. Adams and his then-girlfriend Pretty Little Liars actress Troian Bellisario announced their engagement in 2014 (via People). In 2016, they tied the knot in a beautiful woodland wedding, as reported by Hello!. Unfortunately, Adams' longtime friend and co-worker Meghan Markle didn't attend.
According to Us Weekly, Markle was invited to the wedding but decided to stay home in Toronto. A source explained that she and Adams "both kind of agreed that maybe her coming would attract too much (of the wrong kind of) attention." The source added, "They both thought it sucked."
Whether this source is reliable or not, it's easy to see why Markle may have thought her presence would be overshadowing at the time. In December of 2016, at the time of Adams' wedding, Markle was pretty big news. As The Washington Post pointed out, the tabloids have been obsessed with picking apart Markle since her relationship with Prince Harry was announced in 2016.
Meghan Markle didn't let her relationship with Prince Harry get in the way of work
Dating a real-life Prince is probably a daydream most of have had at least once in their lives. For Meghan Markle, the fairytale came true after a blind date with Prince Harry in July of 2016. Even though Markle began dating the ultra-famous Prince, she continued to work on Suits until the end of season seven in 2017. And, like a true professional, she didn't let her personal life interfere with her work.
As Patrick J. Adams explained to Hello!, everything felt pretty normal throughout season seven. "Honestly, it hasn't really changed. Nothing has changed that much," he said. He went on to say that Markle was actually "killing it" at work. "She comes to work and is super excited to be at work," he gushed.
Even though Markle kept focused and professional at work, she was pretty busy with her blossoming royal relationship. She even hopped across the pond in-between filming to attend Pippa Middleton's wedding reception in May of 2017.
Patrick J. Adams had to delete his Instagram after posting a steamy image
In one of the most scandalous moments between Meghan Markle and Patrick J. Adams, the latter got into some trouble after posting a suggestive image of Markle on his Instagram. In 2017, Adams posted a nostalgic on-set photo of Markle kissing him on the cheek in honor of the show's 100th episode. "I went to bed, and woke up in the morning and realized, 'Oh yeah. I live in a world where you can't post things about Meghan,'" Adams explained to Esquire. The post became controversial thanks to Markle's public relationship with Prince Harry.
"I had this onslaught of people retweeting the thing, people thinking it was a recent picture, and I just thought, 'What the hell is going on?'" Apparently, the viral post became the last straw in Adams' relationship with social media, and he deactivated all of his accounts. "It made me feel like […] why put myself through this," he explained. "We're like brother and sister, it's not like it was lurid or anything," he went on. No wonder the online attention felt a bit over the top, considering the innocent nature of the post.
Patrick J. Adams claimed towards the end, "A lot went unsaid"
At the end of season seven of Suits, Meghan Markle left the show to move across the pond and began a new career as a member of the royal family (via USA Today). For Patrick J. Adams, Markle's departure forced him to consider his position on the show, too. As Adams explained to The Hollywood Reporter, his decision to leave the show coincided perfectly with Markle's. This meant that their characters could have a happy ending instead of being separated for the sake of one actor. In fact, the on-screen couple was married in the season seven finale, just a few weeks before Markle's real-life wedding to Prince Harry (via Vanity Fair).
As far as their off-screen relationship went, the final episodes of season seven were bittersweet for Markle and Adams. "With Meghan, a lot went unsaid," the actor confessed. He went on to explain that their close bond meant that they didn't need to talk about their futures. "We just enjoyed the hell out of the last few episodes that we got to shoot," he said.
A hilarious reaction to Meghan Markle's engagement news
When Meghan Markle and Prince Harry announced their engagement in 2017, Markle's co-star and on-screen lover, Patrick J. Adams, was quick to express his congratulations. In fact, his in-character response was pretty hilarious. He re-tweeted the engagement news, writing, "She said she was just going out to get some milk…," referencing their on-screen relationship.
He followed up this Suits joke with a more heartfelt response, saying, "Playing Meghan's television partner for the better part of a decade uniquely qualifies me to say this: Your Royal Highness, you are a lucky man and I know your long life together will be joyful, productive and hilarious." He added a shoutout to his longtime pal, writing, "Meghan, so happy for you, friend. Much love." How adorable. It's clear that Adams could not have been happier for Markle!
Despite his sincere follow-up, Adams kept the jokes coming. In 2018, when she got married, he posted on Instagram with the caption, "I'm beginning to think she might not actually be out getting milk."
Patrick J. Adams and Troian Bellisario attended the royal wedding
Even though Meghan Markle couldn't attend Patrick J. Adams' wedding to Troian Bellisario, they were guests at the royal wedding in 2018, with Adams posting a selfie with his wife. And Adams wasn't the only former colleague to receive an invite to the big day. Another Instagram image showed that many other Suits cast and crew members attended, too, including Rick Hoffman, Vanessa Ray, Gina Torres, Gabriel Macht, and more (via Sky).
While attending a royal wedding in Britain must have been exciting for Adams and his Hollywood friends, it must have also been pretty intimidating. In fact, Bellisario confessed to The Daily Telegraph's Stellar Magazine that she had "extreme anxiety" about having to wear a fascinator.
By the sounds of things, Adams and the other Suits stars didn't get a chance to see much of Markle in person. Adams tweeted, "Meghan — wherever you are — we are so grateful to be here to watch you both take this monumental step together." What with the fascinators and the lack of face time with friends, it's clear that Markle's wedding marked a real moment of departure from everything she'd known from her life in Hollywood.
Patrick J. Adams is super proud of everything Meghan has achieved
After Meghan Markle left Suits and began her duties as a member of the royal family, her old co-star Patrick J. Adams didn't get to see very much of her. However, it seems that he still followed her career and life. Speaking to Access Hollywood in 2020, Adams spoke about how impressed he was with Markle's move to America. "I am happy to have her stateside," he said. "I'm very, very happy that she's becoming very vocal and doing whatever she can to help the election in November," he added, standing up for Markle's controversial decision to get involved in U.S. politics.
Adams then added, "I miss my friend, but I'm very happy she's doing well." It sounds like Markle is too busy to socialize with her old co-stars, but Adams remains interested and supportive. Talk about being a good pal!
Did their friendship drift apart?
Since becoming Prince Harry's wife, Meghan Markle has been seriously busy, first with her official royal duties, then with her dramatic move back to America (via Express). Plus, she and Harry are raising a son, Archie, who was born in 2019! Unsurprisingly, Patrick J. Adams hasn't really had a chance to see his old colleague. As he explained to Radio Times (via Today), "I have no doubt I could pick up the phone and call her at any moment, but I don't know what I would say," he confessed, adding that he was "a little scared" to reach out to the busy Duchess. The pair have, however, exchanged a few texts, mainly on the subject of parenting.
Adams was quick to add that the only reason he's holding back is Markle's busy, intimidating schedule. "We don't spend any time together, but that's not because of anything other than how completely enormous her life has become in so many ways," he explained (via Express). We can only hope that Markle and Adams will rekindle their friendship soon, and maybe even get their kids together for a playdate!