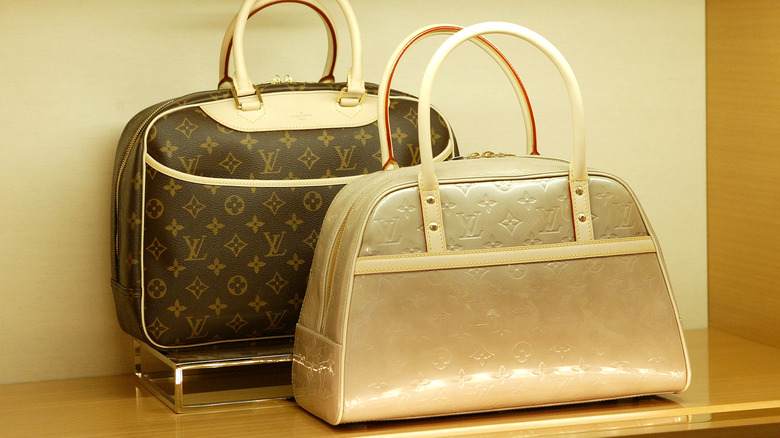 Louis Vuitton just says luxury. The brand, which was founded in Paris, France in 1854, is valued at $39.3 billion as of this writing. That makes Louis Vuitton "the world's most valuable luxury brand," according to Forbes. Louis Vuitton is also "one of the most profitable brands in the world" because of its over 30 percent profit margins. "We want Louis Vuitton to still be the number one brand in ten years," Bernard Arnault, CEO of Louis Vuitton's parent company LVMH, revealed to CNN in 2014. "In our business, the most important word is desire, so we want to continue creating desire." And Louis Vuitton has continued to do just that.
But just because you may desire an LV-monogrammed handbag, does that mean you should get one? Should you be spending your money on the label at all? There are more factors to consider than just price. This is everything you should know before purchasing.
You shouldn't hold your breath for a sale on Louis Vuitton goods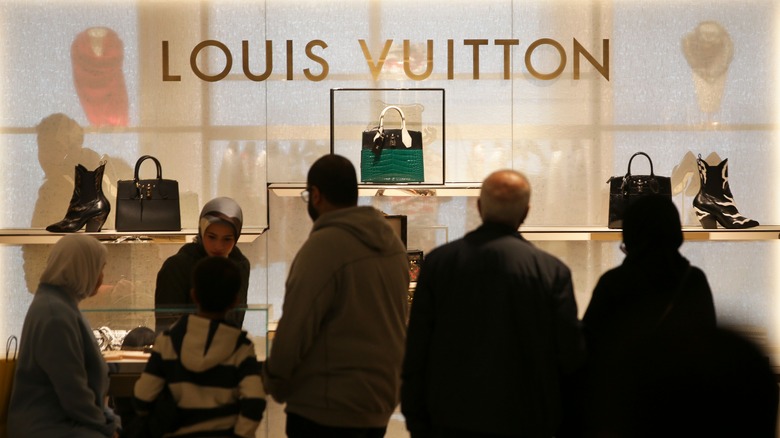 Burberry took a lot of heat in 2018 when it was accused of burning unsold merchandise to prevent them from being stolen, copied for counterfeiting, or sold at a discount. But Burberry was far from the only luxury brand guilty of the practice. The Times (via Business Insider) alleged that Louis Vuitton and Chanel also destroy their unsold products.
This is one reason why you'll never see Louis Vuitton products ever go on sale, but it's not the only one. Louis Vuitton practices what's called vertical integration, Mark Ellwood, author of Bargain Fever: How To Shop In A Discounted World, explained to Business Insider. This means the company owns its own factories and even leases the spaces it uses in department stores. While some companies sell their products at a wholesale price to department stores which are then able to be put on sale, Louis Vuitton does not.
Production of Louis Vuitton products is very limited
Destroying excess products prevent us from getting discounts, but that's not to say Louis Vuitton indiscriminately burns a ton of its merch. The label controls its own manufacturing and production, Mark Ellwood, author of Bargain Fever: How To Shop In A Discounted World, revealed to Business Insider, which means if a product isn't selling as well as the company hoped, the production can be scaled back to only what is needed. This, of course, prevents creating undue waste.
CNBC reported that Louis Vuitton also suspends production on a particular product once it has met its sales target. This is because too many of the same item on the market would only serve to decrease its value. And since Louis Vuitton doesn't outsource any of its production and exclusively manufactures its handbags in Europe and the United States, the production costs are much higher. And, well, those costs get passed on to the consumer.
While Louis Vuitton takes care to limit all of its production, some products are especially limited. There are, for instance, only 85 of the 2018 Royal Wedding Petite Malle handbags in existence. That may explain its $16,500 price tag.
Louis Vuitton fakes are abundant
Real Louis Vuitton bags may be limited, but there are certainly plenty of fake Louis Vuittons — and it's a worldwide problem. Handbag evaluators for the brand Luxity revealed to Business Insider in 2019 that a whopping 72 percent of the Louis Vuitton bags and accessories sold on the South Africa-based classifieds site Gumtree are fakes. In the same year, police in China arrested 32 people who, together, sold around $15 million worth of counterfeit Louis Vuitton and other knockoff luxury products.
According to a 2016 report (via Vox), the analytics firm Ghost Data discovered that Louis Vuitton was also one of the most counterfeited brands on Instagram. In 2018, Entrupy, a company that authenticates luxury handbags and accessories, found that counterfeited Louis Vuitton bags make up more than half of all fakes on the market.
Louis Vuitton handbags are a prime target because, as Entrupy explained to the New York Post in June 2019, "the brand has changed relatively little since its inception." Since the label has made "many of the same styles and uses the same materials decade after decade, bad actors (a.k.a counterfeiters) have had more time to develop near-perfect replicas," Entrupy continued.
Where to buy Louis Vuitton
You don't have to worry about getting duped with a fake bag if you shop at a Louis Vuitton store. The company operates in over 460 stores across 50 countries. Within the United States, California has become a hotspot for the brand. "[Los Angeles] has become the culture capital of the world," Michael Burke, Louis Vuitton's chief executive and chairman, told the Los Angeles Times in 2019. Burke further revealed that the brand was "in the planning stages" for their property located "between Rodeo Drive and Beverly Drive."
The east coast hasn't been forgotten, though. New York City is home to three retail locations, including the brand's flagship store. In 2019, Louis Vuitton also constructed a pop-up store in the Lower East Side. If you don't live close to a brick-and-mortar store or if online shopping is just more your jam, you can purchase products directly from the brand's site.
Here are the tell-tale signs of a fake Louis Vuitton bag
Buying from a Louis Vuitton store or the official site will guarantee that you're getting the real deal, but you're obviously not going to get a good deal. Instead, opting for a preowned bag can save you some cash — but be wary of fakes. How can you tell?
"Bags should not be lined in genuine suede/pigskin," Ashley Ricketts, luxe manager at the online consignment company ThredUp, told Who What Wear. "Authentic linings include coated canvas, canvas, cross-grain leather, Vuittonite, and Alcantara." Next, pay attention to the stitching. Ricketts said it "should be clean and even, and there should be the same number of stitches on any given part of two bags of the same style."
Pattern matters, too. Ricketts explained that "the monogram pattern should line up over seams and flaps and should be symmetrical from side to side" in most situations. The bag's stamp can also tell you a lot. "Authentic Louis Vuitton bags should say Louis Vuitton and indicate the country of origin," Ricketts revealed. "Since the country can vary, ensure that the factory ID in the date code aligns with the country of origin noted on bag."
It pays to do your research on Louis Vuitton
When shopping for a secondhand Louis Vuitton bag, there's more to it than just knowing how to spot a fake. To further reduce your risk of buying a counterfeit, Ashley Ricketts, luxe manager at the online consignment company ThredUp, advised "[buying] from a trusted reseller so you can be sure your purchase is authentic."
You may also want to research which styles "hold their value so you can recoup some costs later when you need a closet refresh," she explained to Who What Wear. If durability is even more important to you than resale value, you'll want to pay special attention to materials. "When choosing your textile, vernis (patent leather) is less likely to hold up over time, and is prone to discoloration and dye transfer," Ricketts explained. "Coated canvas and Epi leather will hold up better."
It's also helpful to know what your desired bag should cost. "Once you land on a style you love, make sure to search the web to ensure you're getting the best deal out there," the expert advised.
Louis Vuitton is part of "the holy trinity" of handbags
Not sold on Louis Vuitton being the brand of luxury handbag for you? "Think about the sole purpose of your first designer bag," Kiara Cooper, handbag valuation manager at The Real Real consignment retailer, explained. "Will it be for work? Do you prefer something easy like a crossbody? How much space do you need?" She continued, saying, "Durability is a given, as investing in a designer bag means investing in a piece that is built to last. But you'll want a design that you love, that is functional and versatile and can easily blend into your lifestyle."
If Louis Vuitton does happen to tick all of your boxes, you'll be happy to know that it's one of the best bags money can buy. Elise Whang, cofounder of the pre-owned luxury site LePrix, recommends investing "in the holy trinity — Chanel, Louis Vuitton, and Hermès." She explained to Who What Wear, saying, "While the value of luxury handbags can fluctuate due to trends or buzz, these three iconic brands in certain styles have the most resale value at LePrix."
Consider these factors before buying Louis Vuitton products
Purchasing a Louis Vuitton bag is a big deal — and with that comes lots and lots of things to consider. Thankfully, Ashley Ricketts, luxe manager at the online consignment company ThredUp, has some suggestions that can help you make a wise decision.
When speaking with Who What Wear, the expert said it's "always a good idea to give careful consideration before pulling the trigger." You 'll also want to make sure you're choosing a bag that'll pretty much go with everything. "Can you picture yourself wearing this bag for multiple occasions and getting lots of use out of it? While you can snag a bag at up to 90% off resale, there's still a sizable price tag attached to the most desirable items," she explained. "Make sure you're getting the most bang for your buck by choosing a versatile accessory that complements your style." And, if you choose to go the preowned route, that doesn't mean your bag has to look used. In fact, it's wise to look for a bag in the best condition you can afford.
These are the Louis Vuitton bags to consider
Although we can't tell you which Louis Vuitton bag you should purchase, there are a few styles you may want to pay close attention to. "As logos continue to enjoy a resurgence, a Louis Vuitton monogram bag is the perfect investment piece," Kiara Cooper, handbag valuation manager at The Real Real consignment retailer, revealed. "And the monogram, with its chocolate and tan colorway — arguably a neutral — and Louis Vuitton's storied past ensure the bag will hold its value."
The brand's ever-popular Neverfull handbags are favored for a reason. They're "beloved because they can fit everything without being too heavy," Cooper revealed. On the other hand, the expert said Speedys are "surprisingly spacious" for their smaller size. She continued, saying, "And limited edition styles with the monogram are great for those who want something a little different."
It's not a bad idea to choose a bag in the brand's signature canvas, either. "It's scratch-resistant, lightweight and waterproof," the expert added. "If the design has the brand's signature untreated vachetta calf hide trim, note that the elements will affect the leather, though many appreciate the aged, weathered look."
The best Louis Vuitton bag for your investment
If you're looking at purchasing a Louis Vuitton bag purely for the investment, the Neverfull still comes out on top. Luxury retail site Vestiaire Collective (via Elle UK) noted a marked increase — we're talking 65 percent! — in resale value between 2012 and 2017. If you were to have bought the bag new in 2012 and resold it five years later, the Neverfull would've retained 80 percent of its retail price.
It also doesn't hurt that the Neverfull is one of the more physically durable handbags on the luxury market. According to Elle UK, Louis Vuitton tests "the bags by filling them with 3.5KG [about 7.7 pounds] weight and dropping them from half a metre [over one and a half feet]." Now, we're not saying you should shove a brick in your precious Louis Vuitton bag and throw it on the floor — but it would probably survive if you did.
Buying a Louis Vuitton bag here will save you some money
So, secondhand's not for you? That's okay. There is actually a way to save a little money while still buying brand new.
Citing statistics from Exane BNP Paribas, Quartz reported that luxury goods in France, Italy, the United Kingdom, and Russia all sell for cheaper than they do in the United States, Japan, South Korea, and China. With luxury goods being the most expensive in China and least expensive in France, many shoppers consider Europe to be "the world's largest in-season outlet," the global management consultancy Bain & Company revealed. According to Exane's statistics, Louis Vuitton products cost some 50 percent more in China than they do in France. Although Americans won't save quite as much by shopping in France, you should still be able to get a Louis Vuitton handbag at a slightly lower cost. Plus, you can visit the birthplace of Louis Vuitton — and that's pretty cool.
Why buy Louis Vuitton goods when you can rent?
There's more than one way to show off a Louis Vuitton handbag. Instead of purchasing one outright, sites like ArmGem and Bag Borrow or Steal make it possible to rent one. While prices vary based on the bag you choose, both companies offer handbags at varying price points. Bag Borrow or Steal, for example, offers the Pochette Florentine Small Belt Bag for $65 per month, whereas the Dora Soft BB Satchel will set you back $450 a month. Still, if you can't, or don't want to, fork over thousands of dollars on a Louis Vuitton bag, a month-by-month rental can add some luxe to your life without totally breaking the bank.
Although renting may be a great option for the consumer, it may not be as great for Louis Vuitton. "One group of academicians … has determined that luxury rentals do substantially negatively impact a luxury brand's image," Forbes reported. "Their data show that once a traditional, expensive luxury brand is available through rental, the luxury brand's equity is 'negatively affected.'"
Louis Vuitton sells more than handbags
Louis Vuitton is well-known for its handbags, but that's not all it offers. As the label's site reveals, consumers can also purchase ready-to-wear fashion, jewelry, sunglasses, shoes, and plenty more. For a long time, Louis Vuitton was one of the few luxury brands that didn't have its own fragrance. That all changed in 2016, though Allure reported that the brand had sold perfume once before — but that was back in the 1940s and none of those scents exist any longer.
In 2016, master perfumer Jacques Cavallier Belletrud worked with the brand to come up with seven coordinating scents. "We decided right away, and very quickly, that it would be a collection," he told the publication. "We also made a decision that these fragrances would be feminine — it's not written on the bottle that they're for women, but they're feminine." He continued, saying, "And the third choice I made was that [this collection] would be a story about flowers, because flowers to me are so delicate, so intense, so powerful, so beautiful — just like a woman — and it's always been my longtime obsession to try to put the beauty of fresh flowers in a bottle." Sold.
You can expect Louis Vuitton to be around for a long time
Rentals may bring down a brand's image, but Louis Vuitton probably isn't all that worried. In September 2019, Bloomberg reported that Louis Vuitton would be adding around 1,500 manufacturing positions in France over a three-year period in order for the company to meet increased demands.
Prior to adding more jobs, Louis Vuitton expanded its factories to the United States, Italy, and Spain, but CEO Michael Burke told the publication that France would still remain at the forefront of the company's production and manufacturing. "If we let the craftsmanship leave, even to places as close as Italy, I think it's inevitable that the minds, the creativity in the sector will follow," Burke explained.
Louis Vuitton has been in business — and making handbags — since the 1800s, and considering the label has "the highest sell-through of any brand in the world," according to Burke, it's hard, if not impossible, to imagine a world without Louis Vuitton.