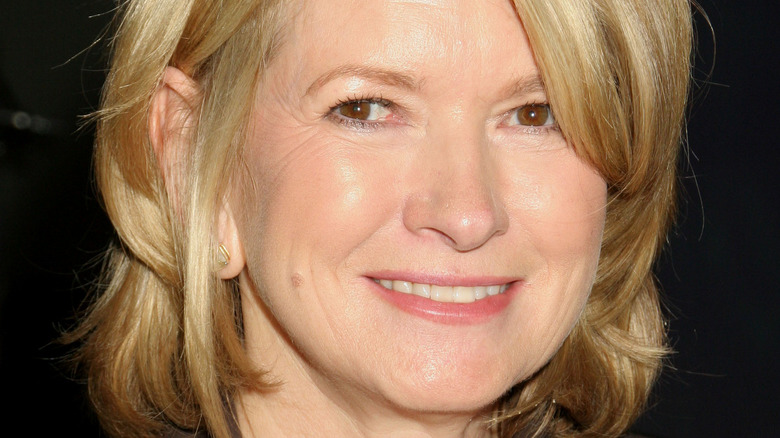 It's no exaggeration to say media personality Martha Stewart is a cooking and home décor legend. And a rich legend at that: Celebrity Net Worth lists her net worth at a staggering $400 million. However, along with some clearly lucrative highs, this is one celebrity who has also experienced some serious — and occasionally money-related — lows. Granted, she's also not the kind of person to stay down for too long. That's why, after any kind of hardship comes her way, Stewart has gotten right back up and continued her ongoing path to ever-growing (and seriously enviable) success.
Because of that, plenty of people are surely happy about the fact that Stewart is also willing to share some of the secrets of her success. Or, in her case, "rules," as we're told in "The Martha Rules: 10 Essentials for Achieving Success as You Start, Build, or Manage a Business." Among other helpful tips, she explained that when it comes to business, it's "all about risk." By that, she means both "assessing risk" and "managing risk." At the same time, she added, "But it is also sometimes about taking a deep breath, looking all around you, then doing what my friend and colleague Market Burnett calls 'jumping in,' following a well-informed instinct or a calculated hunch even when others can't understand."
Sometimes those risks pay off and sometimes they don't. That's something Stewart knows well as you can see from the following ways she's both made a fortune and taken a few significant hits over the years.
She made it as a model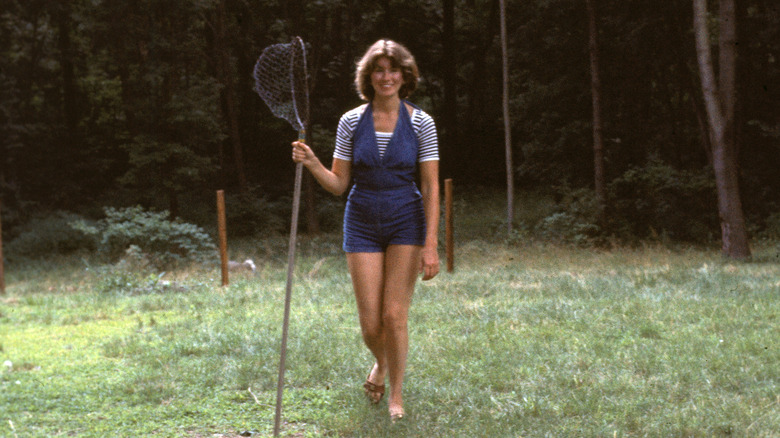 Martha Stewart may now be a mega-successful media personality, however, when she first started working in front of the camera it was as a model. In fact, according to MarthaStewart.com, modeling was her first job and one that she started doing in high school in order to make a little money while still a student. Per Business Insider, she was merely 15 when she got into the industry, while the star herself noted while talking to People that the opportunity popped up when she was signed by Ford Models.
Standing above average at five-foot-nine, per her website, and obviously having camera-worthy good looks, Stewart continued to model after she left high school and moved on to Barnard College as well as during her days after graduating. Posing for fashion editorials and appearing in ads for brands like Chanel, Unilever, Clairol, Breck, and Lifebuoy Soap, she also walked the runway for fashion shows.
While that may sound glamorous, Stewart once admitted on her website, "During my modeling days, we didn't have a team of stylists for photoshoots. I had to do my hair myself." Of course, by taking advantage of her D.I.Y. styling skills and not paying for a professional out of her own pocket, the woman who was destined to be a star was already proving that she was financially savvy. She was also making $50 an hour while modeling, which Business Insider notes was a pretty impressive paycheck back in the day.
Martha Stewart headed to Wall Street
You might assume that modeling led to Martha Stewart's work on television, however, her career actually took a turn when she went to work on Wall Street. Biography notes that in the '60s, she took a job at a "boutique firm" called Monness, Williams, and Sidelas, as a stockbroker. Sticking with it until 1972, per Biography, she said on her website that "the job taught [her] so much about what it takes to build a real business, a real company — a meaningful and useful enterprise."
In fact, Stewart told People that the "most important of [her] early jobs was being a stockbroker." Saying that she "lasted in that business" for just two years shy of a decade, she explained that she was "working in a firm of all men. Only one woman-owned a seat on the [New York Stock] Exchange at that time" (the National Women's History Museum notes that was Muriel Siebert who became a member of the NYSE in 1967).
Stewart went on to say that she's "not intimidated by men" and "was totally respected," adding, "I had a very successful career in the stock market, and I sometimes regret not staying in that business, because becoming an investment banker would've been pretty fabulous. But I was lured to the home." Indeed, Stewart left her Wall Street career — where she made up to $135,000 a year, according to Entrepreneur — to spend more time with her family and ended up with another lucrative job.
Catering was a new beginning for Martha Stewart
You can surely trust the catering advice given on MarthaStewart.com thanks to the fact that she once had that very job. After leaving Wall Street, Martha Stewart got a job in Westport Mall's food court where shoppers were served gourmet food, according to Reference for Business. Managing the Market Basket, she was just as successful in that gig as she was as a stockbroker and was the force behind turning it into a serious money-maker.
It was also around that time that Martha started spending her time perfecting her gourmet cooking skills at home. In the 1970s, she and her husband at the time, Andy Stewart, moved themselves and their daughter, Alexis, to an old farmhouse. Her culinary efforts went so well that she was soon making additional money after starting her own catering business in 1973, according to her website. In fact, Entrepreneur claims she found herself with a company worth $1 million. Working out of her own kitchen and making every aspect of her meals, her influential clients were impressed with the drool-worthy food and conversation-worthy ways that she presented her dishes, per PBS.
Of course, it's now no secret that Martha has a knack for entertaining. But before she became famous, she definitely put in the work to refine her skills while continuing to make money along the way.
Martha Stewart hit the big time with her books
Martha Stewart had clearly nailed another venture while running a catering business, however, it was actually her catering that led to yet another successful endeavor and the beginning of something big. While also working as The New York Times' food and entertainment editor, according to Entrepreneur, she ended up catering an event for a publishing company. The president of the company was so impressed with what Stewart had to offer that he gave her a book deal. MarthaStewart.com notes that "Entertaining" hit the shelves in 1982, and gave those who purchased the cookbook a glimpse at dishes she had been serving her catering guests.
"The first book really was kind of an entertaining textbook for the homemaker," Stewart explained while opening up about her career to NPR. Saying that she wasn't able to track down a book that she felt nailed entertaining at the time, she added, "[S]o I decided to write it."
Stewart's debut book was a smashing success with Entrepreneur claiming that 625,000 copies flew out of stores. That's why she unsurprisingly has continued to write more books over the years. In fact, in November 2020, her website pointed out that she was just three books shy of 100! Some of the later foodie-pleasing, home-tidying, money-making books include "Martha Stewart's Cookie Perfection" (2019), "Martha Stewart's Organizing" (2020), and "Martha Stewart's Cake Perfection" (2020). The books also sparked a celebrity career that would be filled with very good things.
Martha Stewart made cookies and bank
It's hard to imagine what goals Martha Stewart might have had in mind when she wrote her first book. However, with her talent and ambition, it's understandable that her first step into the world of media was just a glimpse of what was to come. Granted, at the same time, her life was changing in a very different way. By the time the '90s began, Stewart was 49 years old and her daughter was grown up. The woman who was finding fame as a food expert was also divorced. However, she explained on her website that when it came to her career, she "knew that [she] was onto something big."
"I've been dubbed a 'late bloomer,' and I love the moniker," Stewart admitted. Noting that she "published the first issue of [her magazine] 'Martha Stewart Living' [in 1990]," she added that she's "been pursuing [her] dreams ever since." Those dreams apparently included branching out from her successful magazine and launching a television show that aired from the mid-'90s to 2004 while earning a fair share of awards. That was followed by "Martha" which appeared on screens from 2005 to 2012 not to mention "Martha Bakes," "Martha Knows Best," and "The Apprentice: Martha Stewart" among others.
Of course, interest eventually moved online, which is why her website is now an integral and popular part of her brand. Throw her lifestyle products into the mix, and Stewart's fortune-making entrepreneurial empire only grows.
Becoming America's first self-made female billionaire
These days, those who follow the financial status of celebrities will know that Kylie Jenner was caught up in a billion-dollar buzz. However, it was Martha Stewart who was actually America's first female self-made billionaire, per Fortune. Earning the status in 2000, Forbes explains that was a year after her Martha Stewart Living Omnimedia company — which encompasses various media and retail endeavors — had gone public. When asked by Fortune about her boundary-breaking feat, she explained, "I was lucky, and I was smart. I built a beautiful company, and I was rewarded. And that's the American way."
However, over the years, the company faced obstacles (which we'll explain more a little later) that hurt the earning power and, in turn, value of the company. That's why when, as The New York Times points out, Stewart decided to sell the brand to the Sequential Brands Group — which also owns Jessica Simpson's brand — in 2015, it only brought in $353 million. While that's still a pretty big fortune, it's just a sliver of the $1 billion that the company was once worth.
Although this was undeniably a pricey hit for Stewart, she was still willing to see the bright side (at least publicly). According to the Times, she explained in a statement that the deal would not only "further the growth and expansion of the unique Martha home and lifestyle brand," but also "tap into Sequential's expertise and resources to expand" their money-making efforts.
Martha Stewart rakes in real estate
Martha Stewart is famous for making homes beautiful, which is something she's done for herself everywhere from her residence in New York to her house in Connecticut. If you're curious about the kind of cash that Stewart spends on her pricey properties, Velvet Ropes revealed a few numbers. Stewart reportedly paid $3 million in 1995 for a home in the Hamptons called Lily Pond Lane and $5.4 million for a three-story mega-abode (which is a whopping 35,000 square feet) on a 63-acre property in Maine deemed Skylands which she nabbed in 1997. Those came before the $5.8 million 6,800 residential addition to Skylands, and her Cantitoe Corners New York home which sits on a staggering 153 acres and cost her a cool $15.2 million.
Of course, Stewart has also made a fortune by selling real estate. Things really kicked off in 2007 when she sold the Turkey Hill property — which cost her $46,750 in 1971 plus the $47,000 for a two-acre plot next door four years later — where she had lived with her former husband and daughter for $6.7 million. From there, in 2011, she was paid $6.65 million for her place in New York City's West Village, per Velvet Ropes.
Thanks to that kind of savviness when it comes to real estate, Forbes reported in 2019 that Stewart had gotten into the real estate development business. We're sure plenty of people would pay a pretty penny to live in a Martha Stewart-approved home.
Costly lawsuits hit Martha Stewart
When someone is a part of big business ventures like Martha Stewart had been over the years, it seems inevitable that they'll also find themselves caught up in a legal mess or two (if not many more). That's what happened to Stewart when she faced a lawsuit involving PetSmart, according to the New York Post. In a situation that also involved a company called Age Group, the legal situation saw the business going after the star for breach of contract as well as additional claims.
That went down the same year that Stewart was named in another lawsuit with none other than Macy's and J.C. Penney. The lawsuit, which involved supposedly sticky retail practices and allegedly iffy business tactics just like the first legal issue, was initially settled in January 2014, per Reuters. That was surely good news as Noble Financial Capital Markets analyst Michael Kupinski told the outlet that the "Macy's lawsuit was an overhang to the Martha Stewart shares." He also felt like the deal was worth over $100 million in revenue, which obviously means that a lot of money was potentially at stake.
Unfortunately for the business-savvy celebrity, after initially being settled, according to Reuters, the lawsuit was brought back in February of the next year before finally being settled (for good?) in 2017. Although the terms of the settlement weren't made public, there's no doubt that this was a costly situation that took years to wrap up.
Prison time wasn't good for business
Martha Stewart may have left her job on Wall Street but it turns out that she didn't leave investing behind. That became clear in 2003 when she found herself in trouble with the law due to some questionable actions. CNN's Money reported at the time that the star had been indicted over accusations of being dishonest during an investigation over possible insider trading. The situation went back to 2001 which is when she offloaded shares of ImClone — a company whose CEO was friends with Stewart — just a day ahead of the value significantly dropping.
Stewart, in turn, stepped back from her roles as the chairman and CEO of her company, Martha Stewart Living Omnimedia, per CNN. Of course, in 2004, she was found guilty of all the charges against her, according to The Wall Street Journal, and ended up serving time in prison. Although the WSJ noted that a statement from Stewart that had been posted to her website said she was "obviously distressed by the jury's verdict," juror Chappell Hartridge had a different view of the outcome, saying, "Maybe it's a victory for the little guys who lose money in the market because of these kinds of transactions."
Either way, as a result, in 2006, the worth of Stewart's media company dropped by a staggering 50%, according to ABC News. While that was also surely a massive hit to the star's own financial status and money-making power, she was down for long.
Martha Stewart made a lucrative comeback
On March 4, 2005, Martha Stewart was released from prison after serving her five-month sentence, according to NPR. As CNN reported following her sentencing, she also had to complete a two-year probation sentence as well as fulfill a $30,000 fine. However, the star apparently didn't let the time in prison bring her down. It was actually the opposite. She told Harper's Bazaar, "I knew I was strong going in and I was certainly stronger coming out."
That's perhaps one of the reasons why, the very next year, Stewart showed up on Forbes' "Rich List." Indeed, she got right back to business after serving her sentence, and along with continuing to release books and appear onscreen, she also moved into radio with SiriusXM and got into the wine business.
On top of that, the fact that Stewart was now seen as a less-than-perfect person might have actually helped her when it comes to business. Just consider the fact that it was her friendship with Snoop Dogg that led her to launch a cannabis-related business — more specifically, CBD — as noted by Forbes. She even told Harper's Bazaar that going to prison was one of the ways that she and the rapper — who has faced legal troubles himself — were able to form a deeper friendship. From Wall Street to catering to media to weed-adjacent products — it seems like this is one star who makes money no matter what she ventures into.