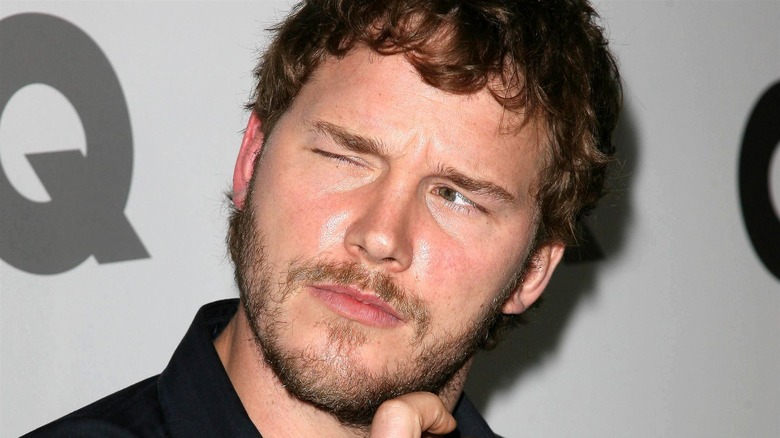 Ever since Chris Pratt joined the cast of "Parks And Recreation" in 2009, the actor's career has become a shining example of how one small (and initially temporary) role on a sitcom can lead to a major film career.
Now almost everyone knows who Chris Pratt is. The actor has become a household name and a box office draw with roles like Star-Lord in the "Guardians of the Galaxy" franchise and Owen Grady in the "Jurassic World" films. "The Lego Movie," its sequel, and Pixar's "Onward" have ingratiated Pratt to an even younger generation of fans as well.
But before Pratt became the A-list movie star we all know and even before his breakout role in "Parks and Recreation" as Andy Dwyer, the 42-year-old actor was taking an unorthodox journey, moving around the United States and ultimately ending up in Hawaii. Here's a look at how Pratt went from living in a van to landing his star-making role on "Parks and Recreation."
Pratt dropped out of college to become a coupon salesman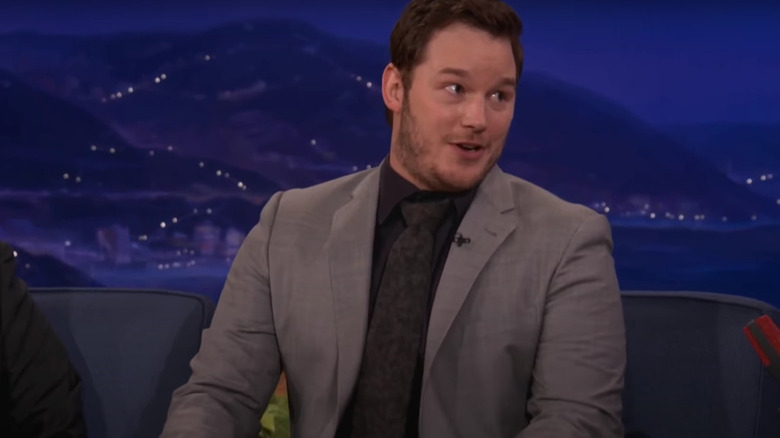 Pratt was born in 1979 in Minnesota. His mother worked at a Safeway grocery store and his late father was once an Alaskan gold miner who eventually worked in construction, per The Wrap. "At about three years old I moved away and grew up in, primarily Washington State," Pratt told Wired.
After graduating high school in 1997, Pratt went on to attend community college and studied acting, but soon dropped out to enter the lucrative field of coupon selling (via Entertainment Weekly). In an interview on "Conan," Pratt recalled how he worked for two years in what he called a multi-level marketing scheme, eventually opening up his own office and being a boss to young salesmen. "There are major lessons to be learned in door-to-door sales that you use as an actor in terms of dealing with rejection and walking into a room of strangers and being on and being enthusiastic and stuff," Pratt said.
Pratt was homeless in Hawaii before becoming an actor
Chris Pratt's days of driving around his crew of coupon salesmen in his van led him to Hawaii. After a friend recommended he move to the more tropical climate, Pratt and his friend "set up camp on the beach and lived the dream" (via Entertainment Weekly). He worked as a waiter at Bubba Gump Shrimp Co. which was coincidentally the perfect fit for him. "I don't know if you've ever had a dining experience at the Bubba Gump Shrimp Co., but they love a gregarious waiter who will get in your face and sing you birthday songs and do trivia."
Pratt was technically homeless as he was living out of his van, but luck soon struck for the 19-year-old when he waited on actress Rae Dawn Chong. "I was on a retreat in Maui with a friend," Chong told Star. "Chris came over and pitched himself to me, claiming he was an actor, too. As it turns out, we were casting a movie I was going to direct in L.A. and I needed someone to star as the 'hunk' in my film." Pratt was cast in Chong's film, "Cursed Part 3," as Devon and landed his first official credit.
He got his first big break starring on Everwood
Pratt's first major role on television was as Bright Abbott, the football-playing comic relief on the WB series "Everwood." The show centered around a family moving to the fictional town of Everwood, Colorado after Dr. Andy Brown's (Treat Williams) wife died.
The cast and crew of the show revealed in 2017 that they had predicted Pratt would go on to become a star. "I told Chris Pratt he was going to be a star," John Beasley (Irv Harper) recalled. (via TV Line) "He had a lot of the qualities that would make him a star. He was a good-looking white boy."
After "Everwood" was canceled, Pratt went on to join the cast of another television teen drama, "The O.C.," playing a hippie activist and Summer Roberts' (Rachel Bilson) college friend, Ché Cook, on the show's fourth season. "He's a lot different than any character I've ever played," Pratt told TV Guide at the time. "He's a left-wing liberal, environmentalist, vegan-type of save-the-chickens character that's a little over-the-top, but he's completely earnest. He's kind of a hippy. It's a very funny role."
Pratt's supporting film roles were beneficial both professionally and personally
While he was beginning to make a name for himself on the small screen, Pratt simultaneously started snagging roles on the silver screen too. Though he wasn't exactly Star-Lord yet, he was appearing in films like "Wanted," "Jennifer's Body," and "Moneyball." One of his roles became particularly significant because it would be the reason he met his future wife Anna Faris.
In 2011's "Take Me Home Tonight," Pratt played Kyle Masterson, Wendy Franklin's (Anna Faris) boyfriend, who Pratt called "an unlovable douchebag" during an interview for the film's debut. Though the '80s-set comedy didn't hit big with audiences, Pratt met and fell in love with co-star Faris while shooting in 2007. Insider reported that at the premiere of the film, Pratt said, "This is a pretty spectacular moment for us, to be able to come to this movie that we met on and fell in love making." While Pratt and Faris have since divorced, the two have remained friends and found new partners (via USA Today).
Pratt's Parks and Rec audition blew away the show's creators
When Pratt first appeared as Andy Dwyer in the first season of "Parks and Recreation" in 2009, he was Ann Perkins' (Rashida Jones) lazy boyfriend with two broken, fully cast-wrapped legs who asked Leslie Knope (Amy Poehler) to pass him his "itch stick" (via YouTube). The character would evolve, falling in love with April (Aubrey Plaza) and finding employment as a kids' TV show host as Johnny Karate.
Andy was originally intended to be on the show for a six-episode arc, but show creators Greg Daniels and Michael Schur soon realized they had cast an actor who could bring much more to the role than they intended. "Almost at the point of the audition we were like, 'Oh, we have to reconceive this, because this guy's the funniest person we've ever seen. We're not letting that guy go,"' Schur told Entertainment Weekly. He added that even alongside comedic talents like Poehler, Plaza, and Aziz Ansari, "Pratt is very often the best improviser in the cast, which is really saying something."
Pratt played Andy until the show's series finale in 2015, just as his film career was taking off and he was making box office juggernauts.