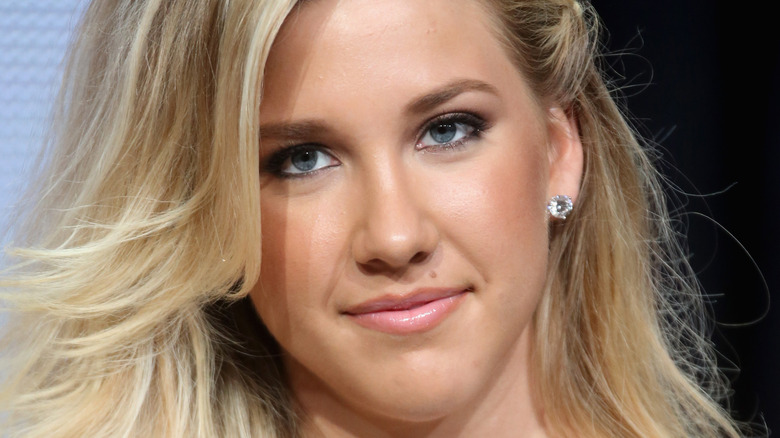 Savannah Chrisley garnered comparisons to Kim Kardashian after her family's USA Network reality series premiered in 2014. However, unlike Kim, she was just a teenager when a camera crew became part of her everyday life. On "Chrisley Knows Best" — and its spinoff, "Growing Up Chrisley" — viewers watched the pampered pageant princess blossom into an ambitious young woman who found success outside of the realm of television.
If Savannah is the Kim of the Chrisley clan, then her father, Todd Chrisley, is Kris Jenner. However, he seemingly tries to micromanage his kids' lives even more than the famous momager does. During the first season of "Chrisley Knows Best," he even claimed that he approved "every piece of clothing" that his children wore. Meanwhile, in 2019, mom Julie Chrisley described her daughter as "a little bit of a control freak" on the "Chrisley Confessions" podcast. However, sharing this trait with Todd doesn't mean that Savannah has always agreed with his parenting methods. "My dad is extremely strict," she said in a behind-the-scenes video. "And that's part of the reason why we go off and do exactly what he tells us not to do." But Savannah later learned to love the overbearing behavior of the patriarch who made her want to push back. "There are times that you're too tough on us but as I get older I appreciate it so much more," she wrote in a 2015 Facebook tribute to Todd.
But this isn't the only way that Savannah Chrisley transformed as she grew up.
Where Savannah Chrisley's Sassy nickname came from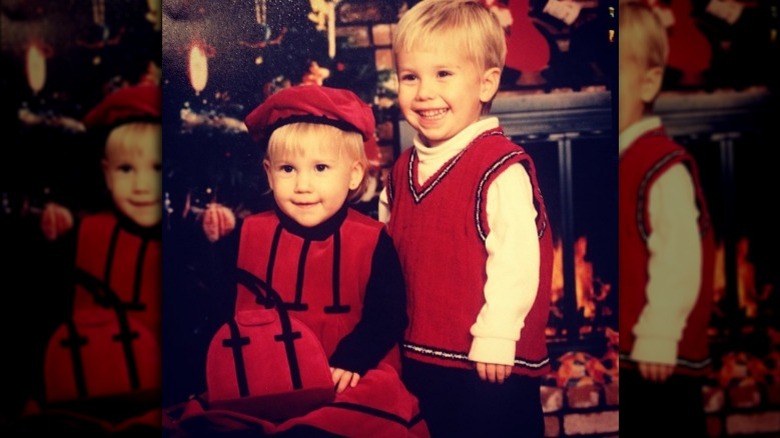 Savannah Chrisley hails from Atlanta, Georgia. The modern-day Southern belle is Todd and Julie Chrisley's second child, and she credits her older brother, Chase, for coming up with the nickname that so perfectly captures her personality. "Being only 14 months apart, he could never pronounce Savannah therefore 'Sassy' stuck," she wrote on her Sassy beauty brand's website.
Rounding out the blended family, Savannah's parents would later welcome another son named Grayson, and Todd also has two children from a previous marriage, Kyle and Lindsie. Todd and Julie were awarded custody of Kyle's daughter, Chloe, when she was just a baby, and Savannah described her niece as "basically my baby sister" in a 2017 Instagram post.
Meanwhile, Savannah and Chase were as thick as thieves growing up — but they were prone to the usual sibling spats. "Been wreaking havoc on your life since day one and I'm sorry…but I'll continue to do so!" Savannah wrote in a 2018 birthday tribute to her older bro. She also shared photographic proof that the two were little troublemakers. In another Facebook throwback, a young Savannah and Chase were both seen sitting on the bottom step of a staircase and pouting. She vividly recalled why they were there. "'Y'all get your a**es to the end of those stairs and I better not [see you] speak or look at one another!!' -dad," she wrote. "But y'all know good and well I looked at chase…and I tried talkin hahahah."
She was an equestrian with an adventurous streak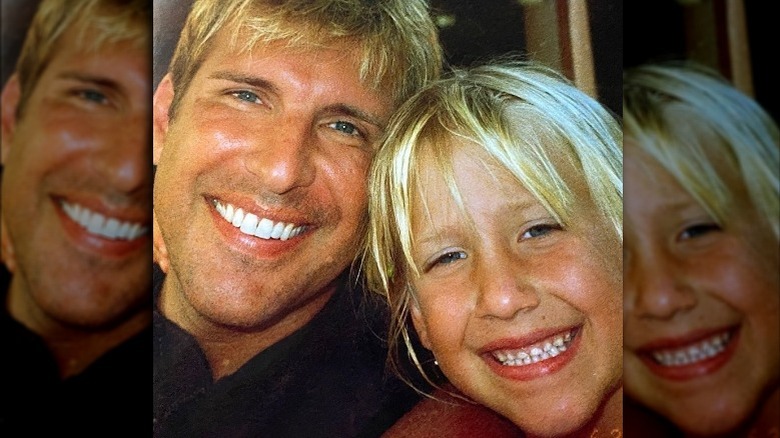 Savannah Chrisley has described herself as "a daddy's girl since [she] came out of the womb," but she was also incredibly close with her grandpa growing up. In a 2019 Facebook post, she reminisced about their strong bond. "My Papa Gene was my BIGGEST supporter and fan!" she wrote. "We were inseparable…best friends actually."
Savannah used to show horses, and she recalled how her supportive grandfather attended every event that she competed in. "I remember always looking at him during my horse shows just to see his facial expressions because I wanted to make him proud and to no surprise every time I looked he was grinning ear to ear!" she added. On the "Chrisley Confessions" podcast, Todd Chrisley even recalled buying daughter Savannah a Welsh pony and custom saddle from England when she was 8 years old.
But while Savannah's fans might think of her as a girly girl, she was actually a bit of a tomboy growing up. She enjoyed going fishing with her grandpa, and one of her childhood photos shows her riding on the back of a motorcycle with brother Chase Chrisley — without a helmet on, no less. "I was DEFINITELY a wild child lol!" she wrote on Instagram in 2021. While she wasn't always well-behaved, the reality TV star credits her strict upbringing for making her resilient. "We had tough skin growing up," she said on "Chrisley Confessions" in 2019. "We had no choice. Dad was like, 'Nope, you're going to be strong.' And thank goodness for that."
Tragedy struck the Chrisley family before cameras invaded their home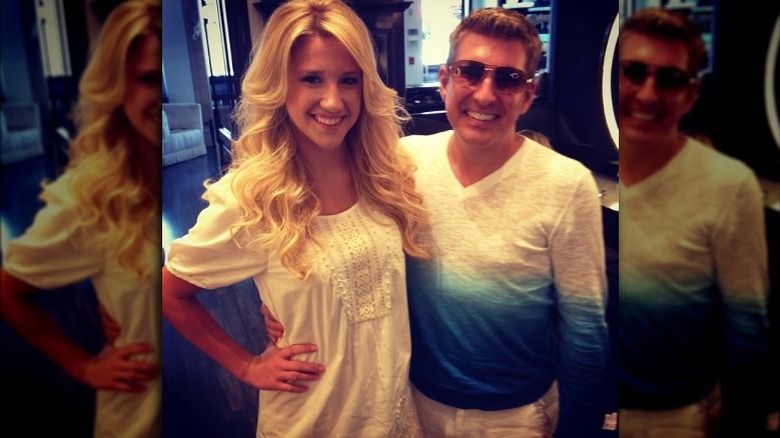 In 2012, Savannah Chrisley lost her beloved grandfather. According to Gene Chrisley's obituary, he was a United States Army veteran who served in the Korean War. "It's times like these when I really need you….I'd give everything I own for you to be right here with me!! #imissyoupapa," Savannah tweeted a few months after his death. That same year, her mother, Julie Chrisley, underwent a successful double mastectomy after being diagnosed with breast cancer. "She wanted no sympathy from anyone. That's just my strong willed mama for you," Savannah recollected on Instagram.
The family had little time to recover from such a tumultuous year before their lives changed forever. In December 2013, the first eight-episode season of "Chrisley Knows Best" was ordered by the USA Network (via The Hollywood Reporter). In the show's trailer, viewers got their first taste of Todd Chrisley and daughter Savannah's sassy exchanges. They learned that Savannah was competing in pageants and that her father didn't always approve of her clothing choices. "She goes from Virgin Mary to Stripperella," he said while critiquing one of her bedazzled dresses. "We need to find a happy medium." Todd later complained that Savannah "look[ed] like a young version of Pamela Anderson." As Savannah informed him, "Well, that's what I'm striving to be."
Meanwhile, over on her Twitter page, Savannah revealed that she had moved to California and was dating an athlete named Deion King.
Savannah Chrisley was one busy 16-year-old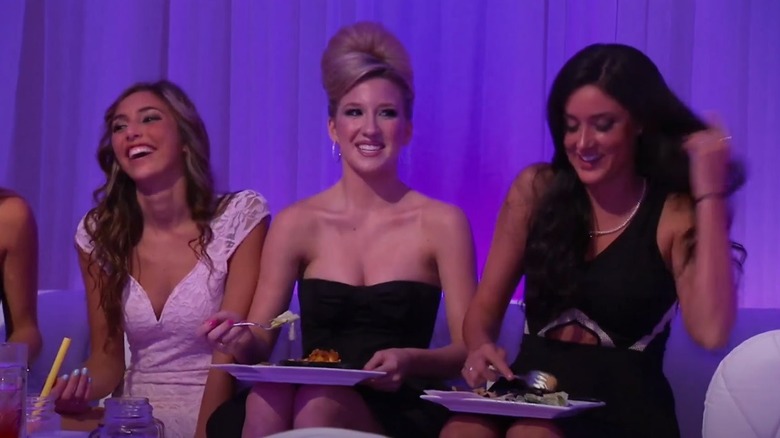 Before "Chrisley Knows Best," Savannah Chrisley was just a typical teenage girl attending a private Christian academy. Given how outgoing she is on the show, it might not come as a shock that she was a cheerleader. But by 2014, she was a full-fledged reality star with milestone moments airing on TV. Her Sweet Sixteen celebration was filmed for an episode, and Savannah's struggle to learn how to drive was also captured on camera (she even apologized after her driving instructor took to Facebook to complain that the teen made her "look bad" on the show).
Savannah helped her family promote their TV series by making the rounds on talk shows like "The View," and she rubbed elbows with other reality personalities, like "Vanderpump Rules" stars Jax Taylor and Scheana Shay. She, Todd, and Chase Chrisley also used their new celebrity status in a positive way by participating in the NOH8 campaign. "Love is love," Savannah wrote in a Facebook post showing her support for the LGBTQ+ community.
"Chrisley Knows Best" was picked up for a second season, and Savannah had plenty going on to film — her modeling career was taking off, and she was pursuing her dream of becoming a pageant queen. She posed in prom dresses for a photoshoot for Cinderella's Gowns and revealed that she was competing in the Miss High School America pageant, where she represented California. "I didn't go on to win but I did make top 15!!" she wrote on Facebook. "Everything happens for a reason!! On to bigger and better things!"
What Todd Chrisley did when Savannah Chrisley fell in love with a country musician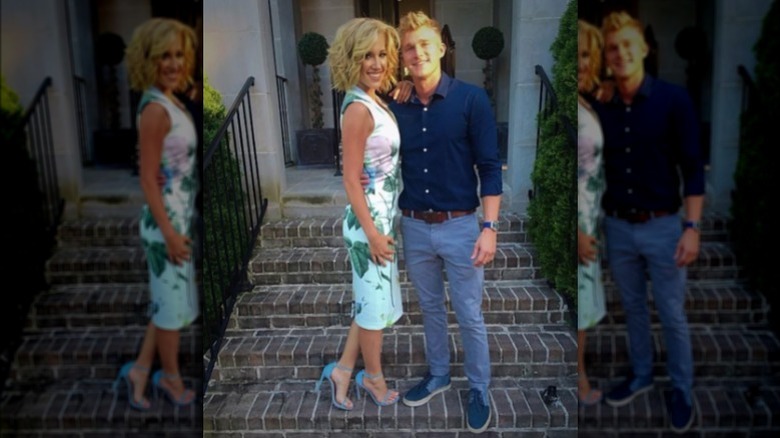 Todd Chrisley once proclaimed that his daughter would not be dating anyone. "If they have a penis, I do not trust them," he said on "Chrisley Knows Best" in 2014. However, by 2015, Savannah Chrisley was romantically involved with country singer Blaire Hanks, much to her Facebook followers' surprise. She shared a few photos snapped during their dates, including one of her biting Blaire's cheek and another taken at an Atlanta Braves game. "How in the world did you get out of the house? Is your dad a row or two back?" read one response to the latter.
On the show, viewers saw Todd's initial reaction to the new man in his daughter's life. He conducted a background check on Blaire before stalking the lovebirds while they were out on a date. He tracked his daughter using the GPS on his phone "to make sure she was safe" (his words), and he hid in his SUV while he grumbled about Savannah and Blaire entering a jewelry store. However, he eventually seemed to warm to Blaire. In a silly Facebook photo, Todd playfully stuck out his tongue between Savannah and Blaire as the couple puckered their lips like they were about to kiss.
Savannah's modeling career was going just as swimmingly as her love life in 2015. That February, she walked in a Sherri Hill runway show with "Duck Dynasty" star Sadie Robertson.
Savannah Chrisley won on the red carpet but lost a pageant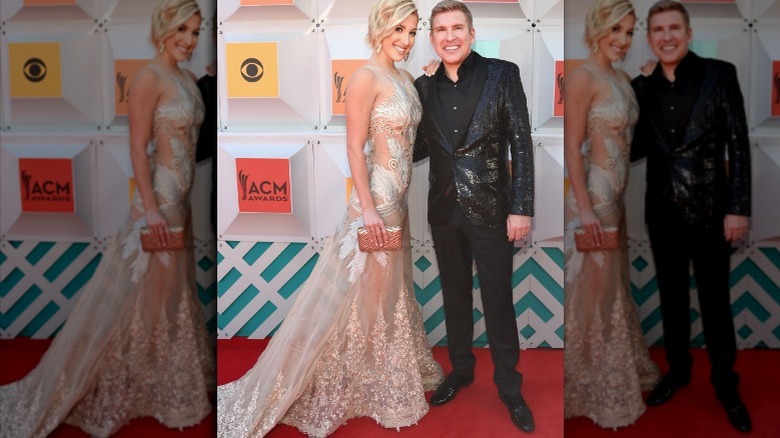 The year 2016 was big for Savannah Chrisley. She was attending college at Belmont University in Nashville, Tennessee, while also attending star-studded events like the ACM Awards. She celebrated making Harper's Bazaar's best dressed list after walking the red carpet in a Diana Couture design. Her ivory gown featured a feather motif and sheer fabric that exposed a lot more skin than her fans were used to seeing. "This doesn't represent a virtuous, Christian woman. You are beautiful, sweet girl," wrote one of her Facebook followers in response to a photo of the look. "You don't need to cheapen God's gift by this kind of clothing." Others expressed surprise that dad Todd Chrisley let her wear the dress, but he was all smiles with Savannah when they posed together at the event.
A few months later, Savannah got to serve up some more glam at the Miss Teen USA pageant. In October 2015, she was crowned Miss Tennessee Teen USA while wearing a yellow Sherri Hill dress, but she opted for a magenta ball gown while competing for the even bigger crown. However, she didn't advance beyond the semi-finals. After the event, Savannah confessed that she took the loss hard. "I am officially a has been…" Savannah wrote on Instagram. "This year has been one crazy year but I wouldn't trade it for the world! God has been way too good to me and I don't deserve it. I'm honestly so sad!"
This Chrisley Knows Best star had a wake-up call after a car wreck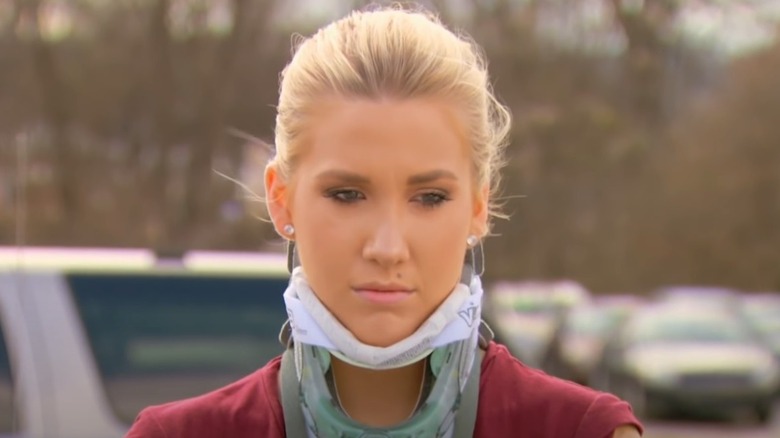 In 2017, Savannah Chrisley kicked off her rollercoaster ride of a year with a scary car wreck that landed her in the hospital. She took to Facebook to share how it happened, recalling that she had crashed into a guardrail after glancing down because her floor mat was caught underneath her pedals. Savannah suffered a broken vertebrae that required her to wear a neck brace, and she seemed to be in a bad place when she suggested that the injury was her punishment for supposedly being a bad Christian.
"The past couple of days have been some of the toughest days for me. And I truly think that God has made them so difficult because I began straying away from Him and His word," she wrote in the post. Savannah vowed to focus more on her faith after her frightening ordeal, and she even gave her HSN clothing line the fitting name, "Faith Over Fear." A few months later, she told People, "That's just something that I have lived by for awhile now."
For his part, dad Todd Chrisley got emotional when the family went to look at Savannah's totaled car. "I don't care about the car — that can be replaced," he said on their show. "But you cannot be replaced in my heart." On a lighter note, her mother helped her out by spoon-feeding her like a toddler in an episode of "Chrisley Knows Best," when her neck brace made it difficult for her to eat a bowl of soup. "Do the choo-choo train," Todd advised.
She shocked fans with another daring look and dated an NBA player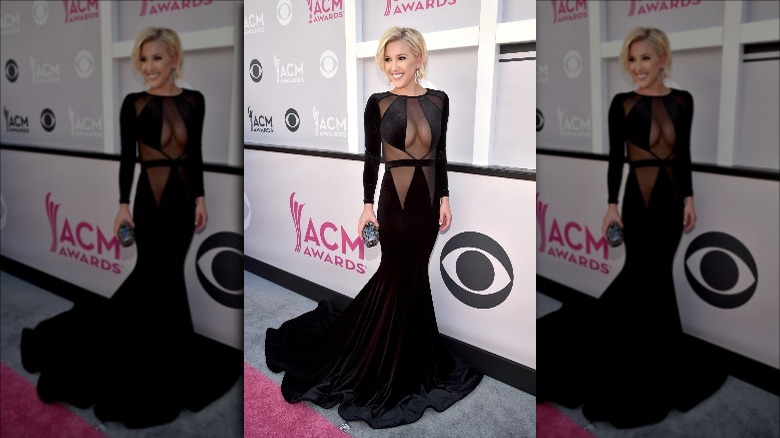 Savannah Chrisley made a few fashion decisions that had her fans — and her family — scratching their heads in 2017. For the second time, she blew her fans' minds with her choice of ACM Awards dress: a black Bao Tranchi gown with strategically placed sheer cutouts in geometric shapes. It had her Facebook users playing fashion police again. "Savannah I am so disappointed in this choice of attire. It grieves my soul that you feel You must sacrifice modesty to be beautiful," read one critique.
However, Savannah defended the look in an interview with People. "I just had to do a couple of things to let people know that I am a woman now," she said. "I'm no longer a little girl." She also admitted that her dad wasn't a fan of the dress, but Todd Chrisley saved his sauciest verbal barbs for the new man in her life, basketball player Luke Kennard. Savannah went public with the relationship when she attended the NBA draft to support the future Detroit Pistons player. But the romance only lasted four months, much to her father's relief. "I mean, hell, when you crawl into bed with a snake, don't b**ch when it bites," Todd cryptically said during an interview with People.
As for Savannah, she told E! that she decided to end things with Luke "rather than deal with the pressures of wondering if you are the only one."
Savannah Chrisley finally found a dad-approved guy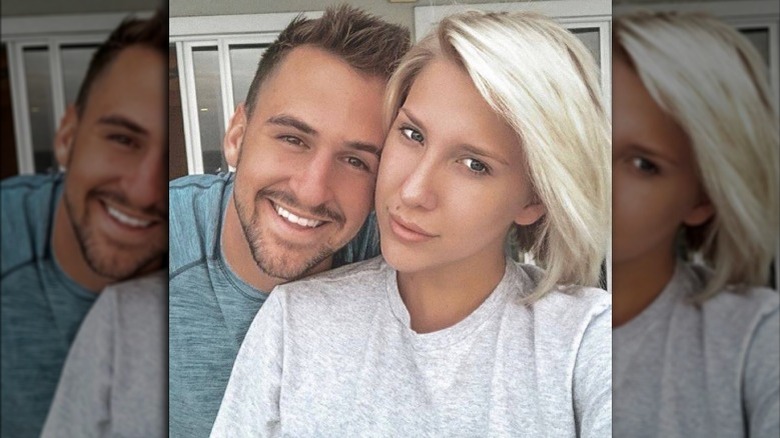 Savannah Chrisley used to describe herself as a "cleat chaser" when it came to her love life, but in 2018, she fell for an athlete with bladed footwear: hockey player Nic Kerdiles. "It's kinda crazy how God works! After spending months of focusing on ME…you came along," she wrote of her new beau in a now-deleted Instagram post, per UPI. And it wasn't long before Nic was appearing on "Chrisley Knows Best" … but Todd Chrisley wasn't impressed when Nic greeted him in French during his first encounter with the family. "We don't do that s**t here, we're American," he responded.
However, Nic's pleasant personality soon won Todd over. "I like him more than I do [Savannah] at times now," he jokingly told E! that May. Meanwhile, Savannah confessed that she was actually the one who was hard on Nic at the beginning of their relationship due to her past heartbreak, and Todd helped her realize she was being unfair. "My dad told me, 'You can't make someone else suffer for a past person's mistakes,'" she recalled on the "Hollywood Life" podcast. Luckily, Savannah eventually learned to trust Nic, telling People, "When I'm gone, I don't have any worries about what he's doing, who he's with, and that's a good thing."
Her relationship wasn't the only exciting news she had to share in 2018, though. Savannah also revealed that she and brother Chase Chrisley would be "road tripping" to Los Angeles in their new spinoff series, "Growing Up Chrisley."
Why the reality TV star changed a social media habit and her hair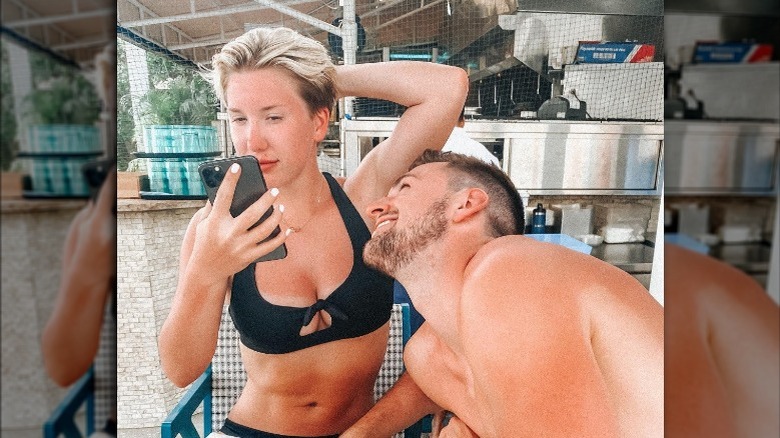 Savannah Chrisley and Nic Kerdiles got engaged on December 24, 2018, but the couple kept their happy news a secret until April 2019. Savannah told People that she was "furious" because her family's show was filming on Christmas Eve, but later learned that the cameras were there for a special reason. "And the fact that both of our families were there made it even better," she said of Nic's on-air proposal.
However, Savannah had a lot on her mind besides wedding planning in 2019. That August, her parents were indicted on charges of tax evasion, wire fraud conspiracy, and bank fraud in what would be the start of a long legal battle. She was also busy with a new business venture: her gig as a South Beach Diet partner. But the reality TV star admitted that she wasn't happy when she learned that she wouldn't be allowed to Photoshop her promotional photos, saying on the "Chrisley Confessions" podcast, "I was mortified."
Luckily, a pixie haircut gave Savannah a much-needed confidence boost. She explained that she had to cut all her hair off because it had gotten so damaged from hair-dye chemicals. However, Todd Chrisley viewed it as a sign that her mental health was in decline when he saw it for the first time. "Are you having a breakdown?" he asked her on "Chrisley Knows Best." But Savannah loved the Miley Cyrus-inspired result, and later told her dad of her initial reaction to the dramatic hair transformation, "I did feel empowered."
Her love life took a blow before she launched a new business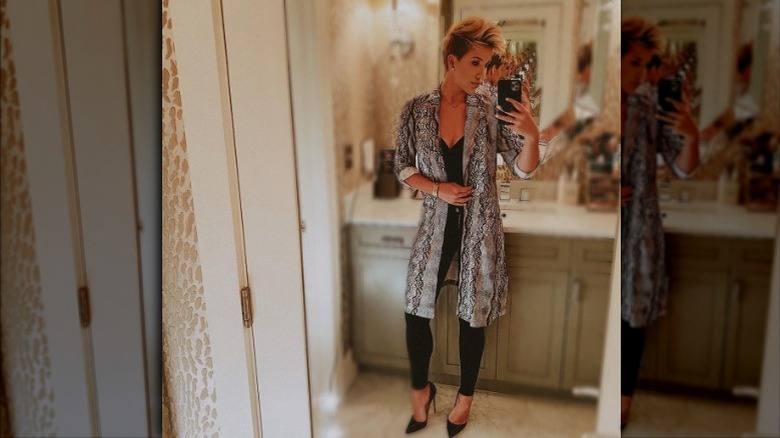 For Savannah Chrisley, 2020 was another eventful year full of ups and downs. Her father faced a major health scare when he was hospitalized with COVID-19, which was also a frightening ordeal for the rest of the family. "At one point I fell on my hands and knees and begged God to not take him..to not take my bestfriend..I would give everything I had if it meant keeping my daddy," Savannah wrote on Instagram that April. Thankfully, Todd Chrisley recovered, and Savannah used his experience to encourage her fans to practice social distancing.
The following month, Savannah told Todd on the "Chrisley Confessions" podcast that she and Nic Kerdiles were both in therapy after deciding to call off their engagement. By September, they had officially split. "There's no hatred between the two of us," Savannah said in a since-deleted Instagram post (via People), adding, "And in all honesty…that makes saying goodbye even harder."
Luckily, she had plenty going on in her life to distract her from her heartbreak, like studying for her real estate exam. Meanwhile, in October, Savannah appeared in the music video for Chase Martin's single, "Levi Denim," which was great listening for a single gal. She also released her new cosmetics brand, Sassy by Savannah. "I wanted a great product, but also for it to be extremely affordable," Savannah told New Beauty. Her line was a hit, and she added, "It makes me so happy that people are finding such joy in the products I'm creating."