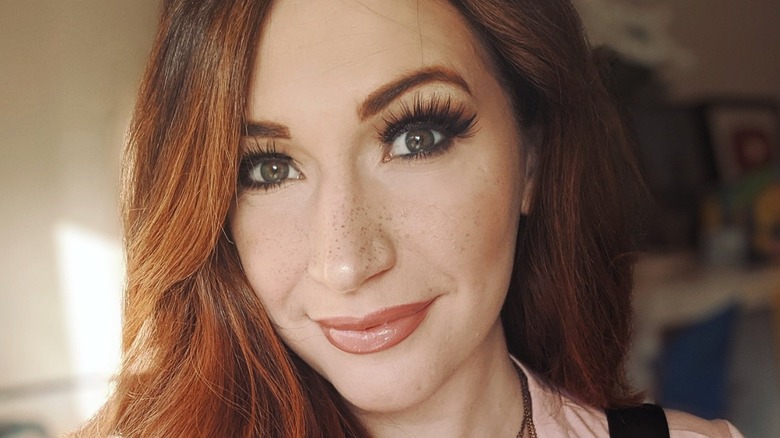 The impact of the Korean language survival drama "Squid Game" is difficult to understate. In just weeks, the show became a global cultural phenomenon and has now broken an unbelievable record for Netflix as their biggest launch of all time, with 111 million viewers in its first month.
The explosion of interest in the show has prompted viewers to recreate parts of it on TikTok and find videogames that emulate memorable moments from "Squid Game." However, the reach of overzealous fans had real-world consequences, such as when the producers were forced to re-edit scenes featuring an actual phone number to keep people from calling it around the clock.
There's been another individual who has received an unfortunate amount of "Squid Game" related attention. SquidGame, which has been the handle of U.K. YouTube personality Lydia Ellery for more than a decade suddenly found her well-established channels inundated by fans who were at first curious, then upset at the lack of "Squid Game" content. Eventually, "Squid Game" fans were aggressive enough to repeatedly report her Instagram until it was deactivated.
The entire saga has been an unfortunate example of what happens when the internet acts collectively on the worst instincts of its users. It has at least, however, introduced fans to SquidGame and the social media channels of a hard-working, dedicated, and entertaining streamer. Here is the truth of Lydia Ellery, the streamer who was SquidGame before "Squid Game."
SquidGame got her handle from a school nickname
So which came first — the squid or the game? For Lydia Ellery, known as SquidGame on social media, it was the squid, a nickname that had stuck with her from an early age.
As Ellery wrote on GamingBible, "'Squid' was a silly nickname from school, and it was the first idea for a channel name that came into my head." Ellery came up with that idea when she posted her first video to her YouTube channel, SquidGame, over a decade ago, although the official name of her channel, as presented on her YouTube banner, is Squid Gaming. Squid Gaming is also the name under which fans will find her on Twitter.
However, the SquidGame moniker does pop up a few other places, apparently to the frustration of "Squid Game" fans, such as on her Instagram and Twitch accounts. With such an established presence, Ellery deserves full credit for building her channels on the now internationally known name all by herself. That said, devotees of the show would likely point out that it took over a decade to get "Squid Game" made, meaning that the two ideas came into existence around the same time, completely separate from each other.
The SquidGame channel started out with video game reviews
Lydia Ellery not only got the jump on the name SquidGame, but her early content was also in many ways ahead of the streaming phenomenon that would become a significant factor in gaming during the 2010s.
Ellery's YouTube channel initially revolved around candid reviews of popular games, such as the 2010 titles "Red Dead Redemption" and "L.A. Noire." Those videos show some of the creativity that would later help popularize Ellery's Twitch channel, such as themed intros for reviews, as well as a flair for video editing in a digital landscape that lacked the user-friendly tools of platforms like TikTok.
As her presence on YouTube grew, Ellery began posting a wider variety of content. Her channel began featuring lists about popular games such as "Grand Theft Auto 5," the sort of challenge-style videos common among content creators today, and "Let's Play" clips that were the precursors to modern Twitch streams.
Ellery's videos were going up as Twitch was growing rapidly, but keep in mind that up until 2014, the platform was nowhere near the juggernaut it is today. Ninja, today synonymous with massive viewers counts on Twitch, only averaged about 800 viewers per stream at that time.
Beyond that, the cash infusion from Amazon that helped bring Twitch to the masses wouldn't happen until the end of that year. In many ways, Ellery's SquidGame YouTube channel was an innovative project that showed real dedication and savvy on the part of its content creator.
Growing the SquidGame brand took years
While Ellery's SquidGame channel may have been producing relevant content at the right time, that doesn't mean that establishing her brand was easy. It took years of dedicated content creation and viewer engagement to reach the sort of critical mass that allows a channel to take off.
Ellery would continue to diversify her content with vlogs, best-of lists, and visits to gaming events such as E3, but it would still be a while before she truly built a following. However, things finally started to come together in 2017, when Ellery was able to celebrate a massive achievement: reaching 10,000 subscribers on YouTube.
From there, Ellery continued to do what she did best — make great content about games she and her fans loved on a regular basis. By this time, Ellery was firmly established on the entire spectrum of social media outlets that gamers have been using for years to reach an audience, including Instagram, Twitter, Twitch.
Around this time, Ellery also began producing content alongside Xbox On – including one video that would sadly predict her future issues with dealing with internet trolls — an opportunity that would lead to the next chapter of her growth as an online personality.
SquidGame teams up with Yogscast
After the better part of a decade putting in the work to grow the SquidGame brand largely on her own, Ellery would come to her next major crossroads in her career as a streamer: joining The Yogscast network.
The Yogscast is a multifaceted gaming outlet that has been making videos, bringing together content creators, and even publishing games since it got off the ground in 2008. Lydia Ellery and SquidGame officially joined The Yogscast in November 2018 after a successful collaboration with the affiliated Xbox On YouTube Channel.
Joining The Yogscast opened up even more opportunities for Ellery to work with other talented content creators on fan-favorite projects. These included running a Pokémon series with The Yogscast lead artist Harry Marshall, streaming retro fighting games with Bouphe, and playing horror games with Angory Tom.
All of these opportunities helped expand the SquidGame brand to a level it had never seen before. Each of Ellery's channels saw remarkable growth. Today she has nearly 30,000 subscribers on YouTube and over 40,000 followers on Twitch, while her Twitter and Instagram accounts reach even more fans. Overall, it was a story of success for a dedicated gamer and streamer who put in the time to share her enthusiasm for video games with the world.
The success of Netflix's Squid Game led to some unexpected attention for SquidGame
All of the work that Ellery had put into building the SquidGame brand and associated social media channels would come into contact with the worst kind of attention when Netflix's "Squid Game" arrived on September 17, 2021.The series took off, and within days the survival drama had a grip on Netflix subscribers and became one of the most popular shows of the year. The series and its unique challenges seemed destined to go viral, and when it did, Ellery's SquidGame brand ended up in the crosshairs.
The show's impact on Ellery's social media can be seen in real-time on her Twitter account. At first, @Squidgame tweeted a photo of the show trending with a humorous caption, but in the following weeks, things got more serious. On September 28, @Squidgame shared screencaps of users on Instagram sending threatening messages demanding she give up the name. By October 7, @SquidGame revealed that so many "Squid Game" fans had submitted false reports regarding her Instagram account that she was banned from the platform she had used under the name SquidGame since 2012.
Thankfully, other corners of the internet rallied to fight back against the wave of faceless users trying to ban SquidGame. A Reddit post regarding the incident made it to the front page of the site, which @Squidgame was soon able to report to her reinstated Instagram account. While things at least arrived at a happy ending, it certainly was, as @Squidgame said in one of her final Tweets on the matter, "a crazy 72 hours."