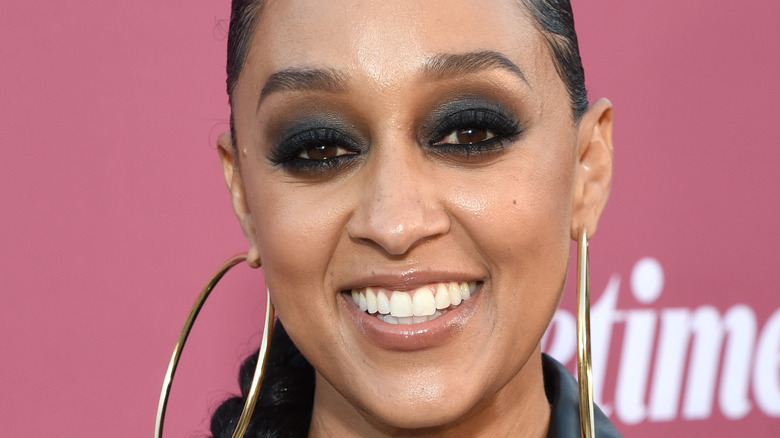 Whether you know her from "Sister, Sister," "Twitches," "The Game," "Family Reunion," or any of the other dozens of films and TV shows she's been in, you've definitely heard of Tia Mowry. She rose to fame on "Sister, Sister" in the '90s, starring on the show about twins separated at birth and reunited years later alongside her real-life twin, Tamera Mowry (who is two minutes older, just in case you were wondering).
While some child stars lose their footing in adulthood, Mowry's career has remained strong. So has her personal life: Mowry is now a wife and mother who is raising a family while still crushing it in Hollywood. Oh, and did we mention that she's a successful entrepreneur?
What's the secret to Mowry's success? The celeb told Shondaland that it's important to "follow your passion" and "never give up," saying, "I believe I'm where I am today because I didn't give up." Of course, to really understand what makes Tia Mowry tick, we'll need to look even closer at her life. Let's discover the untold truth of Tia Mowry.
You've probably been pronouncing her name wrong for years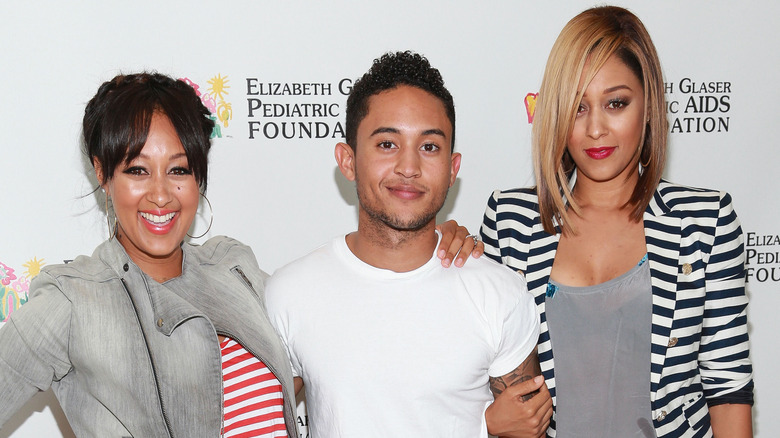 "Mowry" is a big name in Hollywood. Between Tia Mowry, her twin sister Tamera Mowry, and their brother, actor Tahj Mowry, this family has been on TV for decades. It stands to reason, then, that fans and casual TV viewers alike would be pretty certain that they know how to pronounce the famous moniker, but many of us have been saying it wrong this whole time.
If you've been thinking that Mowry rhymes with "cowrie" all these years, sorry, but you're not pronouncing it correctly. It's understandable — that "w" is pretty deceptive — but Mowry broke down the true pronunciation of her name in an interview with CinemaBlend, saying that it's pronounced "Maury" — as in TV personality Maury Povich. "It's one of those things where people just started saying Mao-ry, I guess it is spelled like that, so you would want to pronounce it like that," she explained. "So sometimes we just let it go, you know, it's like, oh yeah, it's fine."
Tia Mowry faced racial discrimination as a child star
While Tia Mowry hit the big time with "Sister, Sister," she still faced racial discrimination in Hollywood. In an interview with ET, she revealed that she and her sister expressed interest in posing for "the cover of this very popular magazine at the time," but were turned down "because we were Black and we would not sell."
Mowry added that she grew up "insecure about my hair" as she "never saw curly hair being portrayed as beautiful." She told Elle that she and her sister began straightening their hair as they grew older, something that was seen as "such a pivotal moment" on "Sister, Sister," as it signified them entering young womanhood and "was also a reflection of what was being pushed as 'beautiful' in society." Not only did all of the hair straightening damage her hair, but it also fed her "insecurities." Mowry recalled being asked to tame her natural curls and being told on auditions that her natural hair was "distracting."
Thankfully, the actress is more confident these days, and is excited to see other Black women loving "their natural beauty." She said, "Black beauty to me is being unapologetic. It means strong. It means bold. It means confidence. It means beautiful."
She and her husband took things very slowly
In the era of Tinder, traditional courtship might seem like a thing of the past. There are people, though, who prefer what some might see as a more old-fashioned dating experience, and it seems that Tia Mowry is one of them. The "Sister, Sister" star took things very slowly when she started dating her now-husband, Cory Hardrict, after they met on a movie set, according to People.
How slowly? Per BET, they didn't even smooch for a year, and it took a few more years before they slept with each other.
While such a slow-paced courtship isn't for everyone, it clearly worked for Mowry and Hardrict, who have been married since 2008. "I think you should focus on not having the relationship define who you are or a man to define who you are," Mowry advised single women in an interview with Ebony. "So if you're careful and cautious about that going into a relationship, I think it's going to be a healthy relationship."
She put off having kids to focus on her career
Tia Mowry has always been very career-minded — she had to be, considering that she was just a kid when she started out in the acting industry. While she planned on raising a family, she also wanted to meet her career and educational goals before having kids. In an interview with People, she talked about building up her career and going to college before feeling like she "had all my ducks in a row" and ready to have a family.
She and her husband, Cory Hardrict, welcomed a son, Cree, in 2011, and a daughter, Cairo, in 2018. The actress is thriving as a mother of two, calling herself a "fun" mom in another interview with People. "I love being with my kids, I love making my kids laugh," she said, although she admitted that it can be hard to "learn how to draw that line" between being a friend and a parent.
When it comes to parenting, she has plenty of inspiration, telling TheGrio that her mother and grandmother taught her "all about working hard," a lesson she's passing on to her kids. She added that her maternal ancestors "were always the queen of the family, the backbone of the family," and it's clear that she rules her own household with the same grace and strength.
Tia Mowry still does her own chores
Celebrity Net Worth pins the Mowry twins' combined net worth at $8 million, and Tia's husband's fortune at $3 million. While the site doesn't confirm how much Tia herself is worth, however you look at it, she's loaded. Considering her fortune, you might expect her to live a Hollywood lifestyle complete with a staff to do the housework for her, but Mowry cleans her own house.
She does have help though: In an Instagram post, Mowry revealed that she and Cory Hardrict split up all of the chores in their home. "I'm grateful that I have a husband I can rely on to help check off the to-do list — whether it's cooking, cleaning or helping with homework — it's a team effort in our house," she wrote. Mowry added that they're raising their kids to participate in the housework, and that they even have a "chore chart" to break things down. It's not just about keeping the house neat and tidy, though. It's also about combatting the "chore gap." She wrote, "When we emphasize equality at home, it allows us to thrive out in the world, and for our family, it helps our kids learn responsibility."
That being said, not all chores are created equal, and Mowry hates doing the laundry but enjoys doing the dishes, as she told BET. Whatever chore she's tackling, though, she's got a strategy for getting it done: music. "Oh, we love listening to music while we clean!" she revealed.
She refuses to retouch her photos
While we wouldn't fault Tia Mowry for touching up her Instagram photos — who doesn't love a good filter? — with her, what you see is what you get. The actress announced in a 2016 Instagram post that she "will not be retouching my photos" because she wants people "to embrace, love, and accept our REAL bodies at whatever stage we are in life."
She told BuzzFeed that she was inspired to post the empowering message after being told she should be less sensitive after calling out a body-shamer on the social media platform. Mowry said her post "was about taking a stand … and debunking the idea that everyone should be perfect," adding that perfection is "a dangerous standard to set."
Mowry is all about self-love, and that includes post-pregnancy bodies. While there's often a lot of pressure on new parents to work to get down to the same size they were before giving birth, Mowry wrote on Instagram that it's okay to "allow our bodies to just BE while we nourish them (and our little ones!) with good things, instead of buying into the snapback culture."
Lucille Ball is one of her idols
Anyone who has seen Tia Mowry on "Sister, Sister," "The Game," or any of the other TV shows or films she has been in knows that she has quite a flair for comedy. While a lot of that comes down to her natural acting talent, Mowry also grew up watching a comedic icon who helped inspire her. In an interview with Shondaland, she opened up about how Lucille Ball helped shape her, saying, "I grew up watching 'I Love Lucy.'"
Mowry said she'd been told by many producers on set that she "remind[s] [them] of Lucille Ball," explaining that she has that "girl next door who is not afraid to be silly" vibe. Mowry said that she learned from Ball that "you don't have to be perfect" and that "you can feel sexy and be silly at the same time."
It certainly explains a lot about her comedic chops! Mowry added that while she enjoys getting dolled up, she's also committed to being unabashedly herself — just like Lucille Ball. "Life is too short to be taken too seriously," she said. We agree!
Tia Mowry and her twin sister have 'twintuition'
While it probably won't come as a big surprise that Tia Mowry has a close relationship with her twin sister, Tamera Mowry, what you may not know is just how close they are (unless you happen to be a twin yourself). Their bond is so tight that Mowry refers to it as "twintuition," telling the "People Every Day" podcast, "It's just a part of being a twin. You have that built in twintuition. You really, really do." The twins know each other so well that they can't lie to each other, and affectionately "call each other womb-mates." How cute is that?
Part of what strengthened their bond was their journey to stardom. While child-stardom is a tricky path to navigate, Mowry told Pop Culture that having her twin with her got her through thick and thin. "To be able to have someone right next to you that's going through the same things that you're going through … it was great to share those monumental experiences with my sister and also just sharing the success with someone," she said.
Sadly, the twins couldn't see each other for more than half a year due to the COVID-19 pandemic. The separation was hard on the pair, and when they were finally reunited they ended up crying. "We were so happy to see each other, and we hadn't seen each other in so long," Mowry told ET.
She wants to star in a new show with her sister
Given how close Tia Mowry and her twin sister are, you might be surprised to hear that she might not be as pumped as her fans about the potential of a "Sister, Sister" revival. While she told BuzzFeed in 2017 that she was hopeful about a reboot, four years later she admitted to Pop Culture that, while she's still on board with the idea and would be happy to do it, she would much rather tackle a new project.
She wants Tamera at her side, of course, saying she would like to "just do something with us together and come up with some sort of creative, fun concept." While Mowry didn't get into specifics, saying she has no idea "what that concept would be as of right now," she seemed a lot more excited about the prospect of a brand new show with her twin than revisiting the one that made them famous.
That being said, Mowry understands why fans would be thrilled if a "Sister, Sister" reboot ever came to fruition. "It's just nostalgic," she said. Alas, just a few months after that interview, she revealed in a TikTok that a reboot will not be happening. While she didn't say why, she previously told People that "what's in the way is the rights." While it's still possible things could line up in the future, we would be excited to see Tia and Tamera starring together on any show.
Tia Mowry has endometriosis and eczema
Tia Mowry has been open about her health challenges, including living with endometriosis. In an interview with Romper, she talked about the condition, saying she was diagnosed with the disorder — which, per WebMD, causes tissue growth which can lead to abdominal pain, heavy menstrual bleeding, and even infertility — in her 20s. Mowry underwent surgery for the condition and also made some lifestyle changes, including eating healthier. "I really started to focus on my wellness journey — yoga, meditation, eating healthy, working out, and taking supplements," she said.
She developed eczema after the birth of her son, and also is able to manage it by leading a healthy lifestyle. "Eczema is inflammation with the skin, so sometimes it's about choosing the right foods to eat to prevent flare ups," she told Parade, adding that "drinking lots and lots of water" is critical to properly hydrate the skin.
Tia Mowry is a thriving entrepreneur
Tia Mowry's experience with endometriosis led her to co-found a multivitamin company called Anser. She explained to Romper that she had lived with abdominal pain for years before getting a diagnosis and, in her quest to find one, noticed that there weren't many Black women in the wellness space. "I wanted women of color, women of diversity, to be a part of the conversation and not be excluded from the conversation when it came to wellness," she said of her involvement with Anser.
Anser isn't Mowry's only business venture — she has a home decor line with Etsy and also founded a company with her sister called Need Brands, although the website for the company is now defunct. She also has a veritable food empire; per The Be Conference, she starred on the cooking show "Tia Mowry at Home" and penned "Whole New You," a cookbook that became a No. 1 Amazon bestseller. She's written other books, too, including the bestselling "Oh Baby! Pregnancy Tales and Advice from One Hot Mama to Another."
"You just have to have, you know, that persistence, a thick skin and realize you just can't take everything too personally," she told The Wrap of her incredible success, adding that "passion" is key.
She always puts herself first — but not for selfish reasons
Tia Mowry wears many hats and, while juggling everything isn't easy, she makes sure to put herself first. That's not to say that Mowry neglects her family, career, or business endeavors. She does, however, make time for self-care, telling DoctorOz.com, "How can the goose lay the egg, if the goose doesn't take care of herself?"
Mowry explained that, while she used to spread herself too thin, putting everyone else's needs ahead of her own, when she began to prioritize her own well being she "became a better wife, mom, friend, and sister." She added, "Self-care isn't selfish, it's necessary for your happiness and the happiness of those around you."
In an interview with Forbes, Mowry explained that throughout her life, she watched her mother and grandmother prioritize their families at the cost of their own welfare, but that it doesn't have to be like that. "I'm all about changing the narrative … if we want to be the best and reach our potential like we deserve to, then we should take care of ourselves," she said. Now those are some wise words to live by!