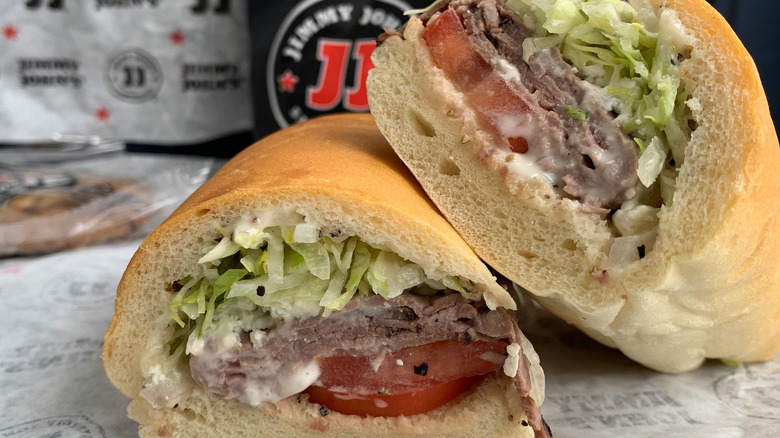 Jimmy John's is introducing their newest limited-edition menu item, the Beefy Black & Bleu Sandwich, at participating locations nationwide this week. Featuring hand-sliced roast beef, horseradish aioli, fresh cracked black pepper, bleu cheese crumbles, and more, this sandwich is the ultimate flavor combination that'll leave you satisfied. According to their Chief Marketing Officer, Darin Dugan, "At Jimmy John's, we're committed to new and exciting sandwich innovations. The unexpected and bold flavor combination of our new Beefy Black & Bleu Sandwich is the latest example of the high-quality, flavor-forward sandwich variety consumers have come to expect and enjoy from the Jimmy John's brand."
The tried-and-true fast casual sandwich shop has established themselves as a fan favorite and continues to innovate with new ideas to win over their customers. From the fresh veggies that are chopped in-house, to a selection of all-natural meats and fresh bread that's baked daily, it's easy to see why Jimmy John's consistently ranks among the top chain sandwich shops. Read on to see what this newest menu item is all about, because it won't be around for long.
What's in the new Beefy Black & Bleu Sandwich?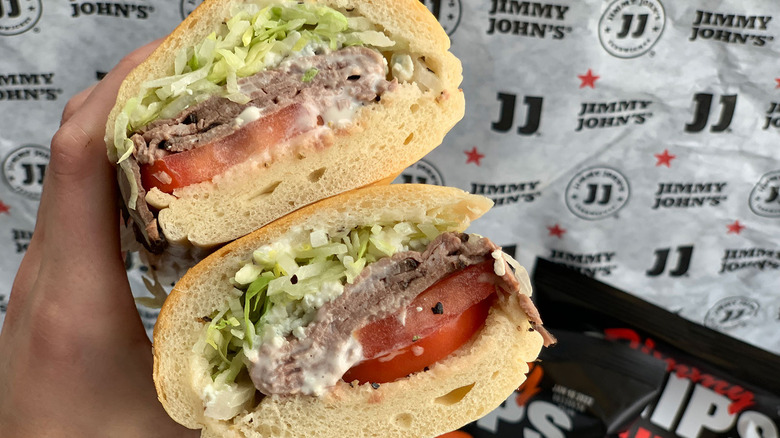 How could you not love a sandwich packed with delicious roast beef, horseradish aioli, and blue cheese crumbles? Jimmy John's Beefy Black & Bleu Sandwich has it all. First, they start with their bread that's baked in-house. Fun fact, Jimmy John's boasts on their website that the bread used for sandwiches is never more than four hours old, so you know it's fresher than fresh. Then, they pile on their delicious roast beef, which is featured on other menu items like the Big John®, Billy Club®, and Bootlegger Club®.
It's the horseradish aioli that is the real winner here. It's creamy, tangy, and a little bit peppery, the perfect flavor to accompany the roast beef. The sandwich is finished off with blue cheese crumbles that add even more tanginess and flavor, freshly cracked black pepper to tie everything together, and the classic lettuce, onion, and tomato that are included on all Jimmy John's sandwiches.
It's available nationwide and only for a limited time
The Beefy Black & Bleu won't be around for long, so you'll have to stop into your local Jimmy John's or order delivery soon. In a press release, Jimmy John's announced that their newest sandwich is available starting on October 25th through December 12th, or while supplies last. It's available nationwide at participating locations, so be sure to check the store locator and make sure your local Jimmy John's is featuring their newest menu item. The suggested retail price is $8.50 but this varies based on location, Yes, it's slightly pricier than their Original sandwiches (the price is similar to the menu's Favorites sandwiches), but it's definitely worth switching up your sandwich routine to try something different. Plus, once your mouth is full of tangy, beefy deliciousness, you'll forget any worries you had before. Forget pumpkin spice, roast beef is the new flavor of fall but like the colorful leaves on the trees, it won't be here for long.
How it compares to other Jimmy John's sandwiches
Any true Jimmy John's fan knows that you can't go wrong with anything on the menu. Some people have their go-to favorites that they order every time, others like to switch it up occasionally and try something new or go with whatever they're feeling at the moment. Although the Beefy Black & Bleu is unlike any sandwich already on the menu, it does slightly resemble the Big John®, their original roast beef sandwich.
However, what that Original sandwich lacks, the Beefy Black & Bleu makes up for in flavor. The horseradish aioli really elevates this sandwich by being a tangier alternative to traditional mayo. They definitely don't skimp on the bleu cheese crumbles, either, which gives the sandwich an interesting kick. Like all Jimmy John's sandwiches, the bread is absolute perfection and the ingredients taste fresh. Because there are a lot of bold flavors in this sandwich, it's much richer than most of their other sandwiches.
What's the nutrition info of this new sandwich?
Although the ingredients are fresh, this sandwich is definitely not for the health conscious, clocking in at 1,300 calories if you get their standard 16-inch French bread. However, if you get an Unwich®, Jimmy John's version of a lettuce wrap, it falls to 380 calories. And honestly, this sandwich would be great as an unwich. Think similar to a steak & bleu cheese salad. Although, on Jimmy John's website they say "we use fresh vegetables because we don't hate salads, we just feel bad for them."
The regular sandwich also packs 53 grams of fat, 121 carbohydrates, a whopping 81 grams of protein, and a surprising 3,790 mg of sodium. To put that into perspective, the USDA recommends people eat less than 2,300 mg of sodium per day. However, the Unwich® has 25 grams of fat, 10 carbohydrates, 30 grams of protein, and 1,300 mg of sodium. So if you're looking for a meal with fewer calories and is less sodium-dense, the Unwich® is your best play.
The verdict: it's definitely worth a taste
As Jimmy John's fans already (how could you not be?), we were pumped to try their newest menu item, and it certainly was worth the hype. It has all of the elements of a traditional Jimmy John's sandwich: the fresh bread, crunchy veggies, and high-quality meat, plus those premium ingredients like horseradish aioli, freshly cracked black pepper, and blue cheese crumbles that really bring it over the edge. You just can't argue with a good aioli, ya know? All of those flavors truly make for a delicious combo, and we had no problem demolishing the entire sandwich in just a few short minutes. If you want an insider tip, try adding some salt and vinegar chips to the sandwich. Like, just throw them right inside there. They add a bit more crunch and the vinegar flavor perfectly complements the tanginess of the other ingredients. You can thank us later.