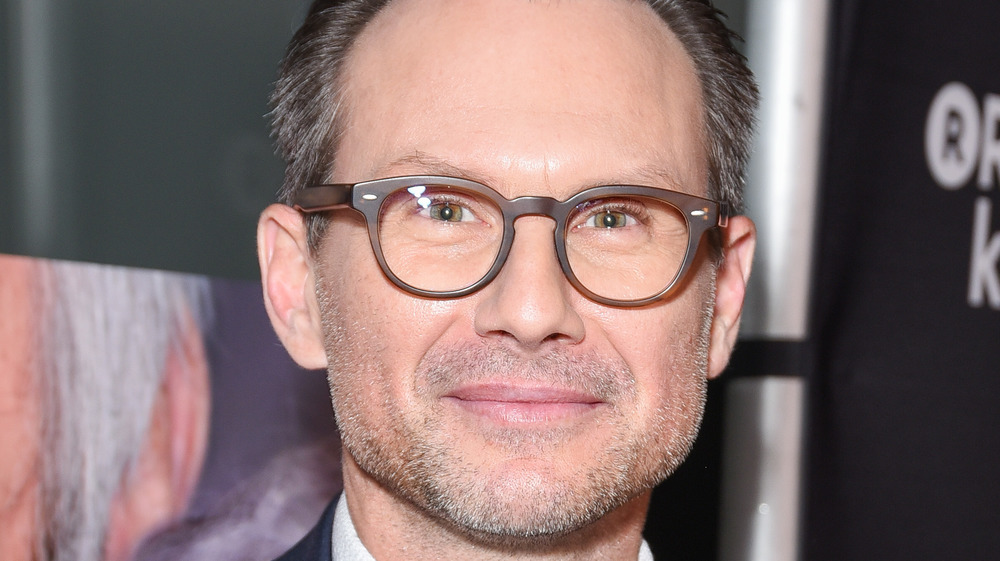 For adults of a certain age, like older Millennials and Generation X-ers, Christian Slater is an icon and a movie star. From the mid-1980s and throughout the whole of the 1990s, the charming, mischievous actor brought layers of intensity, wit, and disarming cool to his performances, where he usually played a sympathetic bad guy or a good guy with a dark streak. Memorable movies from that era, including Heathers, The Wizard, Pump Up the Volume, Young Guns II, Robin Hood: Prince of Thieves, Kuffs, True Romance, Interview with the Vampire, and Murder in the First just wouldn't have been quite so memorable without Slater.
Slater's status as a fixture of the silver screen and top celebrity faded somewhat in the 1990s and 2000s. Apart from the occasional work in a critically hailed television drama, he doesn't appear with the regularity in big projects that he once did. Here's what Christian Slater has been busy with over the past 20 years or so.
In the 2000s, Christian Slater stayed working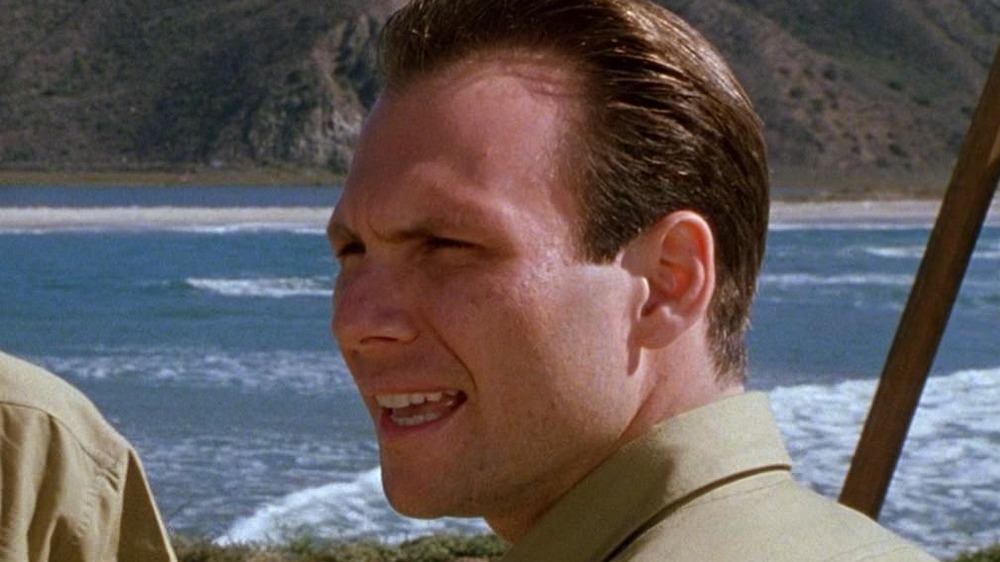 While Christian Slater starred in one entertaining movie after another in the 1980s and 1990s, his films were, for the most part, pure entertainment, sometimes frivolous, and usually geared toward an audience of teens, young adults, and multiplex customers — not so much earning the attention or love of movie critics. In the 2000s, that all changed. Slater kept making movies, but the kinds of projects in which he chose to appear were suddenly more mature, subtle, smaller, or could charitably described as "Oscar bait." In 2000 — having not appeared in a major film since 1998's twin flops of Hard Rain and Very Bad Things — Slater played a powerful member of Congress in the acclaimed political drama The Contender. The actor's reinvention continued with 3000 Miles to Graceland, Windtalkers, and an arc as Lt. Commander Jack Reese on the beloved, Emmy-gobbling The West Wing.
Slater took some chances, and very little of his 2000s output was financially successful, however. Judging by the lowly box office receipts, even the most devoted fans likely missed small-scale, small-grossing fare like Who Is Cletis Tout?, Alone in the Dark, Bullet to the Head, and Playback, which took in just $264 in 2012.
Christian Slater starred in several flop TV shows
An actor goes where the work is, and oftentimes for an actor whose movie career is no longer full of blockbusters and critically-acclaimed, generational hits, that means they head for the small screen. This was the case with Christian Slater, who, by the late 2000s, was taking on roles in TV shows far more prominent than the small, independent movies he was also working on in that time period. Nevertheless, none were ratings hits and all were quickly cancelled. In the 2008-09 season, Slater headlined the NBC drama My Own Worst Enemy, playing a man with split and opposite personalities. It lasted just nine episodes.
A season later, Slater was back on TV, in the ABC cold case detective show The Forgotten, which almost made it to a full season before cancellation. Next up was the Fox sitcom Breaking In, about a team of high-tech security experts. It made it parts of two seasons in 2011 and 2012. Finally, Slater's last big TV flop to date: the five-episode ABC drama Mind Games.
Ready to see Christian Slater play himself?
With those former-teen-idol good looks and that familiar drawl, Christian Slater is one of the most identifiable actors for a generation who grew up devouring his movies in the 1980s and early 1990s. He built up a lot of goodwill and has a larger-than-life personality and presence, which meant that in the lean times between meaty or major roles, Slater made a tidy living playing himself (and poking fun at himself) in a series of cameos. In 2001's Zoolander, Slater tackled the role of Christian Slater, an effusive celebrity admirer of male model Derek Zoolander.
A few years later, Slater popped up on an episode of Entourage, where he has a brief but memorable interaction with Johnny Drama character. He also appeared as himself in the series finale of Two and a Half Men, mistaken for the character of Charlie Harper (fellow '80s star Charlie Sheen). Slater additionally had a cameo as a game show host in the '80s-obsessed comedy Hot Tub Time Machine 2, and from 2014 to 2016 had a recurring role on the animated comedy Archer as a CIA agent who looked an awful lot like Christian Slater, whose name also happened to be Slater.
A number of prestige TV shows feature Christian Slater
After a string of little-watched broadcast network TV shows in the 2010s that were quickly cancelled, Christian Slater landed an important role on a dark, quirky, dystopian tech thriller. It wound up one of the most acclaimed shows of the decade, triggering a comeback and reconsideration of Slater. In the summer of 2015, Mr. Robot debuted on USA, starring Rami Malek as Elliot Alderson, a brilliant computer programmer who becomes embroiled in a hacking group that sets its sights on taking down a worldwide banking corporation. Calling the shots and encouraging Alderson is his father, Mr. Robot, the former operator of a computer repair shop of the same name, and who may not be all that he seems. For his work as the titular Mr. Robot, Slater secured the attention of major entertainment awards bodies. He won a Golden Globes for Mr. Robot, as well as a Critics' Choice TV Award, and a Satellite Award.
Now ensconced in the world of prestige TV, Slater moved on to Dirty John in 2019, a true crime miniseries anthology. The second season told the story of the marriage, divorce, and murder of Dan Broderick (Slater) by his former wife, Betty Broderick (Amanda Peet). It brought Slater some of the best critical notices of his life, with the show racking up a 90 percent approval rating on Rotten Tomatoes.
Christian Slater gets a lot of voice acting work
Christian Slater wound up on top of the young Hollywood pile because he was photogenic and possessed tremendous acting skill, of course, but what really set him apart was his voice. No matter what character he's playing, Slater sells that the person talks like he does — which is slightly slow and careful with underpinnings of swagger, sarcasm, and smugness. Perhaps Slater was so quickly accepted by moviegoers because his speaking style is very reminiscent of that of three-time Oscar-winning actor and legendary movie star Jack Nicholson.
Nevertheless, Slater's voice is instantly recognizable, and he can do a lot of impressive acting with just those pipes. Since the early 2000s, Slater has been heard but not seen a number of times, as he's landed scores of voiceover and narration work. On TV, he's worked on children's shows like The Adventures of Jimmy Neutron, Boy Genius; Phineas and Ferb; The Lion Guard; and Jake and the Never Land Pirates. In addition to voicing Lazer Lord on Stan Lee's Mighty 7, Slater has been DC Comics' go-to voice for Deadshot in multiple animated projects focusing on the Suicide Squad. Slater's more adult-oriented work includes the stop-motion sketch comedy series Robot Chicken and Rick and Morty, as well as TV advertising campaigns for AutoTrader and Panasonic.
There have been a few brushes with the law for Christian Slater
Christian Slater played a lot of dangerous men in movies like Mobsters, True Romance, and Heathers, but he's also run into some legal issues in real life, too, compiling a substantial criminal record at the peak of his fame in the late '80s and 1990s, and well into the 21st century, too. According to the Los Angeles Times, he earned a ten-day jail sentence over a 1989 drunk driving incident in which he reportedly fled from police, hit a utility pole, and then assaulted a police officer when he got out of his vehicle. In December 1994, according to The Smoking Gun, Slater was arrested at New York's John F. Kennedy Airport on a weapons charge, as he'd illegally packed a gun in his luggage. He worked out a deal with prosecutors, allowing him to perform community service instead of going to prison.
The Los Angeles Times reported in August 1997 that police had to remove Slater from a party after he got into a fight, later admitting that he was under the influence of heroin, alcohol, and cocaine, per The Independent. That landed Slater a three-month prison sentence. In 2005, police in New York once again brought in the actor, according to People, on a third-degree abuse charge. Slater, allegedly and reportedly intoxicated, grabbed the rear-end of a female passerby on the street. According to BBC, the charge was eventually dropped "on the condition he commits no criminal offence for six months."
The theater beckoned to Christian Slater again
Christian Slater started in acting when he was very young. In 1980, he secured both his first TV role — "Boy in Hospital" on an episode of the soap opera Search for Tomorrow — and his first major part in a stage production. In a Broadway revival of the musical The Music Man, 11-year-old Slater played Winthrop Paroo, the kid portrayed in the 1962 film version by Ron Howard. Before he'd switch to movies, he landed plum roles in New York productions of Copperfield, Macbeth, and Merlin.
When some of the heat started to die out in his film career in the late 1990s, Slater went back to the bright lights of Broadway. In 1998, he put in a stint in the original production of Side Man, which won the Tony Award for Best Play. When Tennessee Williams' The Glass Menagerie returned to Broadway in 2005, so did Slater, playing "The Son" in the play for four months. Outside of New York, Slater hit the stage for two more big productions, starring in a Hollywood Bowl presentation of the Monty Python musical Spamalot in 2015, and in a staging of David Mamet's Glengarry Glen Ross in London's West End in 2017.
Christian Slater called Winona Ryder 'the woman of my dreams'
Back in the 1980s, Christian Slater had a habit of falling in love with his costars. And honestly, who can blame him? He was young and attractive, and so were his female costars, and they hung around in close proximity to each other on movie sets, romantically blurring the lines between fiction and reality. Slater's first ever film was the 1985 teen drama The Legend of Billie Jean. And while he portrayed the brother of the title character played by (no relation) Helen Slater, his real-life feelings were not quite familial. "So when you talk about mad crush, I had a mad crush on her. That was a hard one to get through. I was madly in love with her," Slater told Yahoo! Entertainment in 2018. "I thought because we had the same last names we should've been married, ya know?"
Three years later, Slater fell hard for another costar, this time his on-screen girlfriend in the dark 1988 comedy Heathers: Winona Ryder. Plenty of guys and girls developed an intense crush on Ryder in the late 1980s, Slater among them. In 2007, the actor told PR Inside (via Vulture) that he still harbored those feelings. "We don't speak on a regular basis, but I love her. I've never gotten over the crush I had on her then," Slater said. "She is still the woman of my dreams."
Christian Slater is a family man now
Christian Slater got over his reported romance with Winona Ryder, or at least pushed it far enough to the back of his heart, to find love and start a family. His first attempt wasn't always a happy affair. According to People, Valentine's Day 2000 was the wedding day for Slater and TV talk show producer Ryan Haddon. In 2003, police in Las Vegas briefly detained Haddon after Slater emerged from a hotel elevator, bleeding from a large cut over his ear, which was allegedly the result of an attack from Haddon. A few days after their fifth anniversary, Slater filed for divorce in Los Angeles Superior Court, blaming irreconcilable differences for what Slater's publicist said was a "mutual decision reached amicably." The pair explored a joint custody agreement regarding their two children.
Slater later wed again, marrying girlfriend of three years Brittany Lopez in December 2013, per People. In August 2019, Lopez gave birth to the couple's first daughter.
Things got litigious for Christina Slater and his dad
Christian Slater has been acting since he was a kid, and his entry into performance was likely precipitated by being born into a show business family. His mother is prolific casting director Mary Jo Slater, and his father is Michael Hawkins, an actor who also goes by the name Tom Slater and worked extensively on the stage and screen. Christian's father is likely best known for playing "Ryan" on the long-running soap opera Ryan's Hope in the mid-1970s.
Slater's parents divorced a long time ago, but in February 2016, Tom filed a $20 million lawsuit against Christian. According to the New York Daily News, the elder Slater claimed that his son and former wife publicly defamed him and destroyed his acting career by misleading the public with claims of a schizophrenia diagnosis. Christian asked for a dismissal, filing a legal declaration that his father had been diagnosed with the mental illness in 1972 and put "in a straightjacket for threatening to kill his wife and young son." As the New York Daily News reported, Judge Suzanne Bruguera eventually tossed the suit, citing the case's lack of "significant legal grounding."
Christian Slater is hard at work on his passion project
Getting a movie made in Hollywood is a tricky supposition. For it to ever get a studio green light, get made, and see the inside of a movie theater, clout and timing must match up perfectly. Christian Slater has been trying for more than 20 years now to get a pet project up and running. According to the San Francisco Chronicle, a small publisher called Wild Card Press released its inaugural (and as it would turn out, only) book in 1995: Love Stories Are Too Violent For Me, a thriller from author Will Viharo about a detective named Vic Valentine.
The novel didn't sell very well, and by 2001 it was out of print and very obscure, until Slater found a copy in a Los Angeles store. He grabbed the film rights, adapted it into a screenplay, and set about planning to both direct and star in the Love Stories Are Too Violent For Me movie. It never did get made, and the already long-delayed project officially went on a hiatus in 2015. That was around the same time that Slater grew busier than he'd been in years, with a comeback fueled by his role on Mr. Robot. The USA series ended in 2019, but with Slater's schedule clear after a 2021 miniseries, he may finally have the time and connections to get his passion project realized.
The A-list welcomes Christian Slater with open arms
Thanks to revived interest stemming from a four-year, heavily nominated run on Mr. Robot, Hollywood has continued to welcome back Christian Slater. Once again, and for the first time in a long time, he's starring in big movies and high-quality TV shows. Slater had a pivotal, supporting part in The Wife, a drama that earned costar Glenn Close an Oscar nomination, and in 2020 appeared in Phreaks, a miniseries about 1970s phone hackers. In Robert Rodriguez's 2020, years-in-the-making The Adventures of Sharkboy and Lavagirl in 3-D follow-up, We Can Be Heroes, Slater appeared as a superhero named Tech-No.
And apparently Slater performed so admirably on one miniseries based on a long-form podcast, Dirty John, that he was asked to star in another miniseries based on a long-form podcast. Based on the Wondery network's Dr. Death, the limited series of the same name will feature a cast that includes Joshua Jackson, Alec Baldwin, and Slater, in the primary role as Randall Kirby, a Texas surgeon who fears his colleague may be grossly or criminally incompetent. Dr. Death is set to debut on the Peacock streaming service in 2021. Suffice to say, Slater's slate is full.
If you, or anyone you know, have been a victim of sexual assault, help is available. Visit the Rape, Abuse & Incest National Network (RAINN) website or contact RAINN's National Helpline at 1-800-656-HOPE (4673).
If you or someone you know is dealing with domestic abuse, you can call the National Domestic Violence Hotline at 1−800−799−7233 or TTY 1−800−787−3224. You can also find more information, resources, and support at www.thehotline.org.
If you or someone you know is struggling with mental health, please contact the Crisis Text Line by texting HOME to 741741, or call the National Alliance on Mental Illness Helpline at 1-800-950-NAMI (6264).