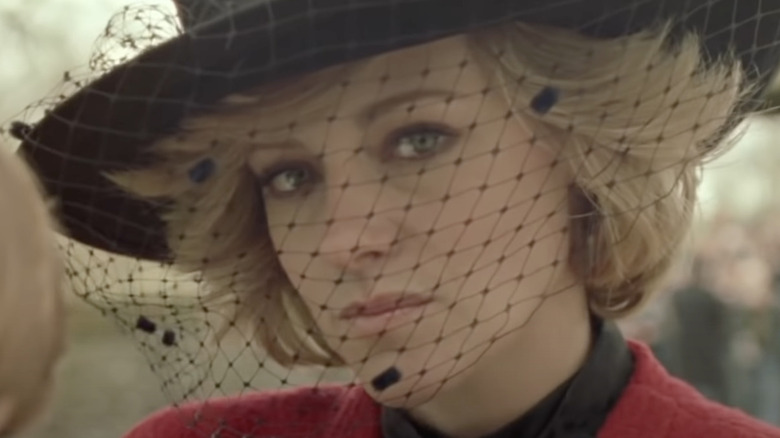 Princess Diana, or Lady Diana Spencer as she was known prior to her 1981-1996 marriage to English royal heir Prince Charles, is a towering figure of modern history. Already beloved by millions for her poise, leadership, and worldwide humanitarian efforts (not to mention the conventionally attractive appearance and undeniable charisma of a movie star), Diana rarely gave intimate or far-reaching interviews, and she remained an enigmatic and inscrutable public figure throughout her entire adult life. Her legend, and the widespread fascination with her, only grew after her deeply sad and tragic death in a Paris car accident in August 1997 at the age of 36, leaving behind two young sons and countless admirers in the U.K. and beyond.
"Spencer" is among the most talked about and anticipated films of 2021. Wryly and pointedly named for Princess Diana's unmarried family name, the film stars Kristen Stewart as the royal during a very finite and particular period of life — a three-day holiday weekend in 1991 when she mentally and emotionally wrestles with the tough decision to leave Charles and shed her royal status. Not really a biopic (Stewart called it a "weird tone poem"), but it helps humanize a larger than life figure and feeds the world's need to understand Diana. Here's everything there is to know about the making of "Spencer."
Spencer is a British movie that had to be made without British influence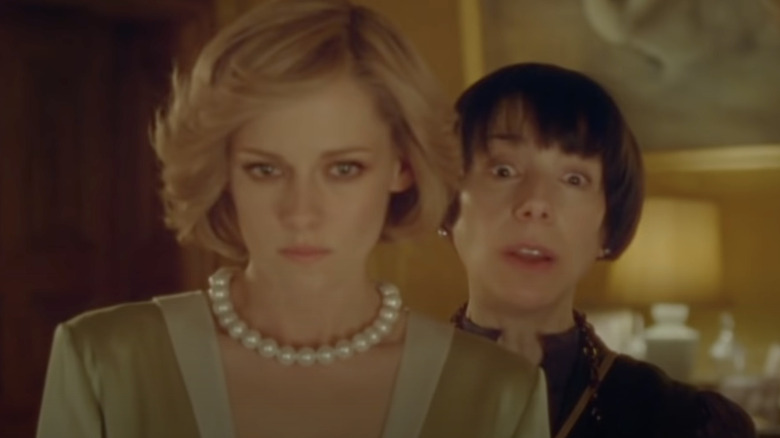 "Spencer" is an extremely British film. It's about a very famous Englishwoman and her role within the British royal family, which was written by Steven Knight, a chronicler of British culture past and present with works like "Peaky Blinders" and "Dirty Pretty Things," and stars a primarily British cast, including Timothy Spall and Sally Hawkins. On the contrary, many of the engines responsible for the film are not British, such as Chilean director Pablo Larrain, American lead actor Kristen Stewart, and how much of it was shot in Germany, according to Deadline, where its financiers are based.
"No British funders came through to support us," Paul Webster told Deadline, explaining that he and his fellow producers (two of whom are German) broke the cardinal rule of filmmaking and put their own money into the project in its early days, just to get it off the ground. "That required a lot of belief and faith," Webster said. Indian-American company STX also came in to help foot the bill.
Because of economic and political restrictions in the wake of Brexit, or the U.K. leaving the European Union and all of its laws and benefits, "Spencer" was one of the first British productions to attempt filming on mainland Europe. Before filming began, per Deadline, filmmakers faced the possibility that they wouldn't be able to cast English actors to play Princess Diana's sons, William and Harry, because of work visa limitations.
Kristen Stewart extensively prepared
While Kristen Stewart has headlined some major movies — the "Twilight" films and "Snow White and the Huntsman" — "Spencer" marks a new benchmark for the actor. Before the film's wide release, the rumor mill predicted she'd receive her first Academy Award nomination. The weight of the task was not lost on Stewart, and she prepared to play Princess Diana using a variety of methods.
First, she surrendered herself to the job. "I was like 'You're not going to say no to this, because who would you be in that case?' I absolutely would have felt like such a coward," Stewart told Entertainment Weekly. "I'm not from the U.K., I don't have any particular investment in the royal family. So I was kind of this really clean slate, and then could absorb her in a way that actually felt very instinctive."
Some elements Stewart felt she absolutely had to nail. "The accent is intimidating as all hell because people know that voice, and it's so, so distinct," she told InStyle, adding that she employed the use of a dialect coach. As far as the late royal's demeanor, Stewart studied the seasons of "The Crown" about Diana. "I watched it probably in one night," she said, telling the BBC that she "watched all the interviews," "read everything" (including multiple biographies), and studied "every photo" of Diana that she could find. Stewart's transformation was completed with some superficial changes, including replicas of the princess's jewelry and a wig.
Princess Diana essentially haunted Kristen Stewart
If an actor's work is to be transformative, beyond reading lines and playing pretend, then the preparation Kristen Stewart underwent to play Princess Diana in "Spencer" was worth the effort. In fact, she was so overtaken with the gravity of the job that it had physical ramifications. "I couldn't open my mouth for two weeks before we started shooting," Stewart told the BBC. "I had TMJ to the point where I was like, completely locked up. I was like, 'Huh, I guess I'm really nervous – I was really tripping out until we started."
Ultimately, the role burrowed itself deep into Stewart's psyche. "It felt so f***ing spiritual and so spooky, and I was so overwhelmed by the feeling of her. And I don't mean like ghosty stuff. I just mean everything she's made me think and feel, and it all just kind of happened in a moment," Stewart told Entertainment Weekly, regarding a scene in which she descended a stairwell fully in character as Diana.
Stewart further told the Los Angeles Times that Diana's death repeatedly upset her. "She felt so alive to me when I was making this movie," Stewart said. "But there were moments where my body and mind would forget she was dead." Two or three times each week, during the filming of "Spencer," Stewart said, she "would just fully break down about the fact that she had died. I just could not come to terms with it."
Spencer was inspired by fairy tales and '80s movies
"Spencer" director Pablo Larrain is from Chile, according to Deadline, and as such, wasn't as exposed to the endless media coverage of Princess Diana, meaning he wasn't necessarily inundated with imagery or a sense of the importance of "The People's Princess." But a greater, more universal through-line inspired Larrain's work on "Spencer."
"We all grew up, at least I did in my generation, reading and understanding what a fairy tale is. Usually, the prince comes and finds the princess, invites her to become his wife and eventually she becomes the queen," Larrain said, explaining that "Spencer," is "a fairy tale upside down," because Diana is a princess who rejected her prince and the chance to become queen. "That is the heart of the movie," Larrain explained.
And according to "Spencer" star Kristen Stewart, the film's ending implies that Larrain has a familiarity with crowd-pleasing teen movies from the '80s, and he sought to re-create the emotional response they engendered. The synth-pop soft-rock hit "All I Need is a Miracle" by Mike + the Mechanics figures prominently in the film's finale, which Stewart (via the Los Angeles Times) likened to "a John Hughes moment at the end of this movie." She compared the "triumphant" scene to when a "female protagonist is riding off into the sunset, and then we cut back to the lame ex-boyfriend who's a loser."
How Radiohead's Jonny Greenwood made the Spencer score
In addition to providing a lot of the signature sounds that make Radiohead one of the most experimental and future-forward bands in music, guitarist Jonny Greenwood has a sideline as a film composer. He's writer-director Paul Thomas Anderson's go-to musician, providing the soundtracks for "There Will Be Blood," "The Master," "Inherent Vice," and "Phantom Thread." In 2021, Greenwood's scores underlie and enhance three movies with major awards buzz: "The Power of the Dog," Anderson's "Licorice Pizza," and "Spencer."
Greenwood struggled with scoring "Spencer," and he tried hard not to go with classical-style orchestral music, as that's what's overwhelmingly used in biopics and movies about the British crown. "I watched a few royal films, which were full of sweeping shots of Buckingham Palace, with fanfare horns and tinkling harpsichords on top," Greenwood told NME. "I wanted instead to emphasize how chaotic and colorful Princess Diana was, in amongst all that baroque tradition. It's what the film does too."
The way Greenwood got the music he wanted: He wrote the score "in that regular royal style," and when it came time to record, he switched out the musicians stationed to traditional instruments — kettle drums, pipe organs, harpsichords — with improvisational jazz musicians. "The key was to still sound vaguely baroque, while leaving enough space for true anarchy and chaos."
Spencer is among a spate of Princess Diana movies and TV series
Two decades have passed since Princess Diana's death in a car accident in 1997. Enough time has gone by that filmmakers have begun to grapple with Diana's legacy. "Spencer," not a Diana life story movie but a look at a pivotal weekend in the subject's life, debuted on the film festival scene in the fall of 2021, and it's the latest in a number of projects of various approaches and levels of intensity that seek to appreciate, celebrate, or understand Diana.
The fourth season of Netflix's "The Crown," a series covering the chronology of the reign of Queen Elizabeth II, focused on the royal family's icy attitude toward a troubled and complicated Diana, portrayed by Emma Corrin, who received an Emmy nomination for her efforts. Around that same time, Netflix premiered "Diana the Musical," a filmed take on a campy Broadway musical covering the life of the royal. Both TV projects followed "Diana and I," a BBC2 movie about the effect of Diana's death on the people of the U.K., set between her death and her subsequent historic funeral a week later. And before Kristen Stewart played Diana in "Spencer," Naomi Watts did in "Diana," a more traditional biopic that earned its star a Razzie Award nomination for Worst Actress in 2014.
Spencer is another innovative biopic from director Pablo Larrain
"Spencer" is rooted in truth, and it's based on real events that happened to a real and extremely famous individual, Princess Diana of the British royal family, but "Spencer" is not a biopic, or a film that tells the entire life story of its subject. "Spencer" speculates on how the events of a weekend in late 1991 played out just before Diana announced her intention to separate from Prince Charles and officially leave royal life. The entire movie takes place over those few dozen hours, and it's largely the invention of screenwriter Steven Knight and the execution of director Pablo Larrain, who happens to specialize in such nontraditional, conjecture-based, not-quite-biopics of major public figures.
The long sequences in "Spencer" of a deeply emotionally troubled Diana (Kristen Stewart) roaming around Sandringham House, lost in thought and anguish, is reminiscent of "Jackie," Larrain's 2016 film in which Natalie Portman portrayed First Lady Jacqueline Kennedy, numb and deeply grieving days after the assassination of her husband, President John Kennedy. Also in 2016, Larrain directed "Neruda," a biographical film about Nobel Prize-winning poet Pablo Neruda, but only and specifically the part of his life when he became a pariah on the lam in Chile for his Communist views.
Kristen Stewart worried she didn't do Diana justice
While Kristen Stewart earned a lot of praise for her portrayal of Princess Diana in "Spencer," she had some reservations because she couldn't completely relate to the real person she played, except for on a very basic level of being a public figure who faced a lot of negative scrutiny in the media. "I have experienced people kind of wanting to come in, but there is no comparison to this particular woman, in terms of that fervent desire to have her and know her," Stewart told Entertainment Weekly.
Nevertheless, Stewart took the gig very seriously and rigorously prepared, but still wound up worrying about a lack of legitimacy in her performance. "I've never been somebody who is very good at stepping outside of myself. I'm not a character actor. I'm not making any rules for myself, but the most honest work I've done contains my own memories," Stewart told the Los Angeles Times. That said, she felt that being a mother, and a fiercely protective one at that, deeply informed Diana's character and motivations. "I'm not a mum yet," Stewart explained to The Daily Mail (via Glamour). "I need that to feel authentic. It's the one part of playing her that I felt disloyal about."
Some royal experts have objected to the content of Spencer
The plot arc of "Spencer" concerns Princess Diana coming to the tough decision to separate Prince Charles, her husband and father of her two children, William and Harry. As Diana comes to figure out how she can leave the royal life she's come to loathe, "Spencer" engages in many graphically dark and urgent sequences, including the princess hallucinating her own death, contemplating choking to death on a pearl necklace, throwing herself down a flight of stairs, and purposely vomiting (Diana suffered from bulimia, per Vogue).
From a filmmaking perspective, those scenes speculatively demonstrate Diana's inner agony, but according to some royal experts and critics, those parts of "Spencer" were uncalled for. "It is really cruel to portray her like this. It is totally unnecessary," Majesty Magazine editor Ingrid Seward said to The Sun. "William and Harry will be very angry and hurt about this." Royal watcher Penny Juror concurred, calling the scenes in question "unnecessarily gratuitous" and even questioning if the film is "factually incorrect" as it pertains to such events.