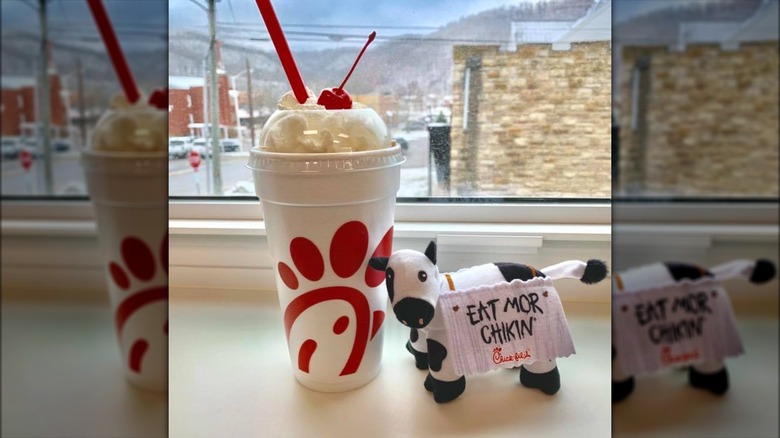 The fast-food world is saturated with chicken sandwiches these days, but only a few are good enough to compete with the one sitting at the helm of Chick-fil-A's menu. Invented by founder S. Truett Cathy in 1964, the chain's surprisingly uncomplicated Original Chicken Sandwich calls for nothing more than "a lightly breaded chicken breast with two pickles between a toasted, buttered bun" (via The Chicken Wire). And yet, people go crazy over the sando. Food Beast said in 2014 that the Georgia-based chain had sold more than 3 billion of them since the sandwich's debut.
Yes, the Chick-fil-A chicken sandwich is truly a work of fast-food perfection that can only be made better with a side of waffle fries and, of course, a refreshing drink to wash it all down. Many may argue that a cup of the chain's sweet tea poured over that delightfully crunchy pellet ice is the perfect beverage pairing.
However, if you're going to brave Chick-fil-A's outrageously long drive-thru line, we think it's absolutely acceptable to pair your meal with one of its delectable milkshakes instead. Whether you have somehow yet to try one (gasp!) or you've indulged in more than a few, there are probably a couple of things you don't know about the eatery's sippable dessert, so we've tried to gather all the information you could possibly need about these sweet and creamy treats. Our apologies in advance if you're reading this on a Sunday.
What is a Chick-fil-A milkshake?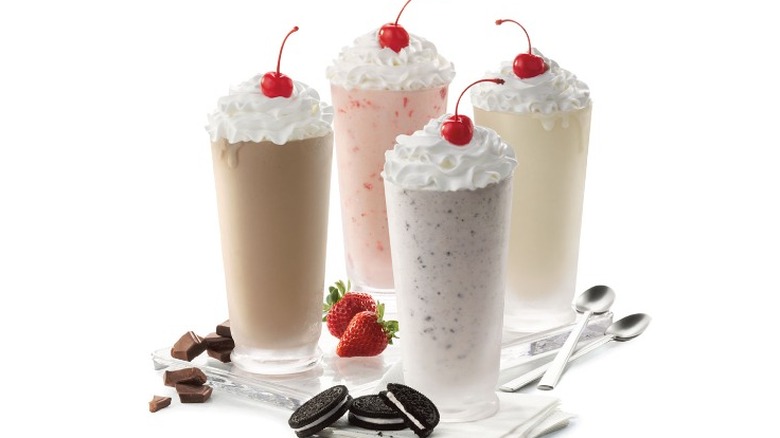 Even if you haven't had the opportunity to sip on one of Chick-fil-A's craveable milkshakes (gasp again!), it's not terribly hard to predict what the treat will be like once you finally get one – it's not like the chain completely reinvented drinkable desserts. However, it is worth noting that the eatery's version differs from the typical milkshake in a few unique ways. For starters, Chick-fil-A's milkshakes don't actually have ice cream at their base but rather the chain's signature Icedream "frozen dairy treat," which Chron reports cannot officially be labeled as ice cream because it does not have the amount of butterfat required by the government to fit the official definition. Shocking, we know, but don't let that turn you off. This also means that Chick-fil-A's whipped cream and maraschino cherry-topped milkshakes are an "itty-bitty less fattening," giving you one more reason to pick one up on your way home.
Another thing that sets the shakes from Chick-fil-A apart is the fact that they're hand-spun. A Charlotte Observer article reposted by Igor International explains that this is a fancy way of saying an actual employee is operating the machine mixing up your treat similarly to how they were made during peak milkshake culture in the 1950s. As another bonus, Chron says that the chain uses name-brand mix-ins like Hershey's chocolate syrup and Oreo cookies. Therefore, you can confidently order chocolate or Cookies & Cream milkshakes with the knowledge that you're getting quality ingredients.
When did Chick-fil-A start serving milkshakes?
Chick-fil-A's frozen treat hasn't always been a staple at the chain. In fact, you may be surprised to learn that milkshakes didn't even make their debut on the menu until the mid-2000s, which is actually pretty recent considering that Chick-fil-A's website states that the chain's origins date all the way back to 1946. According to QSR Magazine, May 22, 2006, was the exact date on which Chick-fil-A's signature hand-spun shakes finally hit menus nationwide. Vice president of brand development Woody Faulk claimed dedicated patrons had been begging for the dessert for years. "Nearly 70 percent of the customer we interviewed said they wanted the opportunity to enjoy milkshakes at Chick-fil-A," he said at the time of the dessert's debut. "Yet, the message was loud and clear – they expected nothing less than the highest quality product from Chick-fil-A, which meant using the finest ingredients and for the shake to be hand-spun."
A high-quality product was certainly what Chick-fil-A served up, and in four flavors too: vanilla, chocolate, strawberry, and Cookies & Cream. Upon their release, Inc reports that one customer said that the chain's new dessert was "the first fast-food milkshake that actually tasted like it was homemade," which is probably why the quartet of shakes collectively became the highest-rated product at Chick-fil-A within just two years, and are still permanently cemented on the menu today.
What milkshake flavors does Chick-fil-A have?
While Chick-fil-A may not have much variety when it comes to its protein options, the milkshakes are a completely different story. At any point in the year, a visit to one of the chain's 2,700-plus locations will present you with at least four different flavor options: vanilla, chocolate, strawberry, and Cookies & Cream (via ScrapeHero). However, if none of those are particularly your jam, or you're simply looking to switch things up from the last seven times you've gotten a milkshake from Chick-fil-A, you may be lucky enough to find a seasonal shake flavor is available as well.
According to The Chicken Wire, Peppermint Chip and Peach are the eatery's respective winter and summer flavors that customers can expect to return to the menu for a brief time each year, but that's not all. Since the dessert's debut in 2006, there have been a number of one-and-done limited-edition flavors as well, including Banana Pudding, Mocha Cookies & Cream, and Coffee Caramel (via PR Newswire and QSR Web). More recently, the chain has tested a Butterscotch milkshake, as well as an Autumn Spice flavor that is perfect for those that love all things fall. Both flavors were only available to Chick-fil-A fans in Salt Lake City, Utah, but with any luck, we'll hopefully see these seasonal flavors offered nationwide sometime in the near future.
How much do they cost?
On top of being tasty, Chick-fil-A's hand-spun milkshakes had another thing going for them: their relatively low cost. "Simply put, you will struggle to find a better-priced shake at any fast food restaurant, as Chick-fil-A has some of the lowest rates going," Dessert Menus declared. At the time, the outlet reported that a small (14 oz.) shake at a local Chick-fil-A was going for the low price of only $2.69 while upgrading to large (20 oz.) would cost a mere $0.46 more – what a steal!
Unfortunately, that amazing value came to an end earlier this year when the chain announced that it would be cutting its size offerings in half, and as of April 26, milkshakes would only be available in a 16 oz. size (via The Chicken Wire). This was understandably upsetting to customers, and to make matters worse, Menu And Price reports that the average price of the drink is $3.99. Many Redditors realized they were paying around the same amount as, if not more than, what they had previously been shelling out for the gone-but-not-forgotten large at their local Chick-fil-A.
Though the deliciousness of a Chick-fil-A milkshake can justify a higher cost to an extent, it certainly starts adding up if you're ordering one on a regular basis. In order to avoid depleting your savings rapidly, it may be best to only treat yourself to one every once in a while or even try making Chick-fil-A milkshakes yourself at home.
Are Chick-fil-A's milkshakes nutritious?
Chick-fil-A's decision to cut down to only one size of milkshake may not have been beneficial for our wallets, though it was a bit helpful in the realm of nutrition. According to Nutritionix, the calorie count for the chain's large milkshakes would range between 650 and 790 depending on which of the four permanent flavors you went with, while a seasonal variety like the Peppermint milkshake rang in even higher. Now with only the smaller 16 oz. available, the restaurant's website lists the total calories for the shakes as being 570 for strawberry, 580 for vanilla, 590 for chocolate, and 630 for Cookies & Cream. However, the forced cut in calories shouldn't necessarily drive you to order a shake every day.
As Healthline notes, these treats are also considerably high in sugar and fat, and when sipping on one while also munching on a chicken sandwich, waffle fries, or something even less nutritious, you can easily blow through a good portion of your daily recommended intakes in a single meal. That said, you shouldn't feel guilty indulging in one of these bad boys. And let's face it: Some days, a bit of ice cream just hits the spot. But if you are concerned about calories when deciding which flavor to get, Eat This, Not That! says that vanilla is your best choice.
Do Chick-fil-A's milkshakes taste good?
A milkshake is never a bad idea. However, if we're given the choice, we'll be heading to Chick-fil-A for our dessert more often than some of the other popular chains. Sure, the whole one-size debacle makes it a little more painful to tack one of these delectable treats onto our order, but at the end of the day, it really is a superior sweet that one Redditor even went as far as to label "legendary."
Obviously one of the biggest factors in ensuring your Chick-fil-A shake experience is a good one is which flavor you choose. Some might be fans of Cookies & Cream, though others will argue that the seasonal Peach flavor outranks them all. "The best part of this shake is that there are real chunks of peach blended into it, which makes this shake taste like an icy peach pie," Spoon University argued. "The flavor itself is strong, but not so overbearing that you're choking on extreme peach flavor." Fans of the humble vanilla shake will also be pleased to know that in a taste test between Burger King, Chick-fil-A, Dairy Queen, McDonald's, and Wendy's, Insider ranked the Georgia-based chain's take on the classic flavor as the best.
Ultimately, it doesn't really seem like you can go wrong with any of the milkshakes that Chick-fil-A has to offer, so go ahead and order one of these scrumptious treats to accompany your meal. You definitely deserve it after patiently waiting in that long drive-thru line.