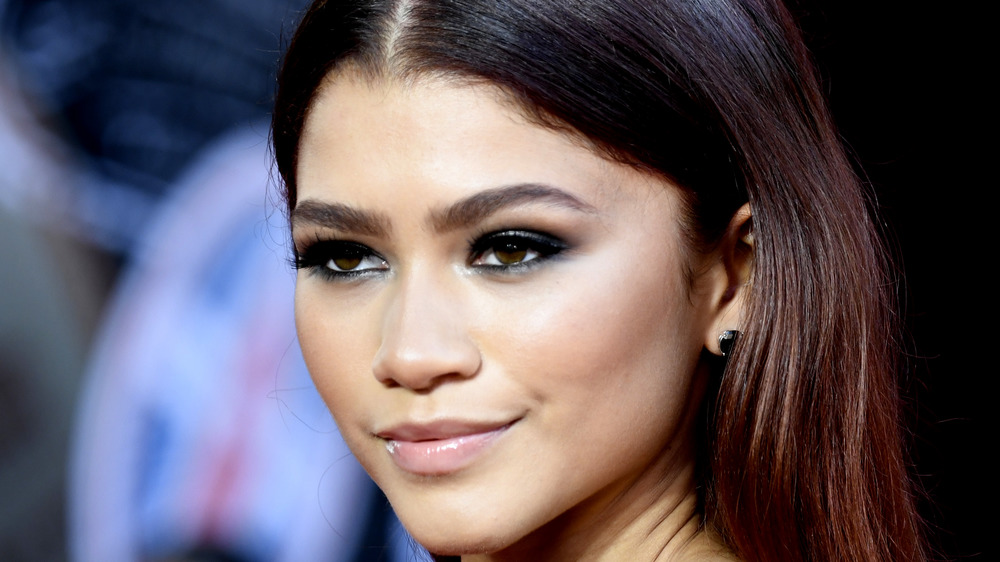 Is there anyone more Gen Z than Zendaya? Many young kids discovered the multi-talented actor as a Disney star. First, she starred in the Disney series Shake It Up alongside Bella Thorne. The two starred as on-screen besties for three seasons. Capitalizing off the success, Zendaya starred in another Disney series, K.C. Undercover. According to the actor, a proposed original title for the series was Super Awesome Katy. The actor told executives the title was "wack" and asked, "Do I look like a Katy to you?" (via Glamour). This strong spirit helped turn her into a star on and off the screen. In 2018, the actor finished her roles with Disney and transitioned into movies, television, and music, per Cosmopolitan.
Like so many other celebrities to come from the "House of Mouse," Zendaya quickly became one of the brightest stars in Hollywood. In film, she reprised the role of MJ alongside Tom Holland in 2017's Spider-Man: Homecoming. And on TV, she starred as Rue in the gritty HBO series Euphoria as a troubled Gen Z'er. Off-screen, she found success in fashion and other passions. Plus, she accepted the responsibility that comes as a voice of her generation.
What's your favorite role by the former Disney star? It's time to go undercover and discover the untold truth of Zendaya.
Why Zendaya doesn't use her last name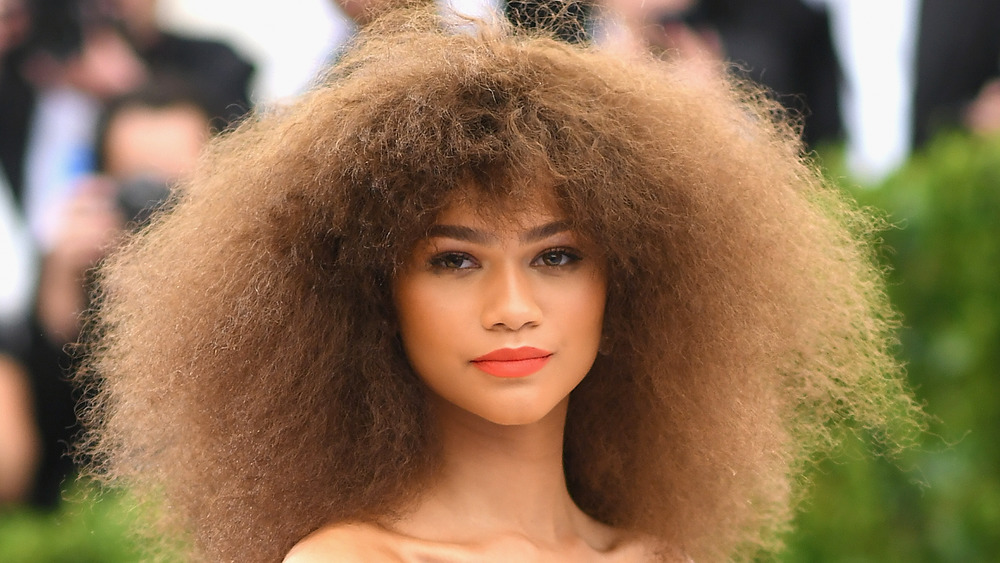 Zendaya has quickly become known not just for her talent, but for her simple and catchy name. And this creative choice put her among other famous celebs with just one name — like Cher and Madonna. Her full name is Zendaya Maree Stoermer Coleman. But early in her career, she decided that instead of just Zendaya Coleman, she would drop the last name. In an interview with GQ, the actor remembered that her younger self thought the one-name moniker had a nice ring to it. Plus, "she thought it sounded cool, like Prince." The actor was young at this point in her career too and not even a teenager.
When the actor was 12 years old, Zendaya's manager suggested she switch to one name as her stage name. As she told Variety, Zendaya remembered asking her manager, "Yeah, like Beyoncé?"
During an interview with Vogue, the actor revealed the meaning behind her name. "Technically, it's a long story," she told the interviewer about her given name. "But it's based off a word that means 'to give thanks.'"
Zendaya's childhood fear continued through fame
Starting early in the entertainment industry can be catastrophic for a young actor. Just look at all the examples of childhood stars that hit rock bottom. But fortunately, Zendaya found a way to start with success and continue to grow in popularity.
At first, the actor appeared in a few commercials for Sears and children's toys, as revealed by Cosmopolitan. Part of her success can be attributed to both her parents, who encouraged the young girl to follow her passions. And by the age of 14, she landed her breakout role on Shake It Up. To be closer to the action, the family moved from her childhood home in Oakland to Hollywood.
Zendaya's transition from her "not the nicest" neighborhood in Oakland to Tinseltown is even more amazing given her personality (via Elle). The actor remembered being too shy to "try anything" and "always [having] this fear of failing and not doing so well." According to GQ, the young girl "was so notoriously shy that her parents sought counsel on how to manage her affliction." Even after becoming a huge movie and television star, the actor still confessed to similar issues. "I remember my stylist was like, 'You come off kind of cold. People think you're mean because you don't talk,' when really I just was too nervous," she revealed. And she admitted to "still trying to overcome the childhood shyness that used to define her."
Family matters for Zendaya
Zendaya grew up in the Bay Area, and both her parents were "former teachers," as reported by Elle. She has a mixed heritage, her mother with a German background and her father Black — and she's the youngest in her family. The actor has "four older half-siblings" and is known as 'Daya within her family (via Vogue). With so many mouths to feed, Zendaya has confessed (via Elle) that "she felt bad about the fact that her mother gave up her career to help her become a star."
Family appears to play a big role in Zendaya's life, even after fame and success. For example, she's picked up her two-nieces from school, the daughters of her half-sister Kizzi, and she lets her mother place crystals in her house. In an interview for Vogue, she introduced viewers to Darnel, who she called her brother, assistant, and all-around "organizer of my life." For his birthday, Zendaya posted a touching message and photo on Twitter. "To the best big brother/grandmother/assistant/only person in the universe who can genuinely deal with me 24/7," she explained under a photo of Darnel smiling and the actor making a funny face.
Zendaya can also hit the high notes
In addition to acting, Zendaya is musically gifted as a songwriter and singer, too. She released her self-titled debut album in 2013 with her song, "Replay," peaking at the number 40 spot on the Billboard Hot 100. If that's not all, her video for the track reached nearly 200 million views on YouTube by 2021. After Zendaya, she released the single "Something New" featuring Chris Brown. And she featured on The Greatest Showman soundtrack, alongside Zac Efron and Hugh Jackman.
When she was younger, Zendaya also played a role in the music industry. She appeared in a Kidz Bop video in a family-friendly remake of Katy Perry's song "Hot N Cold." But Zendaya revealed that her role was a little deceiving. "It wasn't actually me singing as a kid," she confessed to Fashion Magazine. "But I did the video for it, and I remember I was feeling a little weird that day," she said. The actor explained the video "was one of my first jobs, and all the kids could do these crazy things."
Though acting has taken the main role in Zendaya's career, she admits to making time for her other passion. "I still love making music, and I still get to do it through acting a lot of times, and being able to work on the finale song for Euphoria was fun," she told Allure.
Who has Zendaya dated?
As a beautiful and talented celeb in Hollywood, it's no surprise that many would dream to date Zendaya. She was spotted at a Knicks game with NFL superstar wide receiver Odell Beckham Jr. But as the star told Extra, her courtside friend arrived separately. "It happens all the time. Literally if I show up anywhere with anyone that automatically happens," she explained. Even though she dismissed the rumor of the two dating, it appears the two stayed friends throughout the years. As reported by Just Jared, the actor surprised him in Paris — but not in a romantic way. Photos showed Zendaya sneaking up on Beckham Jr, and the two hugging after the encounter.
Zendaya once had a long-term boyfriend but only talked about the romance once the two split up. She told Vogue that her ex was the one who gifted her "Noon, her miniature black schnauzer." But soon after the two went separate ways. The celeb revealed in the interview, "It wasn't a good ending." She revealed that after the breakup, she didn't date anyone. Part of the reason, she said, was because "it was my first love." Luckily, the actor said she was able to move on by accepting the relationship "was the dumbest decision" of her life.
Generation Z-endaya
As one of the faces of Gen Z, Zendaya embodies her age group with political activism, understanding, and helping to solve issues in the world. Or as her generation likes to say, being "woke." For example, Zendaya accepted an award at the Teen Choice Awards — one day after a horrific rally in Charlottesville, Va. "With all the injustice, and the hatred, and everything that is happening, not only in the world but in our country right now — I need for you young people, I need you guys to be educated. I need you to listen. I need you to pay attention," she said on stage. "And I need you to go ahead and understand that you have a voice and it is okay to use it when you see something bad happening," she concluded.
Zendaya also aligned herself with Colin Kaepernick, the football player who protested against systemic racism. The star showed her support by posting on Twitter black-and-white photos of Kaepernick with the tag #TakeTheKnee. She also used Twitter to call out an insensitive and rude remark on her appearance at the Oscars in 2015. In a post directed at Giuliana Rancic, a commentator for E!, Zendaya explained how her style of hair in locs during the awards "was a symbol of strength and beauty." This in contrast to the "ignorant slurs" from Rancic who commented on Zendaya, "I feel like she smells like patchouli oil and weed" (via The Hollywood Reporter).
The truth behind Euphoria
For a former Disney star, Zendaya shocked many longtime fans for her role in the HBO series Euphoria. And the star admitted that the challenging role of Rue helped turn her into a better actor but also a better person. "I think Euphoria taught me a lot about myself," she told Elle. "It made me more confident in my own abilities, because I doubted myself a lot," the actor admitted.
Euphoria creator Sam Levinson told GQ what it was like working with the young actor on set. With all the heavy topics and themes discussed on the show, he remembered at first, Zendaya struggled with "giving herself permission to be emotionally vulnerable in a scene." But the creator also explained how difficult that is for someone as famous as Zendaya. He said, "you have to simultaneously have thick skin as an individual while also being emotionally open as an actor." He also explained how Zendaya is "very self-critical, which only further inhibits the release of emotion." He said that practice and coaching throughout filming the series helped "break down those barriers" in the actor.
For her amazing performance, Zendaya "became the youngest woman to ever win an Emmy for outstanding lead actress in a drama." Plus, the celeb received her award without leaving home. Naturally, she "slept with the statuette by her bed." The actor confessed about the award, "It was just nice to roll over and see her. She was pretty. Just beautiful. Glowing!"
Zendaya has picked up many hobbies
Between her roles in movies, television, and as the global brand ambassador for Lancôme, Zendaya is a busy woman. That is, until much of the United States went under COVID-19 related restrictions. This gave Zendaya much more free time while in quarantine. As a result, she started painting watercolors at home. Her friend and co-star on Euphoria, Hunter Schafer, gifted the actor an art book to express herself through drawings. "My new thing for myself is to try not to be so damn controlling all the time and just paint," she told GQ. "I don't know where this is going to go, but I'm going to just do it and see what happens," she added.
The actor also talked about developing her photography skills. Zendaya explained that she bought a "ton of cameras" to "take a lot of pictures and just shoot." But she also confessed, "I don't really know what I'm doing" and just experiments with shots "until it looks right." With all this free time, Zendaya also talked about the mental effect of taking a break from the constant work in entertainment. She revealed, "It was my first time just being like, 'Okay, who am I without this?'" The star also admitted, "I didn't realize how much my job and my art were a part of my identity as a human."
How Zendaya became a fashion icon
Zendaya has been a part of the fashion industry throughout most of her career. First, with the launch of her own clothing line called "Daya by Zendaya." As detailed by Harper's Bazaar, the line aimed to address the lack of "diversity, inclusivity and affordability" in the fashion industry. According to the actor-turned-entrepreneur, her goals were "embracing gender fluidity and creating an inclusive environment." She accomplished this through a wide range of sizes, "unisex styles," and an affordable price point.
For her next collection, she joined forces with famous American designer Tommy Hilfiger. In 2019, the star debuted the spring "Tommy x Zendaya" collection in the center of the fashion world: Paris (via Elle). For her collection, Zendaya worked with Law Roach, her stylist, to collect "disco-era images that inspired them, and walked into their first formal meeting with a take-it-or-leave-it attitude and a mood board that wowed the room," according to Vogue. Roach explained how the star was fully committed to the process and for "every design meeting, every sample review, she was there. And she was involved with all the casting."
When she's not creating fashion, Zendaya is also a pro at wearing the best in fashion. For example, due to COVID-19, the 2020 Emmy award show was held virtually. But that didn't stop Zendaya from wearing one of the best and most-talked-about fashion choices of the evening.
Zendaya is the host with the most
As a busy actor, Zendaya's time with friends is limited. But she still finds time to hang with many of her fellow actors, especially those from the cast of Euphoria. Reportedly, Zendaya keeps polaroid photos of her and the cast hanging up in her home and, as she told Vogue, she hosts get-togethers with them. The group will gather for "movie nights" or binge content on Netflix.
Zendaya's co-star from Euphoria, Hunter Schafer, said the actor is incredibly thoughtful to those around her. For Thanksgiving, Zendaya "invited the whole cast" for dinner together. "Her being willing to create that sort of 'chosen family' is something I'll always be grateful to her for," Schafer added. The actor also expanded her home to host even more get-togethers. She reportedly put in "an extra-long table in her dining room, in order to host more polished versions of that family-style feast."
Outside of the Euphoria crew, one of her best buddies is her co-star from the Spider-Man films, Tom Holland. Though the two were once rumored to be dating, she clarified to Variety that the two are just friends. "He's a great dude. He's literally one of my best friends," she said. Zendaya added that the two bonded over the months of press tours for the movie, revealing, "There's very few people that will understand what that's like at 20 years old."
How tall is Zendaya?
Zendaya is known for her big smile. But you might be surprised at her other big physical feature, her height. The star is five-feet, 10-inches tall. While being tall isn't a bad thing, the actor admitted to feeling self-conscious of her height while auditioning for Spider-Man: Homecoming. That's because lead Tom Holland is shorter than the actor. She told Variety that when showing up to audition, she thought, "'It's going to be weird because I'm super tall.' But then we ended up doing the audition sitting. So that was good." And despite the brief moment of doubt, the actor explained how she is proud of her height. For example, she loves to wear "sky-high heels" and other stilettos. As she explained to People, "I always tell my fans that people are going to comment on your height regardless, so you might as well be as tall as possible and look good doing it!"
The reason for Zendaya's tall frame is likely thanks to her family. In an interview for Allure, Zendaya explained how her collaborative collection with Tommy Hilfiger included clothing to a wide variety of body types. "A lot of the clothes were for tall people too," the actor explained. Especially her mom. Zendaya said with her clothing line, it was the first time her mom could "wear pants and not get them altered." That's because her mom is "six feet four."
How much is Zendaya worth?
Zendaya has built success across multiple industries, dominating movies, television, and fashion, among others. She's released a novel, an album, and two fashion lines. In addition to her commercial work and sponsorships from the likes of Lancôme, she has a substantial social media following — as of this writing, over 87 million followers on Instagram. All of this adds up to Zendaya's huge bank account. According to Celebrity Net Worth, Zendaya was worth an estimated $15 million.
With some of this money, Zendaya purchased a luxury home when she was just 20 years old. As reported by Elle, she bought "a $1.4 million Mediterranean-style mansion." The actor explained of the big buy, "I had grown up — I moved out, and it was time for me to be the sole voice in my career and make my own choices."
The actor also uses her net worth for worthy causes. For example, she donated to the Roses in Concrete Community School to support students in her hometown of Oakland. Zendaya told Marie Claire, "When I'm able to do great things in my career, and fortunately be financially blessed, and then give it away and watch the money actually do good s***, that is the purpose." She explained how as an actor, "I get to do my passion and what I enjoy, and that has become a forum to do much greater things."