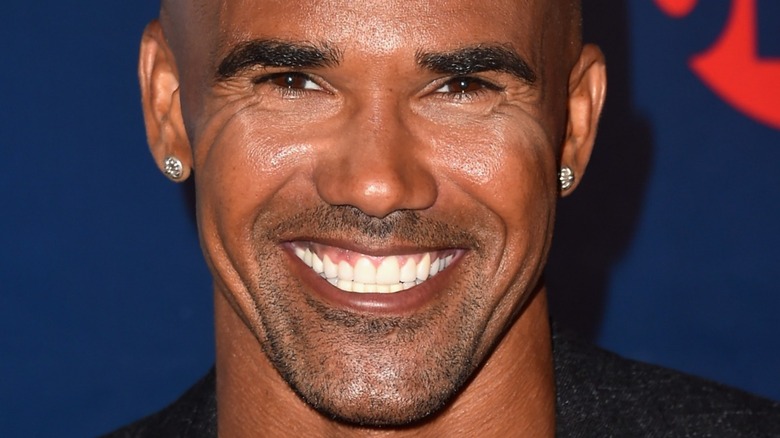 CBS procedural "S.W.A.T." premiered in 2017, following a team of elite LAPD officers who handle dangerous situations around LA. The show has continued to be a massive ratings hit for the network, launching its fifth season in 2021 with some of its highest ratings in years.
Fans may not know that the show is based on a pre-existing property, both a series that ran for two seasons back in the 70s and a 2003 film that starred Colin Farrell and Samuel L. Jackson. Star Jay Harrington explained to StarryMag that "the name, the [theme] song, and the character names are the same," but he clarified that "this is a whole new take on the idea of what these people do on a day to day basis." That iconic theme song is one of the biggest holdovers from the original show, though Shemar Moore — who leads the cast as the most recent incarnation of Hondo — told TV Guide that the new version of the theme song has more "stank" than the original.
"S.W.A.T." devotees have come to know and love the cast, and just as the show dives into the personal lives of the characters when they're not saving the city from criminals and terrorists, viewers may want to know who the cast goes home to at the end of a long day on set. Crank up that Rhythm Heritage Spotify playlist and read on for a breakdown of the real-life partners of the cast of "S.W.A.T."
Peter Onorati has been with his wife for decades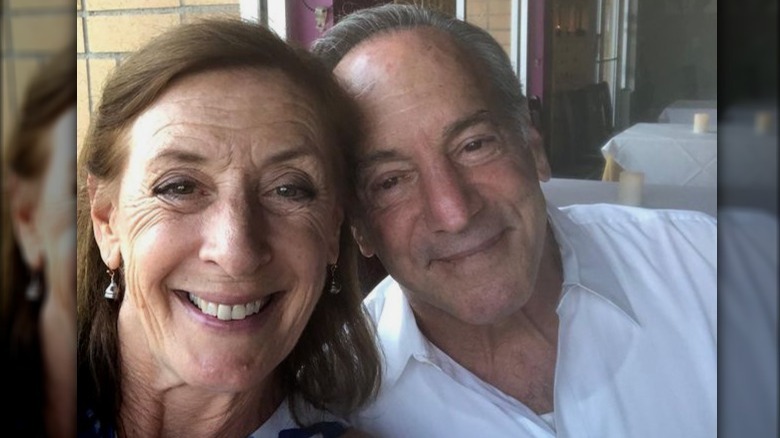 For the first two seasons of "S.W.A.T.," Peter Onorati played Sergeant Jeff Mumford, a character he described to ChannelGuide as "the old man." He told the magazine, "It's my first role of being the old man, and I love it. He is a straight shooter, by the book, and I love it." The character retired at the end of Season 2, but Onorati returned for a guest appearance in Season 4 (per IMDb).
Off-screen, Onorati, who also stars on "This is Us," has been married to writer and producer Jeanette Collins for several decades. Collins has worked on such classic shows as "In Living Color," "Will & Grace," and "Drop Dead Diva." She described her first time meeting Onorati to Feminine Collective, detailing the boat trip they took in the 80s. "We cruised from St. Croix to Buck Island," she said. "We ate and partied way too much and belly-laughed the entire day. The jokes never stopped."
Onorati looks back on those memories fondly, too. He told the Sun-Sentinel his biggest fantasy is, "My wife and I … on a beach in St. Croix in the Virgin Islands, with a Thermos full of piña coladas." He's grateful that his wife is also a part of the entertainment industry, because she helps keep him grounded. "She has been able to point out when I'm acting like an Actor Asshole," he told Feminine Collective. Sounds like a perfect partnership to us!
Shemar Moore is single but has quite the past
The most recognizable face on "S.W.A.T." is Shemar Moore, who spent 11 seasons playing Derek Morgan on "Criminal Minds." On "S.W.A.T.," he plays Sergeant Dan 'Hondo' Harrelson, the leader of the titular SWAT team. Moore is proud to be on a show that engages with tense conversations, telling CBS New York, "What I'm really proud of is we're being woke. We're entertaining people but we're also talking about real things." He also noted the optics of being a Black man wearing an LAPD uniform on TV, given current social dynamics.
Moore has quite the off-screen dating history. He opened up about his ex-girlfriends to BET in a 2013 interview, admitting that while Toni Braxton was his first celebrity relationship, "I fell hard for Halle [Berry]… Toni was a fun ride, but Halle was a necessary experience. It made me much stronger as a man … knowing the caliber of woman I want in the future."
Most recently, Moore dated "Quantico" actor Annabelle Acosta, bringing her as his date to the 2018 Grammys. TMZ caught up with the pair at LAX, and while Acosta was camera-shy, Moore admitted that his part of motivation for the date was showing he isn't gay; he wanted to "prove" he could get a pretty woman to show up to a red carpet with him. That doesn't necessarily seem like a solid foundation for a relationship to us — no surprise that the two are no longer together.
David Lim proposed to wife Marketa Kazdova on the beach
David Lim has played Victor Tan on "S.W.A.T." since the very first episode, though he told TelltaleTV that the character wasn't initially in the pilot. "They actually created this role for me, and so I was obviously over the moon," he said.
Though his character has had his fair share of relationship drama on the show, off-screen, Lim is happily married to Marketa Kazdova. Kazdova is a Czech model who has appeared in "Harper's Bazaar," "Cosmopolitan," and "Nylon," per Sophisticated Weddings, and their marriage began with a stunning proposal straight out of a storybook. Lim brought Kazdova to a beach they love in San Diego; pretending to take a photo of her, he asked her to face the sunset. "When she turned back around, I was on one knee with the ring. I told her how much I loved her, and asked her to marry me," he told US Weekly. On Instagram, Kazdova captioned a photo with her answer: "Million times YES!!!"
Their wedding was just as magical. Kadzova told Sophisticated Weddings she wanted a ceremony that was "classy, beautiful, and elegant," and it seems that's just what happened; they married on a "hilltop vineyard overlooking Prague." "It was a bit of a fairy tale," Lim told CBS Watch Magazine. Now that they're married, Kadzova shares sexy snaps of the stunning couple on Instagram as they travel the world. "I feel lucky to call this hottie my husband," she wrote.
Debbie Allen and Norm Nixon have been together since the 80s
Legendary dancer, actor, and choreographer Debbie Allen joined the cast of "S.W.A.T." in Season 2, playing the mother of Shemar Moore's character Hondo. Allen was asked to play the role by her niece Angela, who is a writer on the show, per TV Insider. "I know this show really is such a big favorite and I love Shemar," Allen said by way of explaining why she took the part.
The "Grey's Anatomy" actor has been married to basketball player Norm Nixon since 1984. Nixon, who played for both the Lakers and the Clippers, acted in the 1979 film "The Fish That Saved Pittsburgh, which was one of Allen's first roles. "We stayed in touch [after filming]," Nixon told the Pittsburgh Tribune-Review, "and I realized I had more fun with her than any of the other women I was dating."
Nixon later helped co-found the Debbie Allen Dance Academy. "Debbie always talked about [how] at some point she wanted to create an academy where all kids are welcome… regardless of economic background, ethnicity, social standings," he explained to Café Mocha Radio. "She wanted a place for kids to dance if they wanted to dance." Allen herself still wants to dance. In 2020, she celebrated their anniversary on Instagram, calling him "my forever dance partner" alongside a video of the two of them getting down on the dance floor.
Patrick St. Esprit is married to actor Tawny Moyer
Patrick St. Esprit plays Commander Robert Hicks on "S.W.A.T.," a character Deadline notes is "a senior LAPD official with the Special Operations Bureau." While he was only a recurring character during the show's first season, he was promoted to a series regular from then on. St. Esprit is known for these types of characters, having played seven distinct roles across five shows in the "NCIS" universe alone (via Screenrant). St. Esprit is especially grateful for his role on this show, telling "S.W.A.T. On Set," "I love coming to play, and I work with a great cast and a tremendous crew."
St. Esprit is married to actor Tawny Moyer, who frequently accompanies him to red-carpet premieres of his films. Moyer is best-known for playing Nurse Jill in "Halloween II," the night-shift nurse who was stabbed in the back by Michael Myers. She was interviewed by HalloweenMovies.com about the iconic character, and she took the chance to shout out her husband's work in 9/11 film "United 93," telling the site, "I think this movie should be seen by every American! It's really great! It's really important!"
Lou Ferrigno Jr. has a 'canine girlfriend'
Lou Ferrigno Jr., son of iconic "The Incredible Hulk" actor Lou Ferrigno, plays Donovan Rocker on "S.W.A.T." Rocker leads the second-team SWAT unit, so while Ferrigno isn't on every episode, he's played the character a few dozen times across the show's five seasons. "I get to jump in and do the bad guy tackling, terrorist wrangling, all of that stuff," he explained to Swagger Magazine. "It's exciting and fun to watch and portray."
Fans of the hunky actor may be excited to learn that he seems to be single, but that doesn't mean no one has stolen his heart. In addition to that time he proposed to a gallon jug of Jersey Mike's cherry pepper relish, Ferrigno raved on Instagram about how much he has in common with his dog Zelda, calling her his "canine girlfriend." He listed off a number of traits he shares with his pup, including a love of "sweet kisses, cuddles, warm blankets, performing for camera, sultry snacks … [and] peeing on the world." He capped off the caption by joking, "My soul can't possibly love this little bi**h any more!!!!!!!!!!"
Anyone looking to date Ferrigno based on his "S.W.A.T." character should take note: while he told TVBrittanyF.com that he relates to Rocker's "stoicism, sense of humor, and sarcasm," he speculated cheekily, "I think Rocker's definitely a little more vanilla than I am."
David DeSantos is dating writer/director Meredith Littas
David DeSantos is a newcomer to the "S.W.A.T." team, joining the cast as Rodrigo Sanchez in Season 5. Sanchez is "a 20-year LAPD veteran and former SWAT member," per Deadline. The part sounds fitting for DeSantos, who may be familiar to fans from other law enforcement roles in shows like "The Rookie," "Animal Kingdom," and "Roswell, New Mexico." CBS procedurals like "S.W.A.T." are even the family business! "I was born into a film family," he revealed to VoyageLA, "as my grandmother was film editor at CBS having edited 'Hawaii Five-0,' 'Gunsmoke,' and 'The Lone Ranger.'"
On Twitter, DeSantos frequently interacts with his "love," writer and producer Meredith Littas. He excitedly shared the Deadline announcement for "The Break Up Diet," a fiction podcast that Littas wrote and directed; DeSantos himself executive-produced the show. The two are loved-up on Instagram as well, often appearing in each other's photos alongside their adorable dog Brady. For DeSantos' birthday, Littas wrote, "You're one of a kind. So grateful you were born." Celebrating Littas' birthday in turn, DeSantos returned the compliments, writing, "thank you for making me laugh daily and for coming into my life exactly when it was time."
Peter Facinelli is engaged… again
"Twilight" star Peter Facinelli recurred throughout the first season of "S.W.A.T." as Michael Plank, "a confident, powerful businessman" who served as a civilian Police Commissioner (via Deadline). The character hasn't been back since the Season 1 finale; fans are likely to remember that Plank stepped down to run for Governor of California.
Off-screen, Facinelli was previously married to "Beverly Hills, 90210" star Jennie Garth. They were divorced in 2013 but are still close friends and split custody of their three children, according to a profile in La Palme Magazine. "People come into your life for a reason and relationships can change, and just because we aren't living together doesn't mean we can't love each other," he said. Facinelli proposed to "Blindspot" actor Jamie Alexander in 2015 after dating for years, but they split the following year, telling People that family and work commitments had kept them apart.
As of this writing, Facinelli is engaged once more, this time to actor Lily Anne Harrison, his co-star from the 2020 film "The Vanished." He told People that they don't have set wedding plans yet, and that he will let Harrison do the planning. "I already feel married," he joked. "We have everything besides the piece of paper and the party!" Having a fiancée who loves to feed him can't hurt. "I do most of the cooking around here," Harrison revealed to Ouch Magazine. "I love to make enchiladas. I think Peter would argue that my tacos and my guacamole are pretty bomb."
Alex Russell is dating Goliath actor Diana Hopper
"S.W.A.T." is Australian actor Alex Russell's first television role, and what a role it is. As Jim Street, Russell takes over from Colin Farrell, who played the character in the 2003 film that inspired the show. Officer Street is the point-of-view character for the audience, joining the S.W.A.T. team in the very first episode as a transfer from a neighboring police department; as he learns the world of the show, so do we.
Off-screen, Russell is in a relationship with actor Diana Hopper, who plays Billy Bob Thornton's daughter on the Amazon Prime Video series "Goliath." Russell's relationship with Hopper is one of the primary reasons why he signed on to "S.W.A.T.;" while they were in a long-distance relationship for years (via Entertainment Tonight), getting a role on a procedural like this meant stability. "It almost never happens, to find something I'm excited about creatively but also gives me the chance to stay in LA with my girlfriend," Russell explained to Foxtel.
Russell frequently promotes Hopper's projects on his Instagram, writing that he was "in awe" of her when the fourth season of "Goliath" dropped in 2021. They even appeared together in a short film called "Election Date" for the 2020 election. "I am a total sucker for fresh flowers and foot massages," Hopper detailed in Lapalme Magazine back in 2016, adding, "I also have a weakness for nights in with movies and Thai take-out." We can only imagine Russell was taking notes!
Jay Harrington's wife is an influencer
Jay Harrington plays Sergeant David "Deacon" Kay, second-in-command S.W.A.T. leader. Before this show, Harrington was best known as the titular Ted on the cult-favorite sitcom "Better Off Ted," which he hopes will be considered a classic someday. "We do have that golden opportunity of being considered a classic in a positive way: Brilliant but cancelled," he predicted to OnTheBox. On "S.W.A.T.," Deacon is notably a family man, an aspect of the character that Harrington likes. "So often you see these characters on TV who go home and have trouble, but we wanted to create an environment where it is his happy place," he explained to StarryMag.
Like his character, Harrington is also married. His wife is Monica Richards, an influencer who goes by the moniker @TheEcoBabe on Instagram. She worked as a red carpet host for AOL before launching the "ecobabe" brand, which she described to VoyageLA as "a tight-knit community where we empower people to live more sustainably by focusing on individual impact." She added, "Being an ecobabe means living more sustainably without missing a beat in your daily life. It's effortless, it's cool."
Harrington is proud of his wife's efforts, sharing her brand launch on his Instagram. Richards looks forward to expanding their family, telling VoyageLA, "One day I'll have a daughter just like me who loves hard, plays hard and gives her parents a really hard time."
Laura James' boyfriend Jon Ecker inspires her
Laura James plays Molly Hicks, the lawyer daughter of Patrick St. Esprit's character and one-time girlfriend of Alex Russell's Jim Street. Street and Molly ultimately broke up in an emotional Season 4 episode, and James hasn't been back since, though it's unclear if she will recur in the future. Before joining "S.W.A.T.," James was best-known as the winner of Cycle 19 of "America's Next Top Model," which was the "College Edition" of the show (via US Weekly).
James is dating "Chicago Fire" actor Jon-Michael Ecker, who she says "inspires [her] every day." She revealed on Instagram that their relationship began in 2019 when she beat him at Pac-Man at a "weird dive bar." For his part, Ecker captioned a carousel of photos of the "S.W.A.T." star "…and counting," suggesting he's in it for the long haul.
Perhaps both celebs have bonded over having famous families. Ecker is the son of Guy Ecker, a telenovela star, and he told E! that his father gave him advice about keeping a level head in the industry. "From him I learned how to hang it all up at the door when I come home," Ecker said. James, on the other hand, is the daughter of "Dynasty" star John James; per Daily Sundial, James' parents were hesitant about her getting into the industry. "They're happy I'm living my dream and they're excited about all the opportunities that are coming," she revealed.
Stephanie Sigman's husband Brian Andrew Mendoza is a director
Stephanie Sigman's character Captain Jessica Cortez was an integral part of the "S.W.A.T." dynamic for the show's first two seasons, occasionally dating Hondo. After the Season 2 finale, which saw her character be given an undercover assignment by the FBI, Sigman shared on Twitter that she would not be returning to the show. "Thankful and proud of the … intense learning experience it was playing Captain Cortez," she wrote.
Fans of the actor may be wondering about her life since the show. Sigman is married to Brian Andrew Mendoza, a multi-hyphenate writer-director-producer who frequently collaborates with "Aquaman" star Jason Momoa. Mendoza directed Momoa in the 2021 Netflix film "Sweet Girl," and he revealed to PhilStar that the film — about a father protecting his wife and child — had personal resonance for him. "My wife gave birth to our son a week before production," he said. Thankfully, shooting went well anyway. "We were really prepped and it was a smooth ride," he added.
Though some might wonder if Sigman was upset to have her husband shooting a film so soon after she gave birth, she was by his side throughout filming. She shared a glowing family photo on Instagram, writing, "We are so proud of you mi amor." When she wished him a happy Fathers Day, she called him "not only the best Papa but the best example of a man there is."
Kenny Johnson is a family man
Kenny Johnson, who plays Dominique Luca on "S.W.A.T.," is no stranger to stepping into the uniform of an LAPD officer on television. Johnson spent five seasons as Detective Curtis Lemansky on "The Shield" before his character was memorably blown up by a grenade. Johnson sustained an injury while performing a stunt on the set of "S.W.A.T." which caused him to miss most of Season 4 (via Newsweek), but Johnson loves the show and was glad to be back, writing on Twitter that his heart "actually ached" while he was away.
Luckily, Johnson had a great support system while he was missing out on the show. He has been married to actor Cathleen Oveson since 2005, per People; a few years later, she appeared with him on an episode of "The Shield."
They have a daughter together named Angelica, who is getting in the family business herself. Angelica appeared on a few episodes of "S.W.A.T." with her father, playing a young girl with dyslexia; Johnson struggles from the learning disorder in real life. He was impressed by his daughter's abilities on set, telling CBS Sacramento, "She was great at being in the moment … You just feel like it's you and her no matter how many people or cameras are around."