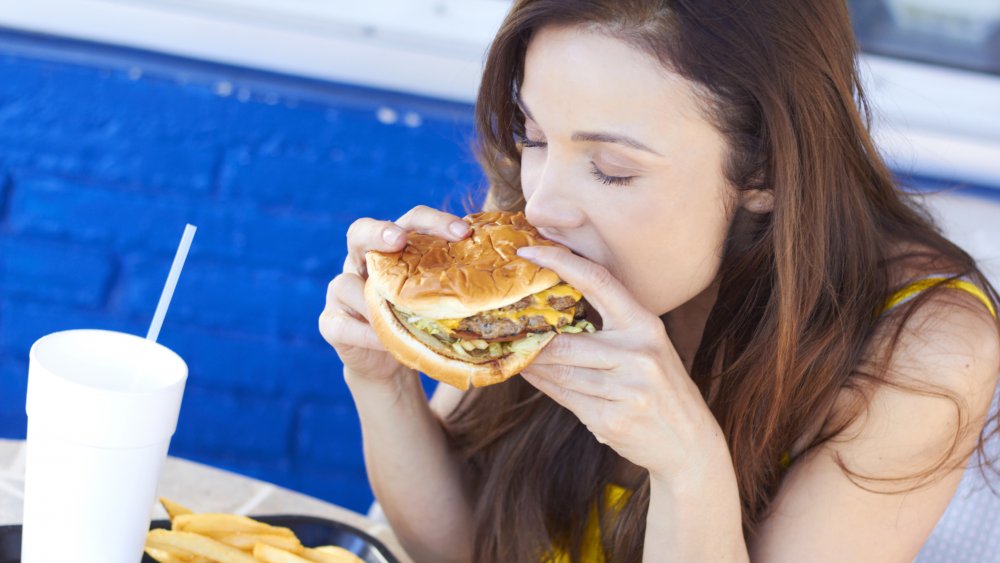 The average American spends $1,200 per year on fast food. For some Americans, if they're being honest, they spend that in a month. While there is a lot of junk on fast food menus across the United States, there are also items that you owe it to yourself to eat. Maybe you won't like it, maybe you will never eat it again — but it'd be a shame for you to enter your grave before at least giving your taste buds a chance to fall in love with these fast food items.
It'd be an impossible task to go to every fast food restaurant from sea to shining sea and sample each item available. Not only would you run out of time, all those calories would take a toll on your health. Instead of eating yourself to an early death, scroll down and review this complete list of fast food items you need to eat at least once before your final breath.
Chick-fil-A's Chicken Sandwich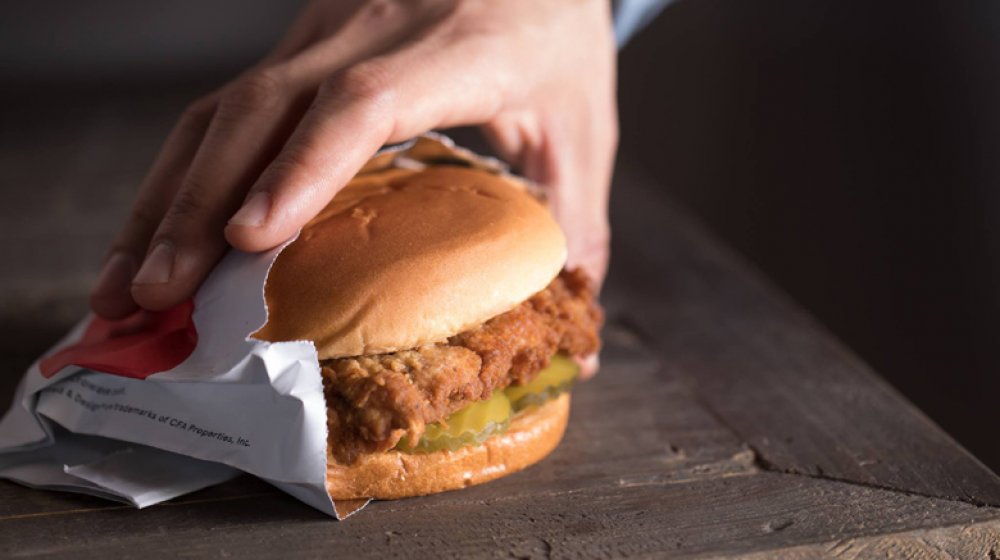 For four years and counting (as of January 2020), Chick-fil-A has been named as America's favorite fast food joint and their chicken sandwich is the main reason why. It's what Chick-fil-A is known for, and it's definitely something you should try before you kick the bucket.
The chicken sandwich is breaded and then cooked in a pressure fryer with peanut oil. The bun is buttered, toasted, and then topped with pickles that add the perfect complementary flavor to the sandwich. Even if you don't usually like pickles, you shouldn't mess with perfection. Just try this sandwich once and you'll be a fan for life.
Sonic Drive-In's Cherry Limeade
While Sonic Drive-In definitely has some quality food options, it's their drinks that set this place apart from the competition. Their most iconic drink and the drink they've mastered the most has to be the Cherry Limeade. Both the cherry and lime flavors are strong, but not overbearing or unpleasant.
First you'll taste the cherry and it'll soon be followed by a lime-flavored aftertaste, and the two flavors together are simply amazing. To top it off, your drink will be filled with ice from Sonic Drive-In, which is without a doubt the best tasting ice of any fast food restaurant.
Five Guys' Cheeseburger
The food at Five Guys is so good that you don't even need to get fancy with your order. In fact, to get the true Five Guys experience, start off by ordering their cheeseburger. It's exactly what you expect: two beef patties that have been grilled, two slices of American cheese, and two soft buns that have been gently toasted. There's really no need for all those extra toppings here, but they're free, so order up if you just can't stand the thought of a toppling-less burger.
It might not sound compelling, but your taste buds will agree that your first bite is life-changer. Your idea of what a fast food burger can be will forever be changed.
Wendy's Classic Chocolate Frosty
The classic chocolate Frosty from Wendy's doesn't look too special or too unique, but there's just nothing else quite like it. While it appears to be chocolate ice cream, it's actually a dessert that resides somewhere between soft serve ice cream and an old fashioned milkshake. Furthermore, a classic chocolate Frosty is actually made with both chocolate and vanilla, making it the perfect flavor balance.
These days, you can also order a vanilla Frosty, but it's just not the same. Go with the classic version and then, if you really want the ultimate experience, dip your Wendy's fries in the Frosty while you're at it.
McDonald's McRib
The famed McRib isn't a fixture on the McDonald's menu. However, when it does periodically pop up, diehard McRib fans scramble to the Golden Arches to indulge — and there's a reason for that.
The McRib is created from a cheap cut of pork, a lot of salt, a starchy sweetener (dextrose), and water. The concoction is pressed and shaped into what resembles a little rack of ribs. It's placed on a hoagie-like roll and topped with BBQ sauce, onions, and pickles. It might not sound appetizing, but the result is somehow an addicting, wondrous sandwich that fans can't get enough of.
Krispy Kreme's Original Glazed Doughnut
Even if you're on a diet, it's worthwhile to make an exception and head to Krispy Kreme for an Original Glazed Doughnut. But this endeavor is not quite as simple as it sounds. What you need to do is scout out a Krispy Kreme location and keep an eye out for the Hot Light. Once you see it light up, that's a sign from the doughnut gods (or maybe just the Krispy Kreme employees) that there are fresh doughnuts available. That's the moment you storm Krispy Kreme to pick up an Original Glazed Doughnut. With it being hot and fresh, it will practically melt in your mouth and overwhelm your senses with yumminess and happiness.
Jack in the Box's Two Tacos
You don't think of authentic Mexican food when you drive past a Jack in the Box. And you're right not to — but that doesn't mean their tacos aren't worth trying.
You can get a pair of tacos at Jack in the Box that will surprise you in a good way. While their tacos aren't authentic, they are a convenient and tasty snack that will fill you up fast, and there's just something about them that make people order them again and again. Their tacos have just meat, shredded lettuce, American cheese, and a crunchy outer shell — so maybe it's the simplicity that keeps people coming back.
Also, make sure you pick up a packet or two of taco sauce to give those two tacos an extra kick.
In-N-Out Burger's Animal Style Burger
If you've never had an Animal Style Burger from In-N-Out Burger, hop in your car now and go get yourself one. Don't worry, no one will look at you funny when you order it.
What saying Animal Style at In-N-Out Burger will get you is a burger that's beef patty was grilled with the help of mustard, and it's amazing. To add to the fun, you'll get grilled onions, pickles, and an extra layer of their special spread. Plus, you still receive the same tomato and lettuce you get when you order one of their other burgers.
But be warned, once you go Animal Style, you never go back.
Whataburger's Ketchup
If you're wondering how ketchup made this list, you've obviously never had ketchup from Whataburger. This fast food chain has ketchup that will make you think it was sent down from the heavens above.
Try it with their fries, onion rings, or any of the burgers Whataburger has to offer. Since Whataburger was born in South Texas, it's not surprising to learn that they also have spicy ketchup. If you're brave enough to add some spice to your life, try it. And once you're completely addicted, you'll be happy to learn you can buy this ketchup by the bottle.
Panda Express' Original Orange Chicken
Panda Express calls their Original Orange Chicken their "signature dish" — and for very good reason. Panda Express' Orange Chicken is the best dish you will find at any fast food Chinese restaurant.
The first thing you'll notice when you chow down is that each piece has a sufficient and juicy amount of meat. Then the flavors hit you. You'll taste the sweetness first, which is entirely pleasant. Then the spicy, orangey flavor catches your attention and the whole experience is taken to the next level. From the texture to the taste, you can't ask for much better bang for your fast food buck.
Church's Chicken's Honey-Butter Biscuits
Even if you don't love the chicken at Church's Chicken (honestly, there are better fast food chicken chains), their Honey-Butter Biscuits are a game-changer. They are so good, in fact, that you may opt to get your chicken elsewhere, yet stop at a Church's Chicken just for these things.
Everything about their Honey-Butter Biscuits is perfection. The biscuits themselves are flavorful and never too dry or too soggy. Then, the biscuits are expertly glazed with their yummy honey-butter concoction. The outcome is a biscuit that none of their competitors can compete with.
Starbucks' Pumpkin Spice Latte
Is it even officially fall if you don't drink a Pumpkin Spice Latte from Starbucks? This coffee drink is the result of what would happen if all the best parts of autumn were melted down into a drinkable liquid. One sip and you'll be ready for falling leaves, Halloween, autumn colors, Thanksgiving, and everything else the season has to offer.
It's not a complicated flavor profile, but Starbucks does pumpkin spice better than anyone else. If you end up drinking one of these lattes each morning during fall, no one will blame you.
Subway's Cookies
Where can you find the best fast food cookies? You might be surprised to hear that you need to head to Subway to find them.
The cookies at Subway are soft, but pack a powerful punch when it comes to flavor. The best thing about their cookies is that they all taste good, so you can adjust your order depending on your mood. Subway usually has a variety of options on hand including Chocolate Chunk, Double Chocolate, White Chocolate Macadamia Nut, and Rainbow Candy Chip. Don't be timid to try them all, even in the same visit.
Dairy Queen's Butterfinger Blizzard
Dairy Queen seemingly has a never ending list of dessert options. Even when you decide you want a Blizzard, you are still left with an overwhelming number of choices. However, if you want to locate the cream of the crop, order a Butterfinger Blizzard. Even if you don't love the candy bar, you'll love this soft serve treat.
The Butterfinger is such a winner because it meshes perfectly with vanilla soft serve. You get a mixture of chocolate, sweetness, and saltiness that will have your taste buds doing somersaults.
Wendy's Baconator
If you love meat and especially bacon, Wendy's Baconator is for you. The best way to describe it is nirvana for those obsessed with bacon.
This burger comes equipped with eight ounces of fresh beef, six slices of crispy bacon, and two slices of American cheese. Within the bun you'll find mayo and ketchup on top of all the meat. What really stands out is the smokiness of the bacon and the freshness of the beef patties. Sure, this may sound like a recipe to clog your arteries — but you only live once, right?
Pizza Hut's Mozzarella Stuffed Crust Pizza
Eat it forward or backward, it doesn't matter. The most important thing is that you try Mozzarella Stuffed Crust Pizza from Pizza Hut before you die.
While it costs a little bit extra compared to the other crust options at Pizza Hut, it's worth the added money. Crust that is stuffed with mozzarella suddenly makes the crust the star of the show, no matter what toppings you put on the rest of the pie. Pizza Hut also lets you specify the flavor of the crust itself, so give Buttery Garlic or Toasted Parmesan a try.
Subway's Spicy Italian
What type of sub sandwich should you get a Subway? The one you have to try at least once is their Spicy Italian. On this sub you will get a combination of Genoa salami and pepperoni, two of the best tasting meats available at Subway. When combined, the flavor is extraordinary. You really can't mess it up no matter which vegetables or cheese you add to the sandwich.
That said, you should really consider picking Golden Italian as your sauce, along with Italian bread, in order to achieve that ultimate taste of Italy.
Burger King's Whopper
The Whopper from Burger King is one of the most popular burgers in America, and you deserve to find out why. It has a quarter pound of beef, lettuce, tomato, pickles, onions, ketchup, and mayo within a bun topped with sesame seeds. What makes the Whopper so special, though, is the flame-grilled taste of the beef. It's a flavor that you can't find anywhere else.
The Whopper is like you had a barbecue in your backyard and finally made that elusive perfect burger — but without all the hassle. Buy a Whopper, eat it hot, and you may have a new favorite burger.
Dunkin's Hazelnut Swirl Iced Coffee
While you may think of Dunkin' as a donut stop, they have some really good iced coffee. The flavor that is a must to order at least once in your life is the Hazelnut Swirl. While other flavors are adequate, including Coconut Caramel, Pink Velvet, and Thin Mints, it's Hazelnut Swirl that stands at the head of the pack. The deep flavor of the Hazelnut somehow makes the coffee base taste even better. Order a donut while you're there, and use this heavenly iced coffee to wash it down.
White Castle's Original Slider
These days, White Castle has over a dozen different types of sliders. While some of them are worth trying, you must try the Original Slider, because it's the best of the bunch. This is where it all started, and where the "Cravers" craze began.
Many have tried to duplicate White Castle's slider success but it's never been truly copied. The Original Slider has a beef patty that is steam grilled on top of onions. Before the bun goes on top, a pickle slice is added to heighten the overall flavor of the slider. While the slider is small in stature, it's rather large in taste — and something everyone should experience at least one time.
Panera Bread's Bacon Tomato Grilled Cheese
Everyone loves a good grilled cheese sandwich. At Panera Bread, the typical grilled cheese sandwich is supercharged and the result is called a Bacon Tomato Grilled Cheese. As the name suggests, the American cheese is joined by a healthy amount of bacon and tomato. Panera Bread uses their Country Rustic Bread when making this sandwich, and it's a fantastic choice. In fact, it's the bread that makes this the best grilled cheese available in a fast food restaurant. Give it a try and you'll be hooked.
Chipotle's Chips & Guacamole
Chipotle has scrumptious burritos, burrito bowls, tacos, salads, and more. However, the one thing you can't truly live without trying is their chips and guacamole.
Fast food usually doesn't result in good chips or guacamole because it takes great care to make each one. But Chipotle has figured out a way to succeed where others fail. Their chips are fried in-house in small batches, so they taste amazingly fresh. Their guacamole is not only very fresh, but also authentic to the last drop. The next time you are out and about and need a quick lunch, go to Chipotle and order the chips and guacamole.
Arby's Classic Beef 'n Cheddar
When it comes to Arby's, their Classic Beef 'n Cheddar stands front and center. It's everything that is good about Arby's, distilled into one sandwich.
Start with the onion roll, which is toasted to help release all the aroma and flavor. Next, the roast beef — the meat that makes Arby's Arby's — is covered with a cheesy sauce made out of cheddar. Finally, Arby's Red Ranch sauce is added to provide the right about of zest to the equation.
When you order it for the first time, be sure to order two of these bad boys because you'll want an encore once you're finished with the first one.
Jimmy John's Vito
Jimmy John's will get your sandwich to you in no time. That's what they do. If you don't know what to order, go with the Vito. It's a sandwich topped with capicola, salami, and provolone cheese. That combination will cause anyone's mouth to water. Add to it tomato, onion, lettuce, oil, and vinegar and this sandwich lands in legendary territory. The final touch is a bit of basil and oregano that will make Jimmy John's a fast food option you never overlook again.
You'll learn to order the 16-incher and eat one half for lunch and the other for dinner — it's that good.
A&W's Root Beer Float
For a root beer float done right that you wouldn't want to miss out on, head to A&W.
A&W is known for their root beer, and if you live near an A&W restaurant, that's the mecca when it comes root beer floats. They've become world-renowned experts in this field, and their floats definitely live up to the hype.
It's difficult to say for sure whether it's the frosty mug, soft serve vanilla ice cream, or the A&W Root Beer itself that makes this so good, but it will bring your life pleasure, guaranteed.
Popeyes' Spicy Chicken Sandwich
When it comes to spicy chicken sandwiches, Popeyes has created a delicacy that you must eat before you are six feet under. While Chick-fil-A has a very good spicy chicken sandwich too, Popeyes' version is worthy of obsession. The spiciness hits hard but is thoroughly enjoyable. The crunchiness of the sandwich adds unforgettable texture to the experience. It's amazing, really. Try one before this coveted sandwich sells out again. They also have a non-spicy version, but don't be a coward and go with that one before trying the spicy one first.
Domino's Parmesan Bread Bites
You can find good pizza at Domino's, but the thing that you need to eat at least once is their Parmesan Bread Bites.
These oven-baked goodies are made by hand using dough infused with butter. After they are baked to a golden brown, the bread bites are seasoned with Parmesan cheese and garlic. Eat them while they're hot to taste them at their best. In fact, you can order marinara dipping sauce and skip the pizza all together.
Get 16 or 32 of these bites and a few sauces, and you'll be praising your decision.
Jack in the Box's Sourdough Jack
When it comes to sourdough, Jack does it best. It's so good that you need to try the Sourdough Jack at Jack in the Box at least once in your lifetime.
This sandwich joins a beef patty with Swiss cheese, bacon, tomato, ketchup, and mayo. And, of course, the toasted sourdough bread holds it all together and is the key to the whole shebang. Other fast food restaurants try to do sourdough but it always pales in comparison to what you can find at your local Jack in the Box. Order it with a side of curly fries for a scrumptious fast food lunch.
Long John Silver's Hush Puppies
Long John Silver's is primarily known for their seafood. That said, their hush puppies are what will confuse you. Why the confusion? You won't be able to figure out why something so simple, so small, and so unassuming will be able to be so good.
Go ahead and order some fish while you're at Long John Silver's, but double-check to make sure you get hush puppies with your meal. By the time you finish eating, the hush puppies will be what you treasure.
Zaxby's Tater Chips
Warning: if you eat the Tater Chips from Zaxby's, you won't be able to eat chips out of a bag ever again. Tater Chips are like regular chips on a massive amount of steroids. Zaxby's thinly slices potatoes and then fries the slices. The finale involves salt, a bit of seasoning, and some ranch sauce for dipping.
These chips are crispy, perfectly salted, and perfectly shaped for dipping in the ranch.
Carl's Jr's Western Bacon Cheeseburger
For those who love barbecue sauce on their cheeseburgers, the Western Bacon Cheeseburger from Carl's Jr. is the answer to your prayers.
The barbecue sauce is more tangy than sweet, which makes it perfect for burger purposes. You won't be surprised to find the beef patty, the two strips of bacon, or the American cheese. What will surprise you are the two onion rings that have hitched a ride on this cheeseburger. Don't worry, the onion rings may look out of place but they are exactly where they need to be.
McDonald's fries
If you are one of the few sad souls left on Earth who has not yet tried fries from McDonald's, what are you waiting for?
We know McDonald's isn't exactly the hippest or coolest place to grab a meal. You may think it's an eatery for kids or those who want to pinch their pennies. But the truth of the matter is that their fries are world famous for a reason. While virtually every fast food restaurant has tried to top McDonald's fries, no one has accomplished that feat. Go to McDonald's. Order a large fries. Enjoy.
Wingstop's Lemon Pepper Wings
Wingstop is unquestionably the place to go for chicken wings. Before it's your time to leave the land of the living, it's a priority to not only try Wingstop wings, but to try their lemon pepper wings.
Almost all of their flavors are worth your hard-earned money, but their lemon pepper wings are truly the top of the mountain. And while you can order the wings boneless, just don't. For the full flavor, go with the original, bone-in wings. If you want a dipping sauce, bleu cheese goes perfectly with their lemon pepper wings.
Raising Cane's Texas Toast
A lot of fast food joints apparently believe that all you need to make Texas toast is a larger than average slice of bread and a toaster. Raising Cane's knows that's not the case.
Their Texas toast is serious business and they treat it like an art form. Raising Cane's doesn't even start with sliced bread. Instead, their Texas toast is made from pull-apart sesame seed bread that is made to order. The bread is then grilled — but before that happens, it's slathered with a blend of garlic and butter. Get some of this genuine Texas toast before you're a ghost.
Little Caesars' Italian Cheese Bread
You might consider Little Caesars to be the destination of broke college students. While that may be true to an extent, don't let their reputation fool you, as their Italian Cheese Bread is a fast food item you really need to eat. While a lot of cheese bread from pizza places is stiff and short on cheese, that's not the case at Little Caesars. This Italian Cheese Bread is crispy on the edges but soft in the middle, topped with a generous amount of cheese, and blessed with authentic Italian spices.
El Pollo Loco's Classic Tostada Salad
The Classic Tostada Salad from El Pollo Loco combines a host of ingredients into a meal that will keep you up at night thinking about it. Inside of a fried tostada shell are chunks of chicken breast, shredded Monterey Jack cheese, pico de gallo, pinto beans, rice, sour cream, and lettuce. The chicken itself tastes amazing, and everything else builds off of the chicken to create a masterpiece.
Whether you're in the mood for a Mexican meal or a luscious salad, the Classic Tostada Salad from El Pollo Loco can successfully scratch either itch.
Baskin-Robbins' Pralines 'N Cream
Though you may think that you have a favorite ice cream at Baskin-Robbins, your opinion doesn't count unless you've tried their Pralines 'N Cream ice cream. It's not only the best ice cream at Baskin-Robbins, it very well could be the best ice cream on the planet.
Within the vanilla ice cream foundation you'll find veins of caramel. But what will grab your undivided attention on your first lick are the pieces of pecans that have each been loved by a coating of praline. You'll never look at ice cream in the same way again.
Steak 'n Shake's White Truffle Prime Steakburger
If you want a fancy burger for lunch that you will reminisce about for the rest of your living days, consider the White Truffle Prime Steakburger from Steak 'n Shake.
This burger is crafted with certified choice beef and topped with grilled mushrooms, Swiss cheese slices, and caramelized onions. Before it is encased within a brioche bun, the bread is toasted and the burger receives a showering of truffle sauce. The White Truffle Prime Steakburger is not only fancy, it's appetizing beyond belief.
Taco Bell's Nacho Fries
Taco Bell took away their nacho fries and almost accidentally sparked riots. Now they're back and America couldn't be happier. Fries at Taco Bell? Sounds weird in theory but it's spectacular in reality.
The fries themselves are seasoned aggressively. You might think there is too much seasoning, but by your second or third bite, you'll realize it's the perfect amount. But Nacho Fries wouldn't be Nacho Fries without the nacho cheese dip Taco Bell provides. Dip your fries in the nacho dip and a few seconds later you'll be singing the praises of this invention from the rooftops.
KFC's Mashed Potatoes & Gravy
While KFC is known for their delicious fried chicken, you don't want to croak before you taste their mashed potatoes and gravy.
Visually, it looks like a run of the mill offering you can find at other fast food restaurants. Give it a taste, though, and you'll understand the magic. The mashed potatoes are perfectly creamy and tasty on their own. But that's not even the best part — the gravy is what you'll remember. KFC's gravy is savory, brown, and will make you cherish every last spoonful of the mashed potatoes.
Shake Shack's Shack-cago Dog
Although hot dogs usually aren't something that move the needle much in the culinary world, don't tell that to Shake Shack. This fast food restaurant has taken the hot dog and elevated it to the stratosphere.
The Shack-cago Dog, which comes in a potato roll, is topped with relish, pickle, cucumber, onion, tomato, mild chili pepper, mustard, and a sprinkling of celery salt. The hot dog itself is made with Vienna beef. All told, what you knew about hot dogs will change once you eat one of these.
Burger King's Chicken Fries
Burger King was never known for their fries. That all changed when they starting serving "fries" made with chicken. Now, people flock to Burger King to eat their Chicken Fries and you'd be wise to join that flock. Chicken Fries are made with white meat and breaded with the help of herbs and spices. Whether you dip these fries in honey mustard, BBQ sauce, or ranch, these sticks of chicken will have you telling others of your discovery.
Culver's Wisconsin Cheese Curds
Cheese curds from a fast food eatery can be risky. But at Culver's, it's exactly what you want to order.
Their Wisconsin Cheese Curds take yellow and white cheddar cheese exclusively from Wisconsin and then deep fry it. Get your mitts on a large order of these fried cheese curds and you'll be set. Each bite of cheese will be better than the last. By the time you're done, you'll be wondering why you've ever eaten anything else, and you'll be thankful you ate it before you entered your casket.