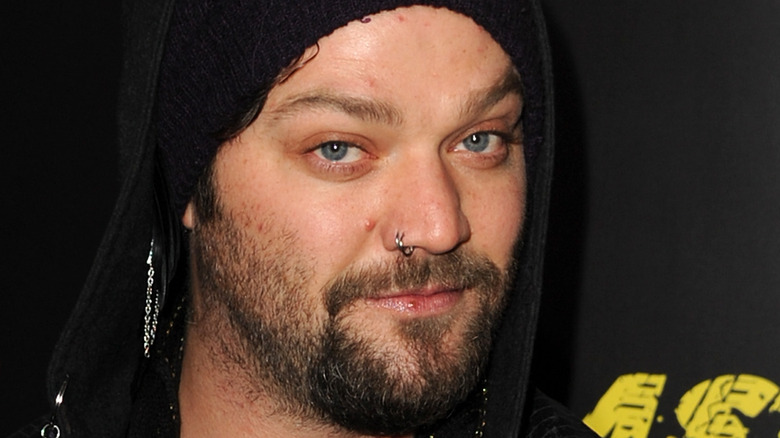 Brandon "Bam" Margera is one of the most recognizable faces in the "Jackass" crew, and a star in his own right. As the original show wound down and turned into sporadic movies, he broke out with a reality prank show of his own that focused on his friends and family, "Viva La Bam." For much of the 2000s, the sky was the limit for the skateboarding prankster daredevil who seemed destined to become the breakout star of his group.
However, things weren't quite what they seemed — or, depending on your school of thought, they were exactly like they seemed. Margera's image of a wild man was hardly a role, and his various indulgences, ill-advised decisions, and general misfortune have combined in a series of disastrous personal life events to make sure that his seemingly jet-setting life has been far from easy. Here's a look at the tragic real-life story of Bam Margera.
Bam Margera's worst injury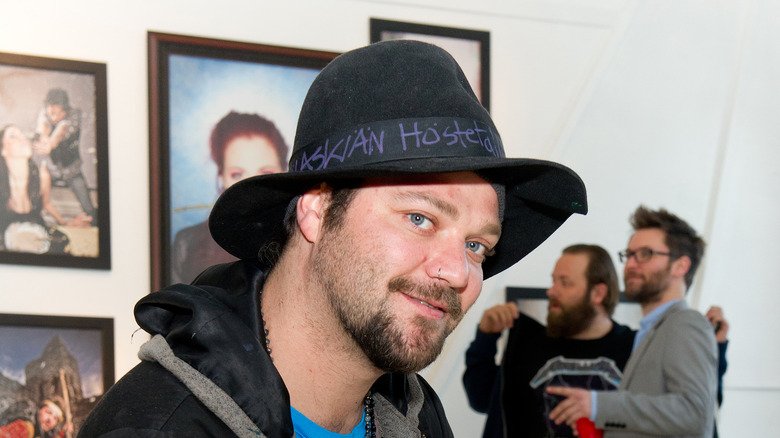 You'd expect a man in Bam Margera's line of work to have suffered more than his share of grim and grisly injuries, and to be fair, you'd be absolutely right. In a video interview with Maxim, he broke down some of his absolute worst ones, ranging from a broken tailbone to nasty faceplants and torn ligaments. As The Philadelphia Inquirer reports, broken ribs and feet have also been on the menu.
Despite this impressive résumé of bodily harm, Margera says that his worst injury had little relation to his "Jackass" work. The daredevil once received a bad head injury while shooting an episode of MTV's "Cribs." He was set to perform a stunt that involved driving a banana-shaped car in water, but things went wrong, and he ended up crashing headfirst into water that was far shallower than he had thought. "The water was only two feet deep and I totally cracked my head open," Margera told the Cleveland Free Times. "I was in the middle of nowhere. I had to drive an hour to this crappy hospital in rural Pennsylvania. I told the doctor I thought my neck was broken. They took an x-ray and were like, 'It's not broken, so you're good to go.' I said, 'What about the gash in my head.' When the doctor looked at it, he goes 'Oh my God.' That's when I knew I was in trouble."
The death of Ryan Dunn
Bam Margera's "Jackass" and "Viva La Bam" co-star Ryan Dunn died in a car crash in 2011, and an interview with Fox 29 (via Lad Bible) showed what a heavy toll the tragedy took on Margera. "I was in Arizona when I heard," he said. "I was with some friends having the best time ever and … at 12:30 I just started punching out the windows of the rental van and ripping out the speakers. I don't even know why. I wasn't mad at anything or anybody. And if it was 12.30 there that means it was exactly when he crashed." Margera went on to tell interviewer Chris O'Connell about a long flight he then had to take, stuck with the fresh news of Dunn's death. "Do you know how horrible it is being on an airplane for six hours, not being with everybody?" he asked. "Just stuck in an airplane. It was the worst phone call I've ever got in my life — waking up to that."
As The Philadelphia Inquirer tells us, the interview was far from lip service. Dunn was very much Margera's best friend and had been since high school. The shock of his death contributed to the skateboarding "Jackass" star's downward spiral of addiction.
If you or anyone you know is struggling with addiction issues, help is available. Visit the Substance Abuse and Mental Health Services Administration website or contact SAMHSA's National Helpline at 1-800-662-HELP (4357).
Bam Margera vs. Icelandic rappers
Bar brawls can be confusing affairs, and as The Philadelphia Inquirer reports, Bam Margera was involved in an especially convoluted one in 2015. He was at the Secret Solstice Festival in Iceland, when a local rap group called Glacier Mafia reportedly attacked him at a bar and beat him up. Per Vísir, Margera was punched at least thrice, and though he was initially reported to have filed charges, he apparently opted to leave the country instead of pursuing legal action.
Though that's the gist of the story, the reasons behind the incident are rather more complex. Some people alleged that the reason behind the fight was that members of Glacier Mafia were angered by Margera's verbal abuse of two female members of the security personnel. A representative of the festival alleged that Margera started harassing "two women who were blocking him." On the other hand, Margera told Vísir that no harassment of any kind took place, and that the rappers were actually in cahoots with his former publicist Leon Hill. According to Margera, he had beef with Hill and wanted to discuss some things, so he attempted to lure the man out by claiming he was a journalist looking for an interview. "He comes up thinking it's a Rolling Stone interviewer just to find me," Margera said. "So him and his boys beat the f****** s*** out of me. It has nothing to do with anything else."
"Viva La Bam" prevented him from doing the thing he loved most
Bam Margera followed up his "Jackass" success with a show in which he was the undoubted star, right up to the name. As The Philadelphia Inquirer notes, "Viva La Bam" focused on Margera's chaotic existence in his native Chester County. Along with putting his loved ones in the spotlight, the show was custom-made for Margera to rise to further fame — and it ran for five seasons, which was much more than the "Jackass" show managed.
While the spotlight certainly shone brighter than ever on Margera, "Viva La Bam" and its shooting schedule had an extremely unfortunate side effect: The famous skateboarder couldn't skateboard anymore. "When we first started, I was skating five hours a day," Margera said. "Then, when you have 40 people waking you up at 9 a.m. and showing up at your house to film you — crew, best boy, dolly — it became, 'Bam, we can't spend two hours filming you try to land one truck for one second of screen time. We need to get dialogue.'"
A woman beat Bam Margera up with a baseball bat
In 2010, Bam Margera got in an altercation that left him with what must have been the strangest injuries of his life — when a 59-year-old woman attacked him with a baseball bat (per MTV News). Reportedly, the reason for this attack was The Note, a Bam Margera-owned bar in West Chester, Pennsylvania. The woman had complained about noise to Margera, and the situation escalated until the "Jackass" star had to be rushed to hospital.
So, how do things go from discussing noise levels to attacking a man with a baseball bat? According to Bam's mother, April Margera, the baseball lady already had a history of harassing the star. "She hit him over the head with a baseball bat, and she hit him while he was walking to his car," April said. "There was no fight. She's just crazy, and gives him a hard time all the time." On the other hand, Bam's attacker described the incident in a very different way. "He called me the n-word," the baseball bat-wielding woman said. "I'm innocent, and he's a jackass, just like his movies."
Regardless of how things went down, Bam fortunately survived the incident. According to the Daily Local, the assailant also avoided jail time, in part because Bam specifically requested that she wouldn't be sent to prison over the incident.
The Jackass team turned his legitimate fear of snakes into a joke
Pretty much every member of the on-screen "Jackass" team does things that most people would deem unpleasant, and since they're only human, an astute viewer might occasionally catch a glimpse of worry in, say, Johnny Knoxville's eyes before he's launched off some absurdly dangerous contraption. However, if you want to see true fear, look for any scene that features Bam Margera and snakes. As The Philadelphia Inquirer notes, the man's fear of snakes is a very real thing, and the other "Jackass" members haven't exactly been sensitive about it. "The dumbest move I ever did was to tell them I'm terrified of snakes," Margera said. "All that means is, 'Let's get snakes on Bam.'" Such pranks have left him visibly shaken and crying very real tears of terror, as opposed to the franchise's usual "funny even when it hurts" vibe.
In a 2015 interview with Rolling Stone, Margera was able to reminisce on his castmates' snake-themed treachery with fondness, but he also noted that he's not about to trust them with any other fear-themed revelations in a hurry. " "I learned to not tell [Jeff] Tremaine or Knoxville or anybody what you're afraid of," he said. "'I love spiders, oh yeah," then jokingly demonstrated this attitude. "You can dump a whole bucket on me, I wouldn't even care."
Bam Margera's alcohol addition
In a 2017 interview with Vice, Bam Margera revealed that he drank on a daily basis for an estimated three years — and didn't much care which drink got the job done. "At its worst, I would probably just wake up around 11 AM and instantly start drinking vodka and purple Gatorade," Margera said. "By the end of the night, I would probably have ten pints worth of it." Another factor in his alcohol intake was that he hung around with rock musicians quite a bit, which helped him fall into a routine of drinking.
However, Margera said that age has made him crave alcohol less, partially because he has started to see the downsides of alcohol abuse. "I was tired of blacking out and not remembering being at pubs p****** all over the window," he said. "I know 'Jackass' s*** like that is funny, but at 38, you've to realize you're not some college kid anymore." He also said he's started using medication that helps with the cravings. Unfortunately, he seems to have fallen off the wagon since, seeing as he has gone to rehab more than once since these statements, and a rehab stint was one of his contractual conditions for the fourth "Jackass" movie (via TMZ).
If you or anyone you know is struggling with addiction issues, help is available. Visit the Substance Abuse and Mental Health Services Administration website or contact SAMHSA's National Helpline at 1-800-662-HELP (4357).
Bam Margera struggled with an eating disorder
Bam Margera developed a reputation as a hard-drinking, hard-partying wild card over the years, but as Vice reports, he was also dealing with a more private struggle: the eating disorder, bulimia. Margera says that since "Viva La Bam" featured his heavy-set uncle and father, some people started to assume that it was just a matter of time before he became obese. When he was inebriated, he was also in the habit of gorging himself on food. "One time, I ate a frozen pizza," he said, describing a particularly unpleasant memory of such binges. "I was so hungry I didn't even wait to cook it, I just ate it frozen."
Margera says that he became bulimic when he taught himself to throw up at will for a trick called "Tequila Stuntman." "I think the reason I started throwing up was because I learned how to do it and at the end of the night I always felt like I drank too much, and if I'm drunk, I'll stuff my … face with spaghetti," he said. "I would eat it, barf it all up, and it was like, I got my fill … but it was all pretty much due to alcohol."
If you are struggling with an eating disorder, or know someone who is, help is available. Visit the National Eating Disorders Association website or contact NEDA's Live Helpline at 1-800-931-2237. You can also receive 24/7 Crisis Support via text (send NEDA to 741-741).
Bam Margera had a bad breakdown
In a 2019 interview with Dr. Phil, Bam Margera revealed what sounds a lot like one of his lowest moments: the time he seriously considered suicide. "I had such a mental breakdown that I really thought like I could just go to the lake and be free," he said, describing the situation. However, he was able to pull back from these thoughts thanks to his son, Phoenix. "I was like the pain was gone and I had to beg for pain back. I was like, 'Please just give me back my pain so I could stay, because I want to be with him.'" He admitted that the sight of his son was so instrumental in pulling him back from the brink that he's not sure how things would have ended otherwise. "If I hadn't seen Phoenix, who knows where I'd be."
Interestingly, Margera said that while Phoenix kept him in the land of the living, a large part of his breakdown came courtesy of other family members — namely, his wife Nicole and mother April. According to him, his relationship with both had become extremely difficult due to what he perceived as their controlling nature and failure to adhere to his "rules," though both noted they were trying to help him. Dr. Phil promptly called him out for his behavior toward them (via People).
If you or anyone you know is having suicidal thoughts, please call the National Suicide Prevention Lifeline​ at​ 1-800-273-TALK (8255)​.
Bam Margera's uncle was a convicted sex offender
Apart from Bam Margera himself, the biggest attraction in "Viva La Bam" was arguably Vincent "Don Vito" Margera, the star's slurring, clumsy uncle. Unfortunately, as MTV News tells us, Don Vito's fall from grace was as rapid as his unlikely rise to the heights of MTV fame. In 2007, a jury convicted him of two counts of sexual assault on a child, due to a 2006 incident of him harassing three underage girls. Per the Denver Post, he managed to avoid prison, but he had to register as a sex offender. He was also sentenced to a 10-year probation that effectively put an end to his "Don Vito" character, among other conditions.
As The Washington Post argues, this effectively prevented him from being himself, seeing as the "character" of Don Vito more or less was Vincent Margera. His public fall from grace didn't mark the end of his troubles, either. In 2015, he died at just 59 years old, after a lengthy struggle with liver and kidney problems.
If you or someone you know may be the victim of child abuse, please contact the Childhelp National Child Abuse Hotline at 1-800-4-A-Child (1-800-422-4453) or contact their live chat services.
If you or anyone you know has been a victim of sexual assault, help is available. Visit the Rape, Abuse & Incest National Network website or contact RAINN's National Helpline at 1-800-656-HOPE (4673).
Bam Margera was dropped from "Jackass Forever"
The latest drama in Bam Margera's life started to unfold after the revelation that he won't play a part in the fourth "Jackass" movie, "Jackass Forever" (per Newsweek). Margera was reportedly fired from the movie in August 2020 for failing to comply with a tight "Wellness Agreement," apparently crafted to keep him healthy and sober during the shooting (via Deadline). Margera has expressed his displeasure about the developments, and at various points, he's named his castmate Johnny Knoxville, director Jeff Tremaine, and producer Spike Jonze as the main forces behind the situation. He's sued Knoxville, as well as Paramount Pictures and other parties, for wrongful termination of his contract.
"I am pissed-off, angry, hurt, and shattered that Johnny, Jeff, Spike and the studios and producers ripped off my creativity, content and stunts to make this movie, fired me without justification and refuse to pay for my work," Margera said in a statement. "I created this franchise before any of these guys ever got involved."
"Jackass" star Steve-O, who's had his own issues with addiction in the past, has spoken against Margera's interpretation of the events. "Everyone bent over backwards to get you in the movie, and all you had to do was not get loaded," he's stated. "You've continued to get loaded, it's that simple. We all love you every bit as much as we all say we do, but nobody who really loves you can enable or encourage you to stay sick."