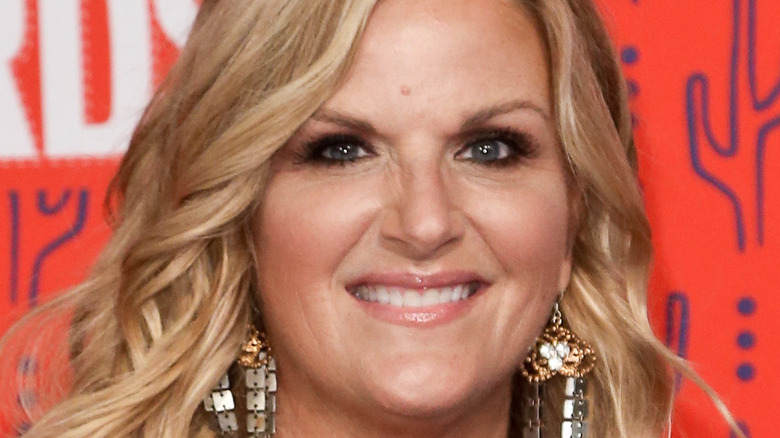 Trisha Yearwood has been a big deal in country music ever since her self-titled album debuted in 1991. It was a huge success, and the singer seemingly became famous overnight, but, in reality, Yearwood worked for years to get to that point. According to PBS, she sang in bars and bowling alleys and recorded demos for other artists to get exposure when she moved to Nashville, Tennessee. "I worked cheap. I sang on pitch and I knew the song when I got there," she said, "so I got a lot of work. "
Over time, Yearwood worked her way up to become the country star and businesswoman she is today. Along with her 14 studio albums, she's made a name for herself with a home collection and her very-own Food Network show, "Trisha's Southern Kitchen." She's also known for her longtime marriage to fellow country star Garth Brooks. It's fair to say she's a success, but there's a lot more to her story than meets the eye — including plenty of stories even her biggest fans might not know.
Trisha Yearwood sang backing vocals on Garth Brooks' first album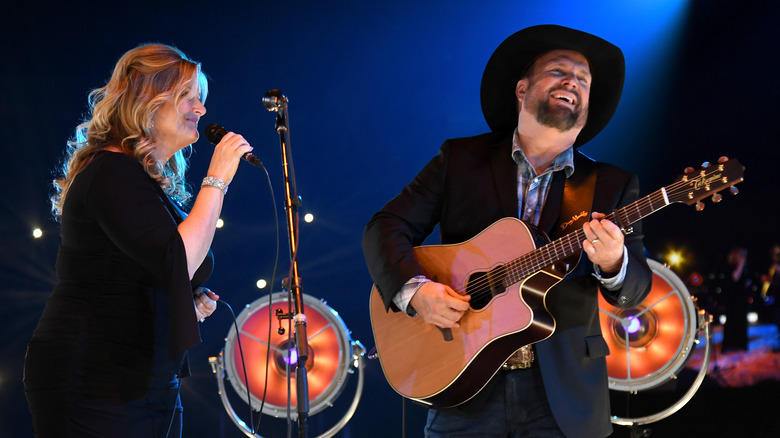 Trisha Yearwood and Garth Brooks might be the ultimate country power couple now, but they were friends and colleagues for years before their relationship became romantic. In fact, the pair met before either of them made it big in country music, and they pretty much worked their way to the top together. According to Country Fancast, they met in 1987, just 13 months after Brooks married his first wife, Sandy Mahl.
Their musical connection was instant, and Yearwood sang backing vocals on Brooks' first album. Brooks promised Yearwood that if he made it, she could open shows for him. True to his word, when Brooks went on tour, Yearwood was his opening act. Their professional career didn't stop there either. The country stars even recorded the duets "In Another's Eyes" and "Wild as the Wind" (via Taste of Country).
It makes sense that the two started as collaborators since they both have a deep respect for the other's talent. During a 2021 Facebook Livestream, Brooks said he's "the biggest fan" of Yearwood's voice. He added, "One of the greatest crimes in country music history right now: Trisha Yearwood is not in the Country Music Hall of Fame yet … This is the greatest singer we have in country music, arguably, and so I'm a huge, huge fan."
Shirley Jones mentored Trisha Yearwood in high school
In 2010, Trisha Yearwood wrote a piece for Good Housekeeping where she discussed the most pivotal moments in her life. One of those moments came when she met Shirley Jones, the actress and singer best known for "The Partridge Family" and "Oklahoma."
Yearwood grew up in the small town of Monticello, Georgia, where she said most of the community knew and looked out for one another. Miss Betty J. Maxwell is one such community member she was close to growing up. As she told Good Housekeeping, when Yearwood was 15 years old, Maxwell introduced her to her longtime friend, Shirley Jones.
Knowing that Yearwood had dreams of becoming a singer, Maxwell told her to sing for Jones. So, while still in high school, the one-day country star put on a private performance for the musical legend. After hearing her sing, Jones gave Yearwood some advice. Years later, Yearwood clearly remembers Jones saying, "Get your education, and if you see small opportunities, take them. Each one could be a stepping-stone to something bigger." It seems like some pretty sound advice considering where Yearwood is today.
The country singer felt guilty about her divorces
Before her marriage to Garth Brooks, Trisha Yearwood was married twice before. She married her first husband, Chris Latham, in 1987 before her rise to fame, though they then split in 1992 (via Country Weekly). Her subsequent marriage to The Mavericks' Robert Reynolds, whom she married in 1994, ended in divorce five years later, with papers citing, "irreconcilable differences," according to the Associated Press.
While it's easy to look at her relationship with Garth Brooks today and say that everything from her past was all for the best, Yearwood struggled with guilt over the demise of her first two marriages. In her article for Good Housekeeping, the singer explained, "Divorce is so common and accepted in America that beating myself up over it may sound ridiculous. But I was raised to believe that divorce wasn't an option; to me, divorce equaled failure." Over time, Yearwood learned to forgive herself, and, fortunately, she said being in the "right relationship" with Brooks has helped her gain more understanding for her past self.
She released the same single at the same time as LeAnn Rimes
Any fans of Trisha Yearwood know her hit single "How Do I Live." You may also remember that LeAnn Rimes released a competing version of the song on the same day as Yearwood. The two singles went head-to-head, sparking rumors of a feud between the singers.
However, according to "Music's Greatest Mysteries" on AXS, it was never Yearwood's idea to compete. Taste of Country explained that Rimes originally recorded the single for the 1997 Nicholas Cage film "Con Air." However, Rimes was a teen star, and the producers ultimately decided they didn't want someone so young singing for their R-rated film. They then reached out to Yearwood to record the song instead. But Rimes' team still released her version, which sparked a rumored battle between the two singles.
Yearwood explained to the Chicago Tribune that it was all a misunderstanding, and she didn't realize Rimes was still releasing the single. "There's this kind of gentlemen's agreement that if somebody has it, you don't mess with it," Yearwood said. "But in this case I didn't think she had any kind of permission (from the film's producer[s], Touchstone Pictures) to do that, so I wasn't worried about it."
Despite the competition, both songs did quite well. Rimes' version remained on the Billboard Hot 100 for 69 weeks. And Yearwood's version topped country charts and earned her a Grammy for Best Female Country Vocal Performance.
Becoming a stepmom was an 'important turning point' for Trisha Yearwood
Trisha Yearwood doesn't have any children from her first two marriages. But when she married Garth Brooks, she became a stepmother to his three daughters. It was quite an adjustment for the singer, since she told Good Housekeeping that, prior to this, "I'd only been responsible for myself and my dog." Yearwood recalled that the first time Brooks left her alone with the girls was the "most important turning point" in her life. How so? "I learned to jump in with both feet and not be so scared of making a mistake," she said.
As she explained to People, Yearwood credits the girls for being patient with her while she learned to be their "third parent." Her three daughters are now adults, and Yearwood counts herself lucky to be in their lives. "They were a gift that I didn't know I needed. I didn't know how much children brought into your life until I got a chance to be a part of their lives."
She started cooking from a young age
In an interview with Delish, the country singer and Food Network star shared that she "grew up in a house of cooks" on a farm in Georgia, where there were plenty of fresh vegetables and classic Southern dishes to go around. When Yearwood moved away from home and had to feed herself, she took the tips she'd learned from her Southern family with her. Cooking has remained a big part of her life ever since.
Publishers first approached the country singer to write a memoir, but Yearwood didn't like the idea of an autobiography. However, she still agreed to meet with them. During their discussion, she mentioned her love for cooking. That meeting jumpstarted the writing of her cookbook, "Georgia Cooking in an Oklahoma Kitchen: Recipes from My Family to Yours: A Cookbook," the first of many for her. Both Yearwood's mother and sister contributed recipes to the cookbook, and Yearwood herself makes a point to use her family's recipes on her cooking show. "We make their recipes, and we tell their stories, and it keeps them alive," she told Delish.
The country star helps produce her albums
In 1998, Trisha Yearwood discussed the release of her upcoming album, "Where Your Road Leads," with Charlie Rose, along with the progression of the Grammy winner's music career to that point. Yearwood explained how she'd taken about two years between her last studio album and the release of "Where Your Road Leads" to plan the album carefully. That careful attention to detail earned Yearwood her first co-producing credit on the album.
However, she told Rose that this experience was far from her first time having a say in the production of her own music. "I've always been involved in choosing, songs, and arrangements, and musicians, and all that," she said. "But, this is my first co-production credit, and my co-producer Tony Brown insisted on it." Following that album, Yearwood has had producing credits on "Real Live Woman" released in 2000 and "Inside Out" from 2001.
She doesn't consider herself a songwriter
Trisha Yearwood is a talented country singer, but she had never considered herself a talented songwriter — even though it's something she's always enjoyed. In an interview with Charlie Rose, she explained that she typically doesn't write her own songs but, instead, carefully selects songs written by others. "I've always written songs, poetry my whole life," she said. "And I'm not great at it. It takes work. Singing for me is like breathing, but writing is very hard for me."
However, the singer made an exception when she co-wrote "For the Last Time" with her husband, Garth Brooks. Despite maintaining that songwriting doesn't come as naturally to her as to Brooks and others in the industry, Yearwood fell naturally into writing this song about their real-life love story, according to Taste of Country. "It was the first thing we've written together that really was about us," Yearwood said. "To me the sentiment is, no offense to anyone that came before, I understand now why none of that worked because this is where I'm supposed to be." "For The Last Time" is the only original track featured on Yearwood's "Let's Be Frank," an album otherwise made up of Frank Sinatra covers.
She's put her business degree to good use as a musician
Trisha Yearwood always dreamed of becoming a singer, but she also wanted to get her education. So, when she moved to Nashville, Tennessee, in 1985, she did so with plans to pursue music while also enrolled in Belmont College's music business program (via All Music). In an interview with Charlie Rose, she said, "My mom's a school teacher, and my dad's a retired banker, so I kind of had no choice but to go that route, and I wanted to get my education." She explained that, as a good student, the more traditional route was always expected of her rather than the unpredictability of a singing career.
But the young musician made the most of living in Nashville. To gain exposure, she sang on artists' demo tracks and worked as a receptionist at MTM Records. Each small step she took eventually led her to where she is now — just as her former mentor, Shirley Jones, had advised (via Good Housekeeping). Yearwood also told Rose that she attributes some of her success to her business background, explaining that, while she admitted she probably could have become a singer just based on her talent alone, her understanding of the business side has helped her plan for the future and keep track of her earnings, a skill that other creatives sometimes lack.
A young Matthew McConaughey starred in an early Trisha Yearwood music video
We all know Matthew McConaughey for his roles in blockbusters like "The Lincoln Lawyer," "How to Lose a Guy in 10 Days," and "Dallas Buyers Club." But before those successes, young McConaughey had a role in one of Trisha Yearwood's music videos.
The country singer released "Walkaway Joe" in 1992 with an accompanying video, which consists of clips of Yearwood singing with Don Henley interspersed with scenes of two actors carrying out the story of the song. McConaughey plays the charming but no-good "walkaway Joe" who leaves his girlfriend at the video's end.
Despite making the music video together, Yearwood told People that she never met the actor because the two artists never crossed paths — McConaughey and his co-star shot the video in Austin, Texas, while Yearwood and Henley recorded in Nashville, Tennessee. Even 10 years later, when the two both attended the Grammys, they missed each other once again. "He was backstage when I was in the audience, and vice-versa," Yearwood explained.
She shared this annoying habit of husband Garth Brooks on TV
Trisha Yearwood guest hosted "The Ellen Degeneres Show" alongside her husband, Garth Brooks, in May 2021. During their hosting gig, the happy couple took relationship questions from the audience. One audience member asked how to deal with her boyfriend's annoying habit of playing video games too loudly, leading to a hilarious revelation from Yearwood: She empathized with the question, saying, "Every significant other has at least one annoying habit even if you are in the perfect relationship."
She shared that Brooks' annoying habit is that he whistles a lot, sometimes even for several hours at a time. "He actually told me to stop telling him not to whistle because it takes away his joy," Yearwood said. But she proved they're still the perfect couple with the adorable way she's learned to deal with his habit. Instead of telling him to stop, she simply starts singing a new tune to change what he's whistling. Now, we're just waiting to hear a Garth Brooks and Trisha Yearwood whistling duet!
The country music superstar is a big Kelly Clarkson fan
During the fourth season of her Food Network show, "Trisha's Southern Kitchen" (now in its seventeenth season), the country singer-turned-chef sat down to chat with FN Dish. Amidst talking about her favorite recipes, biggest cooking fails, and her best life advice, Yearwood also revealed she's "a huge Kelly Clarkson fan." She explained that Linda Ronstadt was her musical hero while growing up but that, more recently, she's been loving Clarkson's work. "Her voice is so powerful, amazing and emotional," Yearwood said.
The love seems to be mutual, with the two even singing a duet on Yearwood's 2019 album, "Every Girl." They reunited on "The Kelly Clarkson Show" to reminisce about the experience of recording together, and Yearwood couldn't stop gushing about Clarkson's talent. "It's just amazing what you bring," Yearwood said. "Everyone you sing with, you make them sound better. But I love our voices together."
Her mother's death was especially 'tough' on her
Trisha Yearwood's mother, Gwen, sadly died in 2011. The loss was particularly tough on the country star, who saw her mother as both her parent and her friend (via Country Rebel). Yearwood shared her feelings about losing her mother during a Facebook Live series she calls "Coffee Talk." While she often invites guests on her #TsCoffeeTalk, she spoke on camera alone for this particular stream in 2016 — well, almost alone, since her dog did make an appearance.
During the heart-to-heart with her followers, Yearwood talked about how tough Mother's Day has been for her since losing her mother, though she said she at least gets to enjoy celebrating with her three stepdaughters. "When you have your mom, you never think about the people who don't," Yearwood said. "If you have your mom, not just on Mother's Day, call her every single day. Do not take it for granted," she advised. "If you don't have your mom, find a mom and hug her, and you have all my strength on Mother's Day." Such an important reminder, indeed.