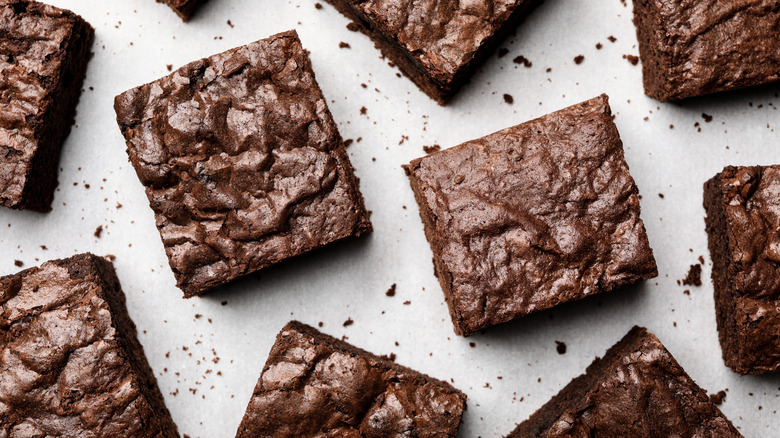 We all love a delicious baked good from time to time. Unfortunately, though, we don't all have the time to spend in the kitchen whipping up our favorite sweet treats. But just because you don't have hours to spare for baking doesn't mean you want to have to buy everything store-bought. That's where box mixes come in. Box mixes make everything as easy as can be. You simply open the box, add water, oil, and eggs (usually), and pop whatever you're baking in the oven. This saves you a ton of time, but you still get those warm, freshly baked treats you love.
And while there are plenty of boxed cake mixes out there, brownie mixes are just as common. While it may not be the first dessert that comes to mind, it'll probably be the best. After all, who doesn't want to dig into a tray of gooey, moist brownies? However, it can be difficult to know what kind you should get. That's why we've decided to rank some of the most popular brownie mixes. We've started with the worst — the ones we probably wouldn't recommend — and make our way to the best of the bunch. That way, you'll know what to pick up the next time you're in the baking aisle of your local grocery store. Let's get started!
12. Betty Crocker Original Supreme Brownie Mix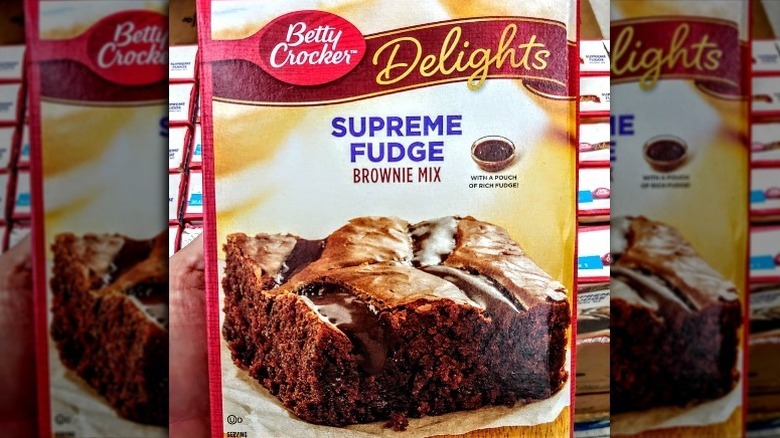 Look, we know that Betty Crocker products are a staple in many household pantries, but we have bad news about the Betty Crocker Original Supreme Brownie Mix: It's not good. Visit the webpage of the product, and you'll see that it's only earned one and a half out of five stars. Ouch. We don't know how you mess up a brownie mix that badly, but that certainly seems to have been the case here.
Once you bake these brownies up, you'll notice that they're almost completely tasteless. There's nothing interesting going on here, and it even tastes like they went light on the chocolate. They don't really taste bad, per se — they just taste like there's nothing at all going on. And when there are so many other boxed brownie mixes available that taste amazing, there's no good reason for you to pick this stuff up.
We know that this is a slightly more affordable option than some of the more gourmet selections on this list, but you can find other, more delicious brownie mixes for cheap if you just know what you're looking for.
11. Trader Joe's Gluten-Free Chocolate Chip Brownie Mix
We love Trader Joe's, but their Gluten-Free Chocolate Chip Brownie Mix let us down big time. Now, first of all, let us just say that we love a good gluten-free option. For those who can't have gluten or just choose not to consume it, it's refreshing to see boxed baked goods mixes that they can actually enjoy. However, "enjoy" is the operative word here because there's a solid chance that you're not going to like these brownies at all.
The chocolate chips are definitely a nice touch that sets these brownies apart from other, more boring options. But that's where the good stuff ends, because the rest of the brownie is so, so dry. Of course, gluten-free products don't always have the same texture as their gluten-filled counterparts, so this isn't entirely unexpected. But the fact that these were so dry really turned us off. The flavor is good, and the chocolate chips add an interesting texture, but nobody wants to bite into a brownie that has the texture of cardboard.
Don't worry too much, though. If you're gluten-free and want to pick up a delicious dessert that everyone will love, Trader Joe's is one of the best places to be. Look for their other gluten-free products, and you'll still go home satisfied.
10. Duncan Hines Milk Chocolate Brownie Mix
If you're like us, when you bite into a brownie, you're expecting something that's rich, chocolatey, and intense in flavor. That's part of the joy of the brownie-eating experience. The richness comes in part from the depth of the chocolate — the darker the chocolate, the more rich and complex the brownie is as a whole. So it shouldn't come as any surprise that the Duncan Hines Milk Chocolate Brownie Mix is not something that we would suggest. In fact, they only get a 3.4 rating on the Duncan Hines website (that's an immediate red flag).
There are two main problems when it comes to these brownies. First of all, there's the fact that they're made with milk chocolate. Because of that, they don't really have much richness to them. Instead, they're on the sweeter side without much depth. That might taste good to little kids, but for those who love dark chocolate, it's going to fall flat.
The second problem all comes down to the texture. When these brownies first come out of the oven, they'll be nice and gooey. However, it won't take long for them to firm up and become hard and even sort of brittle. They're not the worst of the bunch, but we definitely wouldn't go out of our way to pick them up.
9. Annie's Double Chocolate Brownie Mix
If you find yourself in the organic aisle of your local grocery store a lot, then this brand is probably going to be extremely familiar to you. It's called Annie's Homegrown, and it makes a massive line of products including everything from mac and cheese to soup to box mixes like these brownies. However much you like Annie's mac and cheese, though, that doesn't mean that you're going to want to pick up a box of Annie's Double Chocolate Brownie Mix.
The main issue with these brownies is the fact that the texture is almost chalky. They'll get quite dry while they're baking in the oven, and that leaves you with a strange, grainy texture once you take them out. The flavor itself is good — the chocolate tastes quite intense, which we love — but the texture really throws it off for us. We think that these brownies would taste good crumbled up and sprinkled on top of some ice cream, but that's about all we would do with the brownies from this brand. Maybe you can come up with a better use for them!
8. Simple Mills Almond Flour Brownie Baking Mix
If you're looking for a slightly better gluten-free baking mix, you shouldn't look any further than Simple Mills Almond Flour Brownie Baking Mix. We like that they use almond flour here, as it tastes a bit better than some of the other replacement flours available out there. That being said, it's still far from the best. These brownies are on the dry side, as the almond flour results in a different texture than what you would expect from a traditional brownie. It doesn't necessarily taste bad, but it has us missing that moistness that we're used to in other brownie mixes.
But the main drawback when it comes to this brownie mix is the fact that it's so expensive. We get it — sometimes you have to pay a premium for gluten-free goods. But the price of this box of brownies is just a bit ridiculous. You could just buy the ingredients yourself and bake your brownies from scratch, and it probably wouldn't be that much more difficult.
If you really need a quick and easy brownie mix and you happen to pass this one in the store (and you don't mind dropping some serious cash), go for it. Otherwise, hold out for some of the better brownie mixes on this list.
7. Pillsbury Fudge Supreme Cheesecake Swirl Brownie Mix
Now, here's something totally different for you. Most of the time, you can expect much of the same from pretty much every box of brownie mix you buy. Though the texture and the flavor might change slightly, a brownie is a brownie. That is, until you try Pillsbury's Fudge Supreme Cheesecake Swirl Brownie Mix. This brownie mix is totally different, and we're here for it. On the bottom, you get your traditional brownie just like you'd expect. But on top, though, you'll find a cheesecake swirl that adds a little something special to this mix.
If you love cheesecake, then it's clear that this brownie mix is a winner. However, don't get too excited just yet. We thought that this would be the best on the list by far, but what we didn't initially realize is the fact that the cheesecake swirl on top is exceedingly sweet. We would have preferred the flavors to be a bit more subtle, but that's just not what we got. If you have a serious sweet tooth, then you should rush out to the store to buy this stuff now. On the other hand, if you like a more balanced brownie, then there are better options on this list.
6. Jiffy Fudge Brownie Mix
It's time to go back to the basics with the Jiffy Fudge Brownie Mix. We say "basics" because this is about the most basic brownie recipe you can possibly find. They taste good, yes, but there's not much that sticks out about them. We think they're a great option for when you have to bake up a lot of brownies and are looking for a more affordable option. They are pretty moist, but they're not as moist as some of the others on this list. And because they're made of real cocoa, they have a lovely texture to them. However, it's not as dark and intense as some of the more complicated recipes here.
Essentially, this is solid stuff to have stocked in the back of your pantry for when you're in the mood for a random dessert. While we probably wouldn't go out of our way to pick this box up from the store, you're not going to be disappointed if this is all you can find. And who doesn't like a good deal?
5. Foodstirs Organic Chocolate Lovers Brownie Mix
Just because you want to eat a brownie doesn't mean you're okay with putting just whatever into your body. If you're looking for an option that at least seems healthier, then you may want to look into Foodstirs Organic Chocolate Lovers Brownie Mix. This "junk-free bakery" offers brownies that contain less sugar than regular brownie box mixes and use all organic ingredients. What's not to love about that? And while you might assume that would lead to less-than-delicious desserts, that's just not the case. Even though these brownies are supposedly healthier for you, they taste just as good as your favorite, less-healthy brands.
The only downside here? A box of this stuff is not necessarily cheap — it's definitely more expensive than your average box of brownie mix. It might be okay for some people to splurge a bit on their brownie ingredients, but others aren't going to want to pay a premium just to get the organic stuff. In our opinion, it's worth it. Just keep in mind that depending on your grocery store, you may not be able to easily find this brand in the baking aisle.
4. King Arthur Baking Company All-American Fudge Brownie Mix
Speaking of expensive baking mixes, here's another one that's not too cheap: the King Arthur Baking Company All-American Fudge Brownie Mix. If you know anything about this brand, then you know it's celebrated for making some of the best boxed products on the market right now. That's why we don't mind spending a little extra cash for such a delicious mix. Pick this stuff up and put it in the oven, and in no time at all, you're going to have rich, fudgy brownies that you're not going to want to share with anyone. (You still should, though!)
The part of these brownies we like the best is the fact that they develop that nice flaky crust on top. It adds just a little bit of texture that makes every bite even more enjoyable. And since the rest of the brownie turns out nice and moist, it'll make you want to keep going back for more. If you can find this brownie mix at a store near you, you should pick some up ASAP. Bake it up and thank us later.
3. Miss Jones Baking Co. Everyday Delicious Double Chocolate Brownie Mix
Vegan? Then you know how difficult it can be to find baking mixes that meet the stipulations of your diet. These days, it seems like just about every food product has an animal product contained in it somehow. If that's what you're trying to avoid, you're in luck when it comes to Miss Jones Baking Co. Everyday Delicious Double Chocolate Brownie Mix. While the recipe does call for eggs, you can substitute those eggs with any appropriate vegan replacement (we like flax eggs, but feel free to get creative here).
The end result is an incredibly simple and easy brownie recipe that will wow your family and friends. Despite the lack of animal products, you're going to get a gooey brownie that packs a ton of flavor. We love that these brownies are incredibly dense — they'll fill you up right away. And while many brownies are too messy and flaky, you're not going to have that problem with this brand, which is why we love serving them to kids. Plus, compared to other more niche brownie mix brands, this one isn't going to do quite the same damage to your wallet.
2. Kodiak Cakes Protein-Packed Brownie Mix
Who said you had to choose between your workout routine and a delicious, fudgy brownie? Certainly not Kodiak Cakes, that's for sure. That's why you should find the Kodiak Cakes Protein-Packed Brownie Mix the next chance you get. First of all, you're going to love the ingredients list on this product. It's filled with good-for-you ingredients that you can actually pronounce. In fact, these brownies are even made with whole grains, so you can feel good about what you're putting into your body. Plus, they're packed with protein, so they'll give you the energy you need to make it through your day, whatever you have planned. Is that an excuse to eat one of these bad boys on your way to the gym? Absolutely.
Kodiak Cakes make a lot of different products, but we think that this brownie mix has to be one of their best. Give it a try if you've tasted their other products before and loved them just as much as we did.
1. Ghirardelli Chocolate Supreme Brownie Mix
Are you surprised that the Ghirardelli Chocolate Supreme Brownie Mix ended up taking the cake when it comes to this brownie mix ranking? We certainly weren't. Ghirardelli has a reputation to uphold when it comes to everything chocolate, and they did just that with this incredible baking mix. These are the gooiest, most delicious brownies from a box you'll ever taste, and we can't even begin to understand how they get so moist. They actually taste homemade — if we hadn't made them ourselves straight from the box, we wouldn't have known the difference. The box of brownie mix also includes chocolate syrup so you can take an already-indulgent treat and elevate it to a whole new level. Is your mouth watering yet?
And while some of these brands are on the more expensive side, you're not going to pay a fortune for this Ghirardelli product. Even if you're on a budget, this brand is going to get the job done for you. So, why haven't you added this stuff to your cart yet? Order it online or find it in the store. Moral of the story is: You absolutely have to try this brownie mix.