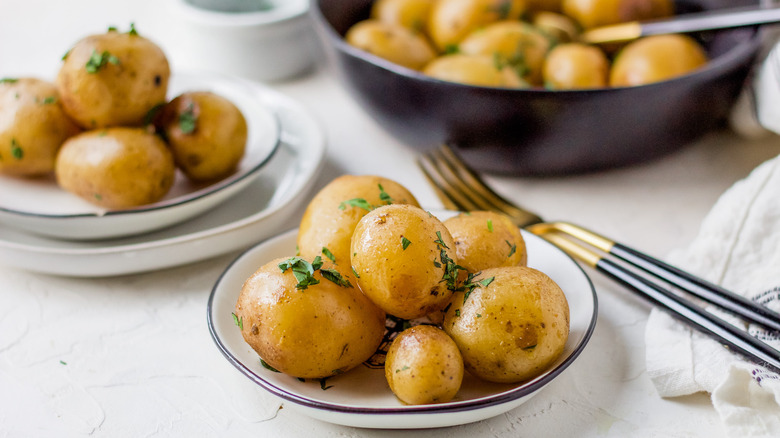 There are few foods more versatile than potatoes. Consider the many ways in which these spuds can be served up for breakfast, lunch, and dinner — all even on the same day, if the craving really hits you hard. And while some potato dishes are certainly complex and time-consuming, it doesn't have to take a lot of effort to turn a bag of raw potatoes into something delicious in a matter of minutes. That's especially true if you have an Instant Pot. Using this handy kitchen gadget, nutritionist and recipe developer Jaime Shelbert has created a recipe for perfectly roasted potatoes that come together in less than 30 minutes.
Since this dish can be assembled rather quickly and requires only a few ingredients, these roasted potatoes make a perfect weeknight side feature. "These potatoes pair well alongside any protein," Shelbert tells us. "Roast chicken, pork tenderloin, etc. As a vegetarian, I like to serve these alongside stewed lentils."
And once you master the method outline here, you can easily apply it to other foods. "You could use other root vegetables in the Instant Pot this way," Shelbert says, although she notes, "the cooking times may vary."
Gather your ingredients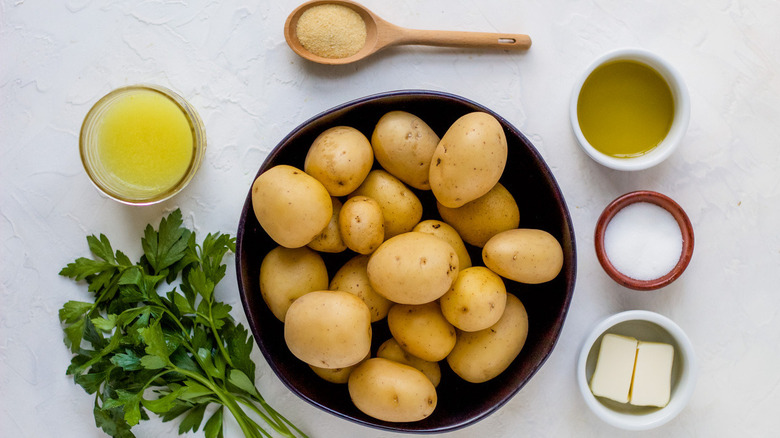 Obviously, potatoes are the star ingredient in this recipe. Shelbert uses whole baby potatoes, but if you'd like to swap those out for another variety of small potato, go for it. "Fingerling potatoes and baby red potatoes would work great here," she tells us.
However, resist the urge to simply chop up whatever larger potatoes you have on hand, as Shelbert believes the texture of the finished product will suffer. "I think they would get too soft and possibly mushy," she explains when we asked about the possibility of using diced potatoes. "It helps to have the skin on the entire exterior for this one."
In addition to potatoes, you'll need butter, extra virgin olive oil, salt, chicken or vegetable broth, garlic powder, and chopped fresh parsley.
Feel free to change things up
One of the great things about Shelbert's recipe for roasted potatoes is how easy it is to tailor it to your own personal taste. While this recipe keeps things simple, seasoning the potatoes only with salt and garlic powder, Shelbert tells us that the sky's the limit if you're feeling creative in the seasonings department. "You could use onion powder, dried thyme, smoked paprika," she suggests. "Really any seasoning you would put on your oven roasted potatoes. You could even toss in whole garlic cloves."
The fresh herbs you use to finish off the potatoes are equally interchangeable according to your preferences. "Rosemary is another favorite to use in place of parsley," Shelbert suggests.
Sauté the potatoes
First, wash your potatoes well, scrubbing the skins to make sure all the dirt is removed. If there happen to be any "eyes" growing out of the potatoes, take a moment to cut those out, too. Then, pat them dry, turn your Instant Pot to sauté mode, and set it for 12 minutes. Place the butter and oil into the Instant Pot. Salted or unsalted butter is fine, says Shelbert, as either will be delicious and won't really affect the cooking process.
Last, add the potatoes and season them evenly with salt. Sauté the potatoes in the Instant Pot for 12 minutes, tossing them frequently so that they begin to turn brown on all sides.
Finish potatoes using the pressure cooker setting
Once your potatoes have finished sautéing, it's time to add the garlic powder and broth to the Instant Pot. It may be helpful to combine the garlic powder and broth in a separate bowl first before adding it to the Instant Pot, in order to make sure it gets evenly distributed amongst the spuds.
Place the lid on the Instant Pot and set the valve to sealing. Turn the pressure cooker on high and set it for 8 minutes. There's no need to toss or otherwise disturb the potatoes during this part of the process, so just sit back and let the pressure cooker do its thing.
Sprinkle with herbs and serve
While your potatoes are in the pressure cooker, go ahead and chop up any fresh herbs you'll be using to finish up the dish. Though it's optional, we recommend this step, as herbs like fresh parsley will give your savory roasted potatoes a burst of fresh flavor and some color, too.
Once the pressure cooking function has been completed, do a quick release by moving the valve on the Instant Pot to venting. At this point, you can remove the lid, being careful to avoid any steam that might escape from inside. Remove the potatoes from the Instant Pot and place them in a serving dish. Top them off with chopped parsley or other fresh herbs if desired and serve fresh.
2 tablespoons butter
2 tablespoons extra virgin olive oil
2 pounds baby potatoes
Salt to taste
½ cup chicken or vegetable broth
2 teaspoons garlic powder
Turn the Instant Pot to the sauté mode and set for 12 minutes.
Place the butter and oil into the Instant Pot.
Add the potatoes and season with salt. Sauté for 12 minutes, tossing the potatoes frequently so that they brown on all sides.
After the sauté function ends, add the garlic powder and broth to the Instant Pot.
Place the lid on the Instant Pot, setting the valve to sealing. Turn the pressure cooker on high and set for 8 minutes.
After 8 minutes, do a quick release by moving the valve to venting and then removing the lid.
Place the potatoes in a serving dish and top with the chopped parsley if desired.