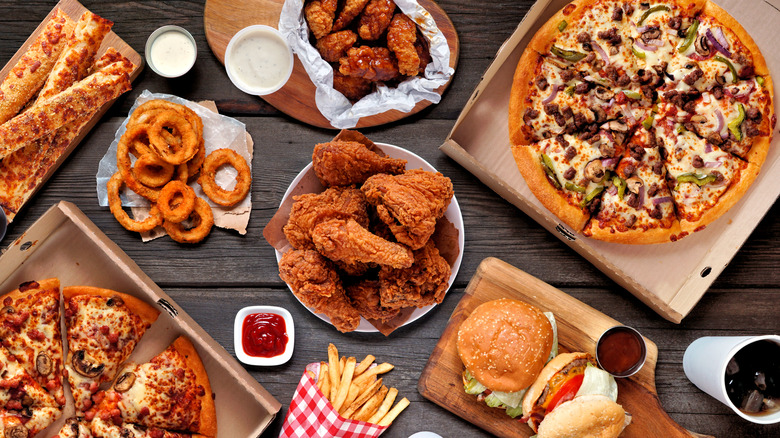 When you think of a fast food chain, the usual suspects come to mind: McDonald's, Chick-fil-A, KFC, Burger King. In recent years, the restaurant industry has changed to referring to fast food places as quick-service restaurants (QSR), and the new-ish hybrid of fast food and casual-dining restaurants (like Applebee's) is called fast casual. Where the definitions blur is with regional fast food chains, meaning a QSR that usually started out in a particular state as a mom-and-pop shop and gained a devoted following thus enabling them to grow.
Sometimes it's a few stores that don't cross state lines. Other times, they expand nationally. Most times, though, they're known for their specialties in their region. The regional fast food chains we explore here have personality, quirks, and often, delicious food you can't get anywhere else in the U.S. If you're planning a road trip or visiting family or friends, check out our list of the best regional fast food chains in every state.
Alabama: Milo's Original Burger Shop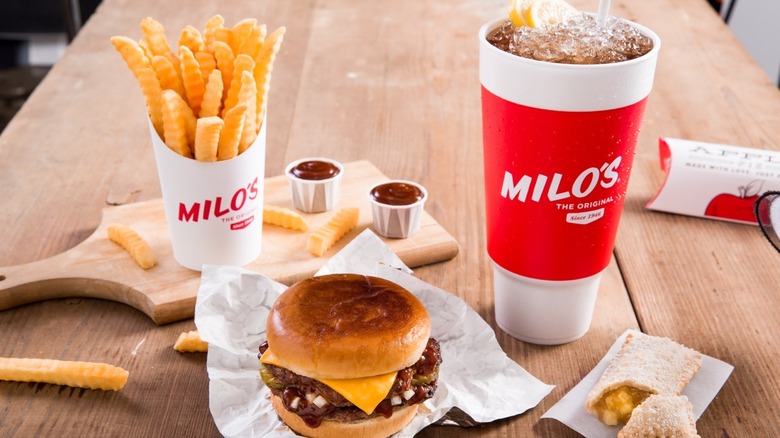 AL.com conducted a survey of the state's favorite fast food chain, and the 2021 winner was Milo's Hamburgers. Practically all of Milo's 17 stores are in Alabama. Milo Carlton opened his first burger shop in 1946 in Birmingham and experimented on locals to perfect his special sauce, which is still one of the five sauces served today.
The menu admittedly isn't extensive but Milo's sauce gets rave reviews. There are plenty of classic and tasty fast food items, and the chain's Mexi Fries is a glorious creation with bacon, jalapenos, and queso. Milo's sweet tea is also widely admired.
Alaska: Arctic Roadrunner
With the exception of the Great Alaska Pizza Company, Alaska has few homegrown fast food chains. Arctic Roadrunner doesn't have a chain empire, but Anchorage locals and visitors insist it's the best place in the whole state for a burger. In addition to a variety of delicious and Alaska-themed burgers, the Roadrunner has specialty sandwiches and salmon, and highly rated halibut burgers. In the summer, you can enjoy the great Alaskan outdoors, seated by a salmon-filled creek, and in winter, a cozy fire inside is welcomed.
Arizona: eegee's
With 25 locations in Tuscon, eegee's is the place to escape the desert heat by cooling off with an "eegee", the chain's ultra-popular slushy fruit drink This iconic chain was started by two high school pals who bought a food truck in 1971 and sold subs and their icy creation, which they named by combining the E and G of their names.
The eegee still rules today, and in addition to regular flavors like lemon, strawberry, and pina colada, eegee's also has a regular flavor of the month. The chain also serves bounteous subs and grinders.
Arkansas: Slim Chickens
You'll find plenty of fried chicken in the South, and Arkansas' Slim Chickens is famous for its chicken fingers. Sure, there are a ton of chicken-finger chains, but the company focused on quality and taste rather than costs (per QSR Magazine).
Founded in 2003, Slim Chickens' recipe obviously proved a hit and now has 100 locations throughout the U.S. with over 50 more planned to open in 2021 alone (via Retail & Restaurant Facility Business). The chicken tenders are marinated in buttermilk, cooked to order, and apparently are so darn tasty, they don't need a sauce, though there are a lot to choose from. And if the chicken hasn't filled you up, the popular mason-jar desserts should do the trick.
California: The Habit Burger Grill
In California, the battle for the best burger rages on between In-N-Out and The Habit Burger Grill. We've sampled both, and in our opinion, The Habit wins and consistently beats In-N-Out as a better burger. The Habit began as a small family-run chain with five locations, but once people got a taste of its flame-grilled charburgers, The Habit's reputation grew and boasts over 311 locations worldwide.
The Habit also offers sumptuous sandwiches (line-caught, sushi grade tuna, anyone?), salads, and sides that reflect the company's California roots. You should try both competitors (though In-N-Out has only 268 locations in five states) and decide for yourself. But we think you'll agree with all of The Habit's many fans.
Colorado: Good Times Burgers & Frozen Custard
This Colorado chain made its name by using humanely raised, antibiotic, and hormone-free Angus beef and locally sourced chicken from Springer Mountain Farms, recognized by American Humane for its animal welfare. Good Times also has breakfast burritos featuring Hatch Valley Green Chiles, their signature Wild Fries (seasoned with a proprietary blend of spices), and, of course, frozen custard shakes and "Spoonbenders," desserts with mix-ins like the beloved strawberry cheesecake.
And lest you forget your doggie best friend, Good Times also has a special Pawbender, a sundae with vanilla frozen custard, dog bones, and peanut butter (via Mile High on the Cheap).
Connecticut: Duchess
One of the frequently recommended regional chains is Duchess, based in Milford, Connecticut with 14 locations in the state. Duchess has been serving up quality fast food since 1956 when they charged a mere quarter for a burger.
Duchess is still racking up great reviews, and their food is consistently deemed much better than the competition. Their menu looks similar to other fast food joints, but as long-time and new fans will surely notice, everything is freshly made to order. People love the Big D cheeseburger ("a way of life," as one enthusiastic reviewer wrote), the long dog, chicken Caesar salad, and the dinner options are more like what you'd find at a classic diner.
Delaware: Casapula's Subs
Located along Delaware's coast, Casapulla's Subs is often called iconic for its authentic Italian subs, but also because its six shops are family-owned and not franchises as most fast food chains are. Each is a little different, but they all hold true to founder Luigi Casapulla's vision.
Sandwiches can be ordered as wraps, 6-inch, 10-inch, and 12-inch subs. Meats and tomato sauce are prepared daily, the aromas of which permeate the shop. A bestseller is the chain's Italian Sub — a behemoth stuffed with Italian meats, cheeses, and seasonings — that can be amped up with prosciutto for a buck extra, whilethe Ribeye Cheesesteak sub also gets raves.
Florida: 4 Rivers Smokehouse
Voted in 2020 as the South's best barbecue by Southern Living, the restaurant known as 4 Rivers Smokehouse is shaking up long-held BBQ traditions. You'll find all of the barbecue classics at its 14 Florida locations, like brisket and pulled pork. One item that people seem to lose their minds over is the Burnt Ends, which mixes brisket and pulled pork that have been tantalizingly crisped up.
For Lent in 2019, founder John Rivers introduced Beyond Burnt Ends, a vegan version that proved so popular it's now a regular on the menu (via Orlando Weekly). As if all this meaty goodness weren't enough, 4 Rivers Southern sides are must-have add-ons.
Georgia: Waffle House
Atlanta-based Waffle House has so proliferated since the first one opened in 1955 that HuffPost put together a map showing the chain's density throughout the South and Southeast.
Its huge menu runs the gamut of stick-to-your-ribs cooking from all-day breakfast to later-in-the-day classic dinners, like pork chops, country ham, and T-bones. Waffle House may have its detractors, but consider the fact that the late, great Anthony Bourdain loved it as a safe place for "the hungry, the lost, the seriously hammered all across the South."
Hawaii: Zippy's
Zippy's nabs many "best of" awards, and in 2020, USA Today included it in the top ten best regional fast food chains. Zippy's has 24 locations on Oahu, Maui, and the island of Hawai'i, with a unique menu that's a fusion of many different cuisines.
You can snag the Zip Pac, a plate of fried chicken, hoki fish, teri beef, and Spam served on rice. If you want a quintessential Hawaiian snack, nibble on a Spam Musubi or some noodle dishes, sushi, and Zippy's famous chili, of which Zippy's reportedly makes 110 tons per month, per Dining Out.
Idaho: Boise Fry Company
The minute you walk through door of the Boise Fry Company, you know they mean business about fries. With six locations in Idaho, Boise Fry Company is proud of locally sourcing pasture-fed beef and bison.
Once you pick the burger style you want, choose the protein: beef, bison, mushrooms, turkey, and vegan protein. As for their famous fries, you get to choose the type of potato, how the spuds are cut, and finally the dipping sauce and seasoning for both savory and sweet fries. Talk about fry heaven!
Illinois: Beef-A-Roo
Beef-a-Roo has been serving beefy goodliness for over 50 years at its eight locations, mostly centered around Rockford, Illinois. Beef-a-Roo's quarter-pounders get lots of praise, but people really love the Wild West Beef sandwich (think Arby's but so much better) and cheddar fries, which for a buck more, you can get loaded with bacon, scallions, and ranch dressing.
Beef-a-Roo's shakes are also famous for their creativity. There's the basic vanilla and chocolate, but you also choose jamoca, blue raspberry, or one of their seasonal specialty "monster" shakes, like the Pink Flamingo or the Blue Unicorn.
Indiana: Schoop's Hamburgers
Schoop's Hamburgers locations are clustered in the northwest corner of Indiana with classic aesthetics and, according to fans, deliciou tastes. Over the years, Schoop's has received great press, with DineRank claiming its burger was utterly great.
So why are Schoop's burgers so good? It's a fresh beef patty that's been smashed down on the griddle until it's seared and crispy on the edges (via Eater Chicago), which can then be topped with bacon, chili, bbq sauce, jalapenos, and/or mushrooms. Schoop's enormous milkshakes also get a lot of love, attesting to this fast casual's longevity.
Iowa: Maid-Rite
If you were a fan of Rosanne, you might remember the Connor family's The Lunch Box, where they served a loose meat sandwich. Iowa's fast food chain Maid-Rite has been serving them since 1926, and the sandwich that's like a sloppy joe without the sauce is a culinary and cultural icon in the state, according to the Des Moines Register.
Maid-Rite has a pulled pork, fried chicken, and fish sandwiches on the menu, but the raison d'etre for going to one of its Midwest locations is the loose meat sandwich, which you can order with three different cheeses, Maid-Rite's cheddar sauce, or jalapenos. Iowans are passionately loyal to their homegrown sandwich, but out-of-towners rave about it too.
Kansas: Freddy's Frozen Custard & Steakburgers
Since opening in 2002, Freddy's Frozen Custard & Steakburgers has become a fast food giant with over 300 locations across the U.S. Devotees of the retro chain can't get enough of the grill-smashed, caramelized steakburgers, which are all about the big-beef taste and the texture. It makes sense to order a double or even a triple to truly appreciate the Freddy's burger.
Freddy's egg-rich frozen custard comes two ways, as a sundae or a concrete, a shake so thick you can hold it upside-down. The frozen custard is a fan favorite, and in addition to Freddy's regular flavors, you can build your own sundae with their 32 toppings.
Kentucky: Indi's Fast Food Restaurant
Yes, KFC did actually originate from Kentucky, but according to Esquire, the best chicken in the world is found at Indi's Fast Food in Louisville. Indi's has a handful of locations in Louisville and one in Lexington, and Indi's many fans agree that it's the best fried chicken around.
Indi's focuses on fried chicken and wings — if you like hot and spicy, Indi's spicy chicken is the best — but you'll also find ribs, fried catfish and codfish, and other Southern favorites. And remember that Indi's famous potato wedges are not to be missed.
Louisiana: Dat Dog
A relatively new upstart to the New Orleans culinary scene is Dat Dog, which started out in 2011 as a simple hot dog stand, but has since been praised by Food Network, USA Today, and The New York Times, among many other outlets.
Dat Dog's outrageous menu offers the usual beef dogs and bratwurst, but then things get all wild with special sausages, like alligator, crawfish, and duck, as well as vegan menu items, too. Once you've picked your meat, you can choose from 30 toppings, which you can also add to Dat Dog's deliciously seasoned fries.
Maine: Gifford's
If you're in Maine for the summer, find a Gifford's ice cream stand. There are only five, all family-owned, and only opened spring to summer. Gifford's claims that the five stands scoop over one million cones annually. Gifford's prides itself on locally sourcing ingredients from Maine that capture flavors that are real New England.
The stands have almost 60 flavors to try, like Maine Wild Blueberry, Pumpkin Pecan Praline Whirl, Strawberry Cake Crunch, and the whimsically named Maine Lobster Tracks or Unicorn Delight. Gifford's recently partnered with the Boston Celtics and created the team's official flavor, Full Quart Pretz.
Maryland: Chap's Pit Beef
Since it opened in 1987, Chap's Pit Beef has racked up rave reviews, awards, and celebrity endorsements from Guy Fieri and other Food Network stars. Pit beef is a Baltimore thing that's unlike other Southern barbecues (via The Washington Post). Chap's does it differently — over a grill instead of a stainless steel pit — but its pit beef stays true to the original in flavor.
Chap's is known for their loaded pit beef sandwiches, served at five Maryland locations, but there's a variety of other sandwiches on the menu too. There's so much try that one reviewer advised going with more than one person, so everybody can sample different things. Sounds like a plan!
Massachusetts: Boloco
At Boloco, you can enjoy great Mexican food and feel good about it too. The Boston-based chain is Green Certified, and Boloco strives to reduce its carbon footprint "one burrito at a time."
Originally called The Wrap when it opened in 1998, the founders changed the name to Boloco (BOston LOcal COmpany) in 2004. Boloco's "globally inspired" burritos and bowls are customizable, so you pick a protein and then choose from the many toppings and sauces. Boloco also has creative smoothies (Nutella being a fan favorite) and smoothie bowls.
Michigan: National Coney Island
National Coney Island has nothing to do with the New York amusement park. According to Eater, the "coney" is a Detroit creation of a beef hot dog in a steamed bun topped with chili, chopped raw onion, and yellow mustard.
National Coney Island has been around since the mid '50s and now has 17 locations, mostly in Northern Detroit. Coneys are on the menu, as is National's own creation, the Hani, their version of a chicken tender wrap. National even launched a competition between the coney and the Hani to see which one customers preferred.
Minnesota: My Burger
Keeping the menu small and focused has been the key to Twin Cities-based My Burger's success. My Burger has half a dozen beef burgers, some plain, some dressed-up like the Backdraft Burger or the Piggyback Burger that's got a healthy dollop of pulled pork. You can also get veggie, chicken, and fish burgers, and an Impossible burger. At first glance, the menu might seem limited, but with all of the add-ons, you're really only limited by your imagination.
Mississippi: Ward's
One of the most beloved fast food chains in Mississippi is Ward's, which has been serving its signature Big One and Lil' One burgers since 1978. One of Ward's owners even maintains that the Big or Lil' One combos are as iconic to Mississippi as lobster rolls are to New England (via Clarion Ledger).
Ward's is also famous for its chili and house-made root beer that employees make every morning, which can actually be purchased by the gallon at some locations. Ward's breakfast menu also gets high marks. If you happen to be driving through the picturesque Pine Belt, where Ward's locations are clustered, stop in and pick up a bite.
Missouri: Lion's Choice
If you happen to be in the St. Louis vicinity and find yourself hankering for a really good roast beef sandwich, check out Lion's Choice. They've been slow-roasting lean roast beef since 1967. The top round is roasted medium rare onsite and shaved extra thin when a sandwich is ordered.
The beef is so lean that Healthy Kansas City recommended it as a healthy option, a true rarity for fast food. In fact, many of Lion's Choice meat sandwiches have less than 400 calories. And even if you get stuffed to the gills with sandwiches, there's still always room for a mini-cone of frozen custard.
Montana: The Pickle Barrel
The Pickle Barrel is one of Montana's few regional fast food joints. Subway's sandwiches look downright puny compared to Pickel Barrel's 17.5-inch monsters. The Pickle Barrel started out in Bozeman and quickly became a favorite of nearby university students and locals. There are only four locations (one is in South Dakota), and yes, in each one there's a wood barrel of floating pickles.
Beef is king on the menu, with the cheesesteak sub getting a special mention, but the Bobcat and Ken's Special on a pickle boat are also popular.
Nebraska: Runza
Nebraska's version of a hot pocket is called a runza. It's a baked crusty roll that's stuffed with beef, onions, and cabbage. The runza has roots in both Germany and Russia, so the pastry is said to resemble pierogi or the similar Russian pirozhki (via Southern Illinoisan).
The Runza is firmly fixed in Nebraskan culture, with 81 locations dotted throughout the state. The menu has 9 runzas plus a mini, stuffed like hamburgers with oozy cheese, bacon, black beans, or mushrooms. You can also get burgers and crinkle fries and a combo of fries and onion rings call "frings." You don't have to be Nebraskan to love a runza either. Out-of-towners love them too.
Nevada: Don Tortaco Mexican Grill
Don Tortaco's Mexican Grill has 21 locations in Las Vegas and is set up like other Mexican food competitors. And, yes, Don Tortaco's menu has all of the usual Mexican fast food — like burritos, tacos, and enchiladas — but it seems a lot more authentic. Not only is the food delicious, but it's reasonably priced as well. So, stray off the Strip and search out a Don Tortacos instead.
New Hampshire: Moe's Italian Sandwiches
Moe's Italian Sandwiches was opened in 1959 by Moe Pagano, and at the time he sold only one sandwich, known as Moe's Original. Moe's now has 20 locations along New Hampshire's seacoast region, and the menu has a lot more sandwiches.
Reviews not only give Moe's a consistent five stars, but they're really passionate about the place. Other faves are the Sicilian Classics Genoa and Capicola, and the Mad Sicilian. Moe's two hot sandwiches — the Meatball and Pastrami — are also worth trying, and if you've got a hunger gnawing inside, choose the Moezilla.
New Jersey: Jersey Mike's
Jersey Mike's sprung up in 1956 in a small town along the Jersey shore. Back then, there were few franchises, so all of the mom-and-pop shops had to be good to survive. The sub sandwich hadn't caught on yet, but that changed quickly when Mike used the highest quality meats, vegetables, and bread for his sandwiches. Jersey Mike's has grown to nearly 2,000 shops across the U.S. The selection of cold subs and hot subs is "yuge," and the Big Kahuna Cheesesteak is a favorite of devotees.
New Mexico: Blake's Lotaburger
When Blake Chanslor opened his first Lotaburger in Albuquerque in 1952, he noticed patrons smothering his burgers with the green chiles they brought (via New Mexico Magazine) and soon began adding the ingredient to his restaurant's menu.
Blake's Lotaburger has grown to 93 stores, most of which are in New Mexico, and won awards for its green chile burger. The menu of Blake's Lotaburger (or if you want a smaller version, the Itsaburger) also has burgers, dogs, and breakfast burritos. The Hatch green chile burgers, though, are still the big draw.
New York: Golden Krust
Frequently recommended as a must-try is Golden Krust, which a family of Jamaican immigrants opened in the Bronx in 1989. Golden Krust now has 138 locations, most of them in New York, where they serve Golden's Krust's flavorful Jamaican cuisine and stuffed pastries the chain is famous for. The breakfast menu might give you pause with traditional Jamaican fare, like ackee and saltfish and callaloo and saltfish.
Golden Krust's spicy beef patties are quite possibly the most popular thing on the menu, to the point where you can even buy them from grocery retailers.
North Carolina: Cook Out
In October 2020, while on the campaign trail, Joe Biden stopped off at Cook Out to pick up milkshakes for him and his granddaughter. The brief visit was meaningful to Durham residents, says the News & Observer, who hold Cook Out near and dear.
Cook Out has almost 300 locations in 10 states, all Southern. Cook Out is known for its char-grilled burgers and chicken, the bountiful and downright cheap combo trays, not to mention the over 40 different kinds of shakes on its menu. Many diners also praise Cook Out's chili, barbecue, and vinegary slaw that pairs perfectly with the burgers and pulled pork.
North Dakota: Burger Time
Burger Time started out in Fargo in 1987, then expanded to other North Dakota locations, Minnesota, and South Dakota. With just eight shops, Burger Time's owner plans to keep reaching northward to cities where food is scarce (via Bismarck Tribune).
Burger Time keeps its menu simple. There are seven burgers, but a couple of the cheeseburgers spike up the heat with chipotle ranch sauce and jalapenos. The signature Bigger Burger and Mushroom Swiss Burger are also popular, too. Along with fries and onion rings, you can also order cheese curds and fried pickles as sides.
Ohio: Skyline Chili
It's a love-hate thing with Cincinnati's Skyline Chili. Locals swear by it, while out-of-towners often don't get it (via Food & Wine). The controversial chili was invented by a Greek immigrant in 1949, who was inspired by Mediterranean flavors like cinnamon and chocolate.
Skyline's chili is beanless, like Texas chili, and is served over spaghetti and topped with a mountain of cheese, with or without beans and onions. The chili also tops hot dogs, fries, steamed potatoes, and burritos. Skyline Chili is still winning awards, so they must be doing something right.
Oklahoma: Braum's
The Braum family has been in the dairy and ice cream business since the 1950s and opened the first Braum's in Oklahoma City in 1968. Braum's keeps tight control over their dairy herds (via High Plains Journal), and all of its nearly 300 locations are within a 300-mile radius of the main processing plant.
Their ice cream is always a hit, but Braum's serves more than just that. The Los Angeles Times raved about Braum's burgers and fries, for one, and their spicy chicken sandwich is also delicious.
Oregon: Burgerville
If more fast food places did what Burgerville does, the world would be a better place. In 2009, Burgerville's CEO rolled out green initiatives for all locations in Oregon and Washington, which improved quality and sales (via Reuters). Two years ago, the No. 6 burger was debuted to promote sustainability and farmland regeneration (per Business Wire). The No. 6 is made with grass-fed beef, cheese from a local creamery, and buns from a local bakery.
The burgers are big, chicken sandwiches have organic chicken, and the fantastic fish sandwiches are made with wild Alaskan halibut. The shakes made with local ingredients are fresh and delicious, too, along with the chain's onion rings.
Pennsylvania: Wawa
According to Food & Wine, Wawa isn't just a convenience store with fabulous fast food: it's a lifestyle. Wawas are all over the east coast, and its millions of patrons can seem downright cultish (via The New York Times).
Honestly, we can't blame them. Wawa's vast menu of hoagies, sandwiches, burgers, and so very much more are customizable and freshly made. Kate Winslet once thought Wawa was a mythical place, but when she stepped inside one for the first time felt she belonged there (via Today).
Rhode Island: Del's Lemonade
Summer in Rhode Island means hot, steamy weather and Del's Frozen Lemonade. With 101 locations in 11 states, Del's is a lemonade empire. The basic recipe has been in the DeLucia family since 1840 when a Naples ancestor combined snow, lemon juice, and sugar into one delicious drink.
The namesake lemonade is always on the menu, but there's also watermelon, blueberry, cherry, peach mango, grapefruit, and blood orange flavors, too. Del's has also collaborated in making lemon ice cream and cocktails.
South Carolina: Rush's
Rush's started out in 1940 as one of the first fast food drive-ins in the nation. Today, there are eight locations situated in South Carolina.
Rush's menu has the usual burgers, dogs, and fries, all freshly made when ordered. "We prefer being authentic, straightforward, and unapologetically NOT a trendsetter," the chain proudly states. Customers love the fried chicken, and if you feel so inclined you can go so far as to order a half-pound of BBQ pork as a side dish.
South Dakota: B&G Milkyway
B&G Milkyway has eight locations in Sioux Falls, each locally owned. Generally known as an ice cream shop, it's seasonal, opening in March or early April and closing in October for the winter. One of B&G's owners caused a stir in 2021 by frequently adding a witty quip to his locations' signs (via Argus Leader).
B&G's food is hearty fast food, and their picnic basket combos come with baked beans, potato salad, and a soft drink. It also excels at frozen treats and their milkshakes have a dizzying array of flavors.
Tennessee: Pal's Sudden Service
It's impossible to miss Pal's Sudden Service in Tennessee and Northern Virginia. The two-story, robin's-egg blue drive-through adorned with giant fast food is iconic and delicious. Furthermore, Pal's shocked many in 2001 by being the first restaurant to win the coveted Malcolm Baldrige National Quality Award (via NIST).
Pal's burgers and Frenchie Fries consistently win rave reviews, and the breakfast biscuits are also winners. And don't miss out on the cheddar rounds — fried hash brown bites stuffed with cheddar cheese — which are only served in the morning.
Texas: Whataburger
Customization's the name of the game at Whataburger, where allegedly you can dress up their limited selection of burgers in thousands of ways. Whataburger is an obsession with Texans and was even dragged into a political brawl in 2018 (per El Paso Times).
Whataburger's been around since 1950, and over the years, they've added a spicy chicken sandwich and a limited-time pico de gallo burger. Portions are large, and not everybody wants to feel weighed down, so there's also a lighter menu with items under 550 calories.
Utah: Arctic Circle
According to Utah's Arctic Circle, its founder Don Carlos Edwards invented kid's meals. Artic Circle's 70 locations are split between Utah and Idaho, and they're famous for Edwards' fry sauce, which according to Eater, is mostly just specially seasoned ketchup and mayo. Arctic Circle was also one of the first fast food places to serve Angus beef burgers. Another tasty favorite is Alaskan halibut that Artic Circle assures is 100-percent halibut. Arctic Circle's shakes, many made with fresh fruit, are also widely praised.
Vermont: Al's French Frys
Vermont's Al's French Frys (yes, that's really the spelling) has a lot of the same menu items as other regional fast food joints, but it made its mark by winning the James Beard Foundation America's Classics Award and shouldn't be missed. It's expected that Al's Frys are the best fries people ever had, but the pizza burger is a hit, too, as is the ice cream. With the great atmosphere and great food, Al's' French Frys is Vermont's best fast food.
Virginia: Elevation Burger
Elevation Burger could well be the only fast food chain where you can order a 10-patty stacked burger that also happens to be 100-percent organic, grass-fed beef (via USA Today). Elevation Burger is headquartered in Falls Church, where it began in 2005, and has 19 locations divided between Virginia, Maryland, and Pennsylvania.
According to Saveur, Elevation was the first organic fast food joint out there. In addition to Elevation's beef burgers, they also have three plant-based burgers, and chicken can be ordered fried or grilled. The olive-oil French fries are delicious, and the service is spot-on too.
Washington: Taco Time Northwest
Based in Renton, Washington, Taco Time Northwest has been family-owned and run for nearly 60 years, when taco was pronounced "tayco" (via Renton Reporter). Taco Time Northwest now has 79 locations in and around Seattle. The menu has a wide range of freshly made Mexican food standards that can be ordered a la carte or as combos. Tater Fries are a particular favorite.
Taco Time Northwest also has several healthy choices, like chicken chili, that fans love, along with friendly service, value, and portion size.
West Virginia: Tudor's Biscuit World
According to Eater, Tudor's Biscuit World might very well have invented the biscuit sandwich. It's only been around since the 1980s but is now firmly entrenched in the lives of West Virginians (per Food & Wine). The quixotically named breakfast biscuits — all made from scratch daily — and platters are served 5:30 a.m. to 2 p.m., when most Biscuit Worlds close.
A few locations serve Tudor's country dinner menu, but you have to hunt to find the locations open until 7 p.m. The biscuits, though, don't disappoint, being huge, fluffy, and drenched with country gravy.
Wisconsin: Culver's
George and Ruther Culver, the founders of Culver's, actually started out as owners of an A&W franchise. They later opened their eponymous store in 1984, which soon evolved into the Midwest fast food juggernaut it is today. Based in Sauk City, Culver's now has 829 locations. Culver's has a big menu, but the chain is most famous for the ButterBurger, a smashed-style grilled burger on a buttered bun, frozen custard, and cheese curds. The idolized ButterBurger is a clear contender in the national burger wars, and with all of the mix-ins, the frozen custard also lives up to its reputation.
Wyoming: Taco John's
Based in Cheyenne, Wyoming, Taco John's grew from a taco stand to one of the largest Mexican fast food chains. Taco John's is also quite controversial in claiming to have invented Taco Tuesdays, which the company has trademarked. Tacos and burritos dominate the menu, but the seasoned fluffy-on-the-inside, crunchy Potato Olés is praised rapturously too. Not all locations are the same in the nearly 400 franchises, but Taco John's service and food usually get positive reviews for freshness and big flavors.