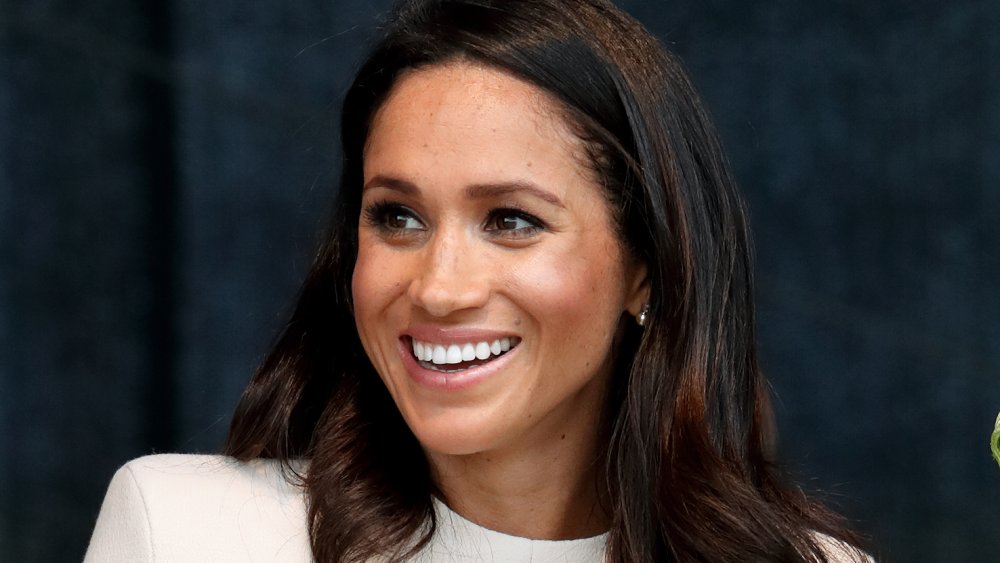 Even before her time as a royal, Meghan Markle stole the spotlight with charming outfits and a great sense of style both on and off the screen. But her relationship with Prince Harry came with a newfound sense of style, and the actress quickly harnessed her royal look and wardrobe.
Throughout her years in the spotlight, she has worn some jaw-dropping gowns and has also broken royal dress protocol, all the while walking the line of a royal lady and everyday woman. She has her go-to heels, her signature hairstyle, and her must-have maternity looks, and she has certainly made her way into the headlines for her head-turning style.
But a great wardrobe comes at a price, and Meghan Markle's wardrobe is no exception. Have you ever wondered how much money her wedding dress cost? Or how expensive her favorite shoes are? We combed through her best looks and have all the answers for you. Here are some of the most expensive outfits Meghan Markle has ever worn. Spoiler: Meghan lives an insanely lavish life.
Meghan Markle wore a classic (though pricey) look for her engagement announcement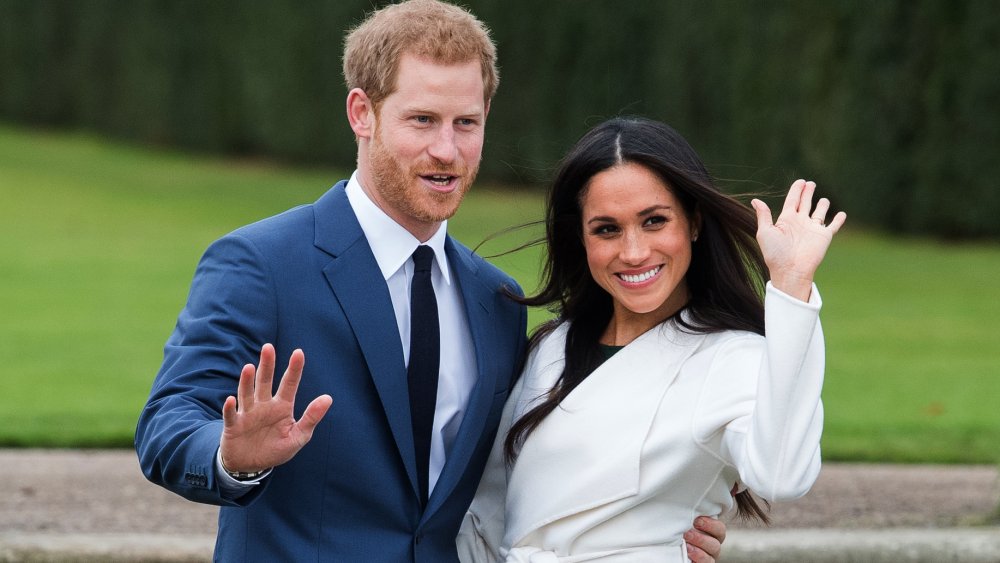 Prince Harry and Meghan Markle announced their engagement in 2017, and Markle noted the occasion with a gorgeous outfit perfect for a princess.
The star of the outfit was her belted coat from LINE, which included a price tag of about $627. "We are incredibly honored that Meghan chose to wear a LINE coat to mark this very special occasion," LINE president John Muscat said to USA Today. "We know this particular coat is one of her favourite pieces so we have officially decided to name it the 'Meghan.'" So casual … she got the coat and the prince. We're not jealous at all.
Markle paired the "Meghan" with a roughly $585 Parosh green crew-neck dress and a pair of her favorite Aquazzura heels. She opted for the $695 Matilde criss-cross shoes in nude, according to outfit details noted by USA Today. But, of course, the best part of her outfit (and the priciest detail) was Meghan Markle's engagement ring, made by Cleave and Company jewelers, which is worth about $350,000. The ring is made up of three diamonds, one from Botswana (a country very important to the couple) and two diamonds from Princess Diana's collection. All in all, Markle stunned in her outfit choice.
Nothing said expensive like Meghan Markle's wedding dress
All eyes were on Meghan Markle on her wedding day to Prince Harry, which marked one of the most expensive royal weddings ever, and her elegant wedding gown was a treat for the eyes. Designed by Givenchy's first female artistic director, Clare Waight Keller, the dress was the result of Markle's vision for her big day: timeless and elegant, yet relaxed. The Givenchy dress featured a boat neckline, three-quarter length sleeves, and a fitted bodice, and it was made of a double-bonded silk, according to the details of her wedding day look documented by BBC News. Markle paired her gorgeous dress and veil with Queen Mary's diamond bandeau tiara, which was loaned to her by Queen Elizabeth II.
Here's where the outfit details get really impressive: At the center of the tiara was a brooch made of ten diamonds, which was surrounded by diamonds and platinum in 11 different sections. Markle paired the tiara with a pair of earrings and a bracelet from Cartier, just to sweeten the look. What was the price tag for Meghan Markle's wedding day look? Well, the dress itself was a whopping $265,000, as noted by Vanity Fair.
Meghan Markle stunned in a custom Brandon Maxwell dress
It came as no surprise that, as a former actress, Meghan Markle was named the National Theatre's royal patron, as noted by Harper's Bazaar. As a result of her new role, Markle made her first royal public appearance at the theater in 2019, and she looked radiant while doing so. Pregnant with son Archie at the time, Markle looked stunning in a custom blush pink knee-high dress designed by Brandon Maxwell with a matching jacket and nude Aquazzura Matilde criss-cross shoes.
The price tag for the ensemble? Markle's shoes alone were $695, and her custom Maxwell dress and blazer boasted a nearly $4,000 price tag, according to the Daily Mail. She paired the look with a simple white and gold Carolina Herrera clutch bag, worth about $530, and minimal bar stud earrings by designer Tresses that cost about $280. But despite the pricey look, the most valuable parts of Markle's look that day were her glowing smile, gorgeous hairdo, and, of course, her cute baby bump.
Meghan Markle's wedding reception dress came with a hefty price tag
Meghan Markle was radiant in her simple-yet-elegant wedding dress during one of the best royal weddings in history. But she flat-out stunned in her wedding reception dress — so much so that the second look almost upstaged the first. The dress, a halter-neck Stella McCartney gown, cost more than $157,000, as noted by Entertainment Tonight, and honestly, it looked it. The silk crepe de chine fabric in a bright white beautifully draped over Markle's figure. The high neckline connected to a scooped design in the back, and the bottom of the gown featured layers of the silk fabric that ultimately created a rippling look.
"I am so proud and honored to have been chosen by the Duchess of Sussex to make her evening gown and represent British design," designer Stella McCartney noted on her official website. "It has truly been one of the most humbling moments of my career and I am so proud of all the team on this stunning sunny royal day." Excuse us while we Google similar wedding dresses with a not-so-similar price tag.
For an outing with Queen Elizabeth II, Meghan Markle opted for a glamorous Givenchy dress
It's not every day that one gets to venture out into the world with such a beloved monarch, so when Meghan Markle joined Queen Elizabeth II on an outing in Cheshire in 2018, she pulled out all the stops and opted yet again for Givenchy, the designer that dressed the royal on her wedding day. Her $18,000 Givenchy dress in a muted off-white color that she chose for the day featured a simple, elegant cut, a small black belt at the waist, and a dramatic, structured shoulder covering (as showing shoulders is against royal dress protocol).
She paired the look with an over $1,100 Givenchy cross-body bag and Sarah Flint pumps, priced at just under $350, as noted by the Daily Mail. The classiness of Markle's looked was topped off with her jewelry — specifically diamond and pearl earrings, which were a gift from the queen herself that reportedly cost about $5,500. Her loose wavy hair fell over the shoulders of the dress beautifully, and her natural makeup look sealed the deal. What was the queen wearing on their joint outing, you might ask? A signature bold color, green, and, of course, her iconic black handbag. We're sure her outfit cost a pretty penny too.
Meghan Markle made expensive look casual at a charity polo match
The last time we went to a polo match, we wore full head-to-toe designer and refused to drink anything other than champagne — okay, that is entirely false. We've never been to a polo match and honestly had to look it up to see what the sport actually consisted of. But when Meghan Markle went to Prince Harry's charity polo match for his foundation (honestly just make this man a saint already), she dazzled in a navy blue Carolina Herrera dress with a cinching belt at the waist, which set her back about $2,200, as noted by Insider.
Markle paired the cotton dress with a pair of $587 Aquazzura pumps that featured a cute little bow on the back of each shoe, as well as a J. Crew clutch that cost about $88. Finally something in Markle's wardrobe we could actually (maybe) afford! Markle topped off what is truly such a classy, yet casual outfit with a pair of Tom Ford sunglasses that cost around $280, subtle jewelry, and a cute updo with her classic middle part, according to the Daily Mail. If only we could look this classy at a charity polo match. We can dream!
Meghan Markle looked gorgeous in a sequined Roland Mouret Dress
While attending Cirque du Soleil's show "Totem" with Prince Harry in support of his charity organization which advocates for children with HIV in Africa, Meghan Markle pretty much stole the show in a royal navy sequined dress designed by Roland Mouret, who just happens to be one of Markle's close friends. Not dissimilar to the silhouette of her wedding dress, the sequined gown featured a wide boat neckline, long sleeves, and a tasteful slit. According to Harper's Bazaar, the dress cost about $1,330.
As noted by the Daily Mail, Markle topped off the gorgeous premiere look with Stuart Weitzman black strappy heels with a price tag of $398, an $1,800 Givenchy jeweled clutch, and meaningful jewelry — the gold cuff bracelet she paired with the look was a piece from Princess Diana's collection. In classic fashion, Markle kept her hair neat in a bun and opted for a gorgeous berry lip color. The best part of all? Her gorgeous baby bump was on full display.
Meghan Markle chose to go the designer route for a game of basketball
While most of us play basketball in sneakers and a messy tomboy ponytail, Meghan Markle does not — at least, not when it's going to be photographed. When Meghan Markle and Prince Harry played the beloved sport while attending the Coach Core Awards in 2018, as reported by Insider, she opted to wear a navy-colored Oscar de la Renta blouse with a gorgeous rippling detail, a subtle waist hugging belt, perfectly tailored black Altuzarra trousers, and sleek black heels. So, what was the price of her very appropriate, sporty top? $2,290. Yep, you read that right.
Markle used the event to showcase a new hairstyle as well, as she featured shiny, sleek hair with a middle part in place of the relaxed curls or tight updos she typically goes for. All we can say is that no one has ever looked this chic while playing basketball, and, of course, she made it look effortless.
Meghan Markle stunned in this Oscar de la Renta design
Meghan Markle really made a name for herself with a royal wardrobe full of sleek silhouettes, not to mention her no-fuss glam and natural makeup looks. But in a move that was quite a shock to her subtle wardrobe, Markle opted for an almost $13,000 Oscar de la Renta gown while attending the Australian Geographic Society Gala Awards at the Shanghai-La hotel in Sydney, Australia with her husband, Prince Harry, as reported by the Daily Mail.
Here are the details you need to know: The dress was a gorgeous, featuring a very delicate (yet very bold) print. The outlines and silhouettes of flying birds covered up the bulk of the fabric used to create this stunning look, and the bodice of the dress faded into a high-collared mesh neckline. The body of the gown was made up of layers of netted fabric, and thus created an elegant but bold statement. Markle paired the dazzling dress with a pair of Aquazzura black pumps (via Daily Mail), and she opted for a classic loose waves hairstyle.
Meghan Markle wore this Jason Wu gown at the London premiere of The Lion King
It looks like premieres are venues where Meghan Markle feels naturally confident, which comes as no surprise given her acting chops. So when she turned heads at the London premiere of the live-action "Lion King" film in 2019, it was a shock to literally no one (or no one that we know, anyway). Markle opted for a Jason Wu-designed ballerina-cut black dress with sheer details and sleeves.
In classic Markle fashion, she paired the effortlessly glamorous look with a neat bun, a small Gucci black clutch worth $1,390, and $950 Aquazzura black heels. But here comes the price tag … $4,343 for the dress alone, as noted by the Daily Mail. And considering that she paired the look with Lorraine Schwartz diamond earrings (via Daily Mail), we can safely assume that this look is out of all of our price ranges. But to be fair, Markle met the true king and queen, Jay-Z and Beyoncé, at the premiere, and we would all wear our best clothes if ever given the chance to breathe the same air as Queen Bey.
In her first appearance after giving birth, Meghan Markle turned heads in custom Givenchy
Meghan Markle gave birth to son Archie on May 6, 2019, and by June 8, she was back in the public eye and attending official royal events. Moms are truly heroic — there is no question about it. And true to her pre-maternity self, Markle delivered in class, poise, and fashion. While attending the Trooping of the Colour parade in London, which marked the celebration of Queen Elizabeth II's birthday, Markle was radiant and showcased an elegant navy ensemble.
While riding in a shared carriage with her husband and sister-in-law Kate Middleton, Markle opted for a Givenchy cape and dress, a Givenchy bag, and gorgeous leather gloves. The designer dress and cape alone was about £4,500, equivalent to roughly $5,800, and the coordinated bag was $1,070 on its own, as noted by the Daily Mail. Markle paired the look with a navy fascinator (that's one of those beautiful, though insanely uncomfortable looking, hats) and gorgeous diamond earrings. Overall, the new mom's look was sleek and sophisticated.
Meghan Markle is no stranger to outfit repeating, and this Antonio Berardi dress is one for the books
The first thing we think of when someone says "outfit repeater" is the truly iconic early 2000s line from our favorite Disney Channel villain, Kate Sanders, who said, "Lizzie McGuire, you are an outfit repeater." But Meghan Markle clearly does not mind wearing her favorite pieces on multiple outings, as she opted for a look she had worn previously while in New Zealand in 2018.
During a reception at the Auckland War Memorial Museum, Markle dazzled in a navy tuxedo-style dress with double-breasted detailing, bodice-lining buttons, and a full skirt. The dress, designed by Antonio Berardi, came with a $2,695 price tag and was sold out after Markle rocked the look, as noted by Insider. Markle paired the navy dress with beige Stuart Weitzman heels. So where did Markle wear this outfit before? Well, at a polo match, silly. Markle premiered the look while attending the Audi Polo Challenge in 2017, in which her husband was competing. It is clearly one of her go-to dresses.
Meghan Markle chose a white Givenchy dress for her first Royal Ascot
The Royal Ascot is a big deal — the horse-racing event takes place every year and is known for its dazzling fashion moments, upper class frivolities, and the world's finest horse racers. The slogan for the event is even, "Be part of the drama," so you get the gist of it. In her first Royal Ascot appearance, Meghan Markle stuck to designer duds and opted for a Givenchy dress, designed by none other than Clare Waight Keller, the visionary who designed Markle's wedding dress.
As noted by Harper's Bazaar, Markle paired the gorgeous off-white dress with a hat by Philip Treacy, a box clutch, and a pair of black pumps. So what's the price tag? Well, for starters, the Givenchy dress alone was estimated to cost about £4,200, which is roughly $5,400, as reported by the Daily Mail. The clutch was almost $2,000, and the shoes were $650. And to top it all off, the Philip Treacy hat was around £1,950, or about $2,500. So collectively, Markle's look set her back about $10,500. But she looked radiant, so who are we to judge?
This show-stopping look broke royal protocol, but Meghan Markle looked radiant
Meghan Markle came to the royal family already a rule-breaker. She was American, an actress, a divorcee, and very outspoken. So it should come as no surprise that her ensemble at the 2018 Trooping of the Colour, honoring Queen Elizabeth's birthday, was as scandalous as it was beautiful. Fresh off her honeymoon, Markle opted for a Carolina Herrera baby pink dress with a coordinating hat, matching clutch, and Philip Treacy hat, according to Harper's Bazaar. So what's the scandal? Markle's dress featured an off-the-shoulder neckline, which reportedly breaks royal protocol.
As explained by The Sun, royal women are encouraged not to wear off-shoulder necklines or styles that could be considered revealing. But this didn't seem to bother Markle. Honestly, we're so glad it didn't because she looked effortlessly stunning. So about the price… The designer dress, which may have actually been a top and skirt, was estimated to cost about £1,000, or roughly $1,288, as reported by the Daily Mail. The matching clutch cost $1,200, and the designer hat set Markle back by $1,140.
But if this list of Meghan Markle's most expensive outfits has shown us anything, it's that she could probably get away with wearing a pair of old Gap jeans and one of Prince Harry's oversized t-shirts and still look amazing.
This option chosen by Meghan Markle for an important appearance cost thousands
Since leaving the royal family and official duties behind, many of Meghan Markle's appearances have been via videos or interviews. Given her pregnancy, the pandemic, and a general desire for more privacy, it's not surprising that some of Meghan's most gorgeous ensembles have come to us via recorded announcements. The dress that she chose to wear while announcing her new podcast via video was stunning, and we have all the details about it.
As noted by Vogue, the dress in question was the Citrus Primavera ruffle-hem shift dress from designer Oscar de la Renta. It featured a beautiful "lemon tree motif" pattern in a 1960s-inspired silhouette, and the cute ruffled hem sealed the sweetness of the look. The dress was made from a combination of nylon, polyester, and silk, and featured a high rounded neckline. The Duchess of Sussex paired the dress with gorgeous loose curls and her signature natural makeup look, and she sat next to her lovely husband while making the podcast announcement. Ready for the price tag? A whopping $3,490, so while we're envious of her look, we can't imagine that we'll be replicating it any time soon.
The dress that Meghan Markle wore during her sit-down with Oprah Winfrey set her back a bit
When Meghan Markle sat down with Oprah Winfrey, she held nothing back. From divulging the fragility of her mental health while in the royal family to alleging racist behavior on the parts of family members, Meghan revealed all. And she looked amazing while doing so. As noted by Vogue, Meghan opted for the long triple silk georgette dress from designer Giorgio Armani for the occasion, and the dress certainly hit the mark. Its dominant color, black, was suitable for the somber tone of the interview. But the dress' white flower detailing also spoke to an element of hopefulness and positivity, two things that Meghan wished for her family.
The subtle floral nod was in step with some of her other garden-inspired choices, but the Armani design felt refined enough for the occasion. She paired it with a soft updo, and, of course, her gorgeous baby bump. Want some details about the dress? It featured a deep v-cut neckline, 3/4 length sleeves, and a matching belt. As noted by the product's description, it was made of 100% silk, so the price tag makes (a little bit) of sense. The dress set the duchess back $4,700.
These accessories chosen by Meghan Markle could set you back thousands
Even when Meghan Markle doesn't look like she's trying that hard to look chic and expensive with her wardrobe choices, you can all but guarantee that she still dropped thousands on her look. On her 40th birthday, Meghan released a video on the Archewell website announcing her 40×40 initiative, with the goal of helping women reintegrate into the workforce following the COVID-19 pandemic. And while her message was a powerful one, some couldn't help but notice her outfit.
As noted by The Zoe Report, one of Meghan's most expensive choices regarding the outfit in question were her necklaces. Designed by Logan Hollowell, Meghan's necklaces were odes to her children, as they were the Taurus and Gemini constellations, respectively. The Taurus choice set her back $1,600, while the Gemini option cost her $1,785 — and we haven't even moved onto the clothes! Meghan opted for pieces from CO, namely a cashmere cardigan that runs for $795, according to Hello!, and what looks to be a pair of CO drawstring pants that run for $450. Topped off with nude Manolo Blahnik heels, Meghan's comfy outfit could easily break most of our banks.
The shirt dress that Meghan Markle chose for this event is worth a pretty penny
Since leaving their duties as senior royals behind, Prince Harry and Meghan Markle have still made a distinct effort to contribute to worthy causes. For example, they served as co-chairs for the Global Citizen Vax Live event (via Cosmopolitan), which aimed to motivate people to get vaccinated against COVID-19 as soon as they were able to as well as to promote vaccine equity. As noted by Vogue, Meghan chose a gorgeous outfit for the occasion, and it took form as the poppy print shirt dress from designer Carolina Herrera.
While we mostly saw the Duchess of Sussex from the waist up, that didn't stop us from getting details about her gorgeous choice. The poppy dress featured a pointed collar and (quite obviously) was made from a stunning, bold poppy-printed silk material. As noted by Bergdorf Goodman, the garment was made in Italy and featured an A-line skirt silhouette and a cinched waist detail. Meghan paired the look with loose waves and a very fun feminist icon necklace that certainly made us want to jump to the internet to find a replica. The dress, though? We won't be purchasing that any time soon, as it cost $1,690.