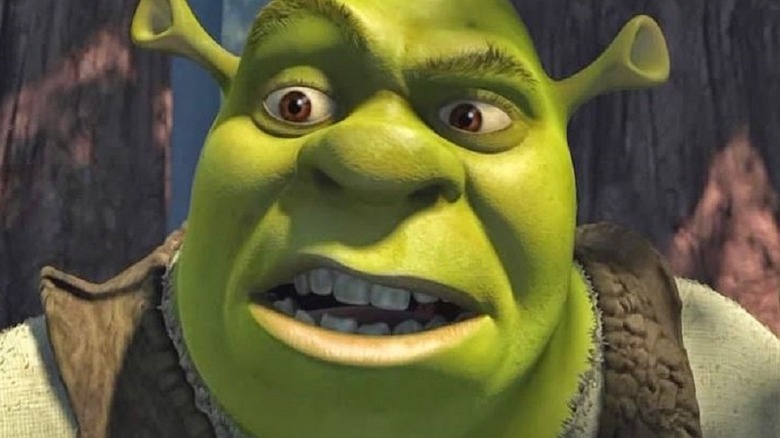 With animation, all things are possible. Without any of the limitations imposed by physical reality, filmmakers can let their imaginations go absolutely crazysauce in whichever style of story they choose. Even if we disregard the vast history of animated films and focus exclusively on what's available on Hulu, we can see a catalogue that ranges from dystopian cyberpunk to CG fairy tale satire and iconic staples of children's media, with quite a few other stops in between.
So, if you're looking for something to watch, we've got you covered. After all, animation has something for everybody … unless you definitely need to see live actors. Then we can't help you.
Updated on October 26, 2021: When it comes to colorfully animated, (mostly) family-friendly movies, Hulu is constantly changing the offerings in its catalog. In order to keep things current, we'll be updating this list each month so you can stay informed on all the animated action happening over on Hulu.
100% Wolf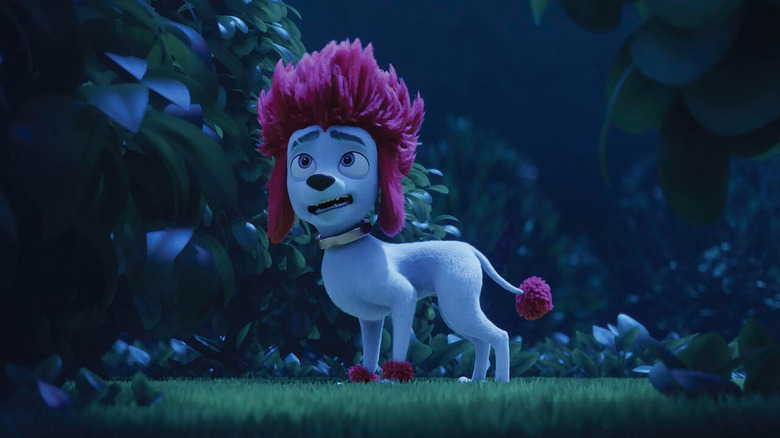 Put the "Twilight" sequels in a blender with one or two of the numerous children's movies about talking dogs, and the resulting concoction might resemble this whimsical Australian production. The heir apparent to a secret society of werewolves unexpectedly transforms into a poodle, then embarks (pun intended) upon an amusing journey alongside his fellow English-speaking pooches.
Starring: Loren Gray, Adriane Daff, Jane Lynch
Director: Alexs Stadermann
The Addams Family
Ever since they first showed up in the pages of The New Yorker, the Addams Family have been a pop culture institution. They made their way to TV in the 1960s and showed up on the big screen in the '90s. And in 2019, the creepy, kooky, and altogether ooky family got the CGI treatment for a whole new generation of fans. In fact, we give the film big points for gelling the original 1930s designs with 2020s computer animation. (If you think "The Addams Family" is just ripping off Tim Burton, you've got it a little backwards.) So anyone in the mood for something sweet and spooky, well, "The Addams Family" is where it's at.
Starring: Oscar Isaac, Charlize Theron, Chloë Grace Moretz
Director: Conrad Vernon, Greg Tiernan
Afro Samurai: Resurrection
In his untouchable career, Samuel L. Jackson has conquered gritty crime thrillers, superhero movies, and films concerning large numbers of serpentine reptiles appearing on airborne travel vehicles — so naturally, he's also an anime star. A follow-up to the 2007 "Afro Samurai" miniseries, "Afro Samurai: Resurrection" leans much harder in the direction of "Pulp Fiction" than anything to do with an Avenger Initiative, so parents take note — that "MA" rating is not an exaggeration.
Director: Fuminori Kizaki
Akira
Right up there next to "Blade Runner" and "The Matrix" on the list of most influential cyberpunk films in history, "Akira" is an utterly engrossing onslaught of mind-melting visuals and an essential watch for folks with any fondness for high-concept sci-fi. It's got sociopathic biker gangs, a shadowy authoritarian government, grotesque body horror, a telekinetic antichrist, and a profoundly creepy teddy bear; plus, it's one of the only established genre IPs that Hollywood cannot seem to remake despite its best efforts.
Starring: Mitsuo Iwata, Nozomu Sasaki, Mami Koyama
Director: Katsuhiro Ohtomo
The Ape Star
Here's a film that dares to ask questions like, "What if the Man in the Yellow Hat and Curious George switched places?" and, "What if instead of a horse, 'Horsin' Around' was about a gorilla who adopted a human orphan?"
Swedish children's story "The Ape Star" chronicles the unconventional family unit that forms when a warm-hearted jungle creature becomes the legal guardian of a young girl. The voice cast includes Stellan Skarsgård — whose other 2021 credit, in an instance of gleeful incongruity, happens to be terrifying Baron Vladimir Harkonnen in "Dune."
Really, the selling point for "The Ape Star" is its effortlessly pleasant animation style and nonabrasive approach. It make a good pre-nap time watch for folks of any age.
Ape Star arrives on Hulu on 11/23/21.
Starring: Stellan Skarsgård, Rebecca Gerstmann, Pernilla August
A Boy Named Charlie Brown
Charlie Brown is bad at baseball, a poor speller, and largely unsuccessful in romantic endeavors. But despite his many faults, his notoriety among American-made fictional characters is surpassed only by the likes of Batman, Darth Vader, and, uh … his dog, Snoopy.
The first cinematic foray of the "Peanuts" gang landed in the late '60s, but it might as well have been last week. Charlie Brown is timeless. Who can't relate to constant uphill battles, low self-esteem, and the looming suspicion that your animal companion is constantly upstaging you?
Starring: Peter Robbins, Pamelyn Ferdin, Glenn Gilger
Cloudy with a Chance of Meatballs
The directorial feature-length debut from Chris Miller and Phil Lord, "Cloudy with a Chance of Meatballs" borrows its title from a 1978 children's book, then buys a ticket for the crazy train and rides it straight to bonkersville.
Bill Hader lends his pipes to benevolent and discouraged mad scientist Flint Lockwood, who builds a device that makes various dinner entrées – hamburgers, spaghetti and meatballs, etc. — fall from the sky. Such an invention would result in instant ecological catastrophe in real life, but it works out just fine for Lockwood … or does it?
In addition to that crazy plot, the voice cast is incredible. The combined awesomeness of Bruce Campbell and Mr. T might crush reality if they ever appeared in the same live-action movie, but within the animated framework of "Cloudy," their voices safely coexist.
Director: Chris Miller, Phil Lord
The Congress
There's more than a little live action in "The Congress" — a cautionary sci-fi mediation on celebrity and superficiality — but it takes a hard turn into a fully animated constructed reality after approximately 50 minutes. Robin Wright plays "Robin Wright" — the fading star of "The Princess Bride" — who funds treatments for her ailing son by selling her digital image and identity to a Hollywood studio. We suspect Disney corporate executives watched this and took notes.
Starring: Robin Wright, Harvey Keitel, Jon Hamm
The Croods: A New Age
Catching up with the cave-dwelling family introduced in 2012's "The Croods," this 2020 sequel garnered slightly better reviews than its predecessor, and includes 100 percent more Peter Dinklage and Kelly Marie Tran. The eponymous family must adjust to encroaching modernity and traverse eye-catching, vibrant CG environs. Meanwhile, prehistoric beasts provide amusement or antagonism, depending on the species and circumstances.
Starring: Nicolas Cage, Emma Stone, Ryan Reynolds
Curious George: A Very Monkey Christmas
Technically, "A Very Monkey Christmas" premiered as a special extended-length episode of the long-running "Curious George" animated series — but if Hulu lists it as a movie, who are we to argue?
Curious George lacks the capacity to comprehend the concept of language, which prevents him from telling the Man with the Yellow Hat what he wants for Christmas. Making matters worse, George can't buy the Man with the Yellow Hat a Christmas present because George has no idea what money is or how it works. Do not fret, for these problems have solutions, and the process that brings about their resolution is utterly freakin' adorable.
Starring: E.G. Daily, Frank Welker, Jeff Bennett
Director: Scott Heming, Cathy Malkasian
Dr. Seuss: The Cat In The Hat
Dr. Seuss's immortal saga of a boring, rainy afternoon interrupted by a rhyming, singing, anthropomorphic feline might not pan out so hot as a live-action project, but its status as a certified cartoon classic remains intact. Naturally it's splendid for kids, and better yet, this "Cat in the Hat" incorporates surrealism and stream-of-consciousness that should appeal to adults adhering to a certain chemical-consumption regimen.
Starring: Allan Sherman, Daws Butler, Pamelyn Ferdin
Rotten Tomatoes Score: N/A
Dr. Seuss on the Loose
Are you resistant to trying new things? Specifically, do you relentlessly push back against encouragement to sample oddly hued breakfast platters? Are you acquainted with a compact fellow named Sam-I-Am, and do you think poorly of this individual? Then, sir or madam, you have problems. Put "Dr. Seuss on the Loose" into your eyeballs posthaste, and learn the error of your ways…
Starring: Allan Sherman, Hans Conried, Paul Winchell
Rotten Tomatoes Score: N/A
Fairy Tail The Movie: The Phoenix Priestess
On one hand, when people say they don't like anime, they're essentially talking about endeavors like "Fairy Tail…The Phoenix Priestess." And sure, fine, maybe not every element of the manga adaptation is wildly original, the plot occasionally wanders into incompressibility, and the casual sexualization of its characters is a little problematic. But if you're hunting for escapism stuffed with swords and sorceries, you could easily do worse.
Starring: Tia Lynn Ballard, Colleen Clinkenbeard, R. Bruce Elliott
Director: Masaya Fujimori
Happy Feet
The trophy winner for Best Animated Feature at the 2007 Oscars, "Happy Feet" is sort of like a re-imagining of "March of the Penguins" with most of the gritty, unpleasant elements removed and replaced by joyful song and dance. Elijah Wood voices a flightless bird whose limited vocal range is balanced out by an innate mastery of tap that would put Gene Kelly to shame. In addition to Wood, the sounds of Hugh Jackman, Nicole Kidman, and Hugo Weaving also appear emanating from the faces of Antarctic critters, and the great Robin Williams plays a whopping four characters.
Starring: Elijah Wood, Robin Williams, Brittany Murphy
Happy Feet Two
While hardly the critical or financial triumph of its predecessor, "Happy Feet Two" contains ample dancing, singing penguins alongside various other musically inclined animals native to polar climates. Frankly, if you're a fan of "Happy Feet," the odds that you'll derive significant enjoyment from "Happy Feet Two" are better than good.
Carrying on the original's custom of vintage pop performances, the opening five minutes alone include a legion of flightless birds belting out Janet Jackson's "Rhythm Nation," LL Cool J's "Mama Said Knock You Out," and Justin Timberlake's "SexyBack." Parents who'd like their offspring to grow up aware of musical history may want to take note of this series.
In a subplot, Brad Pitt voices a krill fish who experiences an existential crisis, then learns to escape the looming dread and meaninglessness of existence through song and dance. So "Happy Feet Two" is pretty much "Fight Club" for kids.
Starring: Elijah Wood, Robin Williams, Hank Azaria
The Lorax (1972)
We shouldn't stand by every line he ever drew, but Dr. Seuss deserves our admiration for somehow placing an explicitly anti-capitalist, pro-environment allegory on network television in the midst of Richard Nixon's America. The original "Lorax" is perhaps the most prescient of all Seuss stories — as the oceans rise and climate disasters batter the coasts, today we see a Once-ler hive mind debate real-world Loraxes on a routine basis.
Starring: Bob Holt, Athena Lorde, Hawley Pratt
Missing Link
Proof that horrendous box office performance is no indication of quality, "Missing Link" provides Hugh Jackman a chance to showcase his underutilized creative timing alongside Zach Galifianakis in an update on the adventure genre template. Explorer Sir Lionel Frost (Jackman) is charged with escorting Mr. Link (Galifianakis) on a quest to find other members of his species in Shangri-La — a location that doesn't exist in the real world, but might exist in the "Missing Link" shared universe?
Starring: Hugh Jackman, Zach Galifianakis, Zoe Saldana
Ninja Scroll
While not a transcendent piece on the level of "Akira" or "Neon Genesis: Evangelion," "Ninja Scroll" is absolutely one of the first anime a generation of genre aficionados remembers renting on VHS, back when VHS rentals were a thing. Some of its shock value elements seem questionable in hindsight (content warning for sexual assault) but "Ninja Scroll" remains viable for its artful execution of quick 'n bloody fight sequences, and its bleak rendering of feudal Japan.
Starring: Koichi Yamadera, Emi Shinohara, Takeshi Aono
Director: Yoshiaki Kawajiri
Shark Tale
DreamWorks' critically panned swipe at repeating its triumph with "Shrek," "Shark Tale" is not without redeeming value. For completist fans of "The Sopranos," it's notable as a project that reunites Michael Imperioli and Vincent Pastore. And before unforeseen circumstances forced him to drop out, James Gandolfini almost played the role ultimately performed by Robert De Niro. Jack Black voices Lenny, the pacifistic shark who feigns defeat at the fins of Will Smith's glory-seeking cleaner fish, a movie that puts him on the bad side of the great white mob. While it's largely been forgotten, "Shark Tale" is definitely worth it for all the charming A-listers, including director Martin Scorsese.
Director: Bibo Bergeron, Vicky Jenson, Rob Letterman
Shaun the Sheep Movie
Are you tired of characters constantly gabbing and yakking throughout the runtime of whichever movies they're appearing in? Then you may be delighted to know that not a syllable is uttered throughout "Shaun the Sheep Movie." You'll hear plenty of "baaahs," of course — but no pesky words. This chronicle conjured up by the same folks behind the "Wallace and Gromit" features finds wool-covered weirdos dashing through a city, and seems to resonate with adults just as much as the wee ones.
Starring: Justin Fletcher, John Sparkes, Omid Djalili
Director: Mark Burton, Richard Starzak
Shrek
A certified cultural phenomenon and continuing influence on cinematic fairy tales, "Shrek" drags up a handful of moldy old clichés, spins them around, and retells them from an ogre's point of view. By racking up almost half a billion at the box office, "Shrek" satirizes Disney so effectively that Disney itself might've felt a challenge to modernize. It's not crazy to speculate that without the irreverence of "Shrek," we might've never seen the self-actualized princesses of "Frozen."
Starring: Mike Myers, Eddie Murphy, Cameron Diaz
Director: Andrew Adamson, Vicky Jenson
Shrek 2
"Shrek 2" — often credited as the best effort of the series — builds on the first film's potential for palace intrigue, and adds Antonio Banderas to the cast as Puss-in-Boots. Just like all kitty cats, Puss-in-Boots is an unstoppable badass assassin.
Starring: Mike Myers, Eddie Murphy, Cameron Diaz
Director: Andrew Adamson, Kelly Asbury, Conrad Vernon
Snoopy Come Home
Charlie Brown has a dog who can use a typewriter and is also a master surfer. Basically, he gets to live with this creature who has literal superpowers, but all he ever does in complain. Maybe Charlie Brown deserves to be miserable. But forget him — luckily for the rest of us, the ongoing musical adventures of the "Peanuts" gang continue in "Snoopy Come Home," the critically lauded sequel to "A Boy Named Charlie Brown."
Starring: Chad Webber, Robin Kohn, Stephen Shea
StarDog and TurboCat
Superhero films have been basically the most popular thing in the world for two decades, and animated movies about talking animals never seem to go out of style. So the fact that "StarDog and TurboCat" is a relatively rare melding of the two genres seems like pure insanity. Hollywood loves money — therefore, we should already have dozens of big budget movies where cats are Batman, right?
Not only does "StarDog and TurboCat" address the public's demand for crime-fighting kitties, it's also a pretty decent animated flick for the whole family. Sure, critics are split on the film, but if you or your kids are looking for something in the delightful vein of "PAW Patrol," then this is the perfect film for you.
Starring: Luke Evans, Nick Frost, Gemma Arterton
Storks
Andy Samberg voices a baby-delivering bird in this Warner Bros. effort that pulls high marks for splashy animation and a wide range of supporting voice cast star power. Perhaps the script could've used another draft, but if you wanted to watch "Citizen Kane," you would watch "Citizen Kane." If you watch "Storks" it's because you're in the company of children who require a distraction, and if Key and Peele show up as cartoon wolves for a few scenes, that's only a deal sweetener.
Director: Nicholas Stoller, Doug Sweetland
Sword Art Online: Ordinal Scale
Fair warning — without any pre-existing familiarity with the "Sword Art Online" (SWO) light novels, manga, or anime, "Ordinal Scale" may render you instantly lost in the wilderness of franchise mythology. On the bright side, Hulu also supplies the SWO series, which we'll oversimplify as a "Matrix"/"Ready Player One"/YA hybrid. Ergo, if one wishes to make sense out of "Ordinal Scale," the necessary context is very available.
Starring: Haruka Tomatsu, Yoshitsugu Matsuoka, Ayana Taketatsu
Tiny Toon Adventures: How I Spent My Vacation
In terms of Warner Bros.-produced children's comedy cartoons from the 1990s sporting an ensemble cast and non-serialized, anthology-style storytelling, "Animaniacs" pretty much eats "Tiny Toon Adventures" for lunch. But let's not allow the relative inferiority of "Tiny Toons" to overshadow "How I Spent My Vacation" — a worthy source of nostalgic chuckles for grown-up '90s kids.
Starring: Charlie Adler, Jonathan Winters, Edie McClurg
Trigun: Badlands Rumble
The lone feature-length film entry of the "Trigun" franchise, "Badlands Rumble" presents us with an anachronistic sci-fi setting in the spirit of old school Hollywood Westerns. Naturally, it's loaded with outlaws and trigger-happy knuckleheads with absurdly awesome names like "Vash the Stampede," "Millions Knives," and "Dominique the Cyclops." Best viewed after consuming the 26-episode anime which, conveniently enough, you can also find on Hulu.
Starring: Shô Hayami, Tsutomu Isobe, Masaya Onosaka
Director: Satoshi Nishimura
Trolls World Tour
For some arbitrary reason, society tells us children need to know about colors, numbers, and what noises animals make. We've neglected to address the necessity of teaching kids the differences between genres of music … until "Trolls World Tour."
Thanks to this film, which picks up where "Trolls" leaves off, today's youngsters won't have to wait until college to learn that metalheads can be narrow-minded, country music fans should be approached with caution, and every techno DJ is exactly the same.
Starring: Anna Kendrick, Justin Timberlake, Rachel Bloom
Wakko's Wish
Formerly the final hurrah of "Animaniacs" until the oddball '90s afterschool staple returned in 2020, "Wakko's Wish" entails a seemingly downtrodden Wakko Warner scrounging to afford surgery younger sister Dot needs quite urgently, apparently. But we can assure you, this film's plot synopsis makes it sound much more dire than it is. "Wakko's Wish" is actually a whole bucket of silliness and shenanigans, to tell you the truth.
Starring: Rob Paulsen, Jess Harnell, Tress MacNeille
Director: Liz Holzman, Tom Ruegger, Rusty Mills