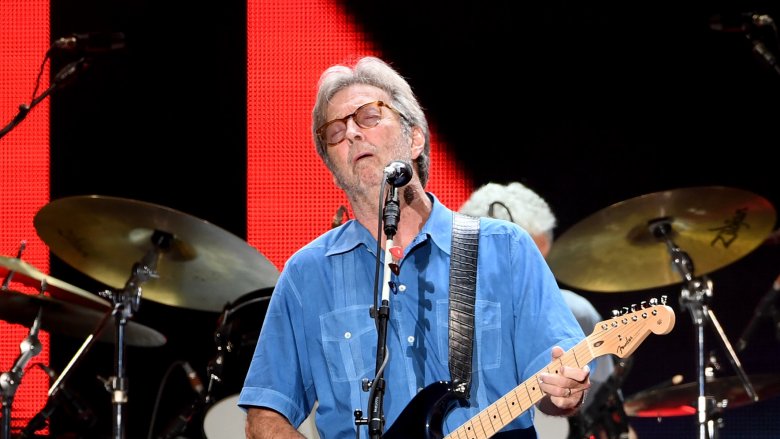 Anytime you get into discussions (or arguments) about the greatest musicians of the 20th century, Eric Clapton's name will definitely come up once or twice. The guy has been inducted into the Rock and Roll Hall of Fame not once, not twice, but three whole times, and his songs are some of the most recognized pieces in history, from the raging energy of "Layla" to the heartfelt mourning of "Tears in Heaven."
The sad truth, though, is that great art often comes at a heavy, sad price. From childhood on, and into the present day, this legendary English musician has gone through an unusual amount of pain, heartbreak, and tragedy in his life, from deaths to romantic woes to addictions, all of which he funneled into music that the world now recites by heart. Here's the true, tragic story of how Eric Clapton made it to where he is today.
He had an unusual family situation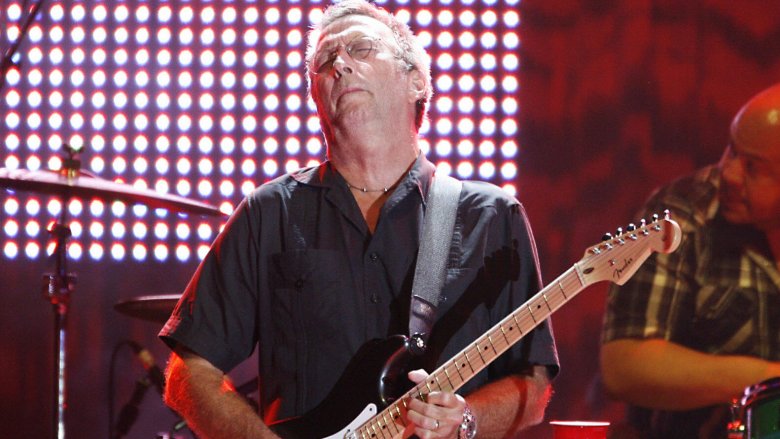 In his early years, the boy who would become one of the biggest celebrities in the world had no idea that his family situation was particularly abnormal. He had two kinda old parents, and an older sister named Patricia. It was only as a preteen that his entire world was rocked sideways, according to the Independent, when the family revealed to him that his "parents" were actually his grandparents, and his "sister" Patricia was his mother. Definitely a strange way to enter puberty.
Evidently, Patricia had become pregnant with Eric at age 16 after a chance encounter with a Canadian serviceman named Edward Fryer, who was stationed in England during World War II. Eric never met his father, and Fryer — who died of cancer in 1985 — had fathered children all over the place. After his time in the service, it seems that Fryer became a drifter who earned cash playing piano in various bars. Throughout his life, Clapton struggled with the emotional repercussions of his father's absence. According to a report in the Ottawa Citizen, his song "My Father's Eyes" was inspired by this longing for a paternal bond he could never have, with the musician explaining, "I never met my father. And I realized that the closest I ever came to looking into my father's eyes was when I looked into my son's eyes."
From pain to music
Not surprisingly, these insanely huge family revelations hit young Eric pretty hard, and probably changed the course of his life. According to Bob Gulla's book Guitar Gods: The 25 Players Who Made Rock History, Clapton had always been introverted and quiet, but finding out the truth dramatically changed his personality, causing him to become "moody and distant." His grades dropped, as well.
One thing that stayed true throughout these years, though, was Eric's passion for art. At age 13, he found his calling. After being mesmerized by the sight and sounds of Jerry Lee Lewis performing "Great Balls of Fire" on TV, he asked for a guitar for his birthday. At first, the instrument intimidated him, as he found it painful and difficult to play. However, after he began attending art school, he gave the guitar another shot, and kept at it, compelled by a newfound love for the blues scene across the pond. Before long, playing guitar became his primary hobby.
Art school got replaced with bands, bands, and more bands
As Clapton got more and more into guitar, he cared less and less about art school. According to Bob Gulla, he started turning in so little work that the school kicked him out. Clapton was okay with that because by this time, he'd become a full-blown guitar enthusiast. By day, he started working for his grandfather to pay the bills, and by night, he did what any young aspiring musician would do and joined a band.
Clapton's first group, the Roosters, lasted less than a year. Shortly afterward, he caught up with an old art school friend, Keith Relf, and also started talking music with fellow blues enthusiast Paul Samwell-Smith. Pretty soon, Clapton was slinging guitar as a member of the Yardbirds, a popular band that combined American blues with British rock. Clapton's 18 months with the Yardbirds gained him a lot of fans as the band followed the trail of the Rolling Stones, earning a residency at the same Crawdaddy Club the Stones had played. Clapton then hopped on as lead guitarist for the Bluesbreakers. By this time, his name was big enough that an anonymous fan sprayprainted the phrase "Clapton is God," birthing a meme that still lives. By 1966, Clapton joined with Ginger Baker and Jack Bruce to form Cream, a British rock power trio that swiftly became a worldwide phenomenon.
Then he fell in love with his best friend's wife
Sadly, musical success didn't cure the pain in Clapton's life, and if anything, it might've exacerbated his predisposition toward addiction. As Clapton became a star, he also became addicted to heroin.
In the 1960s, according to Ultimate Classic Rock, Clapton formed a close friendship with fellow superstar George Harrison of the Beatles. Unfortunately, it wasn't long before Clapton broke the most important rule of any successful friendship. He became infatuated with Harrison's wife, Pattie Boyd. Clapton's unrequited love for Boyd was so intense that it inspired the songs "Layla" and "Wonderful Tonight." In a later interview with Rolling Stone, Boyd herself elaborated on the battle that took place between Clapton and Harrison, which apparently kicked off when Clapton drunkenly confessed to his friend that, "I have to tell you, man, that I'm in love with your wife." Obviously, that sort of statement never goes well, and it caused a serious rift. At one point, both musicians even did a "rock duel" for Boyd's affections. Throughout it all, Boyd refused to leave her husband, and Clapton spent three years sinking deeper and deeper into heroin addiction.
Clapton and Boyd finally got together, but it didn't go well
As the Telegraph explains, Boyd's reason for rejecting Clapton was his heroin dependency. However, just at the time that Boyd and Harrison's marriage was falling apart, presumably due to Harrison repeatedly cheating on her, Clapton finally kicked heroin to the curb. With the permission of her husband (already on his way out), according to Ultimate Classic Rock, Boyd and Clapton unexpectedly became a real couple. Five years later, they even married.
Unfortunately, their relationship wasn't the paradise Clapton had hoped for due to three big issues. First, Clapton's sobriety wasn't all it was cracked up to be. He had merely swapped heroin for alcohol and was knocking back two bottles of brandy every day. Second, both of them wanted children, but they couldn't conceive. Finally, Clapton's infidelity sank the ship. In 1986, Clapton had an affair with Italian model Lory Del Santo and, adding salt to the wound, revealed to Boyd that Del Santo was now pregnant with his son. Around that same time, Evening Standard points out he also had an affair with Yvonne Kelly, a studio assistant, who then became pregnant with a daughter named Ruth. (This latter pregnancy was kept secret for many years.) It's no surprise that Boyd quickly left him and went on to become a travel photographer.
His lifelong struggle with drugs and alcohol
How bad was Clapton's substance abuse? Worse than you might realize. NPR says Clapton spent about $16,000 on heroin every week. Even, when heroin was replaced by alcohol — and frequent cocaine binges — Clapton was unwilling to accept his own addictive tendencies and tried to ignore the problem. At one point, he was so drunk on stage that he performed while lying down because it was the best he could do. In 2007, Clapton looked back on this embarassing incident, stating, "The thing about that kind of addiction that's pretty funny, on reflection, is that I always thought, 'I'm handling this. I can handle it. I can stop anytime. I just don't want to stop right now."
According to Clapton's autobiography, everything changed in 1986, when Lory Del Santo gave birth to their son Conor. The reality of fatherhood rattled Clapton's previous sensibilities, particularly given the trauma he'd experienced from his own absent father. Clapton didn't want his son to ever see him drunk, which meant withholding from drinking for painfully long periods of time. By the next year, the musician finally realized he needed treatment. He checked into rehab and has been sober ever since.
The death of his son
The birth of Conor was instrumental in Clapton's recovery from addiction, but just a few years later, he was faced with the biggest tragedy of his life. In 1991, the New York Times reported that 4-year-old Conor had darted past a housekeeper, run through an open window, and accidentally fallen 49 stories to his death.
Clapton was in New York at the time and had just brought Conor to the circus the night before. He wrote in his autobiography, "I remember walking down Park Avenue, trying to convince myself that everything was really all right … as if anyone could make a mistake about something like that." Even after seeing the police and paramedics on the street and identifying Conor's body, he was still in disbelief. Clapton was understandably traumatized by his son's death. According to Ultimate Classic Rock, he threw his intense emotions into creating new music, the most significant piece being the classic song "Tears in Heaven."
Up until this point, Clapton's secret daughter Ruth had been kept away from him, according to Evening Standard. However, after hearing of Conor's death, Yvonne Kelly allowed Clapton and Ruth to form a relationship.
He's now a family man
After a history of rocky relationships, death, and addiction, Eric Clapton's life had improved tremendously in the past few decades. USA Today explains that since 2002, he has been happily married to an American woman named Melia McEnery, and his day-to-day existence has been more stable than ever. Together, the couple have had three children, all girls. In 2013, his oldest daughter Ruth posted a picture to Twitter of her newborn baby, Isaac Eric Owen Bartlett. So yeah, if you're looking for another reason to feel old, this classic rock star is officially a grandpa.
Clapton described his surprisingly domestic new life to USA Today as a quiet time in the country. It sounds like he doesn't love today's pop stars, though: "My girls go to school and meet other kids who will talk about a certain pop star, and that has its own life. What I try to do is redirect by playing in the background or having music in the background — blues, country music, New Orleans jazz, opera, classical. I think it's important that they hear old music." Welcome to old age, Gramps.
Deafness and neuropathy
Despite his newfound familial stability, the last few years have seen Eric Clapton hit by a problem he'd previously avoided: health difficulties. In 2016, he revealed to the public that he'd been diagnosed with peripheral neuropathy, which The Guardian refers to as the disease that "musicians fear," due to symptoms including numbness, shooting pains, and a lack of coordination. Since Clapton is experiencing neuropathy in his legs, rather than his hands, it's been theorized that his ailment might've been caused by his years of alcohol abuse, rather than the physical strain of performing music.
Though such a diagnosis would be difficult enough, a 2018 article in Time magazine reported that Clapton was also experiencing hearing loss, another harsh reality that faces many lifelong musicians. After everything Clapton has been through, he can't help but be realistic about his future, explaining that, "This particular condition I'm living with isn't necessarily going to get better." However, while he's slowed down on big public performances, he's not planning on retiring anytime soon. Throughout Clapton's life, music has gotten him through nearly everything, and he intends to keep going as long as he can.
The drunken outburst he still regrets
Anyone who has known someone plagued by addiction — or who has been that person — knows full well about the heavy, eternal burden of awful things said or done at rock bottom. A long time before Clapton finally turned his life around, he bottomed out right in the public eye. At a 1976 concert in Birmingham, England, according to The Daily Beast, a totally inebriated Clapton blurted out a racist and xenophobic rant that included the statement, "England is for white people." The scene that Clapton caused was so controversial that it actually catapulted forward the Rock Against Racism (RAR) movement, where popular U.K. musicians held concerts with anti-racist themes.
Today, Clapton has said he's deeply ashamed of his odious outburst. He has not only owned up to his past racism, but he has publicly apologized for it many times over the years. Lili Zanuck, who produced a popular documentary on Clapton, told the Irish Times that Clapton now "doesn't even know who that person is." In an interview with Rolling Stone, Clapton added, "I just have to face the guy that I became when I was fueled on drugs and alcohol. It's incomprehensible to me, in a way, that I got so far out."